Less than 2 weeks to go until we live in the atmosphere of the biggest football festival in the world, the World Cup, which is held every 4 years. To immerse in the football atmosphere besides being ready to cheer for your favorite teams, which tokens should investors hold to both enjoy the football atmosphere and earn money? Let's answer this question with Holdstation through this analysis!
Fan token national team
The World Cup is a global football festival where 32 of the world's best football teams are gathered. So focusing on the first national recruitment Fan tokens is completely understandable. Currently there are about 5 national team token fans. However, investors can only pay attention to the following 2 National Team Fan Tokens:
Fan Token Argentina (ARG)
Argentina, one of the highly-regarded teams, will be a bright candidate for this year's World Cup championship, with the presence of quality names in the squad such as: Lisandro Martinez, Giovani Lo Celso, Julián Álvarez, ... and most especially, is not only a professional character but also a symbol of Argentine football in particular and the world in general, superstar Lionel Messi. This will also be a significant factor to help Fan token ARG increase in price. At the moment, the price of $ARG has increased quite strongly in the past 1 week. However, it is not without opportunity. Investors should consider the price of $ARG correcting to the area of ​​$5.5-$6 to buy back. $ARG Target $8.5 - $9
Portugal Fan Token (POR)
Similar to Argentina, Portugal with the presence of football superstar Cristiano Ronaldo. This will almost certainly be the last World Cup in CR7's player career. This will serve as a motivation for the whole team to come together and try to win the dream football trophy of any footballer. The price of $POR is currently also pumping in unison with other Fan tokens. However, there will certainly be corrections and the price range investors can refer to may be $4.5-$4.8 With a target of $6.8-$7.
Chiliz, CZ Fan Token, and Related Tokens
Chiliz
In the last article;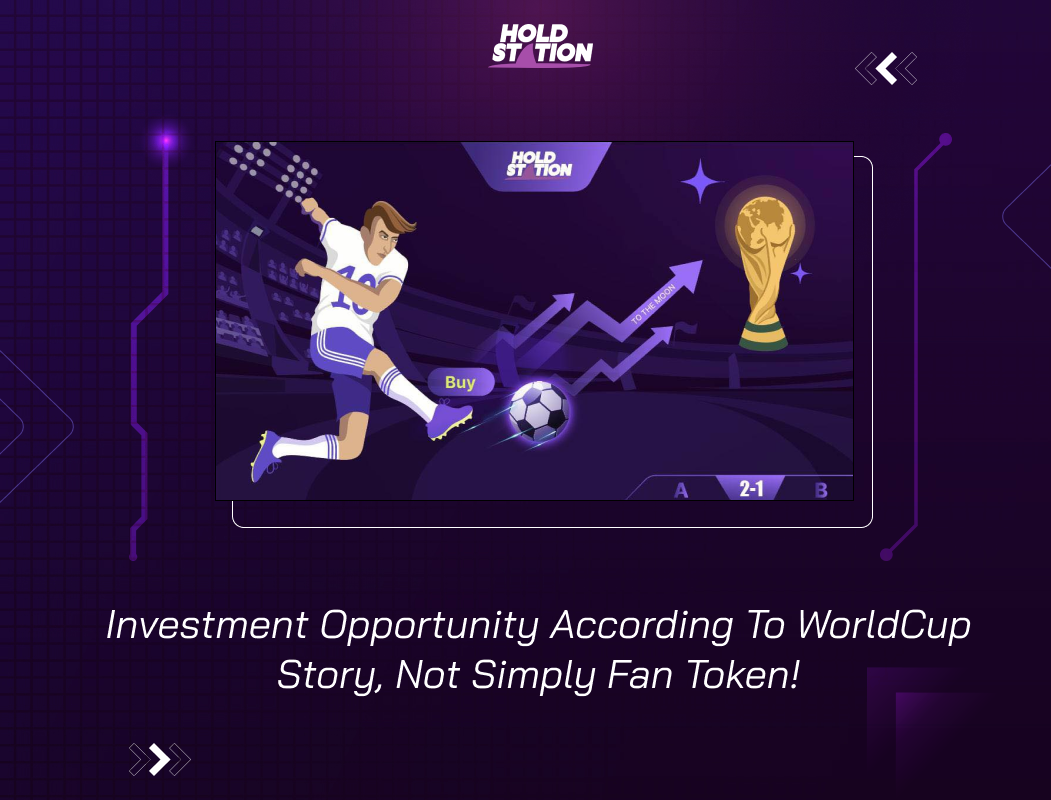 Holdstation also mentioned the potential of $CHZ to not only be a bridge for Fantoken transactions on Chiliz. But also the elements of the roadmap when Chiliz has a plan for the Chiliz 2.0 mainnet and products around it in time for the upcoming World Cup.
The current $CHZ price zone is also not good to disburse. However, after about a week of strong gains, healthy corrections in $CHZ are needed to create momentum for even stronger bounces as the opening day of the World Cup approaches. Investors might consider disbursing $CHZ at +- $0.23 with a target of $0.33.
CZ's Fan Token
Currently CZ's Fantoken has Fan tokens $SANTOS, $PORTO, $LAZIO, $ALPINE. These Fan tokens are all representative of not-so-famous teams. However, the special thing that they own is that they are listed on Binance and are the offspring of CZ. Investors are no longer unfamiliar with the previous 4 Fantoken injections. So considering the adjustments for CZ's Fan Tokens and disbursing is one of the not bad options for this World Cup season.
The reasonable disbursement price ranges for the above Fan tokens are:
$LAZIO: $5,2-$5,8. Target $8,5-$9
$PORTO: $4,2-$4,6. Target $6,9-$7,7
$SANTOS: $12,4-$13. Target $17
$ALPINE: $3-$3,2. Target $4,3-$5
Algorand cooperate with FIFA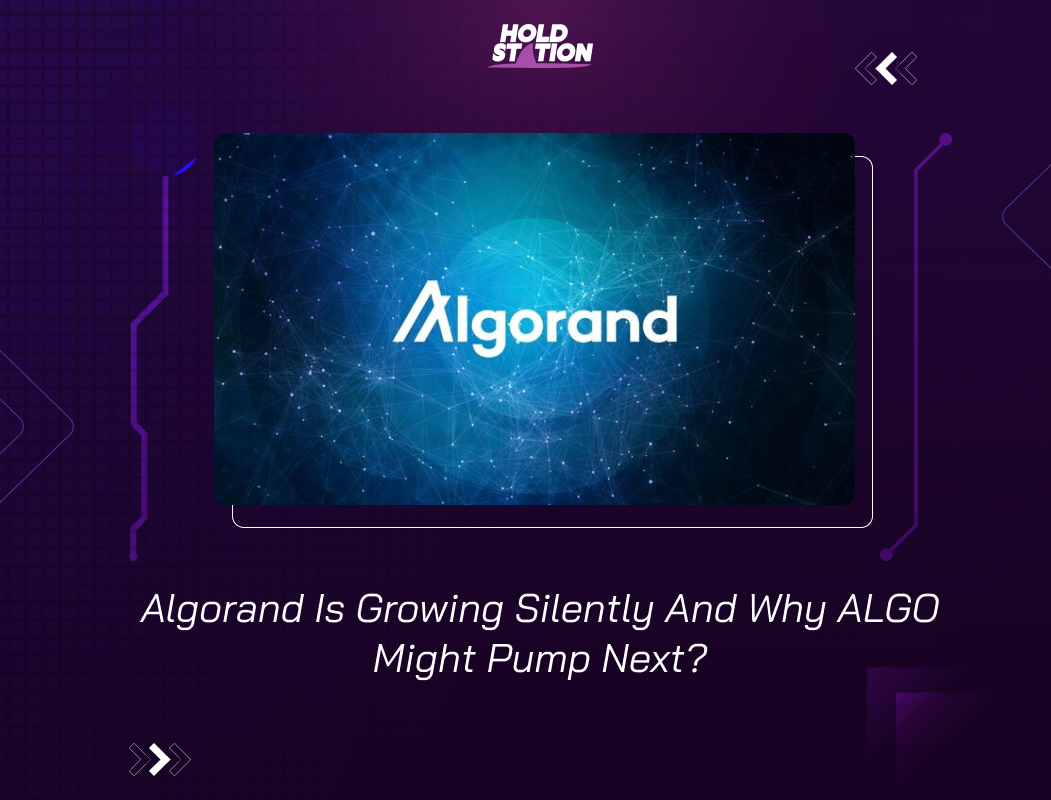 Holdstation has a detailed analysis of Algorand's potential. The fact that Algorand (ALGO) becomes FIFA's new blockchain partner for the 2022 World Cup in Qatar has made the World Cup factor a variable that affects the price of $ALGO. Currently, the price of $ALGO has pumped strongly since the last bottom.
Therefore, I personally do not encourage investors to disburse at this price range. However, if there are corrections of $ALGO, this is also one of the options for investors to disburse according to the World Cup story.
Cronos cooperates with FIFA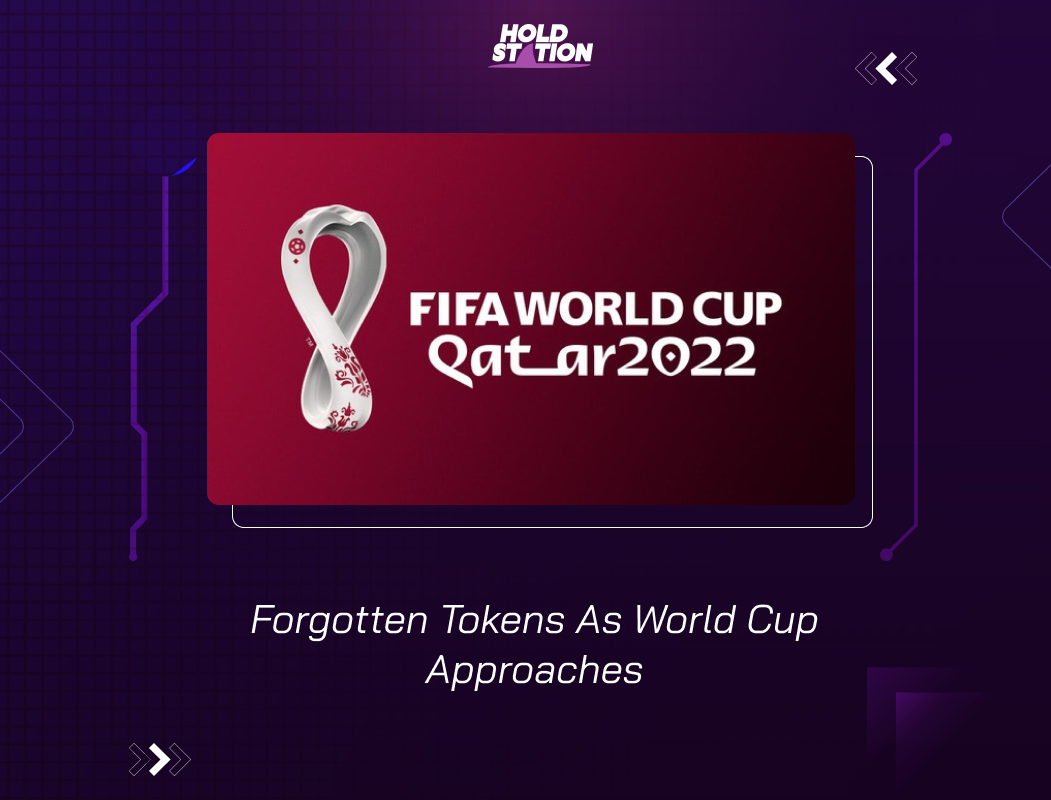 In addition to Algoran, Crypto.com is also one of the first crypto sponsors for the 2022 World Cup, and is even one of the first 6 sponsors for the 2022 World Cup. Therefore, $CRO is the native token, so it will be enjoyed. directly benefit from this deal.
Not different from Algoran, because of benefit from the World Cup event, $CRO also pumped strongly during the past week. With $CRO, my opinion is similar to $ALGO, investors should consider consider and can disburse around the $0.11 price zone, with a target of $0.13
Distribution strategy and investment orientation
Holdstation has had investment orientations for Fan tokens since 2 months ago. At that time the first wave of Fantoken pumped wildly. Therefore, the next pumps must seriously admit that there is a high probability that they will not be as strong as before.
Therefore, it is extremely important to consider disbursing the appropriate capital ratio. I personally think that investors can consider disbursing 10%-15% of the total capital for the wave that can be said to be the last of this World Cup "party". Of which 1/3 of the investment is allocated to the national and Chiliz Fan tokens, the remaining 2/3 can be appropriately allocated to CZ's Fan tokens to optimize profits. Any investment is risky. Investors should consider carefully before making their decision.
How to buy Fan token on Holdstation Wallet
How to Buy CZ Fan Tokens on Holdstation Wallet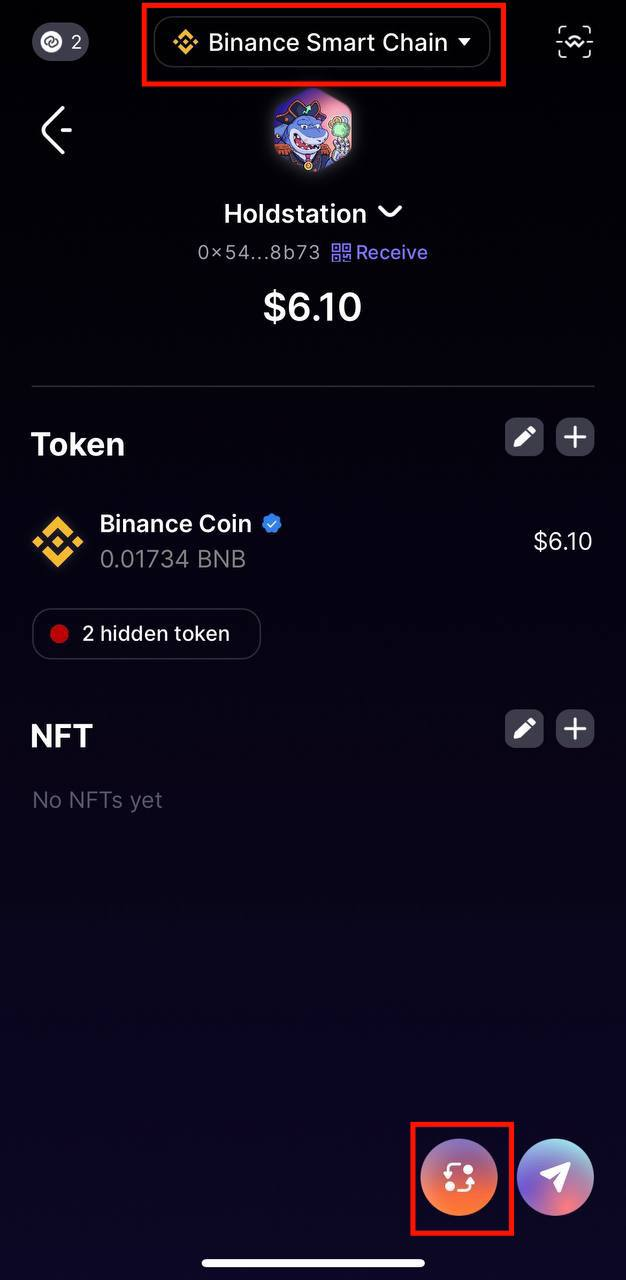 Step 1: Access the Holdstation wallet and select the network of Binance, then click on the swap icon.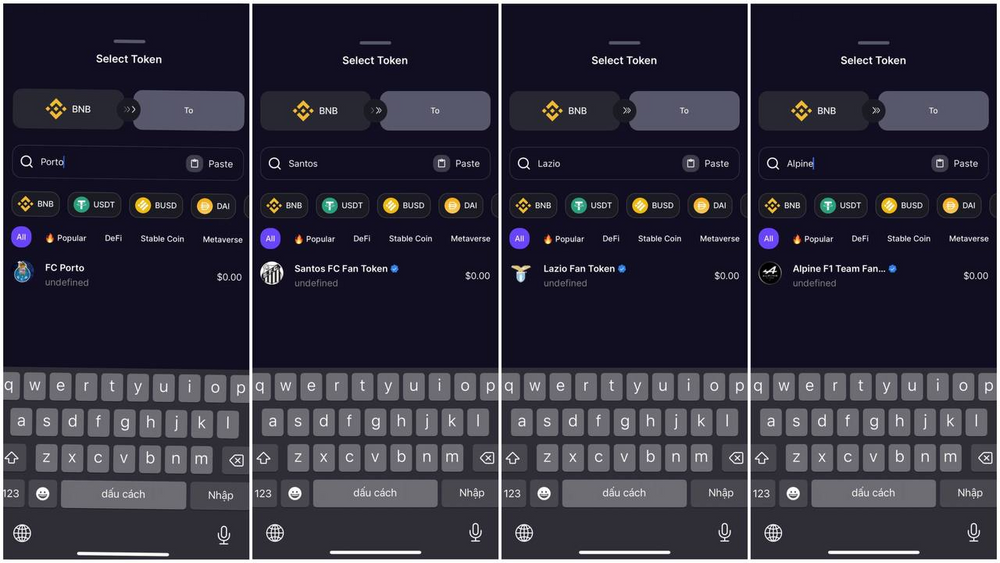 Step 2: Select the token you want to swap to CZ's Fantoken and execute.
How to buy $CHZ and $CRO Tokens on Holdstation Wallet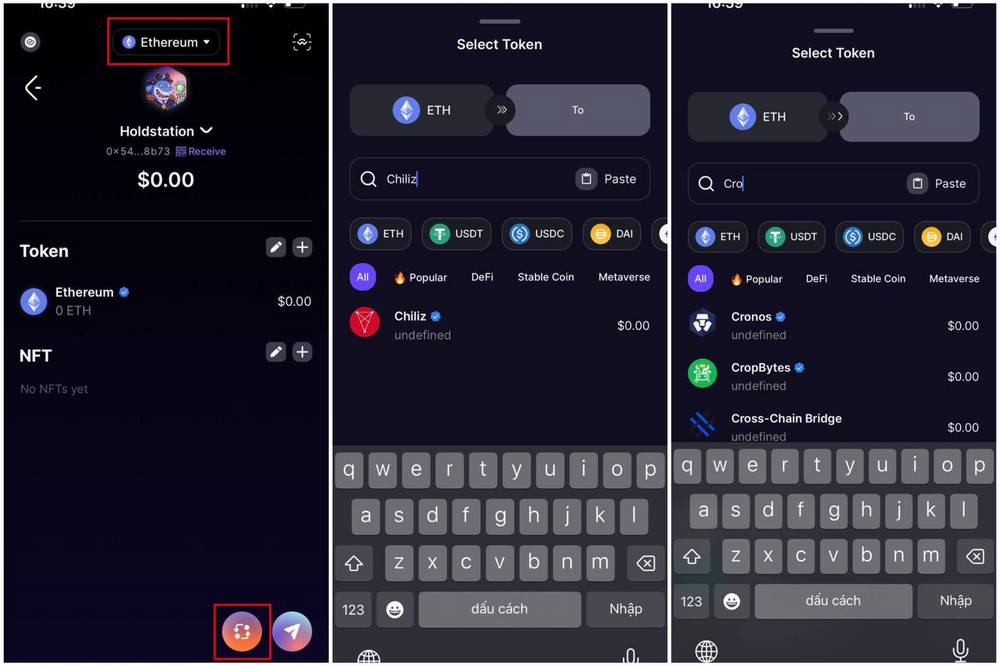 Step 1: Access the Holdstation wallet and select the Ethereum network, then click on the swap icon.
Step 2: Select the token you want to swap to $CRO and $CHZ and execute.
Users can also sell the above tokens directly through the wallet by reverse swapping from Fan tokens to the tokens they want. In addition to buying and selling, investors can also store Fan tokens directly on Holdstation's wallet with extremely high security.
Link to download Holdstation Wallet: https://holdstation.com/
Disclaimer:
The information, statements and conjecture contained in this article, including opinions expressed, are based on information sources that Holdstation believes those are reliable. The opinions expressed in this article are personal opinions expressed after careful consideration and based on the best information we have at the writing's time. This article is not and should not be explained as an offer or solicitation to buy/sell any tokens/NFTs.
Holdstation is not responsible for any direct or indirect losses arising from the use of this article content.