A week ago, right before the Fan Tokens raced to increase the x2, x3 in price. Holdstation has an overview of Fan Token investment opportunities during the WorldCup season. You can review the analysis here.
In this part 2 analysis, Holdstation will go deeper into other investment opportunities following the WorldCup story, instead of just the familiar Fan Tokens. Let's analyze with Holdstation to optimize profits for the upcoming 2022 World Cup season!
I.Relationship between Binance and Fan Token
1.Assumption

WorldCup is the biggest football festival on the planet, it attracts billions of people interested and watching. So this can be considered a gold mine to make money. So it's not easy for CZ to miss a once-in-a-lifetime opportunity like this.
As you all know, the current time is the last days of August. The World Cup will not take place until the end of November and the beginning of December. So in the last wave, the individuals who wrote the article thought that this was just the "prelude" of CZ wanting to "pump" Fan Token to attract the attention of the community.
Not to mention that Binance also has a separate Twitter channel for Fan Token and CZ also once posted a tweet saying Fan Token with a hint of its potential. At this point, when everyone sees the WorldCup story and the short-term potential of Fan Token, new money will flow in, then new price pumps will begin to take place until the World Cup kicks off.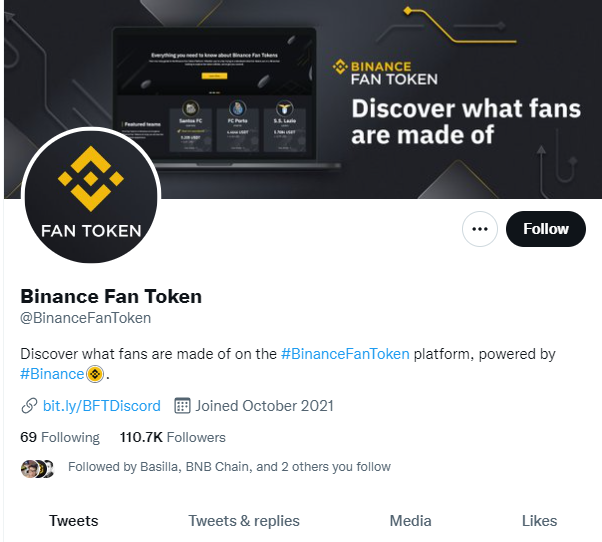 So it is considered that CZ's first step was successful, when it attracted the attention of the community. Surely most investors now put Fan Tokens on their watch list. So in the near future, the next wave of Fan Tokens will happen sooner or later.
2. Looking back at the recent wave of Fan Tokens.
In the last pump beat, if we pay close attention, we can see that Fan Tokens like $SANTOS, $PORTO, $LAZIO, $ALPINE are all Fan Tokens of teams that are not particularly famous, but fly very well. strong. For example, $SANTOS has increased x4 times since the bottom of early August.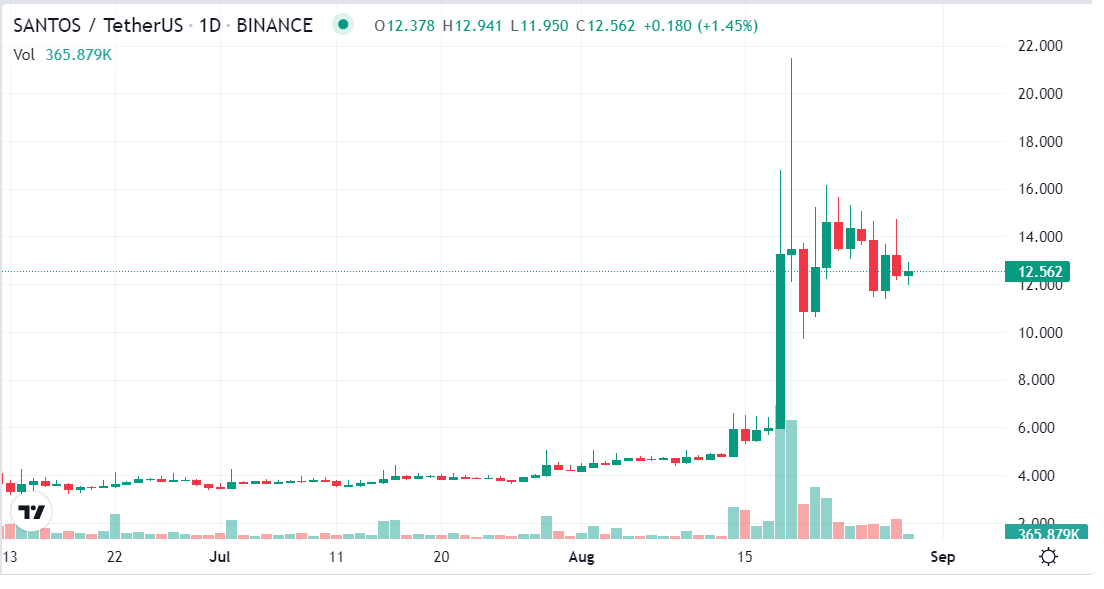 Why are these Fan Tokens flying stronger than the Fan Tokens of famous teams like $CITY (Manchester City), $BAR (Barcelona), PSG (Paris Saint German)?
It is not difficult to understand because these Fan Tokens are all "chickens" of Binance, and Binance holds many tokens. So driving the price is extremely easy.
3. Orientation of Fan Token investment opportunities

After the recent strong pump wave, Fan Tokens had a correction with the market when news of the recent speech of Fed Chairman Jerome Powell. Investors can consider allocating capital to Binance Fan Tokens from now until the end of September during BTC adjustment.
With the opportunity every 4 years, Binance will not miss the opportunity to make money. According to personal assessment, it is very likely that Binance will plan to list another Chiliz token or will Launchpad a new Token when the market has FOMO.

Why is Chiliz's "goods" list? It is not too difficult to understand when Binance has cooperated with Chiliz since 2018. Binance has also listed many Chiliz tokens before such as $CITY, $ATM, ... But with the Worldcup season, the highlight is. $ARG and $POR with the image marketing of football superstars Messi, Ronaldo and the national teams, suitable for the World Cup. In addition, Messi is also the ambassador for Socios Fan Token and Ronaldo is the football player with the largest number of followers globally. So you can expect these 2 Fan Tokens.
II. $CHZ and Bitci.com

In addition to the familiar Fan Tokens, there are still tokens that have a high probability of benefiting this worldcup season that investors need to pay attention to. Those are the Fan Tokens on Bitci.com, and the $CHZ coin itself.
1.Fan Token on Bitci

Bitci is a Turkish private blockchain, including many services such as payment, money transfer, e-wallet ... and Fan Token. Bitci has cooperated with more than 20 teams and other sports teams, but so far only 3 football Fan Tokens have been listed on the exchange: BFT of Brazil national team and SNFT of Spain national team and a small team that is not worth it. attention.
A special feature of the Bitci token is that the project plans to burn nearly 80% of the total token supply, and the team is only entitled to a very small amount of tokens. Currently, 70% of the total supply has been burned and it is estimated that about 9 billion Bitci ~ 9% of the supply will be burned next year. From then on, each year will unlock about 5% of inflation and decrease over the years.
➡ Tokenomic is very unique and attractive, but raises many questions about benefits for the team and revenue. The amount of money used to burn is said to be taken from the exchange's transaction fees, while the floor model is complicated and not transparent. Maybe this is part of the reason the community does not appreciate Bitci.
Currently, Bitci's capitalization is 42M, very small compared to CHZ's $ 1.3 billion. So in the long term, Bitci has a lot of potential for strong growth, but the quality of this token is not really recognized yet. Besides Mex, there is no big DEX/CEX that lists $Bitci.

BFT and SNFT
As the "sons" of Bitci, these 2 fan tokens have very similar characteristics to its "father". The same very strong teams with high winning doors in the Worldcup season, but the capital level is very low
Currently, Bitci's capitalization is 42M, very small compared to CHZ's $ 1.3 billion. So in the long term, Bitci has a lot of potential for strong growth, but the quality of this token is not really recognized yet. Besides Mex, there is no big DEX/CEX that lists $Bitci.
However, there is no denying that these 2 tokens have great potential in the next Worldcup season, when the Fan Tokens of the national team will attract more cash flow than the club group.
2. Token CHZ
$CHZ is Chiliz's native token, which was mentioned a lot in the previous Holdstation Fan Token analysis. Although the market capitalization has reached 1.3 billion USD, it is still a potential "bet" when the market welcomes the upcoming Worldcup story. The proof is that during the Club Worldcup season in Qatar 2020 $CHZ has increased by more than 90%, and more than 40% in the Tokyo 2020 Olympics.

Therefore, it is almost certain that $CHZ will increase sharply in this Worldcup season, the biggest tournament on the planet. As the only token that allows users to access Fan Tokens on Socios.com, CHZ will always have demand. In fact, $CHZ has x2 in the past month, so it also makes many people afraid of the possibility of further price increases.
However, not many people notice that Chiliz is promoting the launch of Chiliz 2.0, which is likely to be a new expectation for $CHZ. Currently, Chiliz 2.0 has been running the testnet for a while and has many notable revelations, read more details of Holdstation's analysis here.

In particular, Chiliz has not announced too much about this new Chain, but if there is a use case for CHZ as a gas fee payment token, it will create new demand and increase the price for CHZ.
III.Football betting platforms

In a gold rush, the biggest beneficiary was the shovel seller. The Worldcup story is not only a driving force for Fan Token, but also creates a strong demand for football betting platforms. Here are the opportunities that Holdstation considers remarkable.
BetU - A platform that integrates both P2E, Betting and Metaverse. Potential project with very low capitalization ~2M but no highlights, just for reference.

Thales - The platform has a quality working product and a certain number of users, is the "baby" of the huge Synthetix project on Optimism. With a small cap of about 12M, of which the real float is only about 2.5M and the price is only x2 from the bottom, this is a Hidden gem to watch out for.

Prosper - Token price prediction platform backed by Ava Labs, Matic Foundation and listed on Binance. Although there is no product yet, much is expected from the community.