GMX is proving its position as the top DEX on Arbitrum by attracting a large number of traders and inflows of money with its Real Yield model and stable products. So how can new investors and traders capitalize on this growth? Copy Trading can be an option and Perpy is one of two platforms that are building on Arbitrum in this area.
With a product designed flexibly for both users and 40% of the total token supply distributed to community, Perpy is a project to watch out for and it would be listed on Camelot on March.
What is Perpy?
Perpy is a Copy Trading platform on the Arbitrum ecosystem and is currently directly linked to GMX through smart contracts. Perpy owns two user files:
Followers - Suitable for investors who have little experience in the market or can't spend a lot of time, they can copy trades from traders on GMX.
Trader - commercialize his investment strategies and receive fees.
Operation model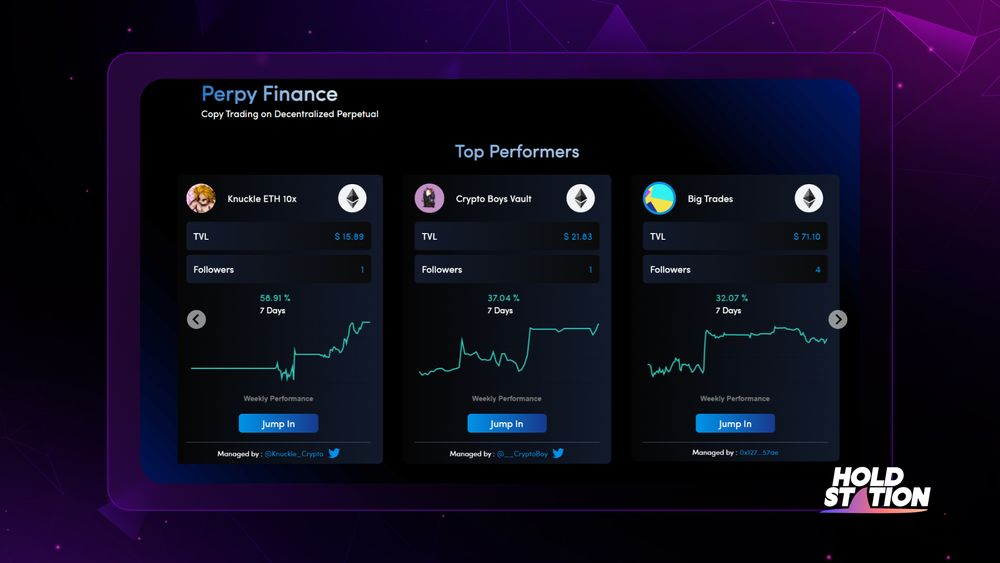 Trader creates a vault and sets the percentage of fees he wants to receive (from 10% - 50% of the total profit in the vault).
Followers can choose an appropriate vault based on recorded PnL information and then deposit money in the form of USDC.
Traders use the funds in this vault to open positions.
The followers have the right to withdraw USDC in the vault at any time whether the trader is opening an order or not. The amount of USDC may change from the beginning:
USDC = Deposited USDC + PnL x %Fee x Allocation Rate - Withdrawal Fee
The platform collects 20% of the amount of fees received by the trader and 0.3% of the amount withdrawn by the followers. This amount is allocated to the DAO.
Early on, Perpy needed community development and was building missions on Crew3. Crew3 members on the leader board will receive benefits in the future so you can join HERE.
Tokenomic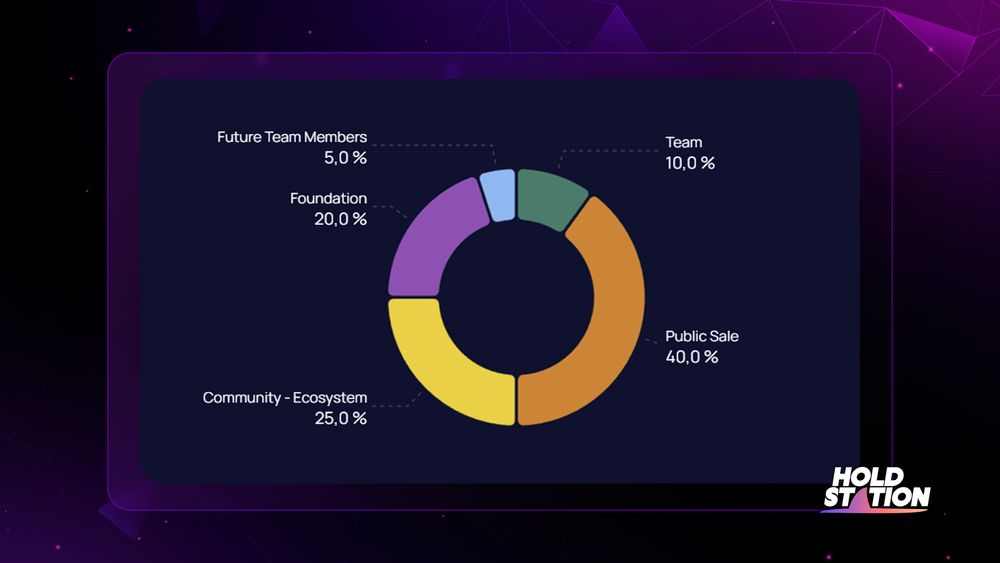 Total Supply: 1 billion $PRY
Public Sale - 40%: expected to open for public sale on Camelot in March (Hard Cap available and details will be announced in the near future).
Team (current and future) - 15%: 6 months lockup and 18 months vesting thereafter.
Community and ecosystem - 25%: Each year, use up to 25% of this amount for marketing or organizing an ecosystem development program.
Perpy Foundation - 20%: lock in 6 months and 24-month vesting.
The project does not raise capital from funds, so there will not be strong selling pressure.
$PRY use cases:
$PRY stakers receive 100% of platform revenue (from traders performance fee and follower withdrawal fee). And 10% of this amount needs to be used to vote on the DAO (such as whether to invest in this vault, buyback $PRY,...). In addition, $PRY stakers also receive a discount on fees
=> Real Yield model and promote active community in building products through DAO. At the same time, it helps to reduce the amount of $PRY in the circulating supply.
Traders who want the vault to be prominently displayed on the platform's homepage can stake or burn $PRY - a deflationary utility.
In the future, Perpy plans to integrate Lens Protocol and users can highlight their posts by burning $PRY.
Besides, Trading Vault 2.0 will limit the amount of capital in a vault, the top $PRY Holders will be given priority to participate in these vaults if desired.
So Perpy belongs to two trends that are being mentioned a lot by the crypto community recently - Real Yield and SocialFi. One point to note, according to the published fee model, the team profit mainly comes from the token value pre-allocated and fully unlocked within 2 years instead of the platform revenue (100% community) so it seems that the impetus for long-term development does not exist.
Perpy Team and Roadmap
The anonymous team is still active and Perpy has released Beta and partnered with several platforms such as Vertex and Pyth Network. Some major updates in Roadmap:
Q1/2023: Develop functions such as DCA, Stoploss, Take Profit,... Audit smartcontract and open token sale.
Q2/2023: Design multichain contract for dYdX on Cosmos and Cairo for Starknet. Lens Protocol Integration Beta Testing (apply $PRY boost)
Q3 - Q4/2023: Trading Vault 2.0 and Smartphone Mobile App
The project is still in its early stages with many major improvements coming from Q2/2023 onwards and this could be a catalyst for platform growth.
Competitor
STFX is a platform on Arbitrum that follows the same model as Perpy. However, the two also have some differences:
For STFX, followers can observe the strategy recommended by the trader before deciding to deposit funds into the vault. This is likely to lead to a case of reducing the reason for users to use because they can refer to and conduct transactions themselves. Perpy doesn't have this functionality.
STFX's vault is not as flexible as Perpy's because each vault only corresponds to one position, instead traders are free to trade different assets on Perpy.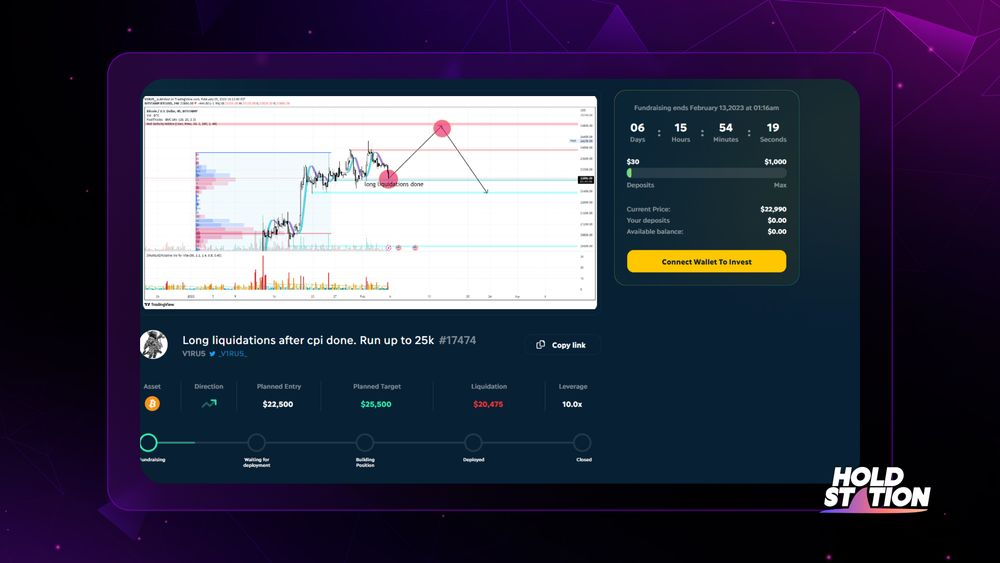 Besides, STFX regulates the time frame for each operation of each vault (deposit => open an order (or maybe not depending on the trader's decision) => close the order and the follower can withdraw) . As such, STFX users cannot withdraw their investment at any time like on Perpy.
Also, although Perpy has no backers, the tokenomic is designed to be slightly better than STFX:
The majority of $PRY goes to the community (40% versus 15% of $STFX) and splits the revenue among $PRY stakers.
$STFX is held a lot by the team and KOL (30% compared to 10% of $PRY) and vested right at the time of release so there will be selling power in 12-18 months. The price drop after the public sale and listing in mid-January 2023 has shown this.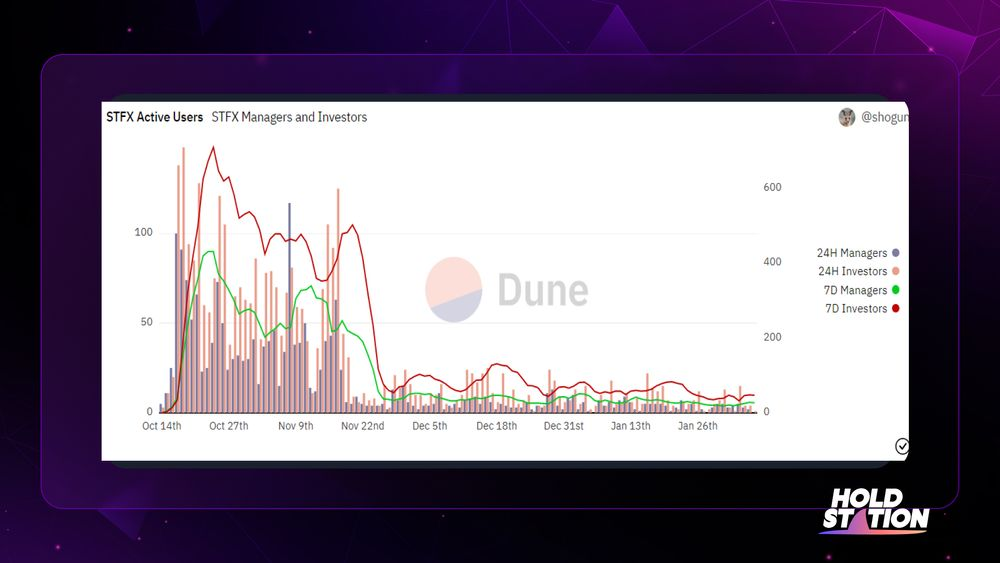 STFX currently owns a larger community than Perpy and launches in October 2022. However, the number of SFTX users is decreasing sharply, partly reflecting that SocialFi is not really popular at the moment.
Summary
With the first two project tokens x2 ($NEU, $GRAIL) after opening for sale on Camelot along with the money flowing into Arbitrum, at first, $PRY can get the attention of the community. But the SocialFi narrative is not strong at this time and Perpy still needs time to prove its effectiveness and outstanding features, after Q2/2023 it can strongly grow.
---
Holdstation Wallet - Your Gate to Web3 💜🦈
Make DeFi as easy as CeFi!
📲 Download now: IOS | Android
Disclaimer:
The information, statements and conjecture contained in this article, including opinions expressed, are based on information sources that Holdstation believes those are reliable. The opinions expressed in this article are personal opinions expressed after careful consideration and based on the best information we have at the writing's time. This article is not and should not be explained as an offer or solicitation to buy/sell any tokens/NFTs.
Holdstation is not responsible for any direct or indirect losses arising from the use of this article content.