Bybit - one of the world's leading cryptocurrency exchanges besides Binance, Coinbase, OKX, etc, based on 24h volume, just launched a new project on Bybit Launchpad - Medieval Empires ($MEE). That is Bybit's first launchpad project in 2 months since the previous launchpad in October 2022 with the Galaxy Arena ($ESNC) project. Based on data from CryptoRank, Bybit Launchpad has a Diamond Launch ($DLC) project with an ATH ROI of x15 and a current ROI of around x6.5 in September 2022 during the bear market. It is a life-changing opportunity for investors from the launchpad project.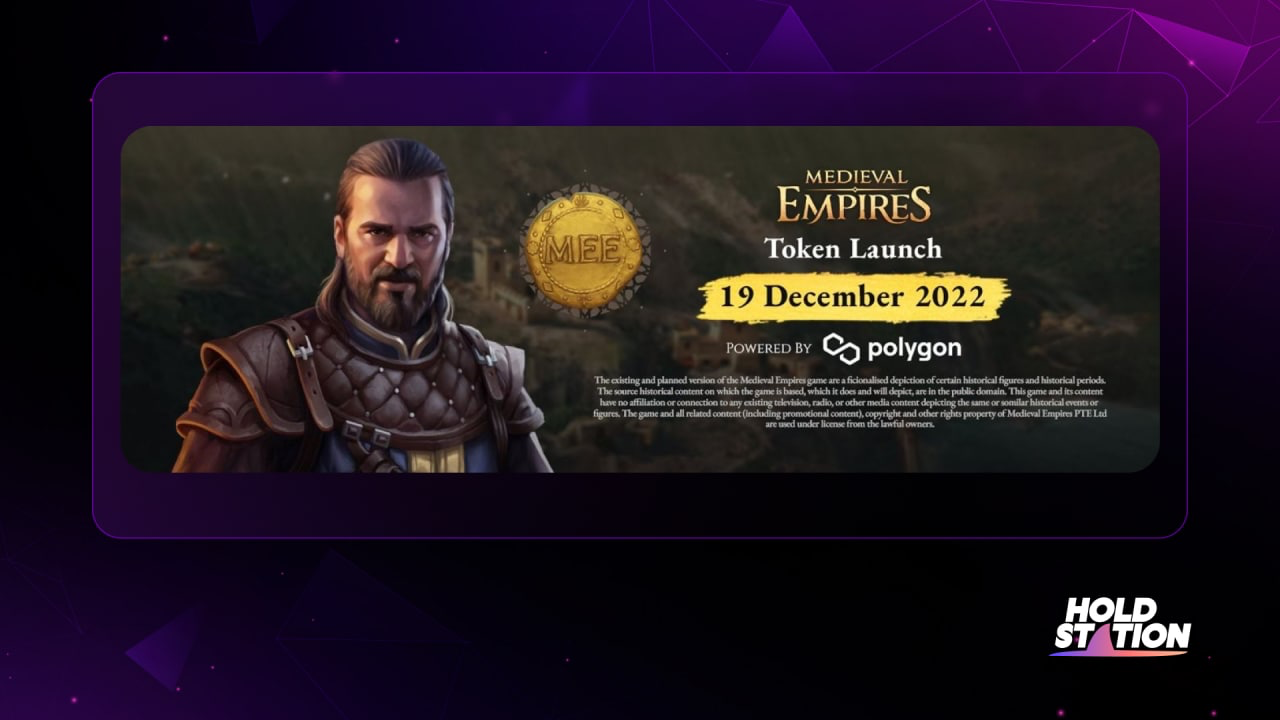 Launchpad Info ($MEE)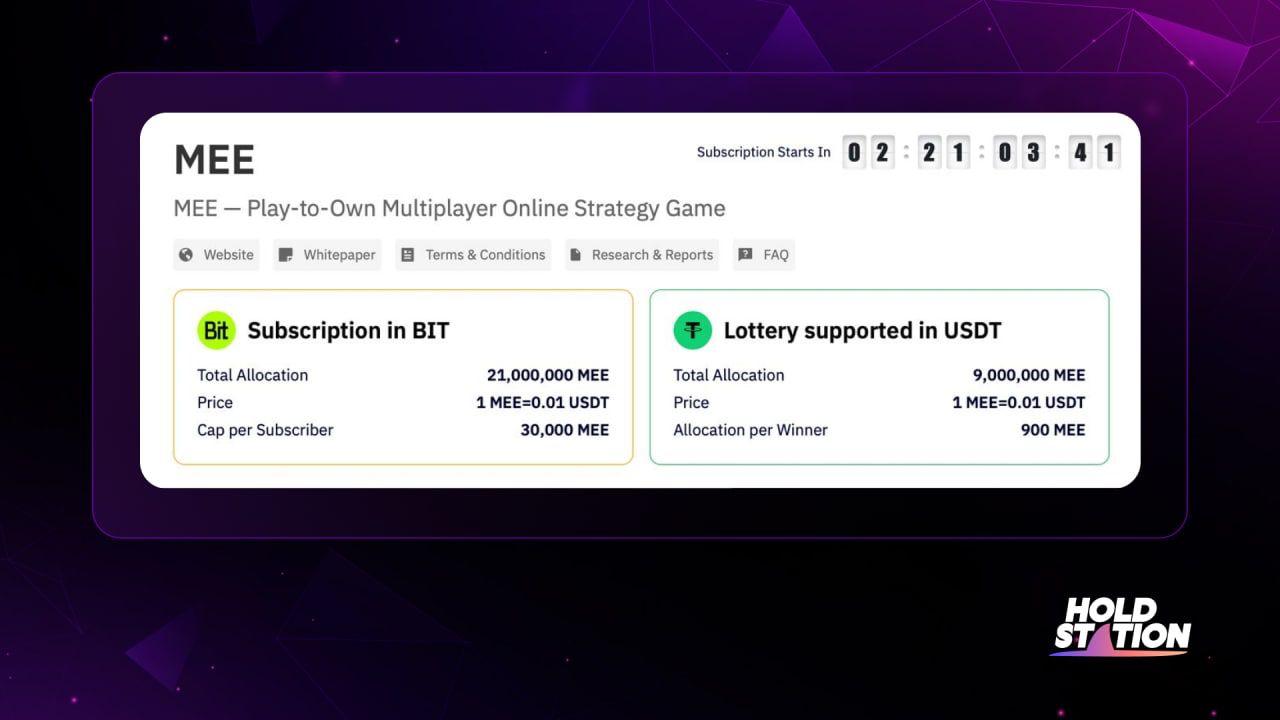 Token: MEE
Price: 1 MEE Token = 0.01 USDT
Total Supply: 3,000,000,000 MEE
Total $MEE allocated to Bybit Launchpad: 30,000,000 MEE (1% of total supply)
Snapshot time: from 7 pm (GMT+7) on December 14 to 6:59 am (GMT+7) on December 18
Token distribution time: from 6 pm to 6:59 pm (GMT+7) December 19
Users can join the launchpad by committing a minimum of 50 BitDAO ($BIT) or 100 USDT. However, if you commit in USDT, you will join the launchpad as a lottery, and if you don't win, you will refund the USDT, and if you commit in $BIT, you will receive $MEE (depending on the total amount of $BIT committed / number of USDT)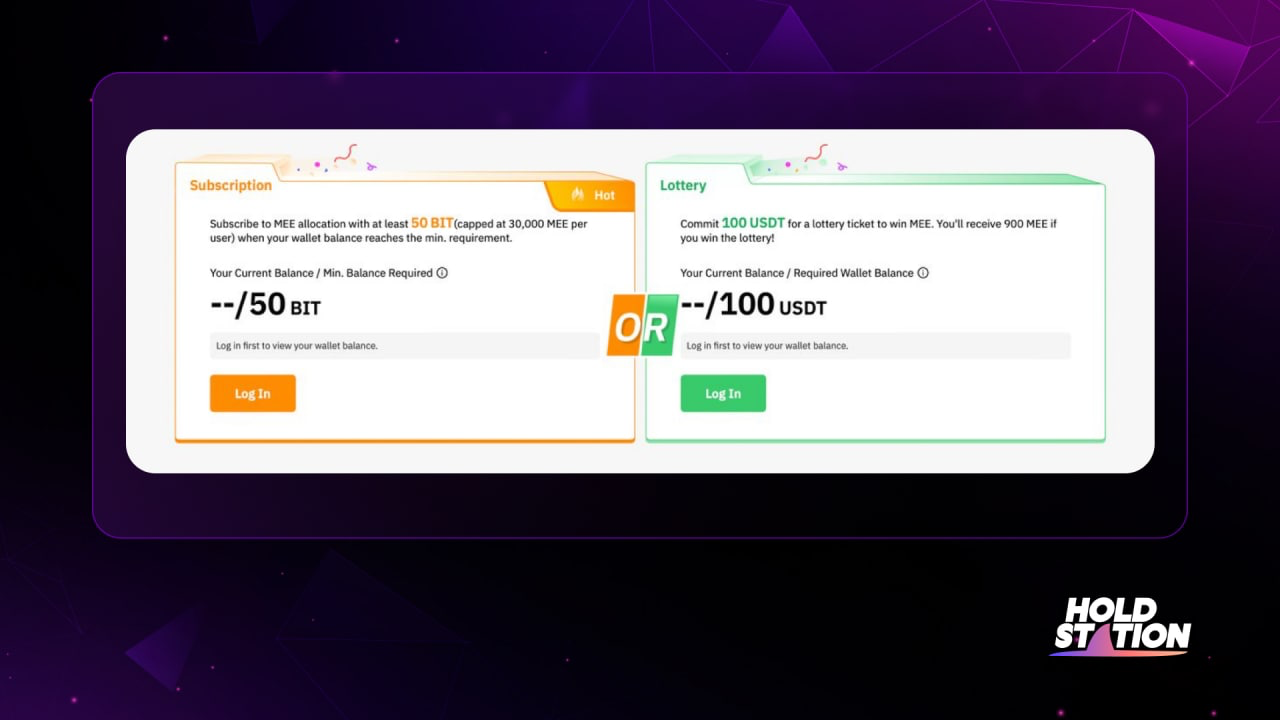 Medieval Empires Project ($MEE)
What Are Medieval Empires?
Medieval Empires is an elaborate, multi-player online strategy game set in what is now modern-day Turkey during the late 13th century. The game's storyline initially focuses on Ertuğrul Gazi, a tribal warrior and a celebrated leader of the Kayi tribe.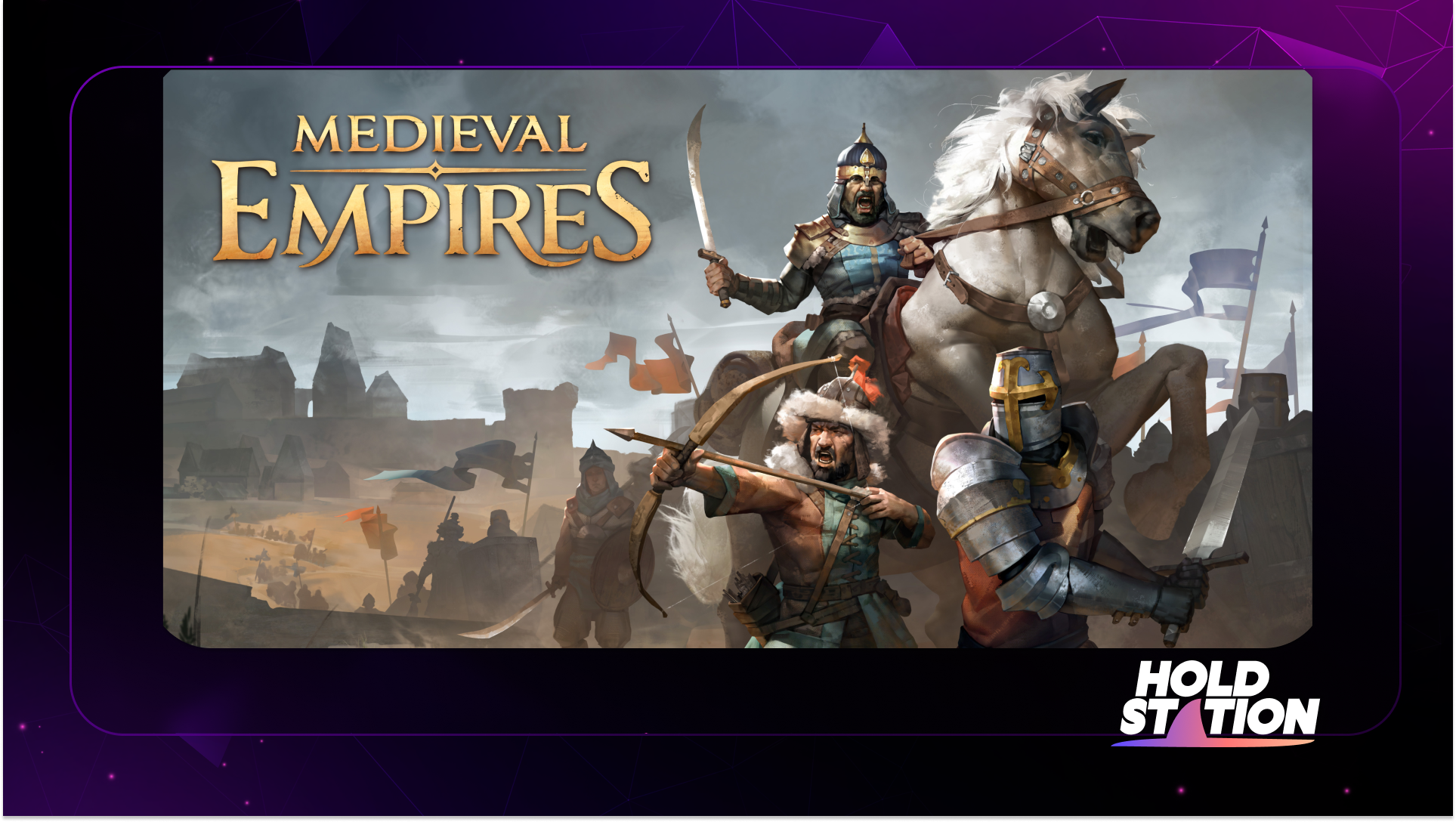 In the game, the Leader of the Kayi Turkic Tribe, Ertuğrul Gazi, will face off against the future King of England, Edward 1st, aka Edward Longshanks, aka Hammer of the Scots, who is expanding a successful 9th Crusade across Europe to the Holy Land.
The game is set in a passive PvE area and starts with players building towns while trading, fighting, and forging alliances. Continuous battles will help expand the world map into an ever-evolving game universe. Goals for players include daily missions, general tasks, and story missions, with progression based on the successful completion of these tasks and missions.
Features of Medieval Empires
Medieval Empires offers several outstanding features that make the game a truly one-of-a-kind masterpiece:
Multiplayer Online Strategy: fight off invaders, build towns, raise armies, recruit heroes and then explore and conquer lands in this free-to-enter, historically inspired strategy experience.
Play-to-Own Gameplay: smart NFTs and on-chain gamification, paired with captivating gameplay to ensure a solid Play-to-Own focus.
Persistent Online World: players buy land to become 'Beys' building realms that leave a lasting mark on the world. PvE and PvP territories change ownership as the world continually expands.
Community Battles: seasonal Battles offer recurring events for players to prove their skills and earn unique trophies, glory, and crypto rewards.
Physical & Digital NFTs with Utility: some NFTs aren't just digital but physical too! These unique real-world items are sent to players as collector items and entry tickets to special online and offline events.
Massive Historical Battles: once-in-a-lifetime Historic Battles draw thousands of players into fights, leaving a lasting mark on the game and permanently expanding the playable world in Medieval Empires.
Medieval Empires Highlights
This game has many highlights and differences in the market, such as:
Growing world map: from release onwards and over time, the world map will continue to expand. New lands will be added, reaching from Europe and Africa via the Middle East to Asia.
Evolving hero system: Heroes are a fundamental part of the game: during the continued development of Medieval Empires, more and more systems, like gear, will be added to the depth of hero gameplay. By that, players can develop their unique heroes and lead them into battle or sell them on marketplaces.
DeFi staking mechanisms (VIP system): by using the company's MEE token, the player can stake them in the game. That will allow them to not only have the chance to participate in airdrops but also receive game-specific benefits, such as boosts.
Renting out the land: Medieval Empires does not only allow the sale of resources to make up for land investments but also to rent out the land to other players. By that, the land owner can generate a passive income to make up for their investment.
Mee Token Usecase
MEE can be used as in-game currency, and it can also be used as the currency of exchange for various values and add-on benefits available to players to enhance their gameplay experience of the game.
Further, MEE provides community and political influence, airdrop, and special lands. Also, MEE can be used to get game coins, items usable in the game on the Medieval Empires DEX.
Land NFTs allow players to tax others while sharing land with them, and both get to build, loot, craft, and gather resources on this land. MEE will be useable to pay P2P taxes and land rent as well as purchase any upgrades and skills available in the game for players to boost or speed up their performance and progression in the game.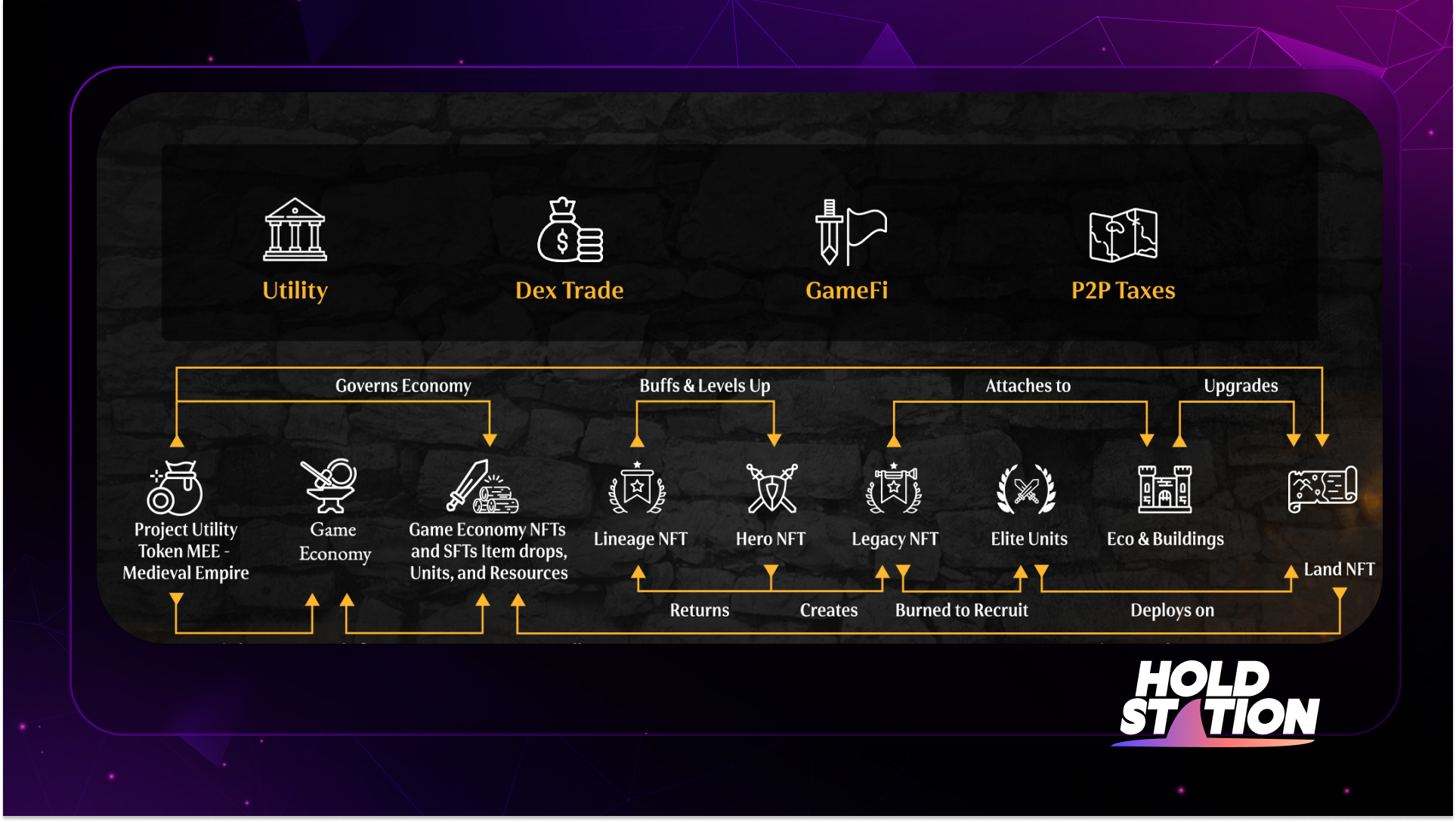 Token Allocation And Sale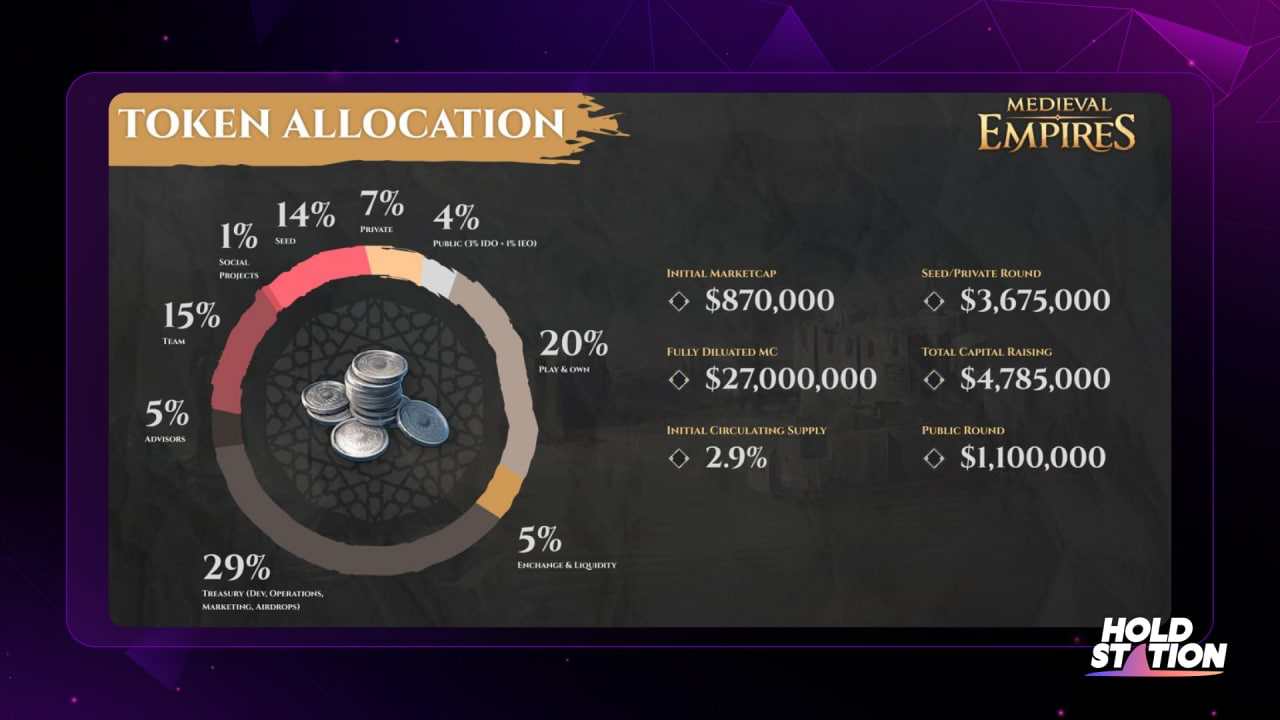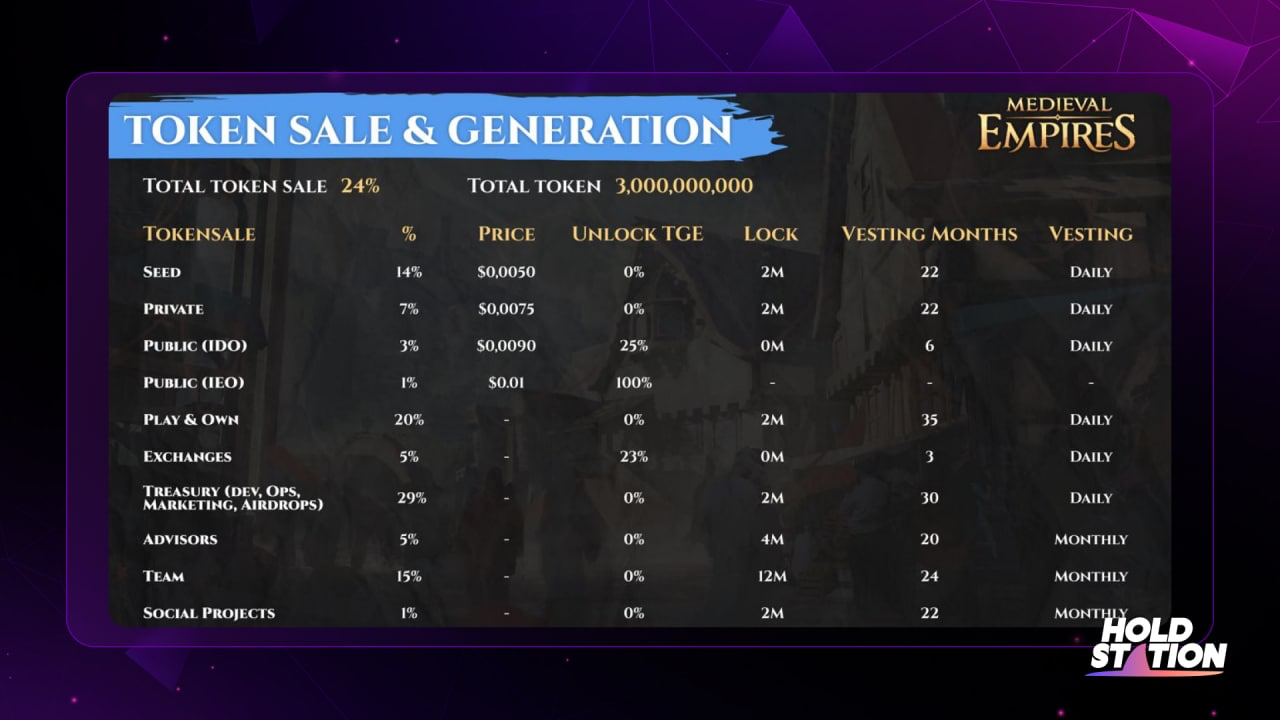 Roadmap
For now, the project is still on track with the roadmap, and the community is looking forward to the MVP desktop release (alpha) along with online and offline community events in Q1, 2023.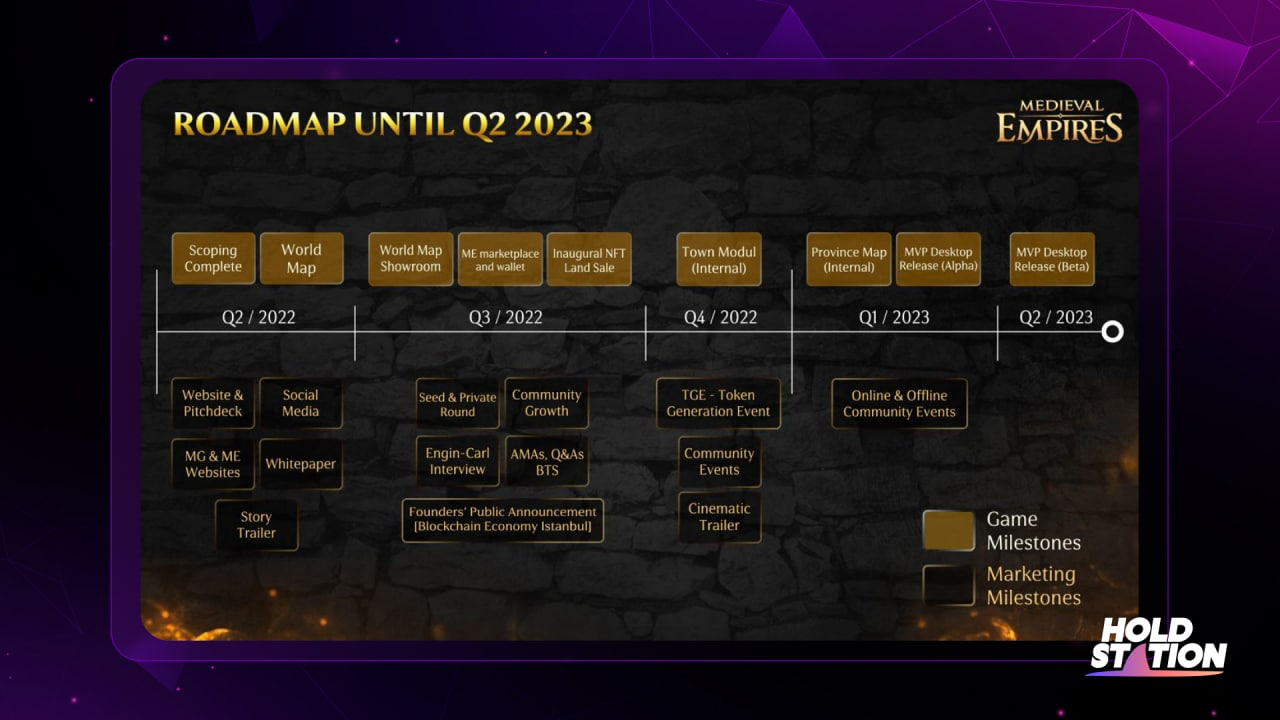 Team
MoonGaming is a blockchain-based gaming studio working on its first project - Medieval Empires. Co-founded by investor and influencer Carl Runefelt, aka The Moon, and Chief Visionary Officer, Assad Dar, MoonGaming comprises an enthusiastic group of professionals from the gaming, marketing, and crypto industries, all eager to create, collaborate and innovate to provide a positive impact on the future of gaming. Additionally, the project's team is fully identified with a high level of education and experience shown on their Linkedin.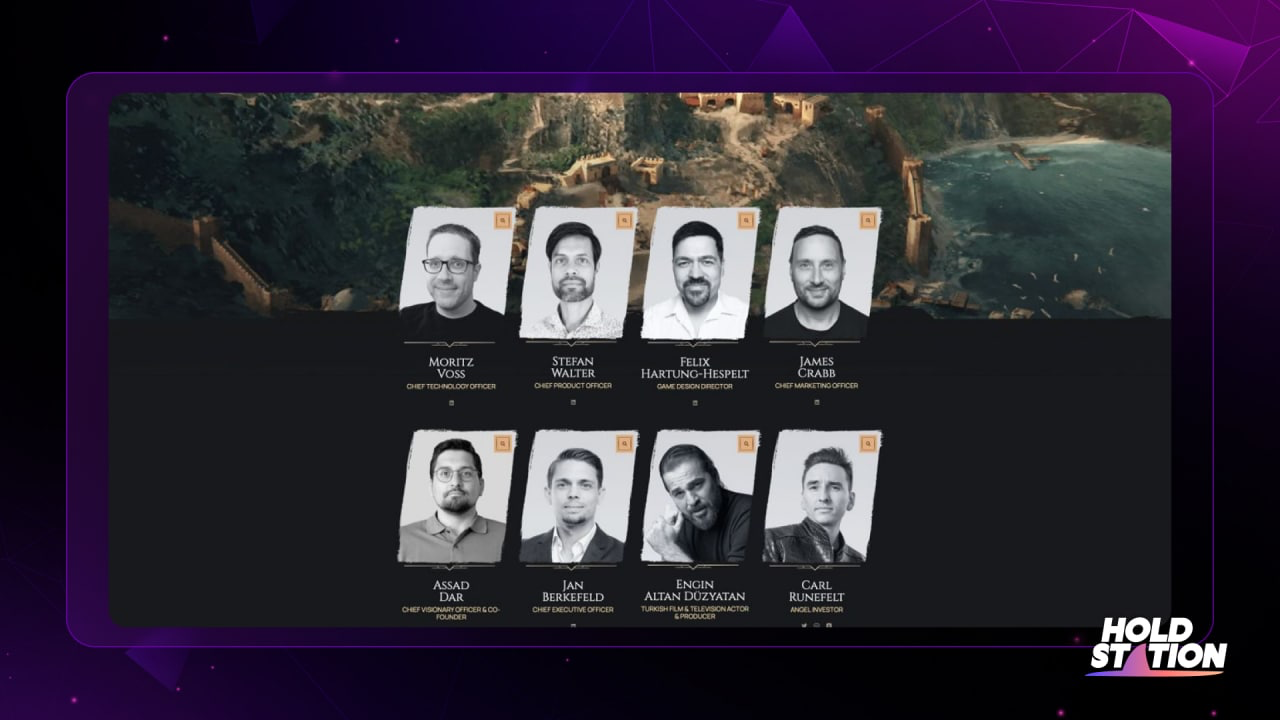 Partner
According to Medieval Empires, the notable partners mentioned are Polygon, Blockchain Game Alliance, etc. Also, the project has been featured on much well-known news worldwide, such as Bloomberg, Yahoo Finance, etc.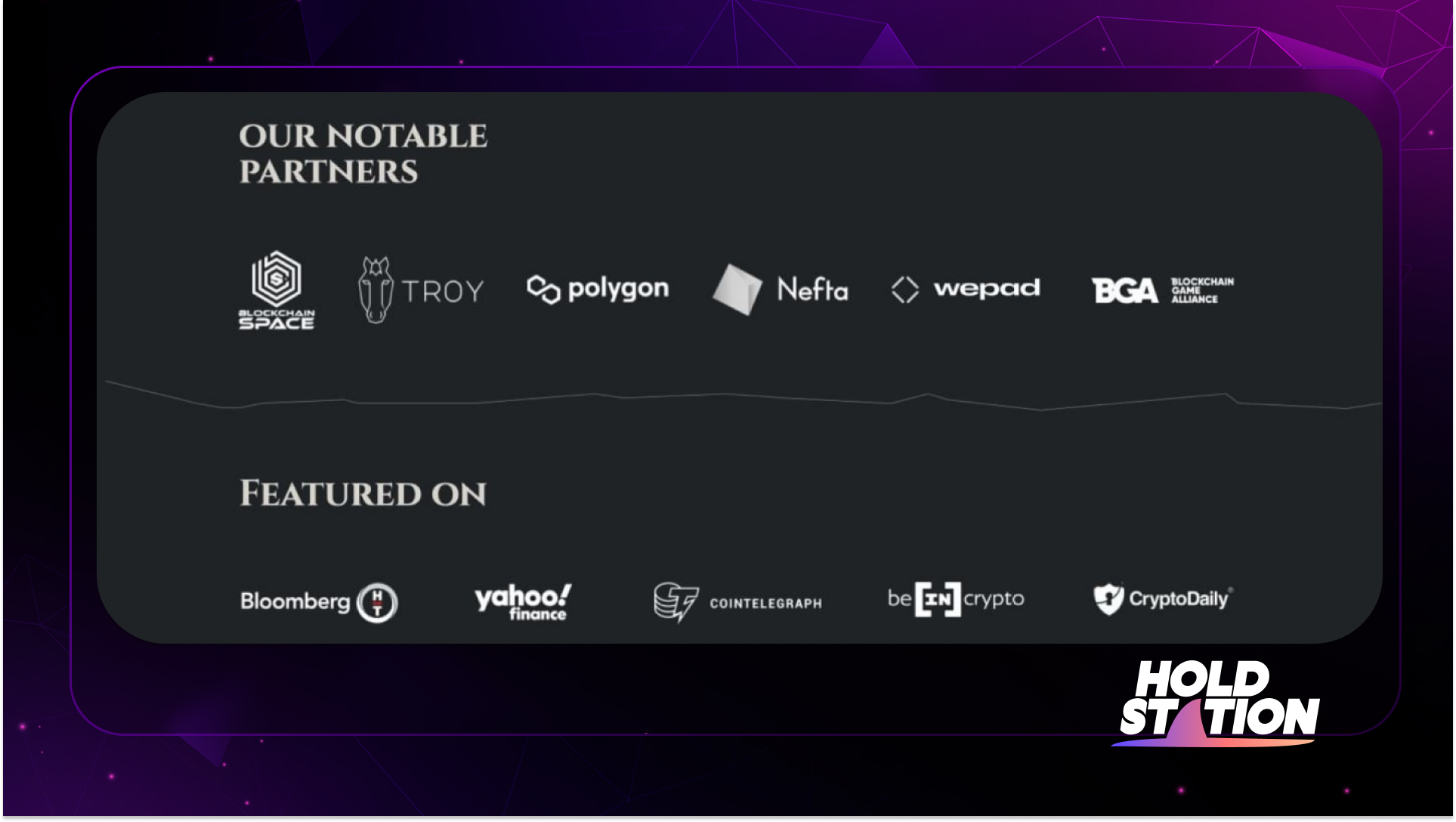 Fundraising
Medieval Empires, a blockchain-based game, has raised $2.1 million in its first seed round. The successful funding round, led by key opinion leaders in the space such as Evan Luthra, James Crypto Guru, Satoshi Stacker, Crypto King, and Davinci Jeremie, lays the groundwork for Medieval Empowers to lead the mainstream adoption of blockchain gaming.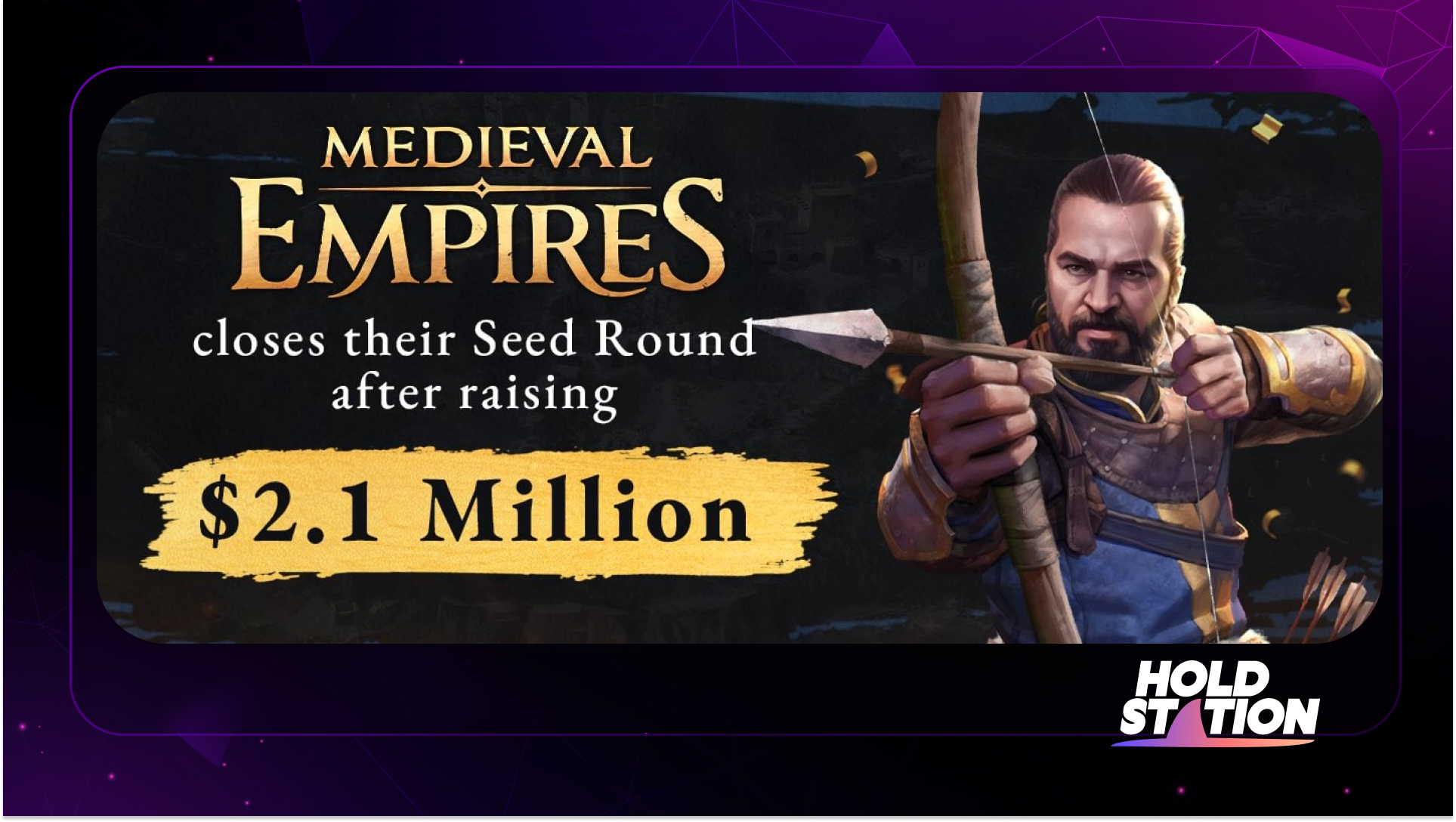 ROI Of IEO Projects On Bybit Launchpad
Based on the projects that have been IEO on Bybit Launchpad, they all give pretty good profits in the bear market, with the last three projects having an average return of x1.5, and even the Diamond Launch (DLC) project has grown x15 in September. Besides, projects on Bybit Launchpad from June to October 2022 all had an average ATH ROI of about x5.1 - quite impressive during the downtrend. In particular, the Diamond Launch ($DLC) project has the highest ATH ROI - x15 when IEO on Bybit Launchpad in September, followed by the Walken project ($WLKN) x10 and the OpenBlox project ($OBX) x8.22 in June.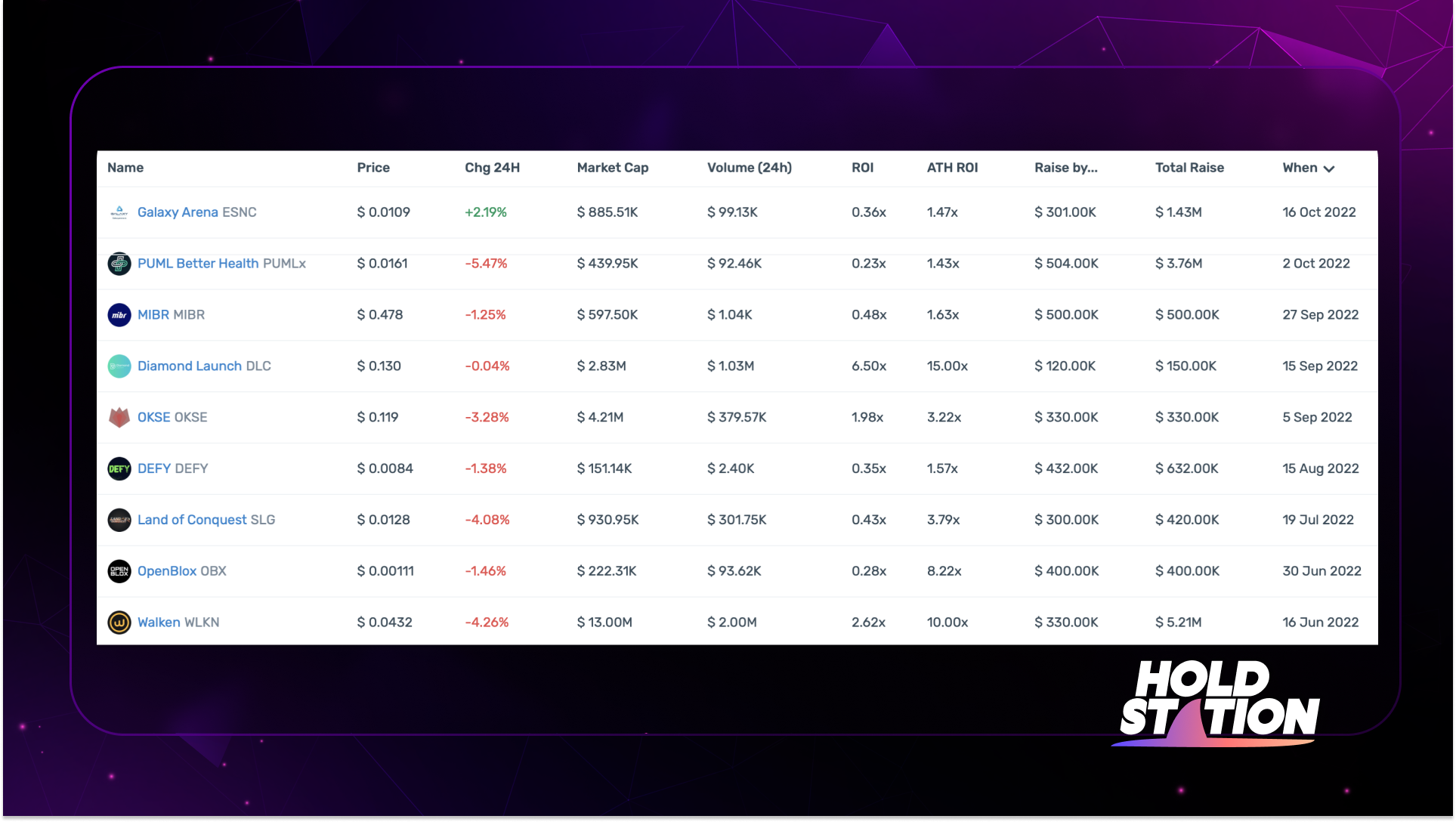 Personal Reviews
That is a GameFi project that has not yet launched the main product, the Medieval Empires game, but has a large community on Twitter with more than 90k followers, good interaction, more than 15k members on Telegram, and more than 13k members on Discord. However, the current wave of GameFi has passed and is no longer in its heyday for even Axie Infinity - the leading GameFi project today.
Based on project information, Medieval Empires develops game products with many outstanding features that can help users earn passive income, in addition to continuously developing games with new maps that will make players feel fun and not get boring.
$MEE is the primary token of the Medieval Empires project, and the project team holds not too many tokens - only about 15% along with a 12-month lock and a 24-month vesting. However, the project sells tokens about 24% of the total supply mainly in the seed round with 14%, locking for 2 months and vesting for 2 months. The project sells tokens with a large amount, but the initial discharge pressure when TGE is not much when the IEO on Bybit Launchpad only has 1% of the total supply. However, in Q1, 2023, the new project launched the Medieval Empires game, which is risky when all products and features are only available on "paper." Based on the projects that have been IEO on Bybit Launchpad, they all give pretty good profits in the bear market, with the last three projects having an average gain of x1.5, and even the Diamond Launch (DLC) project has grown x15 in September.
Summary
Medieval Empires is a pretty good GameFi project with many new and unique features that promise to attract players not only play-to-earn but also to immerse themselves in the battles, gameplay, and strategy in the game. Besides, the project will need a lot of time to complete and edit the alpha and beta versions in Q1 and Q2 of 2023. That is also the most critical period of the project to fix bugs, if any, of the alpha and beta versions for an official release next year.
---
Holdstation Wallet - Your Gate to Web3 💜🦈
Make DeFi as easy as CeFi!
Disclaimer:
The information, statements and conjecture contained in this article, including opinions expressed, are based on information sources that Holdstation believes those are reliable. The opinions expressed in this article are personal opinions expressed after careful consideration and based on the best information we have at the writing's time. This article is not and should not be explained as an offer or solicitation to buy/sell any tokens/NFTs.
Holdstation is not responsible for any direct or indirect losses arising from the use of this article content.