Ditto is a liquid staking protocol built on the Aptos ecosystem similar to Lido on Ethereum that officially let users stake $APT to receive $stAPT with the current APY 7% at dawn (21st) /ten). Along with that is the announcement of the upcoming token launch next week. Will Ditto be able to do the same thing as Lido did in Ethereum on Aptos? Let's review through this analysis with Holdstation!
What is Ditto Finance?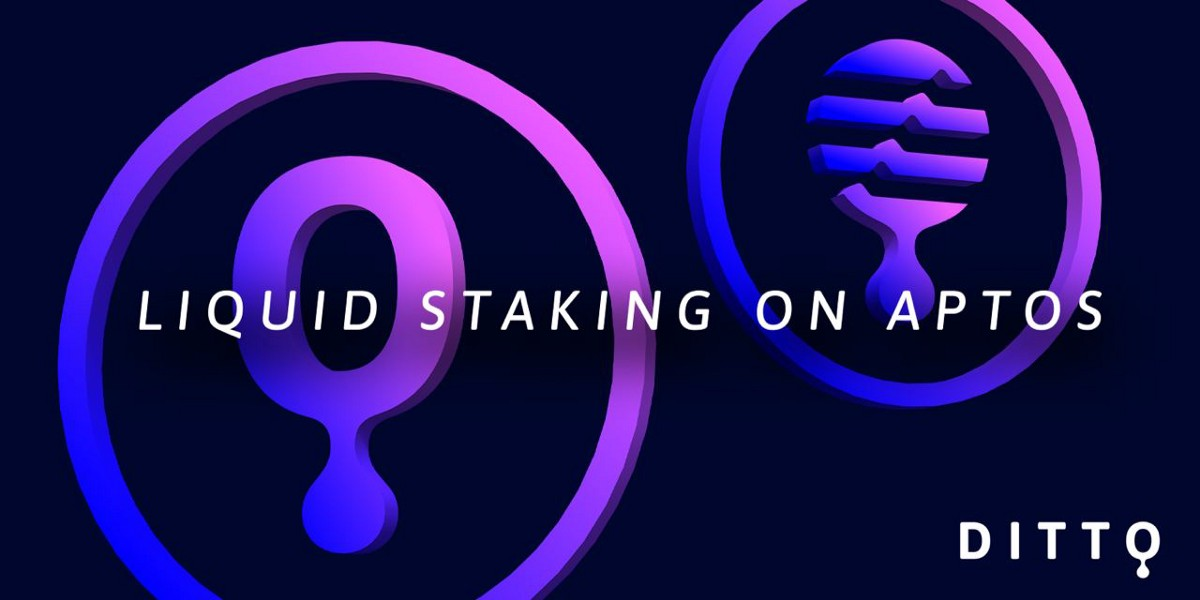 Ditto is a liquid staking protocol built on the Aptos ecosystem, Ditto allows any user to stake their $APT so that they can contribute to the project with decentralized, administrative rights in while simultaneously earning profits and maintaining liquidity for the protocol.
Specifically, users can stake $APT to receive $stAPT. $stAPT is minted when users stake $APT on Ditto. This is a profitable token as well as a token representing user ownership of Aptos staked on Ditto. The value of stAPT will be appreciated more than that of APT, stAPT possesses the same functions as $APT and can be used for most operations in the DeFi space on the Aptos ecosystem, namely :
Use between DEXs on the Aptos ecosystem
-Use on lending protocols on the Aptos ecosystem
-Use to exchange stablecoins on the Aptos ecosystem
-Use on NFT Marketplaces and buy NFT on Aptos ecosystem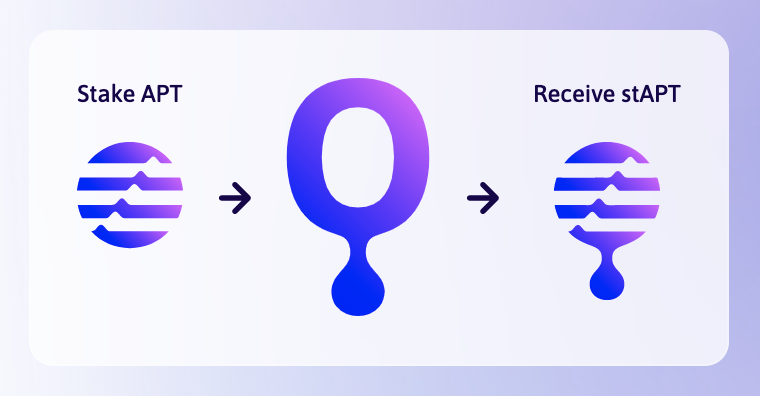 Products of Ditto Finance
This morning Ditto allowed users to start staking $APT to mint $stAPT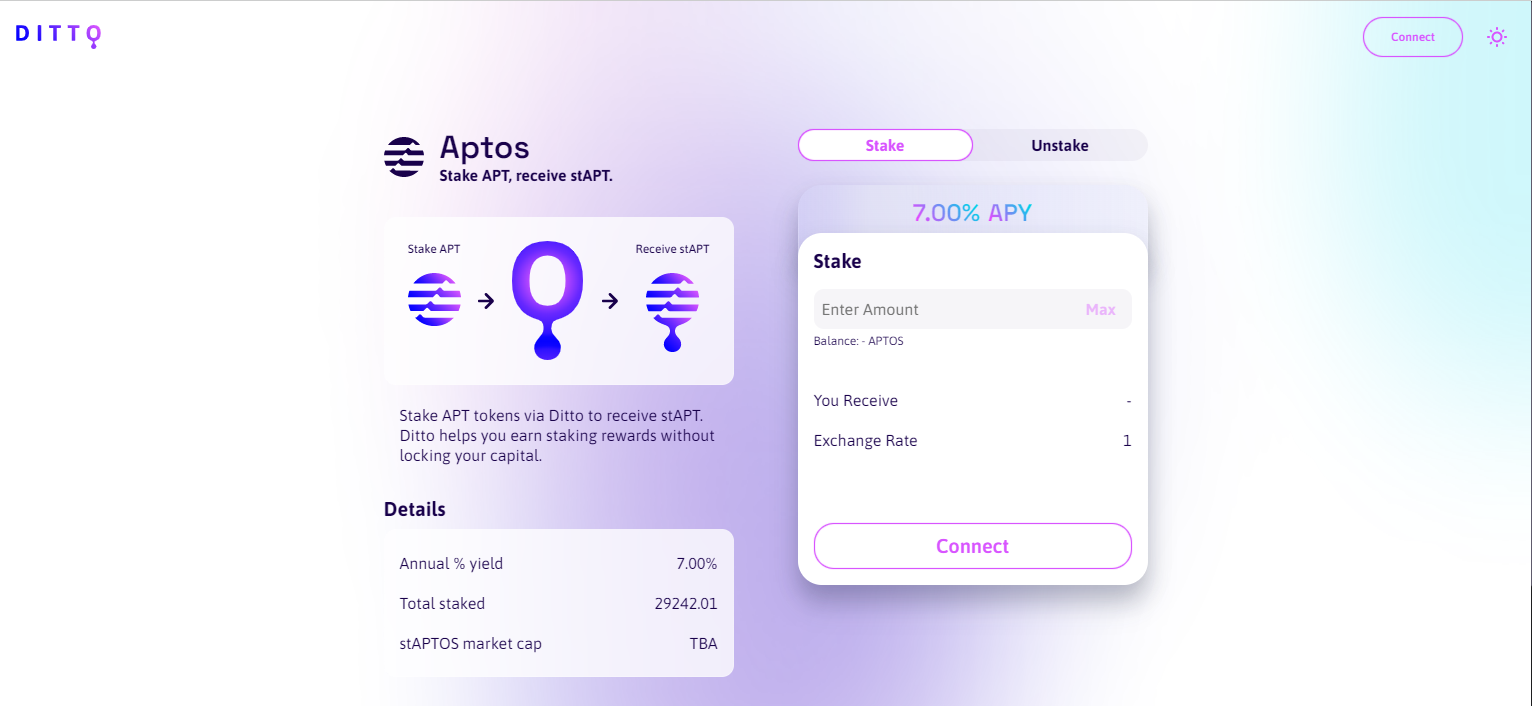 With the current APY level is 7%. Users who intend to hold $Aptos, then Ditto is the address that users need to go to for the purpose of storing value.
$stAPT is introduced to be widely used on DEXs, lending protocols, NFT marketplace,... in the Aptos ecosystem. If $stAPT's app can do the same as $stETH, wouldn't Ditto be a project with great potential.
Ditto Finance Assessment
It can be seen that the current model of Ditto is very similar to Lido on Ethereum. The full cap of $LDO is currently about $1.5 billion. Meanwhile, Ditto is also planning to launch $DTO. We will wait for the applications of $stAPT on the ability to combine with Dapps on the Aptos ecosystem to evaluate the capacity of the Liquid staking platform.
The project's $DTO governance token was also announced to be deployed next week. Users can try their luck by being the first to stake $APT, if lucky will most likely receive an airdrop of $DTO from Ditto. If the applicability of $stAPT is high, the need for staking $APT in the future is large. Expect price of $DTO x many times.
How to stake APT on Aptos
Step 1: Go to https://stake.dittofinance.io/
Step 2: Connect your wallet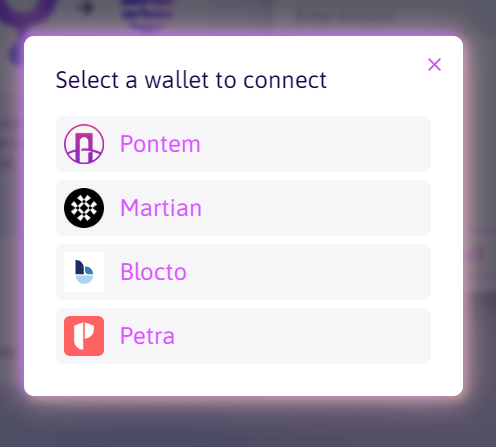 Currently Ditto is supporting Pontem, Martian, Blocto and Petra  wallets
Step 3: select the amount of $APT the user wants to stake and click stake then select confirm on his wallet interface.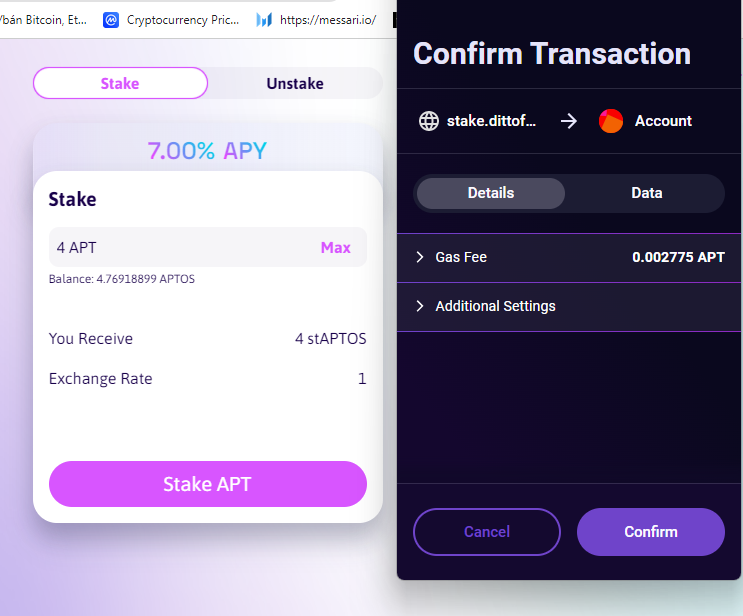 That's it, staking is done and you will receive the number of stAPT corresponding to the number of APT staked in your wallet.
Step 4: If you want to unstake users just need to select unstake and select unstake