Holdstation DeFutures is an innovative trading platform product provided by Holdstation, supported all Ethereum-based virtual machine chains, enabling decentralized leveraged derivatives trading of up to 500x.
This platform offers a range of convenient trading features with low fees and user-friendly tools. Holdstation DeFutures is also integrated within the Holdstation ecosystem, encompassing additional services such as spot trading, asset storage, and staking.
What Sets Holdstation DeFutures Apart from the Rest of the Market?
Holdstation DeFutures is a trading platform that stands out with two vital features: Dynamic Price Feed (DPF) and Flexible Market Making (FMM). These cutting-edge functionalities are designed to enhance the trading experience for users.
Our platform is meticulously crafted to be simple and user-friendly, allowing you to execute transactions swiftly and effortlessly. With advanced and well-tailored algorithms, you can trade with confidence, knowing you'll receive the best prices for your transactions.
In addition, Holdstation DeFutures offers competitive transaction fees, surpassing those of most exchanges in the market. Furthermore, the collected fees are shared with liquidity providers and holders of the $HOLD token - RealYield.
Dynamic Price Feed (DPF)
Dynamic Price Feed (DPF) plays a crucial role in ensuring precise pricing for all traded assets on the platform.
The DPF algorithm is designed to calculate accurate average prices for all supported assets. This is achieved by gathering data from various sources, including decentralized oracles and real-time price data from leading centralized exchanges (CEXs).
By integrating multiple data sources, DPF minimizes the impact of inaccurate oracle values or abnormal trading activities. This helps to ensure the most accurate and reliable price data possible.
DPF is also integrated with Holdstation's Flexible Market Making (FMM) algorithm, enabling efficient and effective trading across a wide range of assets.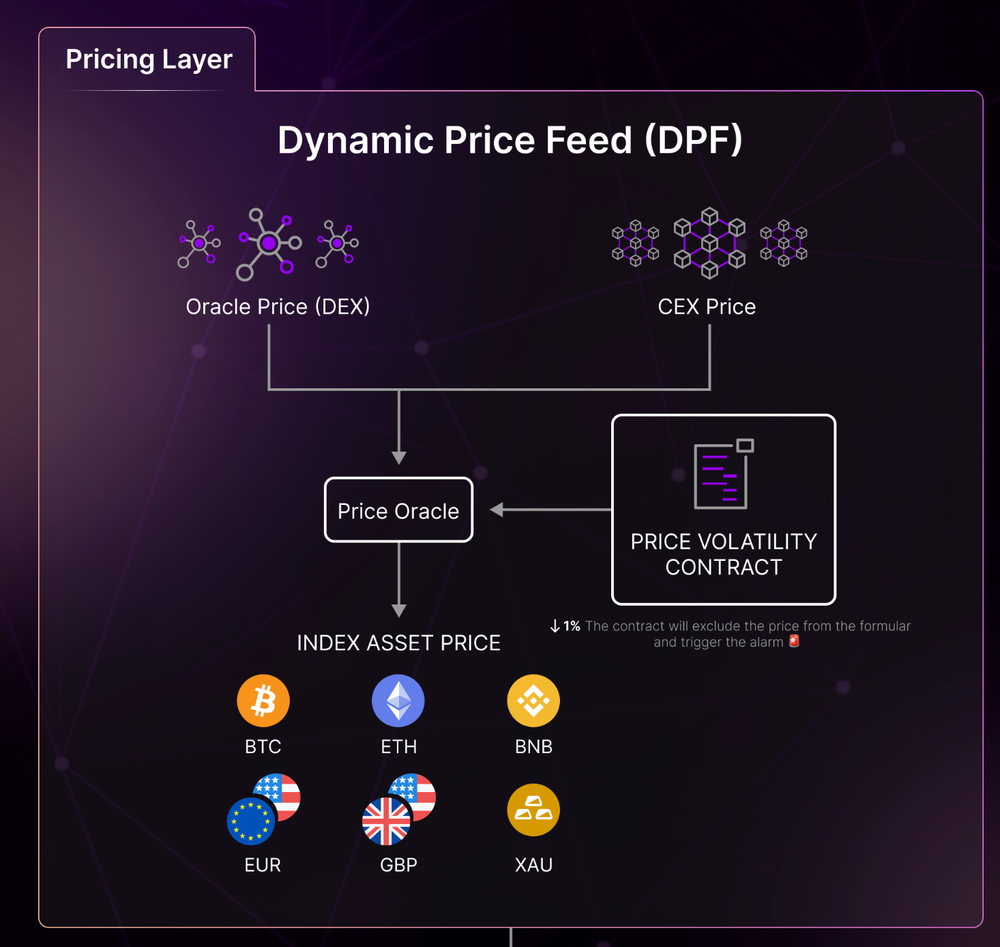 Holdstation DeFutures offers several advantages that enhance decentralization and empower users:
Non-Custodial
No KYC Requirements
Transparent Transactions
High-Accuracy Oracles with No Scam-Wicks
Unlimited Timeframe Trading
Flexible Market Making (FMM)
Holdstation DeFutures has designed the Flexible Market Making (FMM) model, drawing inspiration from the Dodo Proactive Market Making Model. It utilizes funding fees within blocks and applies them to all assets, including futures contracts for commodities, cryptocurrencies, and Forex.
The funding fee structure is simplified with a single smart contract that incorporates both pricing and funding fee logic, resulting in a seamless and efficient trading experience.
Holdstation's FMM model features a single versatile trading pool (i.e., a single smart contract) that handles pricing and funding fees logic.
Supported Assets and Leverage on Holdstation DeFutures
Crypto
Users can trade popular crypto assets like $BTC, $ETH, and more on Holdstation DeFutures with leverage of up to 150x, without any time restrictions.
Furthermore, in the future, there will be a continuous expansion of trading pairs to fulfill all user requirements.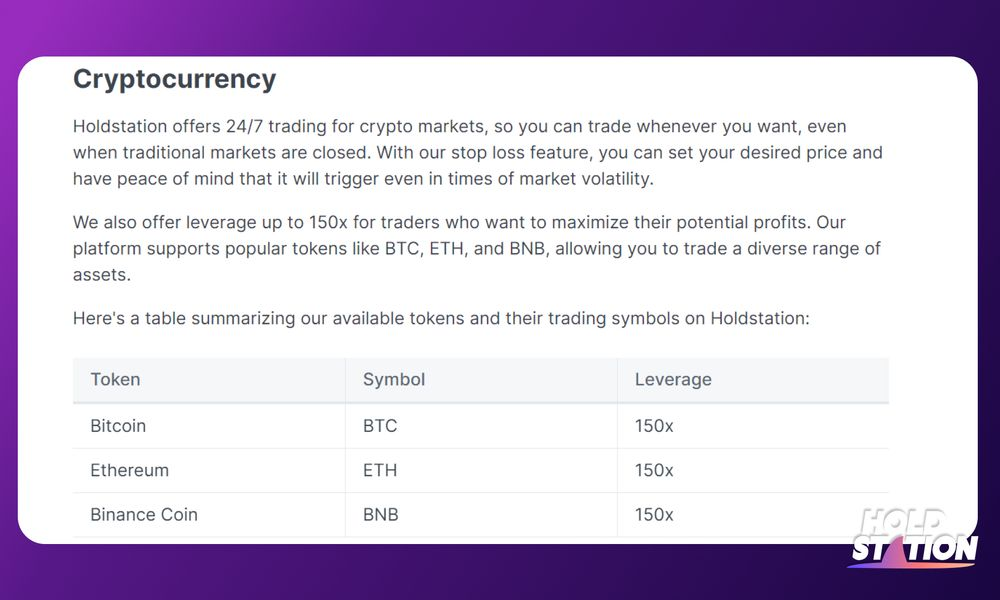 Forex
Holdstation DeFutures enables users to trade currency pairs with leverage up to 500x. Stay tuned for the addition of new Forex pairs like GBP/USD, EUR/USD, and more.
Commodities
Holdstation DeFutures introduces support for two commodity pairs, GOLD and USOIL, with leverage of up to 30x.
Fee Structure
Crypto: Enjoy a competitive closing/opening fee of 0.08%.
Forex: Experience low closing/opening fees of just 0.008%.
Commodities: Benefit from a favorable closing/opening fee of 0.05%.
Liquidation fee: Stay informed with a transparent liquidation fee of 0.02%.

Holdstation DeFutures Trading Guide
Step 1: Access holdstation.exchange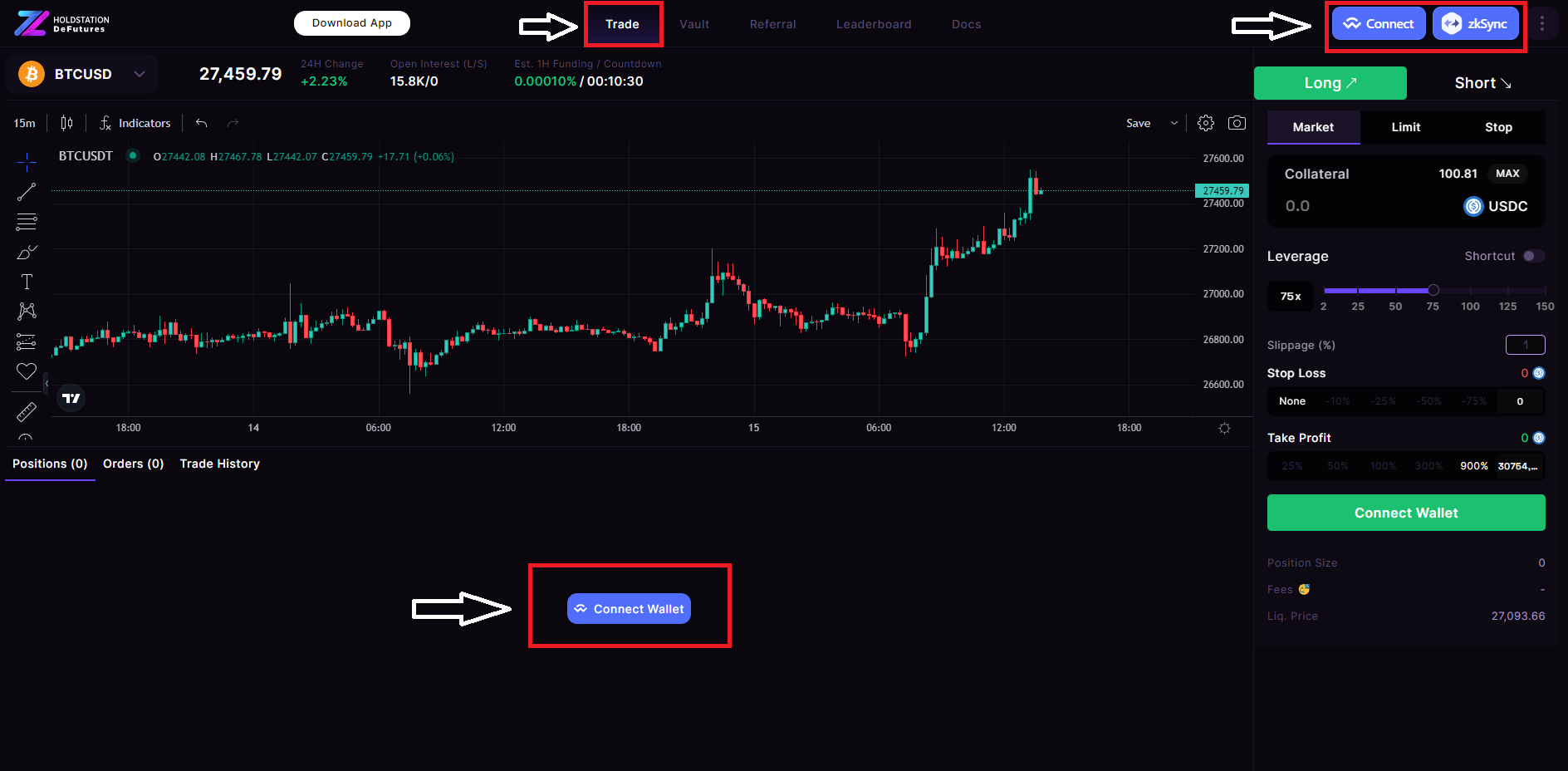 Step 2: Connect your wallet by Wallet Connect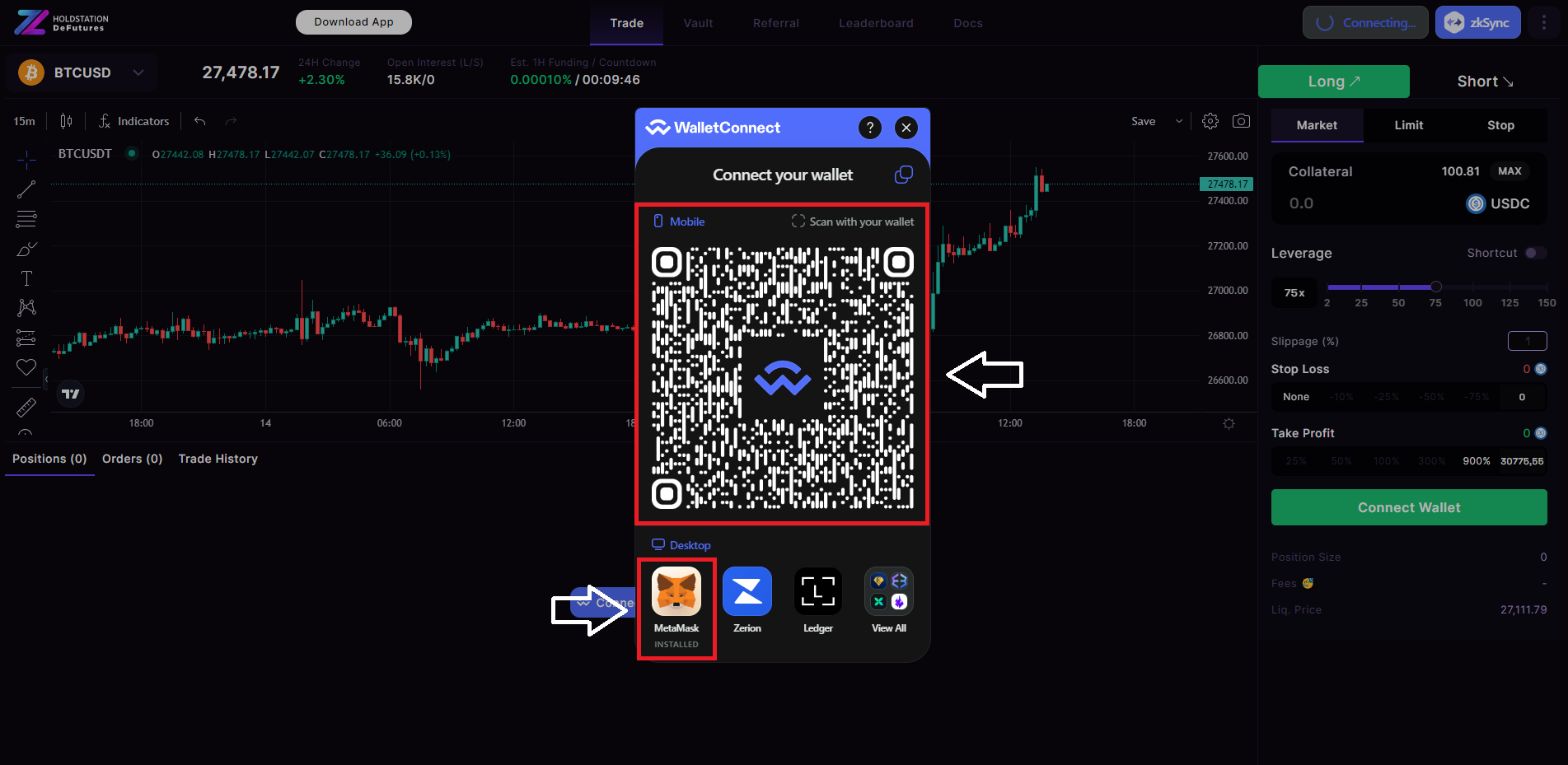 Step 3: Open position using the features available on the Holdstation DeFutures interface
Choose the Long/Short position to open
Set the order type as Market/Limit/Stop
Select the desired amount to allocate for opening the position
Grant permission to use USDC - Open the position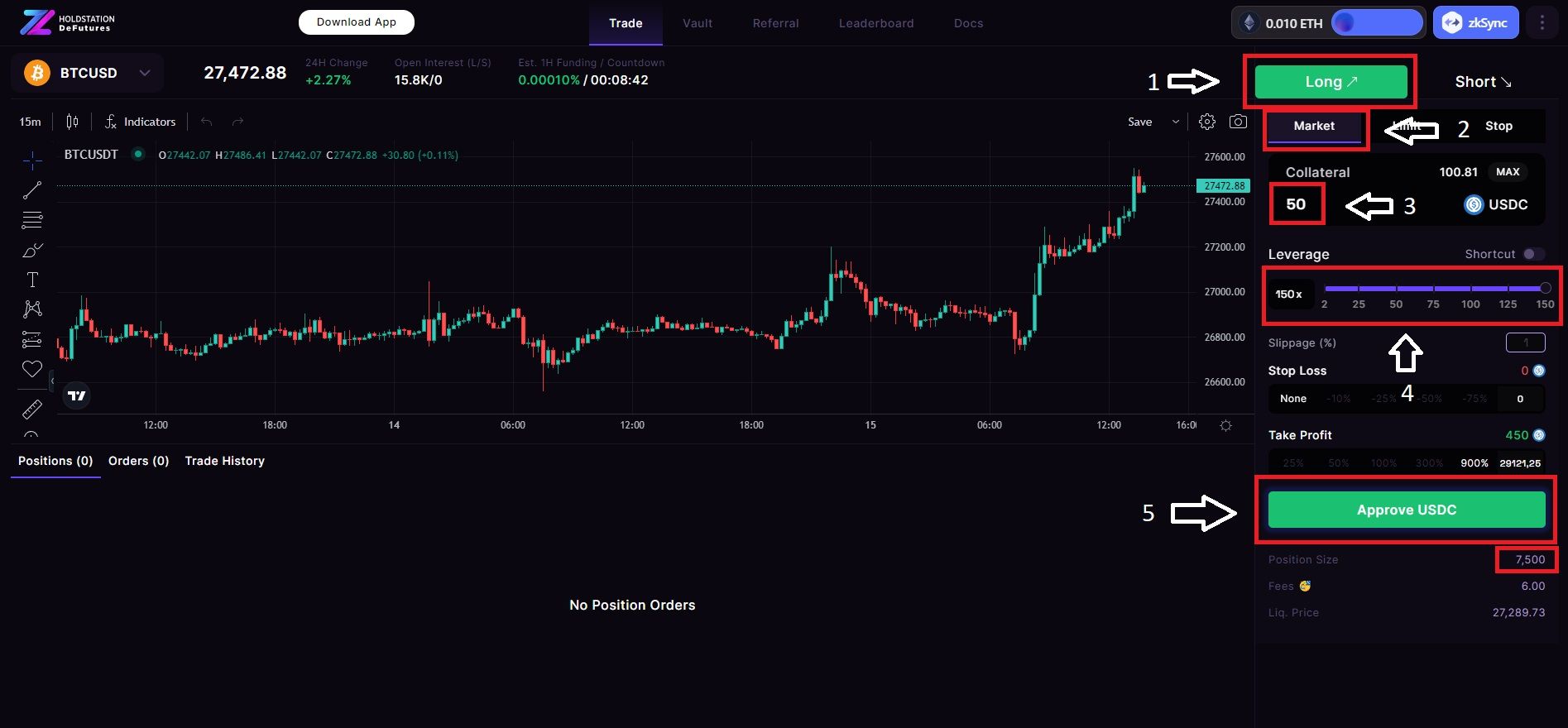 Step 5: Once the process is completed, your positions will be visible in the central area. You have the flexibility to adjust/close/open positions as per your preference.
Guide to Use DeFutures Trading on Holdstation Wallet
Providing Liquidity
At the holdstation.exchange interface, access the Vault
Information area about the
Vault Information area about users' assets in the Vault
Information area about incentivized rewards per Epoch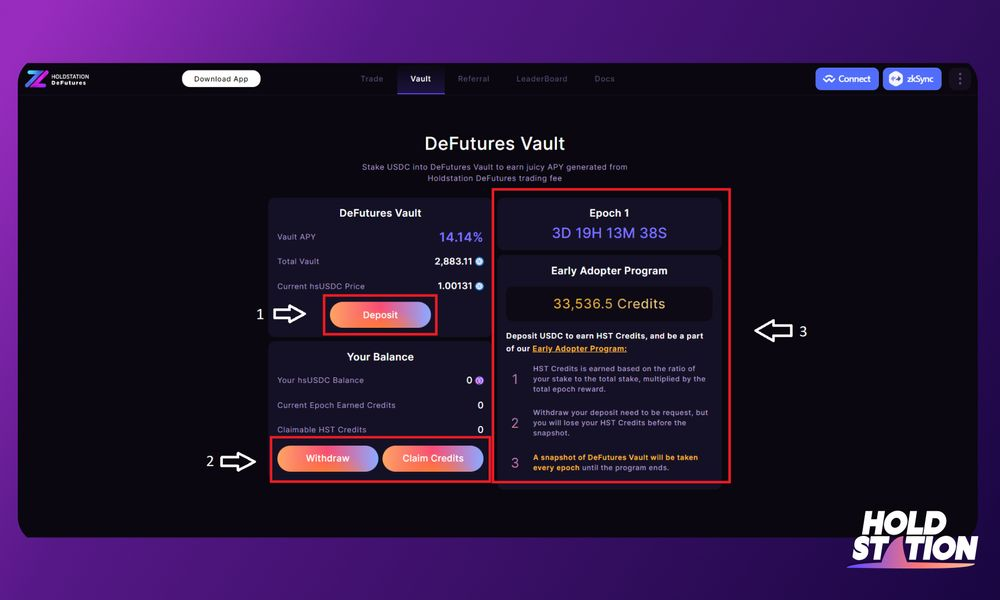 Guide to Providing Liquidity to hsUSDC Vault
Step 1: Provide liquidity to the Vault
Select "Vault" and navigate to the liquidity provision interface.
Use the Deposit/Withdraw features available.
Choose the amount of assets you want to provide as liquidity.
Grant permission and proceed with the Deposit/Withdraw operation.
This guide provides step-by-step instructions on how to provide liquidity to the hsUSDC Vault. By following these steps, you can efficiently contribute liquidity and participate in the ecosystem.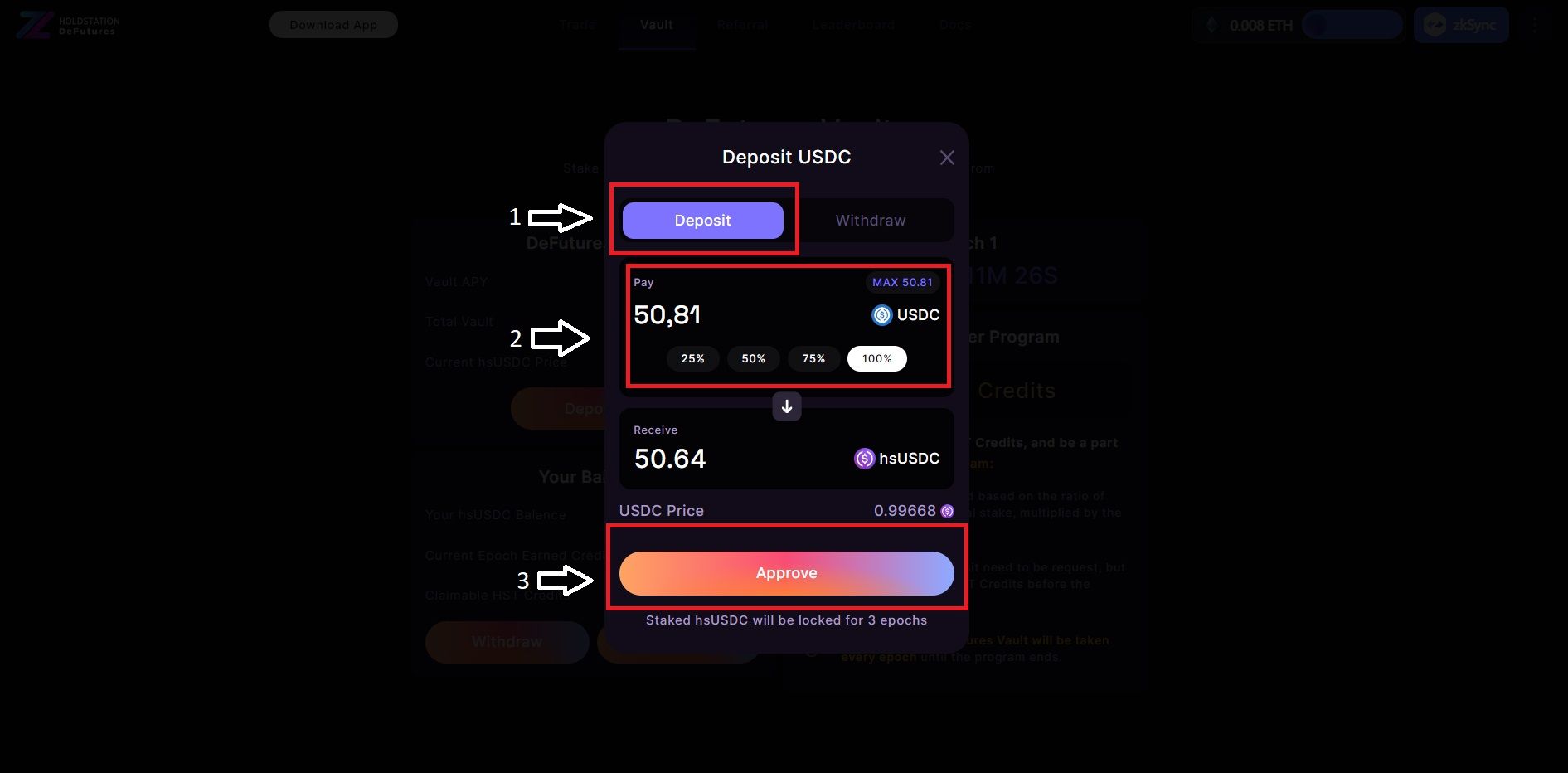 How to Create a Referral Link on Holdstation DeFutures
Step 1: Access the Referral Section
To initiate the process of creating a referral link, access the "Referral" section on Holdstation DeFutures.
Step 2: Choose GOLD/USDC
Here you can trade/swap to receive GOLD and activate your referral link. When using the invite link to invite friends to trade, you will receive commission in GOLD/USDC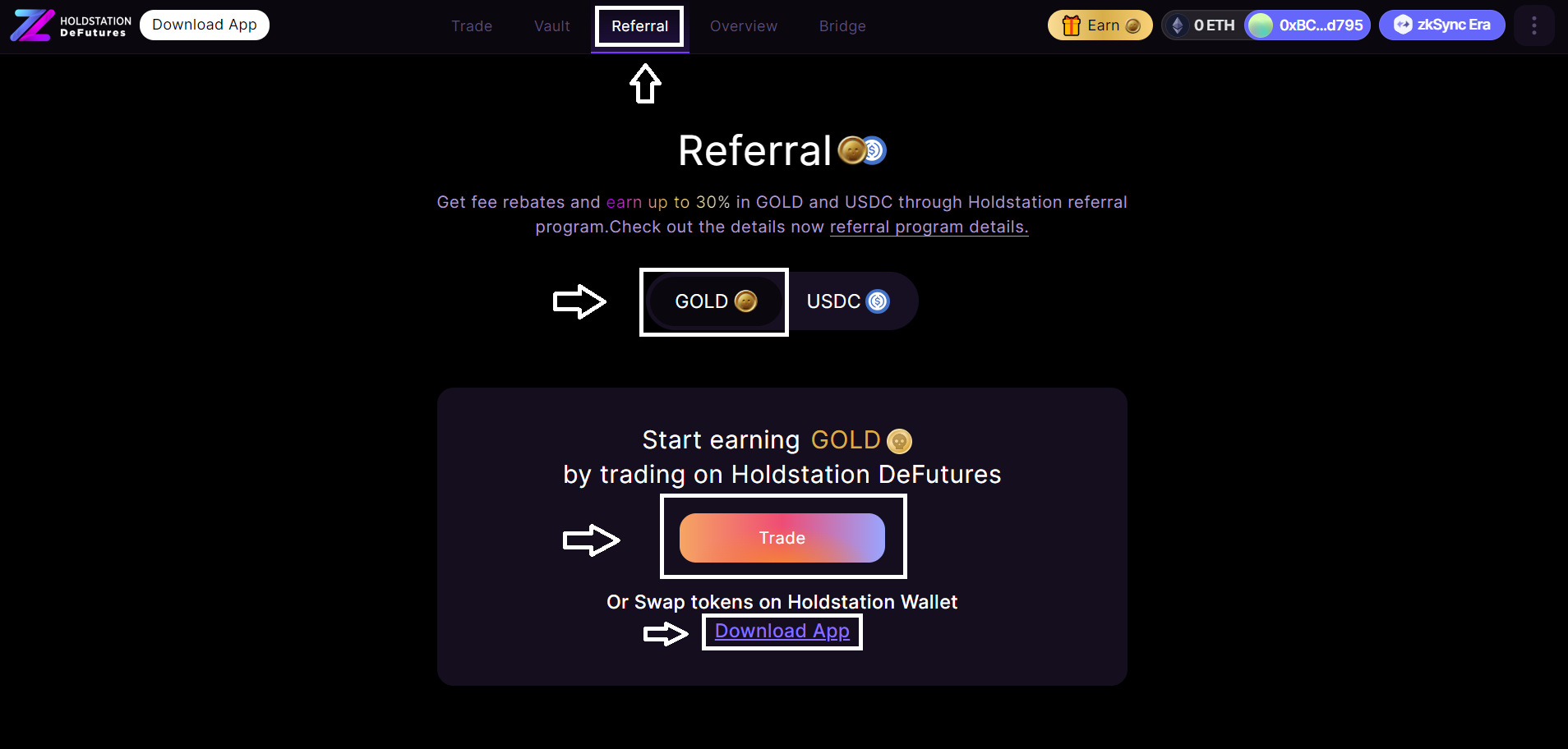 After trading on Holdstation Exchange or Swapping on Holdstation Wallet, all information regarding account rewards will be continuously updated.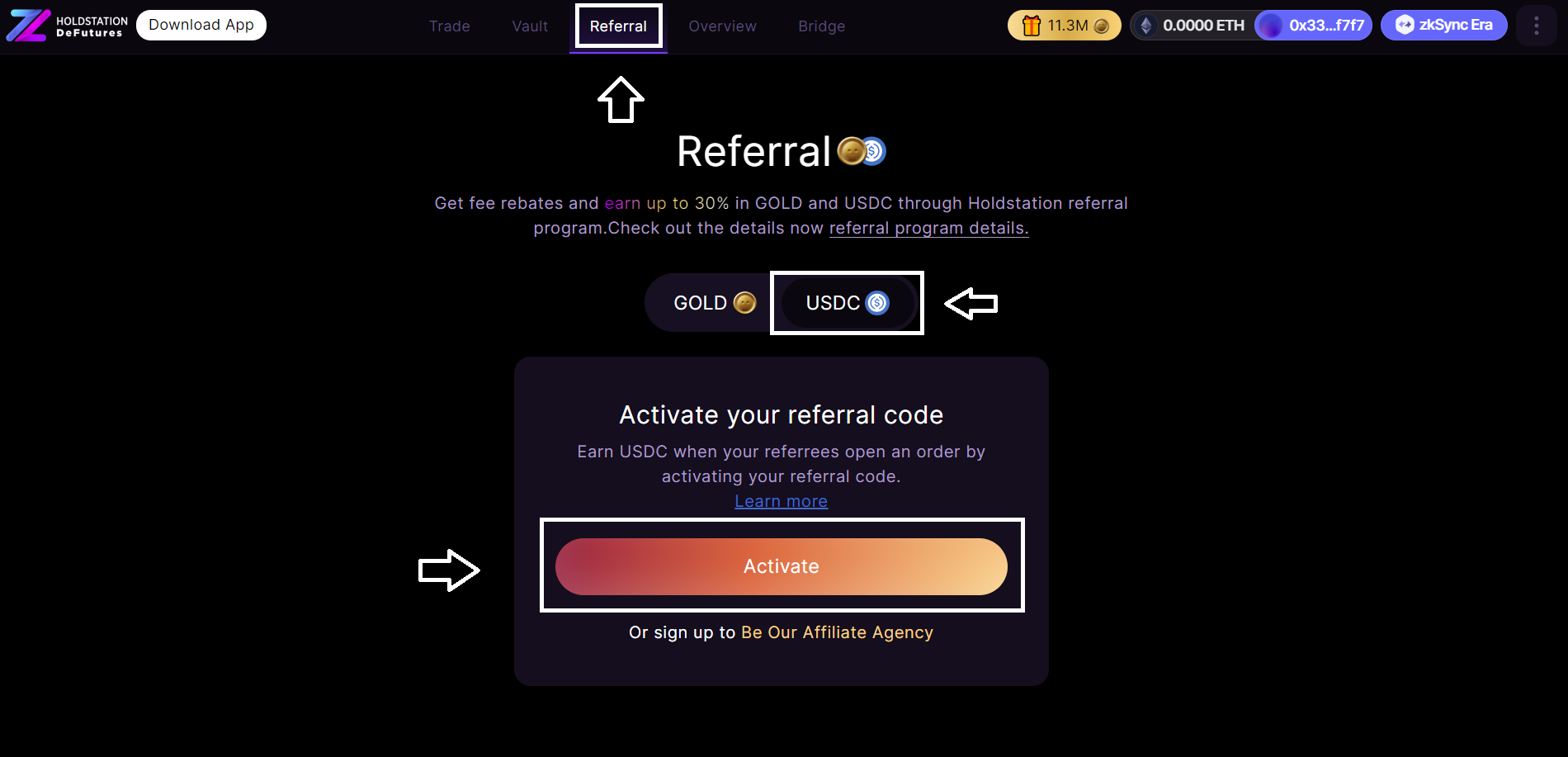 Summary
In conclusion, the above is all the information about the Holdstation DeFutures exchange, which is part of the Holdstation ecosystem. Readers can experience the products within the ecosystem to have the opportunity to receive airdrops from the project.
---
Holdstation Wallet - Your Gate to Web3 💜🦈
Make DeFi as easy as CeFi!
📲 Download now: IOS | Android
Disclaimer:
The information, statements and conjecture contained in this article, including opinions expressed, are based on information sources that Holdstation believes those are reliable. The opinions expressed in this article are personal opinions expressed after careful consideration and based on the best information we have at the writing's time. This article is not and should not be explained as an offer or solicitation to buy/sell any tokens/NFTs.
Holdstation is not responsible for any direct or indirect losses arising from the use of this article content.