Holdstation Wallet is a self-custodial wallet working with all EVM-compatible L1/L2 networks, supporting NFTs. With many outstanding features, Holdstation Wallet aims to be a secured wallet platform, optimizing profits and providing a great experience for investors.
Download Holdstation Wallet for Iphone
We will launch on Android and SDK shortly!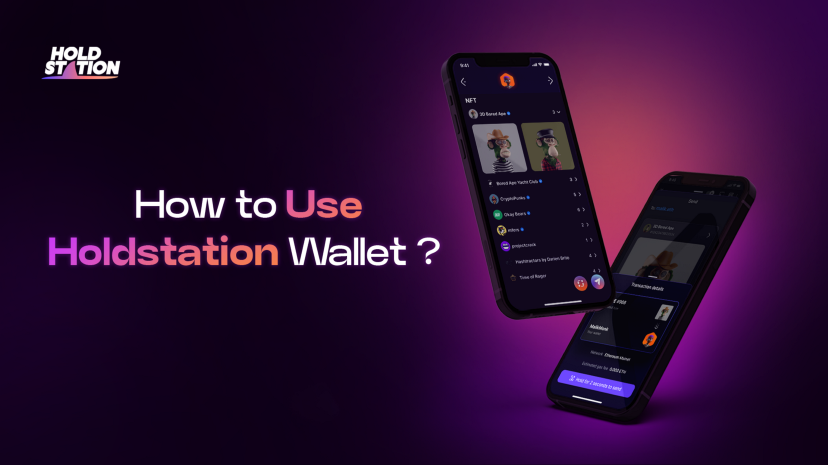 👇 On this page you'll find resources, guides, and education that will help you use the Holdstation app and navigate the world of Web3.
If you have more questions or want to discuss partnership opportunities, feel free to reach us via email: support@holdstation.com, or reach out to us on our Discord!
Getting Started with Holdstation Wallet!
Create a new wallet
TLDR: Watch the clips at the beginning of the session
Once you have the Holdstation Wallet app installed on your device, open it and tap the "Create wallet" button to get started.
Step 1: Click "Create Wallet" to get started.
Step 2: Name the wallet according to your preferences. For example, mine is "Holdstation" — very easy to remember, isn't it?
(Note: This is just a display name and your wallet will still have its own address)
Step 3: Set up PIN code. In addition, you can also install Touch ID / FaceID to save time to log in the next time but still ensure the safety of your wallet.
Not only that, with a single Secret Recovery Phrase, you can completely create for yourself many different wallet addresses inside the Holdstation wallet similar to a person who can name in many houses. 😉 This can help you to use each address for different investment purposes.
This is one of the differences between Web3 and the traditional Internet when you actually own and control your assets. Your wallet is like an "account" and you can transfer them to places via your Secret Recovery Phrase (or Private Key).
The Importance of Back up
You can now start using the Holdstation wallet. But before that, back up the Secret Recovery Phrase so we don't lose each other! 👯‍♀️
Unlike traditional websites Facebook or Instagram, a Crypto wallet created will last forever. However, without Backing up and protecting your Secret Recovery Phrase, there is no way to restore it. Fortunately, this operation is extremely simple. (Note that Holdstation has no access or control over your wallet. You 100% own the wallet, the Secret Recovery Phrase is generated and encrypted on the device just for your eyes 👀)
Step 1: Tap the "Your wallet is unsecured" warning.
Step 2: Enter PIN code to confirm.
Step 3: The Secret Recovery Phrase will appear on the screen.
You can use the manual method by writing it down on paper and keeping it in a safe place. 🔏 Just keep it to yourself and safety first!
Or copy it to clipboard and store it on Google Drive or iCloud. But make sure it's a reputable place because if you need to recover your wallet, you will need these 12 letters.
Import an existing wallet
Step 1: On the first screen after you download Holdstation, click "Import wallet".
Step 2: Enter your Secret Recovery Phrase or Private Key in the box displayed, or click on the "Paste" icon if you copied it to the Clipboard before 🗒.
🤓 Note that for the Secret Recovery Phrase, enter the exact words in the correct order with only a space between the 2 words. Do not add any other characters.
Step 3: Click "Continue" and enter the PIN code.
How to send tokens from an exchange to your Holdstation Wallet & How to swap tokens on Holdstation Wallet
To send tokens from an exchange to your Holdstation Wallet
You can send crypto from an exchange to your Holdstation Wallet by copying your wallet's public address.
Step 1: On an exchange platform, let's take Binance for example, click on "Wallets".
Step 2: Click on "Spot" and then tap on "Withdraw".
Step 3: Choose the token you want to send (e.g. BNB).
Step 4: Choose "Send via Crypto Network".
Step 5: For "Address", go to the Holdstation Wallet app. Since we chose BNB, we have to change the network to BSC and click on your address to copy.
When sending cryptocurrency, bear the following in mind:
Make sure you transfer Bitcoin to a Bitcoin address and Ethereum to an Ethereum address or token because each type of cryptocurrency has a unique address.
The cryptocurrency will appear in your wallet once your transaction has been validated and confirmed. This could take a few seconds to many minutes.
Step 6: Go back to Binance and paste.
Step 7: Choose BEP20 for "Network".
Step 8: Enter the amount of BNB you wish to send.
Step 9: Click on "Withdraw" and "Confirm".
Step 10: Get your verification code and "Submit".
To swap or trade tokens/cryptocurrencies on Holdstation Wallet
Step 1: Tap on the Swap button in the bottom right corner.
Step 2: You can either search for the token you're looking to swap by typing its name or pasting the token contract or selecting from the tokens in your wallet.
Step 3: Next is the "To screen" where you can either search for the token or select the tokens in your wallet.
Step 4: The swap screen will then be displayed, where you can enter the amount you wish to swap. Before reviewing, there are a few settings you can customize to tailor your experience:
You can click 🎚🎚 Estimated fee to adjust the fee that suits your purpose.
Here are two types: Standard and Economical — lower fees but it may take a longer time for a transaction.
Edit the Slippage — Slippage happens when a swap's price changes between the time you submit your transaction and its confirmation. For various scenarios, you can increase or decrease your slippage tolerance percentage to ensure that your transaction is picked up.
Step 5: You'll be taken to your transaction review page once you've verified your selections. You can get all the information you need right here, including:
Price impact
Minimum received
Price
Estimated fee
Slippage
Step 6: Next, tap and hold on the "Hold 1s to Swap" button to authenticate the trade using your PIN code.
Step 7: Once the transaction has been confirmed, it will appear in your transaction history.
Step 8: Return to the balances screen and wait for your balances to update. This may take a few minutes, and you can pull down to refresh!
We at Holdstation don't have access to your wallet, and we can't control it. Your wallet is 100% yours, and the keys to it have been generated cryptographically on your device for your eyes only. It is created using an open standard that is portable and used across the Web3 ecosystem.
---
Holdstation Wallet - Your Gate to Web3 💜🦈
Make DeFi as easy as CeFi!
Holdstation Website: https://holdstation.com
Holdstation Official Links: https://linktr.ee/holdstation