Recently, Sei Network – DeFi-specific blockchain launched the NFT "Dawn" Sei mint program on the project's testnet. At the same time, Sei also hinted that owning this NFT will be a "wise choice" that you should not ignore.
Is this the next big airdrop after Aptos, with the same NFT Aptos Zero campaign?
Sei Network Overview
Regarding Sei Network, this is a Layer 1 Blockchain built for Order Book transactions. Sei raised $5 million led by Multicoin Capital to build the first DeFi-optimized Layer 1 Blockchain.
Around the end of September 2022, Sei also launched an ecosystem support fund and provided $50 million worth of liquidity for decentralized finance projects. This shows the 'spendability' of this blockchain for the goal that the project is aiming for.
On November 17, Sei Network officially announced the minting of the project's NFT 'Dawn' Sei. In just 1 day, more than 30,000 NFTs have been minted, with the promise that this NFT will be useful in the future.
With the huge Airdrop coming from Aptos recently through Aptos Zero NFT, there is more reason for users to believe that this is the way to determine who receives Sei's Airdrop.
How to mint NFT
If you already have more than 10 transactions on Sei testnet after November 8, you can mint NFT Sei right here: https://seinetwork.io/dawn
If not, you can follow the steps below:
Step 1: Install the wallet and set up the testnet
Download Keplr wallet at: https://www.keplr.app/download
Generate wallet address
Set the network to "Sei Testnet"
In Keplr wallet, select Sei Testnet at 'Beta support' section
Connect -> Kepler walletNote: If you can't find this section, you can add Sei Testnet manually by going to   https://www.seinetwork.io/dawn
After connecting the wallet, there will be a message to add the Sei Testnet network to the wallet -> select Approve. So your Kepler wallet is connected to Sei Testnet.
Step 2: Get Testnet token from the project
Join Six Discord: discord.gg/sei
To receive Sei tokens for Gas fees, paste the wallet address in the "atlantic-1-faucet" section using the following format: !faucet-your-wallet-address
Note : Currently because of the huge user traffic, it is very slow to receive faucets (command !faucet-address-your-wallet), if not received, just wait another 10 minutes and repeat the syntax (!faucet) your-wallet-address) about 3-4 times. At the same time check if the token has entered the wallet at sei.explorers.guru . Please be patient!
Sometimes testnet tokens are not displayed on Keplr or you do not receive notifications on Discord, check the token has arrived here: sei.explorers.guru
Enter your wallet address in the search box to check the transaction. If you see a balance of Sei tokens (1 SEI), you can already start the next step.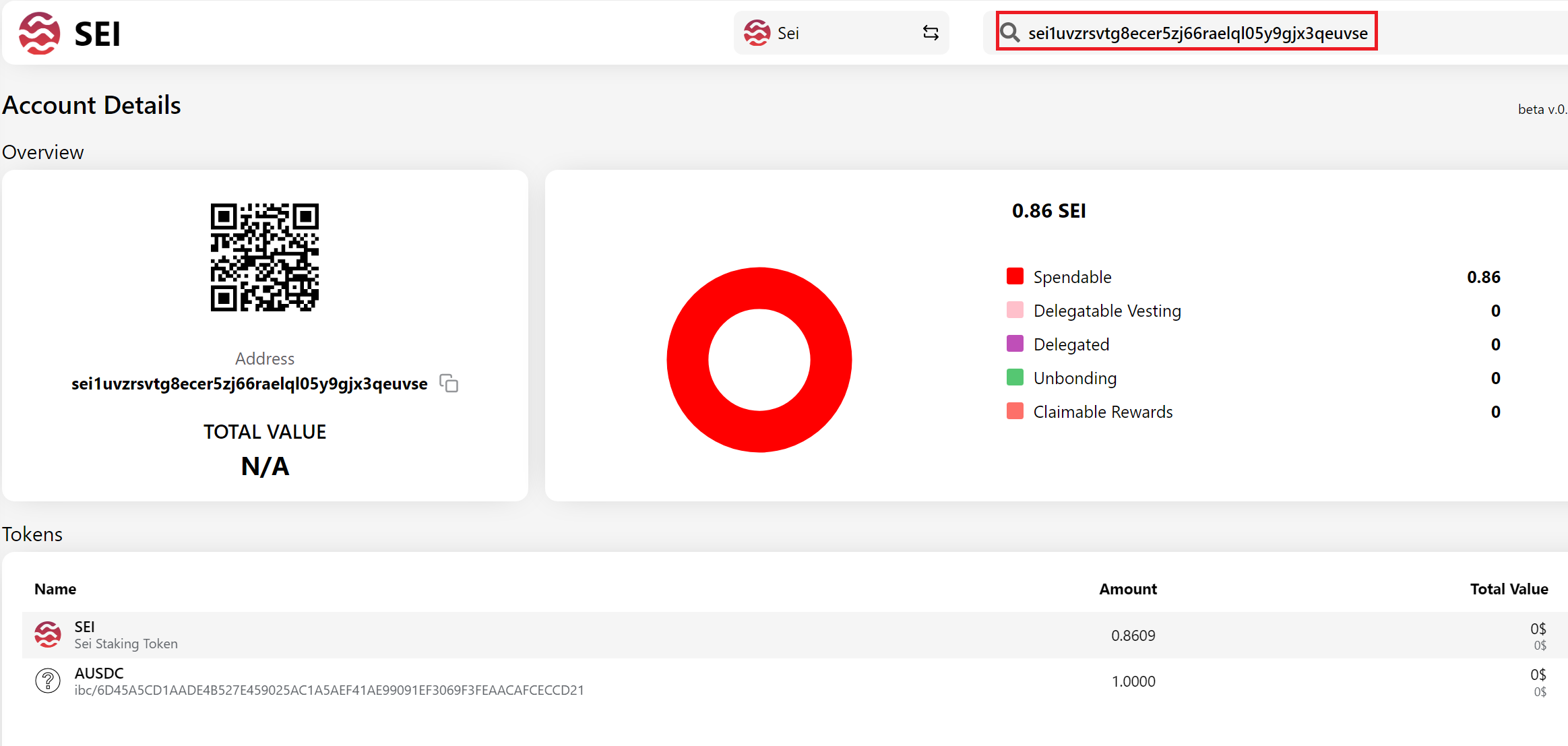 Step 3: Complete 10 transactions
After receiving Sei tokens, you can make 10 token transfers between wallets (here, Holdstation uses another Kelpr wallet to transfer tokens).
To avoid running out of tokens when transferring, Holdstation only sends 0.01 SEI per transaction to another wallet.
Note: you do not need to wait for the wallet to finish loading to complete the transaction (as shown below). After Approve and show the loading icon, turn off the wallet display and reopen it (click on the Keplr wallet icon twice). You will now see the transaction completed and you have been successfully deducted.
Repeat step 3 until there are 10 transactions.
Step 4: Mint NFT
So you have completed all the steps before minting NFT. The rest is to connect to https://www.seinetwork.io/dawn and claim NFT.
Notice you have 10 transactions to claim NFT 'Dawn' Sei
And this is the result of your patience.
Summary
Above are detailed instructions on how to mint NFT 'dawn' Sei for a chance to receive airdrop from Sei. Good luck.