"As an integral part of the zkSync native project, Holdstation is committed to making a substantial impact on the ever-expanding ecosystem."
zkSync Landscape
zkSync is hailed as a game-changer, standing out as a prominent Layer 2 solution in the market. Positioned as the first Layer 2 to utilize zkEVM technology (zk-rollup compatible with EVM), it is well-suited for projects to easily build upon. Additionally, zkEVM offers users a fast, cost-effective, and highly secure experience, with Transaction Per Second ~2000 TPS.
But here's the exciting part: the zkSync team is developing zkPorter technology, aiming to supercharge this Layer 2 solution to handle a remarkable +20,000 transactions per second (TPS).
Account Abstraction is considered a core technology that enhances user-friendly experiences and security. This is a technology frequently mentioned by Vitalik. Some utilities zkSync, in particular, and Holdstation, in general, have implemented include Smart Contract Wallet, Paymaster, Seedless Recovery, Social Recovery, Batch Transaction, and Spending Limit.
With these advanced technologies, zkSync has the potential to become a strong contender in the race among Layer 2 solutions. However, it faces a significant limitation due to the lack of widespread project deployments on this chain. With recent positive developments, such as Binance exchange opening direct deposit/withdrawal gateways on zkSync, we believe that capital inflow into the ecosystem will begin.
However, when adopting new technologies, project team members will need to invest a significant amount of time and effort into development, and it will require additional resources to bring the adoption idea to a wider audience.
"That's why Holdstation aims to provide a place for projects to take their first confident steps in the journey to conquer the 'zkSync promised land' - Holdstation Launchpad."
What is Holdstation Launchpad?
Holdstation Launchpad stands as a cornerstone in the zkSync ecosystem, providing crucial support for promising projects' token sales. Our platform is a one-stop shop for projects, investors, and our dedicated community, collectively propelling zkSync's success!
Holdstation Launchpad provides a fair mechanism for everyone to participate in token sales without complex conditions. Users all have an equal opportunity to join token purchases regardless of the size of their investment.
The unique features of Holdstation Launchpad
Non-Custodial: Users have complete control over their assets throughout the entire token sale participation process.
UI/UX: User-friendly interface and experience make the platform extremely easy to use, especially for newcomers.
Smart Contract Based: All participation activities are automated by smart contracts, eliminating any intermediaries.
Decentralized: Projects launching token sales set their fundraising parameters, and the community can participate freely without restrictions.
Secure: Users can participate using all supported wallets, including Wallet Connect.
Anti-Scam: Projects participating in the Launchpad undergo thorough checks by Holdstation for honesty and audit requirements.
Audited: Holdstation Launchpad has been audited by Verichain.

Mobile Launchpad
In addition to the website, the Launchpad will be integrated into the Holdstation Wallet mobile app. This enables users to conveniently monitor and participate in token sales from anywhere, at any time.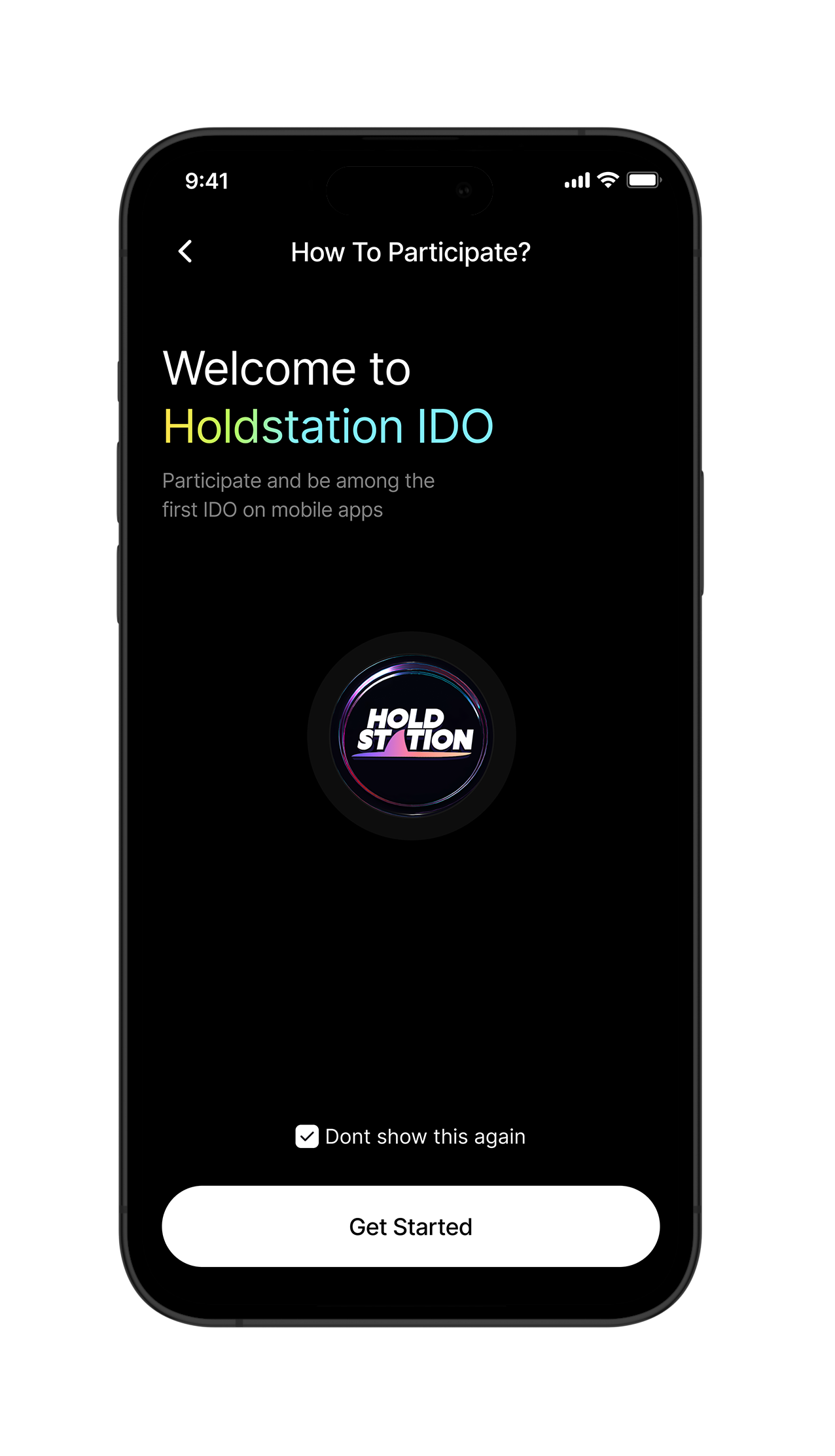 Embracing the Future
In alignment with the core goals of the zkSync ecosystem, specifically, and DeFi in general, Holdstation consistently welcomes innovative projects with a community-oriented focus, such as:
Sustainable DeFi projects
Initiatives to construct infrastructure for the ecosystem
Projects applying Account Abstraction technology
Community utility service projects
In its role as a launchpad, Holdstation Launchpad will be a trusted partner, facilitating potential projects' access to resources, community engagement, and the necessary support to reach millions of users in the future.
Fair Launch Model
Holdstation aims for fairness, providing equal opportunities for all users to participate in token purchases without worrying about factors such as bots or competing with large buy orders.
To ensure fairness, our fair launch model adheres to principles that include Softcap and Hardcap.
Softcap represents the minimum fundraising amount that the project aims to achieve. If the fundraising does not reach the soft cap level, all users will receive a refund of the amount they used to participate.
Hardcap is the maximum fundraising amount that the project aspires to achieve. Once the hard cap is reached, tokens will be allocated to users at the end of the token sale.
"If the amount raised exceeds the hard cap, participants will receive tokens based on their contribution percentage in the pool. Any excess funds will be claimed at the end of the token sale."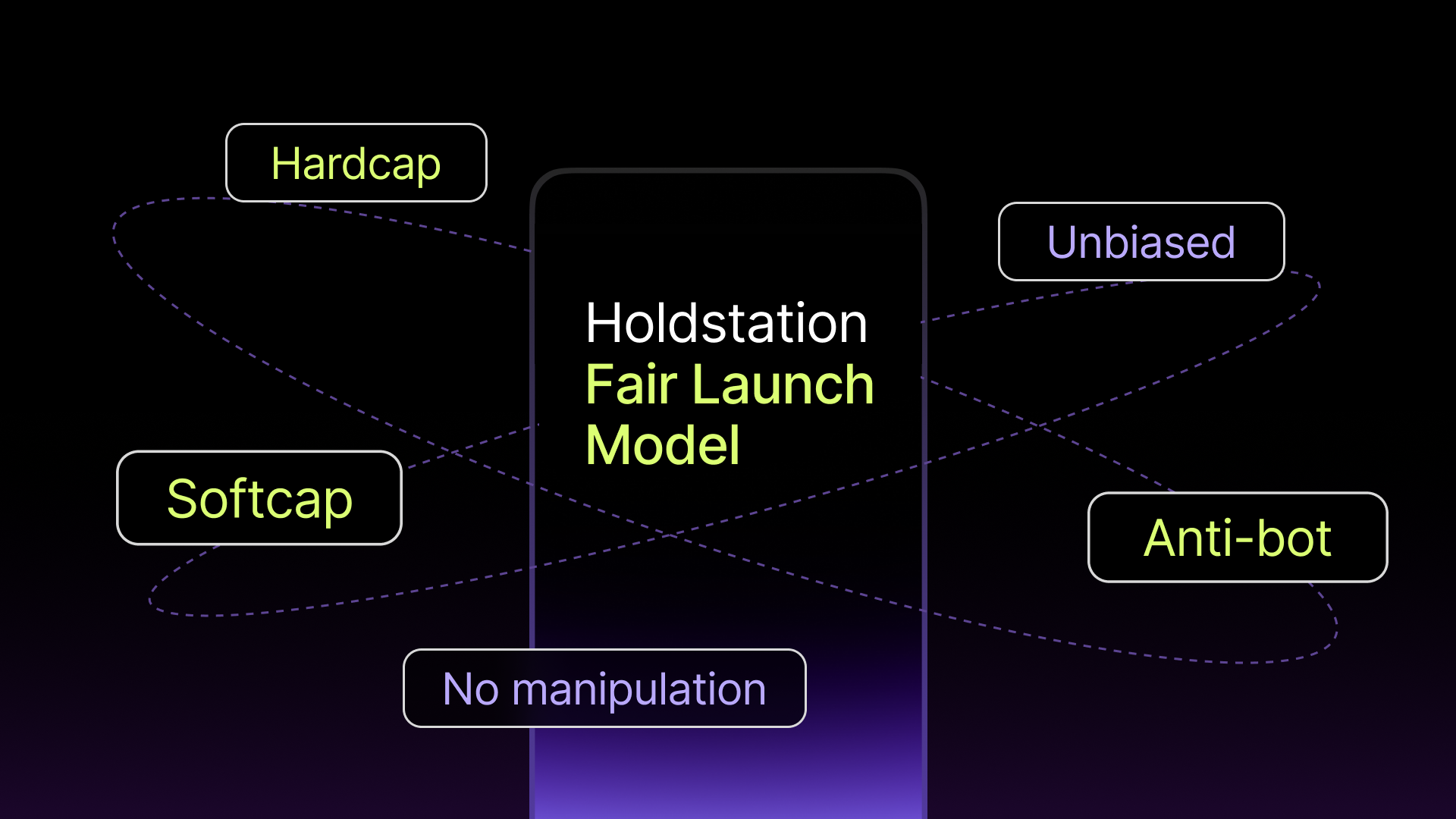 How It Works
Regardless of whether users participate with large or small trading volumes, they receive a quantity of tokens equivalent to their stake percentage of the total raised capital, provided they commit to participating within the specified time frame.

Users stake $ETH or $USDC in a smart contract, similar to a registration process, to qualify for participation in the token sale.
All tokens available for sale will be evenly distributed to users based on their betting ratio.
Example: User A participates in the token sale of Project X with 10 ETH, where the Softcap is set at 1000 ETH, and the Hardcap is at 2000 ETH.
Project X fails to reach the Softcap (<1000 ETH). User A will receive a full refund of their 10 ETH.
Project X raises funds surpassing the Softcap but has not reached the Hardcap. Token X will be distributed using the formula:
User's stake amount / Token's sale price
Project X raises funds exceeding the Hardcap. Token X will be distributed using the formula:
(User's stake amount / Total stakes) * Number of tokens available for sale
Holders' Privileges
$HOLD is Holdstation's governance token. In addition to its use in governing the entire ecosystem and receiving a share of revenue, $HOLD-ers will enjoy additional privileges with Holdstation Launchpad, such as:
Having the opportunity to receive whitelist slots for token sale projects.
$HOLD-ers participating in token sales will receive a higher allocation compared to regular users.
A portion of tokens from the token sale, along with a portion of the total raised capital, will be distributed to users staking $HOLD
Affiliate Program
This is an incentive program for users to invite their friends to participate in the launchpad. If a user uses the provided link to invite their friends to join, they will receive a 2% commission on the stakes placed by the friends they invite. The commission will be paid in $ETH.

Summary
zkSync is a promising Layer 2 solution thanks to Account Abstraction technology, attracting the interest of many projects. However, to truly unlock its potential, projects need to focus on building and developing innovative ideas.

Holdstation has stepped in to provide comprehensive support for projects looking to deploy on zkSync through the Holdstation Launchpad platform. The fair model and reduced competition will help projects establish a solid foothold on zkSync. We are committed to assisting projects in realizing their dreams on this platform while ensuring that all users have an equal opportunity to participate and contribute to the growth of zkSync.