The recent FTX crisis has given the crypto market an expensive lesson in why decentralization and transparency are essential. While the crypto communities are going through this dark moment and witnessing the cryptocurrency's setback together, SafePal as a builder, wants to bring about an airdrop of 1,000,000 SFP tokens.
SafePal Overview
SafePal is a crypto wallet started in 2018 dedicated to building a secure and accessible web3 "frontend" to empower crypto investors towards financial opportunity and freedom in the decentralized world. Today, more than 7 million users across continents are using SafePal wallets to secure, manage and grow their funds.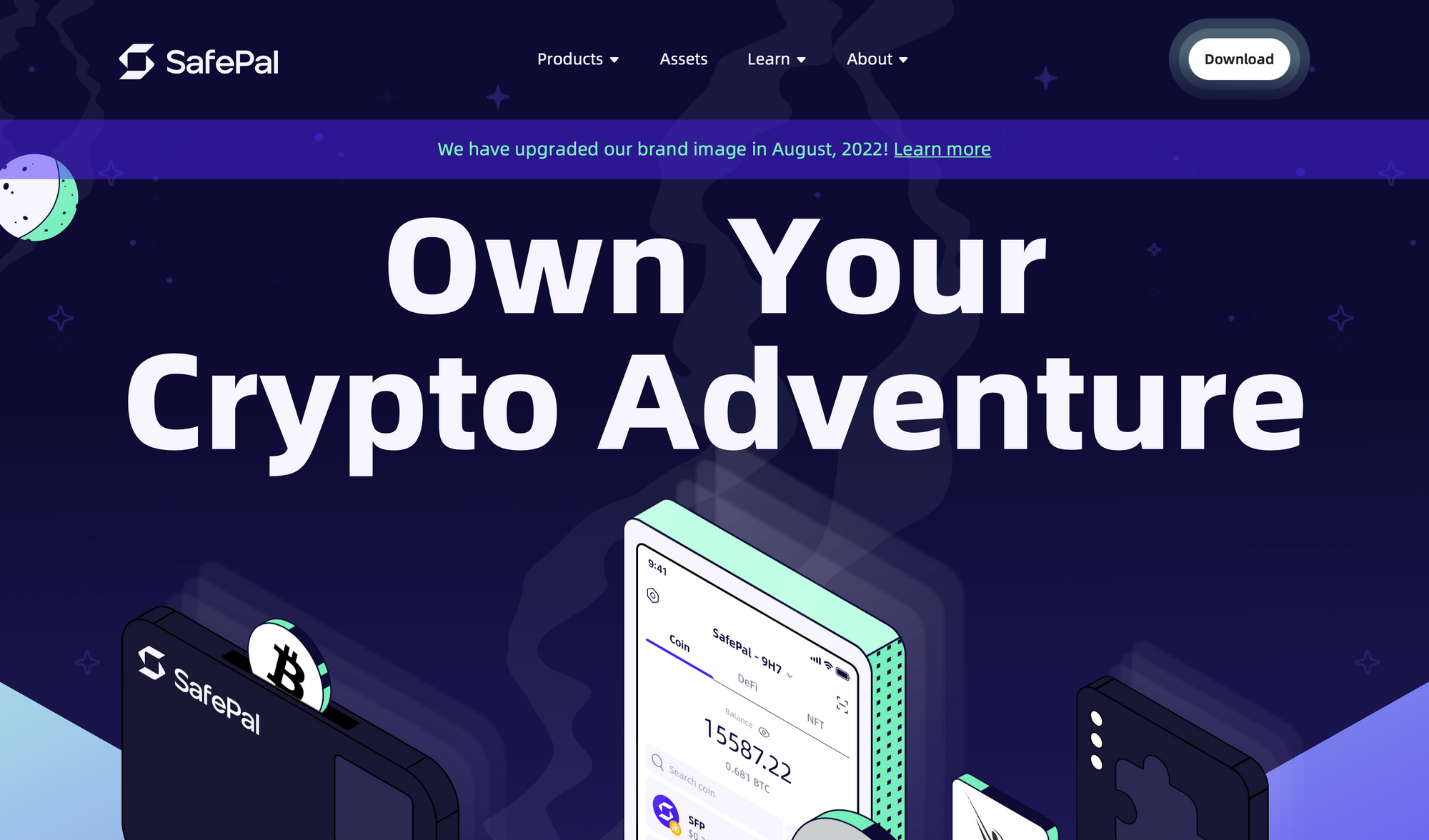 SafePal represents an innovative generation of crypto-asset storage solutions that offer not only safety, security, and affordable costs but also interoperability and convenience. SafePal's innovative hardware and software wallet application allow users to store crypto assets such as Bitcoin, Ethereum, Binance BNB, 17 mainnet tokens, and more than 10,000 other tokens.
As the cryptocurrency industry continues to evolve, access to high-level crypto security needs to be affordable for developed countries and developing markets. SafePal aims to support new markets by providing high-value products at a reasonable cost. SafePal is backed and invested by Binance, supporting each other in driving more crypto adoption. SafePal has integrated Binance Dex as well as Binance Spot Trading directly into the SafePal App, allowing users of hardware wallets or cold wallets to trade their crypto assets conveniently.
Token SFP
SafePal's SFP token was opened for sale on Binance Launchpad with $50 million SFP, equivalent to 10% of the total supply, and raised $5 million at $0.1/SFP.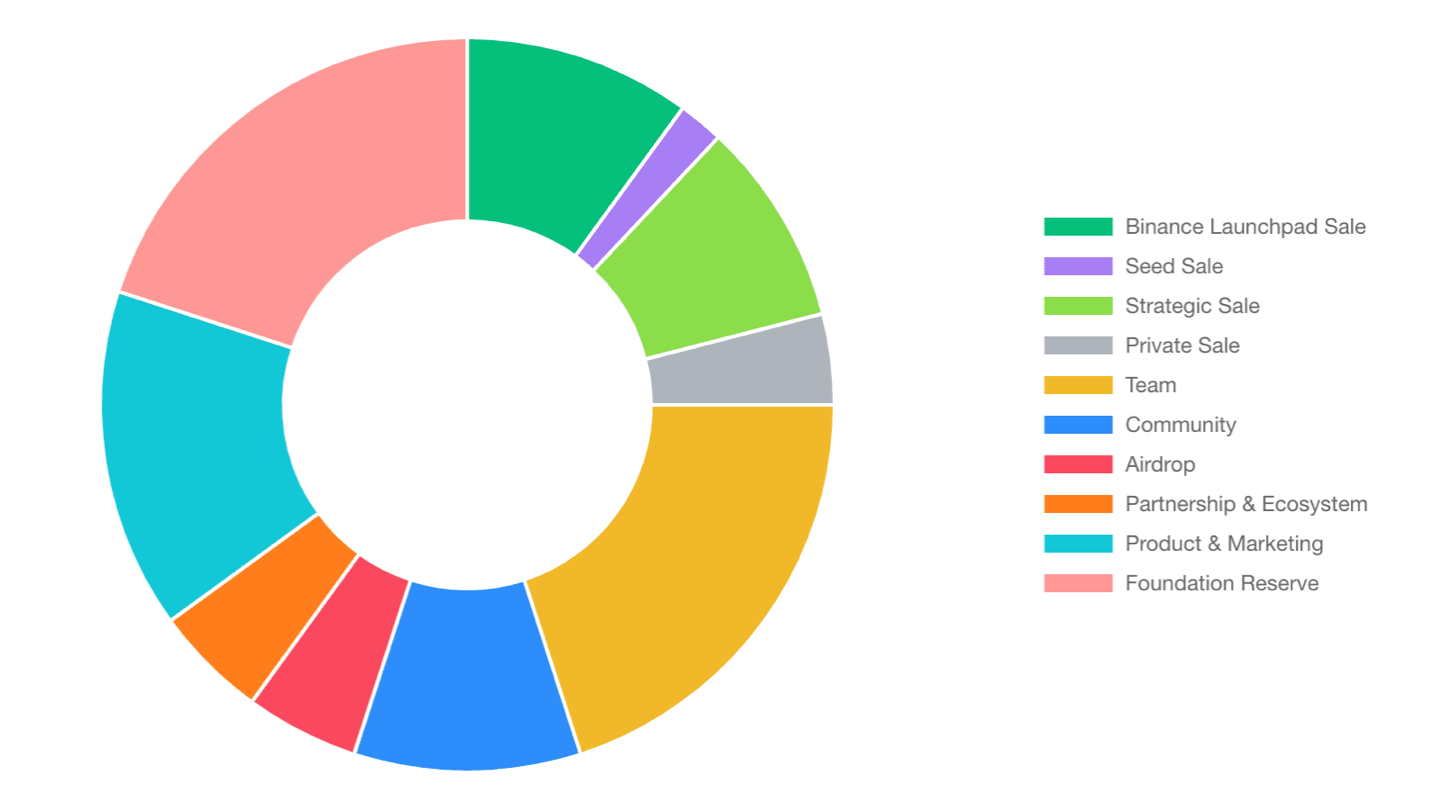 At the time of writing, $SFP is trading around $0.64 with a 24-hour trading volume of over $90 million and a market cap of nearly $70 million according to data from Coingecko. The SFP tokens for this airdrop are 1,000,000, equivalent to 0.2% of the total supply of 500,000,000 $SFP. However, the project spends up to 5% of the total supply for the airdrop, which means that the airdrop potential when using the SafePal wallet is very high.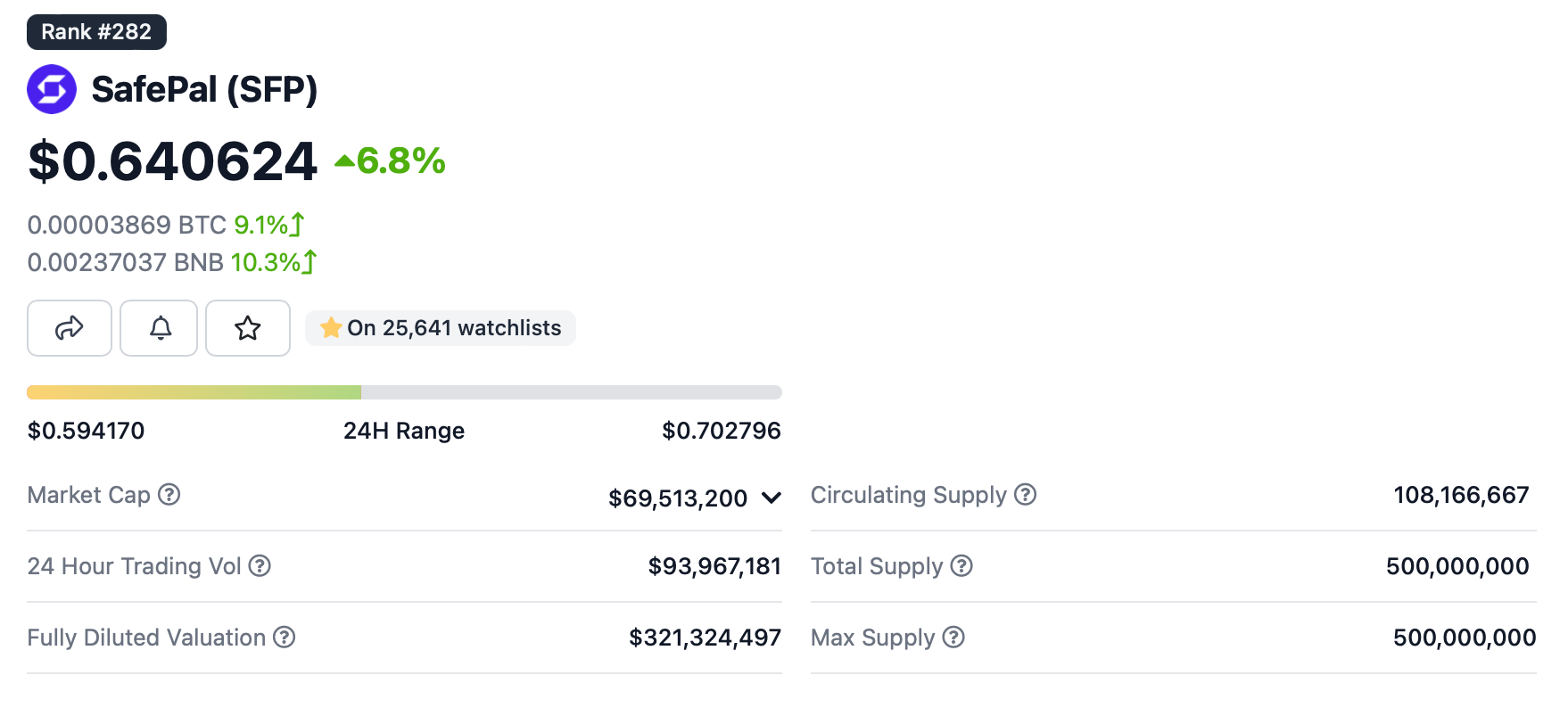 Airdrop Campaign
The airdrop will last for two weeks until November 30, and all NEW SafePal users can join the SafePal app and complete various tasks. The more tasks a user completes, the more rewards they get, with a total bonus of 1,000,000 $SFP.
Among all the quests, there is one mandatory one that all users need to complete and keep until the end of the campaign: the 'Store & Hold' quest. All new SafePal users must store and maintain at least $100 worth of stablecoins in their wallets until the program ends, or they will be disqualified.
Instructions for Joining Airdrop
Step 1: Download SafePal (App Store | Google Play | Android APK) and enter the referral code below to get more airdrop rewards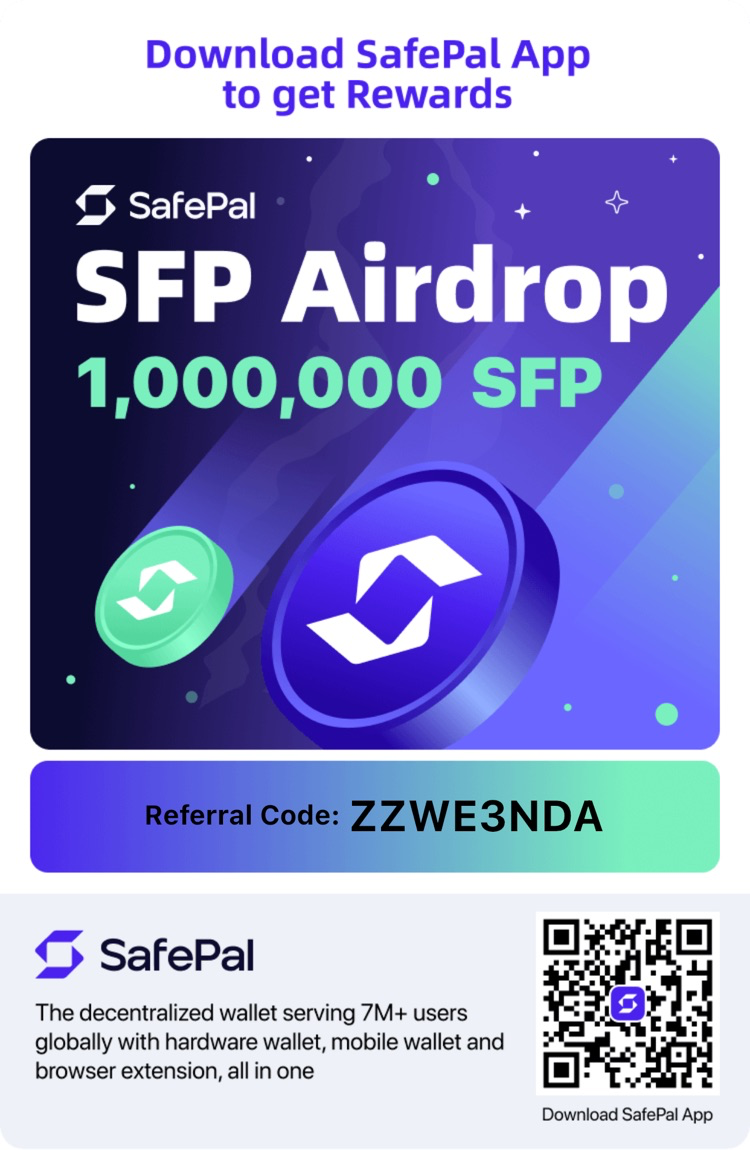 Step 2: Create a new wallet
Step 3: Go to the SafePal application, go to the Dapps section and click on SFP Airdrop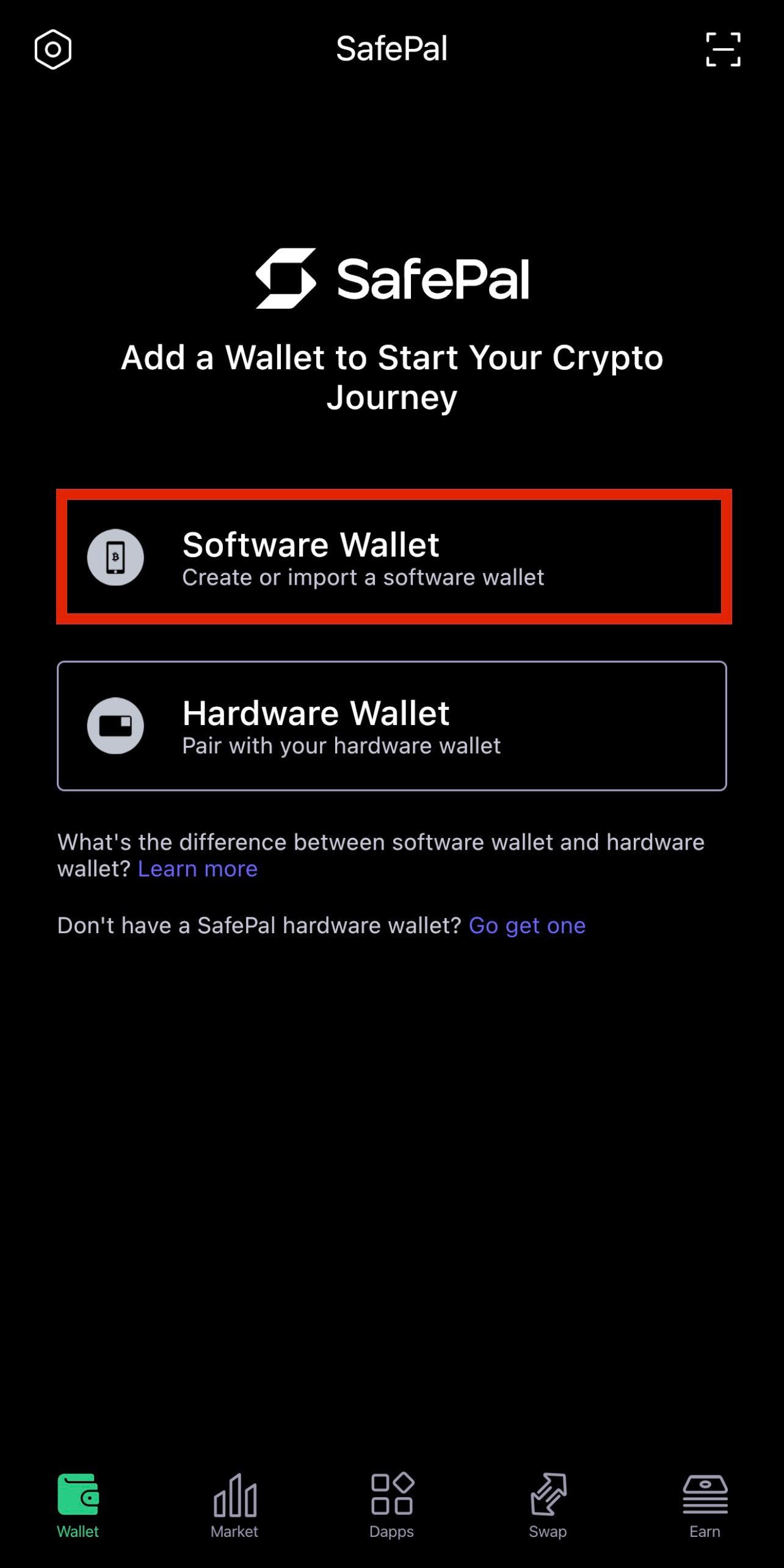 Step 4: Transfer $100 USDC, USDT, or BUSD using the Ethereum network (ERC29) or BNB Chain (BEP20) to the wallet to "Store & Hold"
Step 5: Download SafePal on a web browser and connect the wallet from the SafePal app on your phone. Then make any asset transfer (no asset type and minimum quantity required)

Step 6: Complete the remaining tasks directly on the SafePal app
Swap task: open the SWAP section and swap two different tokens with a minimum value of $100
Trade & Exchange task: open Binance Mini-program and connect to Binance account to make one spot or futures trade of any token (no minimum value required)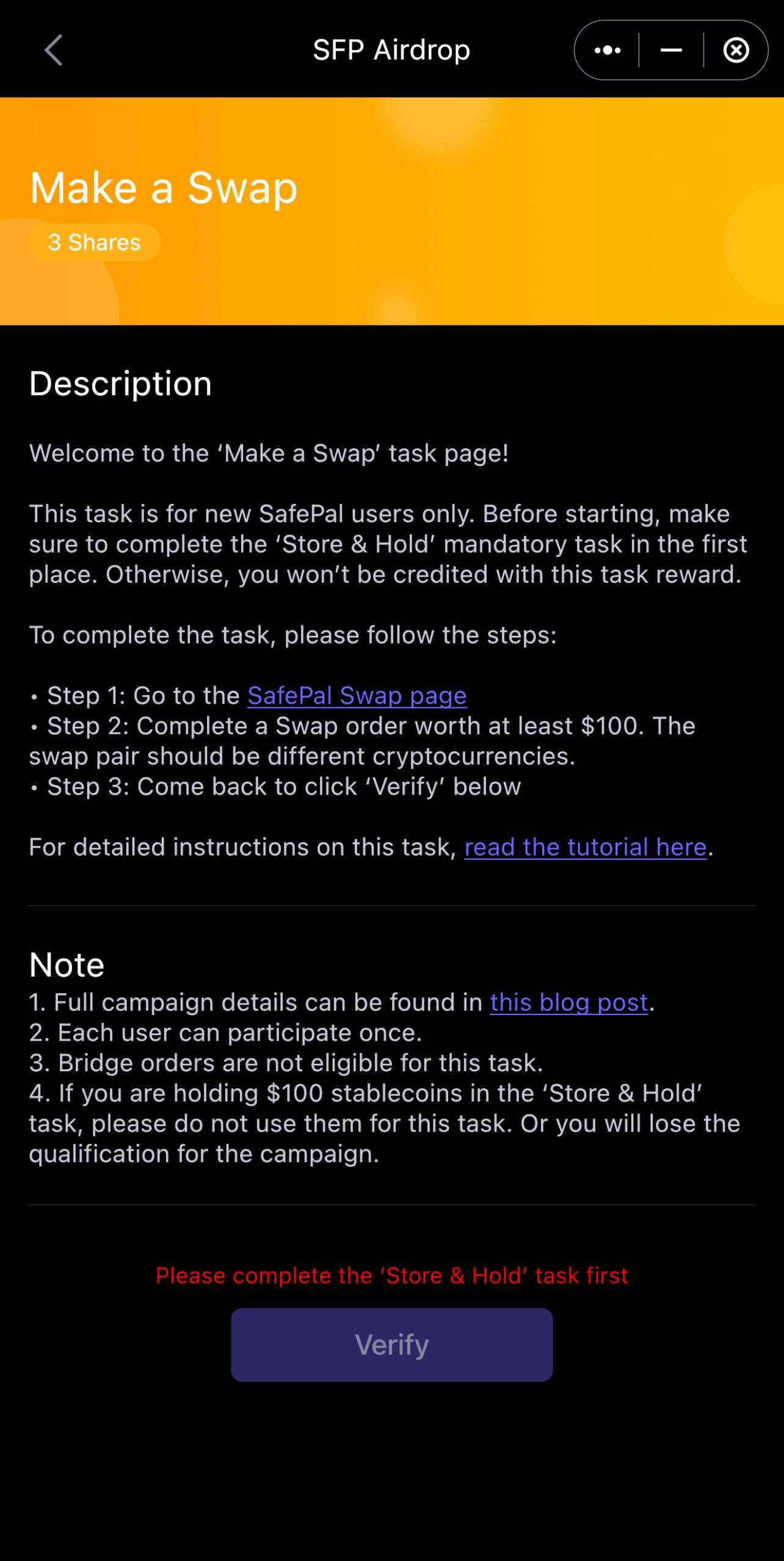 DeFi task: open Apollo Dapp and make one transaction of any token (no minimum value required)
Buy Crypto task: open the Buy Crypto section and make a $200 purchase with the tokens in the list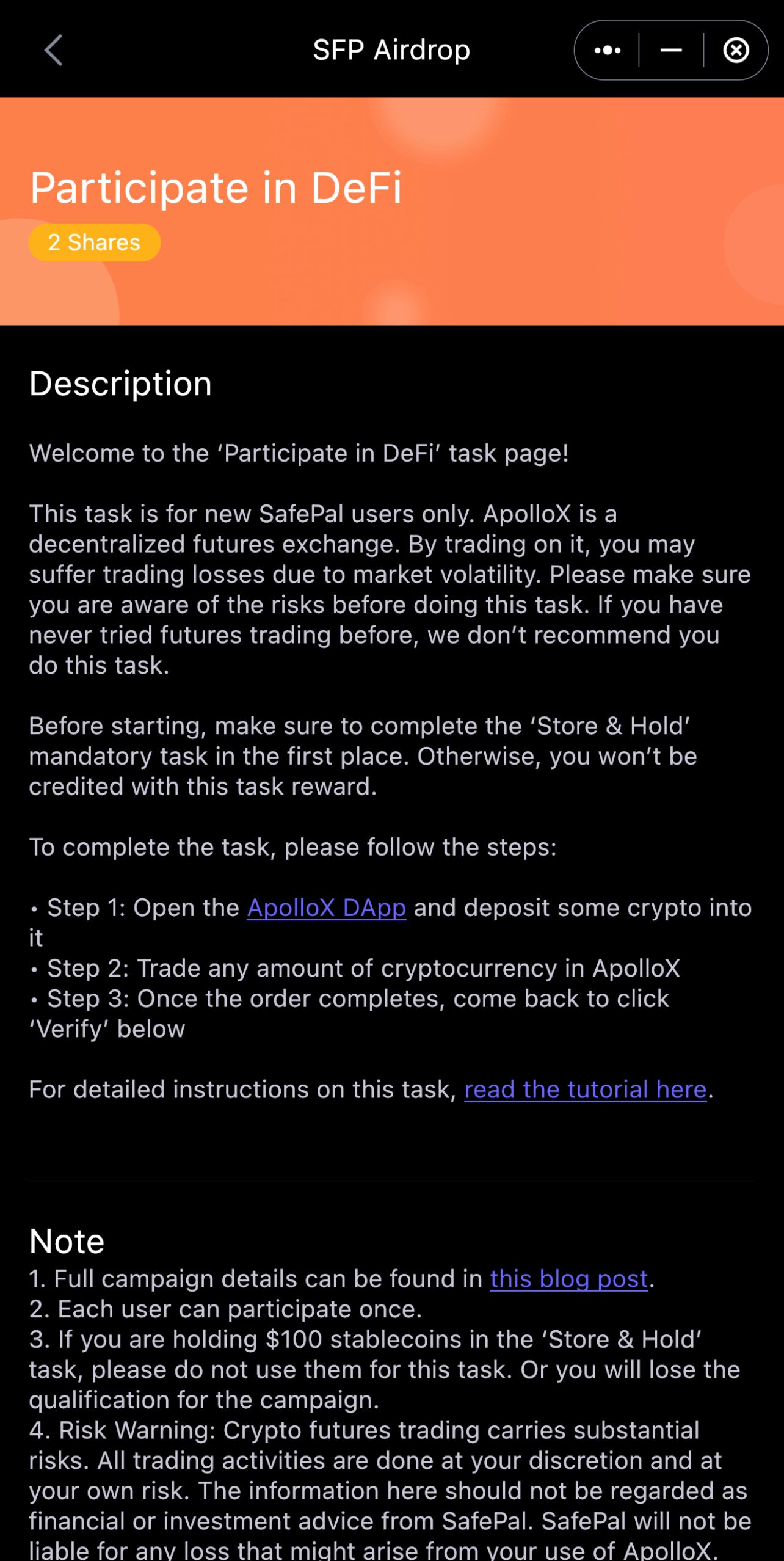 Hardware Wallet task: buy one cold wallet from SafePal worth $49.99. After the order is successful, enter the order id in this task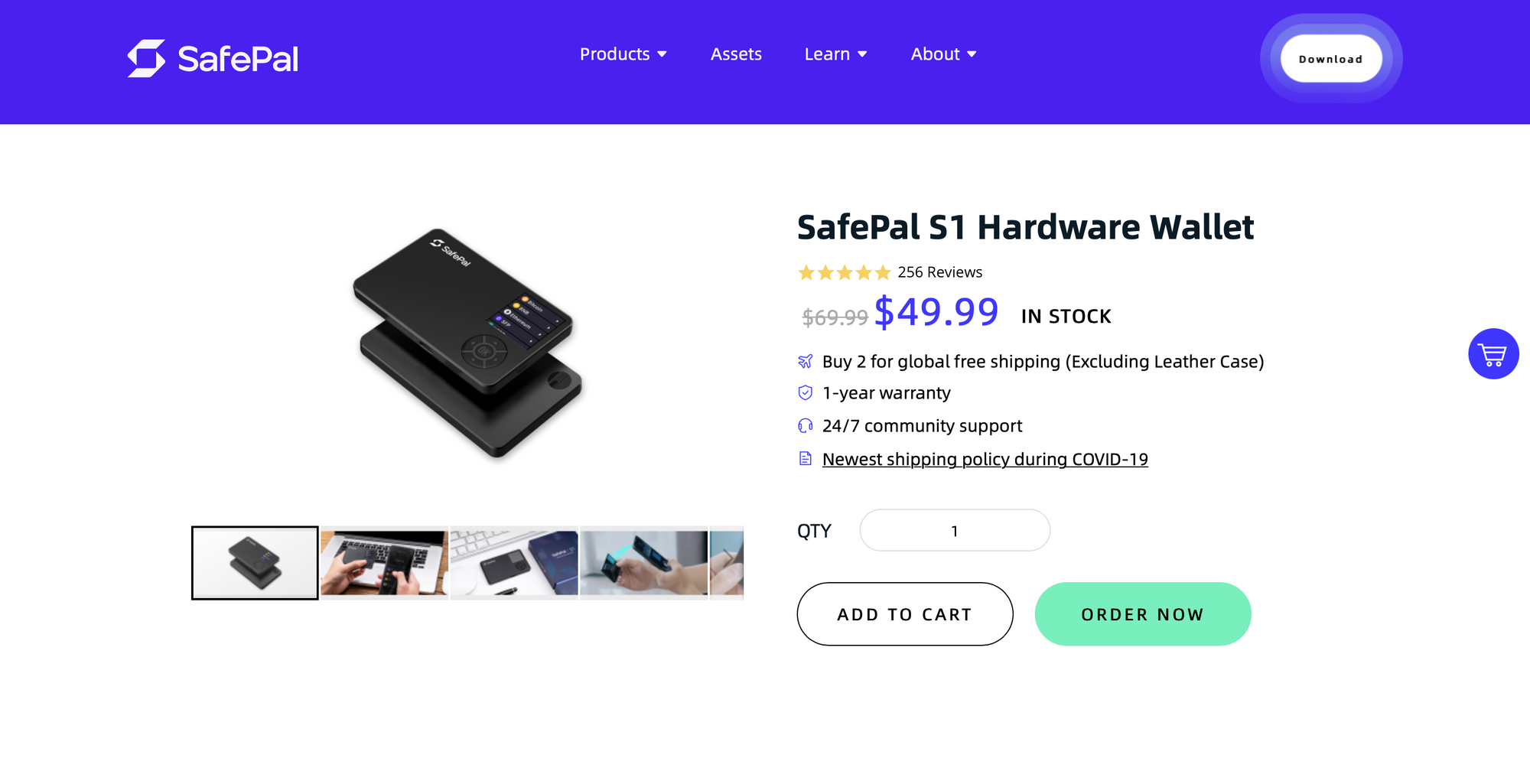 Note: completed tasks need to click verify if the mission is still incomplete.
Summary
After completing all tasks, participants will receive about 22 shares to receive an airdrop of SFP tokens from SafePal. After the program ends, SafePal will calculate the total number of shares and participants to distribute the SFP token airdrop among the airdrop participants evenly. In addition, this is also a program to attract investors to switch from the CEX exchange, which has caused disfavor with investors since the collapse of FTX, to SafePal wallet - a safe, secure, and convenient wallet product for investors backed by Binance.