Arbitrum is a layer-2 solution that aims to expand the capabilities of Ethereum smart contracts by increasing their speed and scalability while also providing extra privacy protections. The platform is intended to enable developers to simply execute unmodified Ethereum Virtual Machine (EVM) contracts and Ethereum transactions on a second layer while maintaining Ethereum's exceptional layer-1 security.
Arbitrum Airdrop and Token Launch?

At 6 am on 12/10 Vietnam time, Arbitrum's Twitter tweeted about two heart icons and "keys" for the coming soon community that could be airdrops and ABR tokens.
Based on community speculation, the ABR token is expected to be launched later this quarter, along with a massive airdrop for retroactive activities in this ecosystem.
Claim Role In Arbitrum's Discord
Access Guild, hold coins, and own an NFT to get 17 roles for less than $10. There is a way to swap 15 coins at once by depositing ETH into this contract, but the cost is relatively high, about 0.02 ETH or about $25. Do it manually at a low cost by following these steps.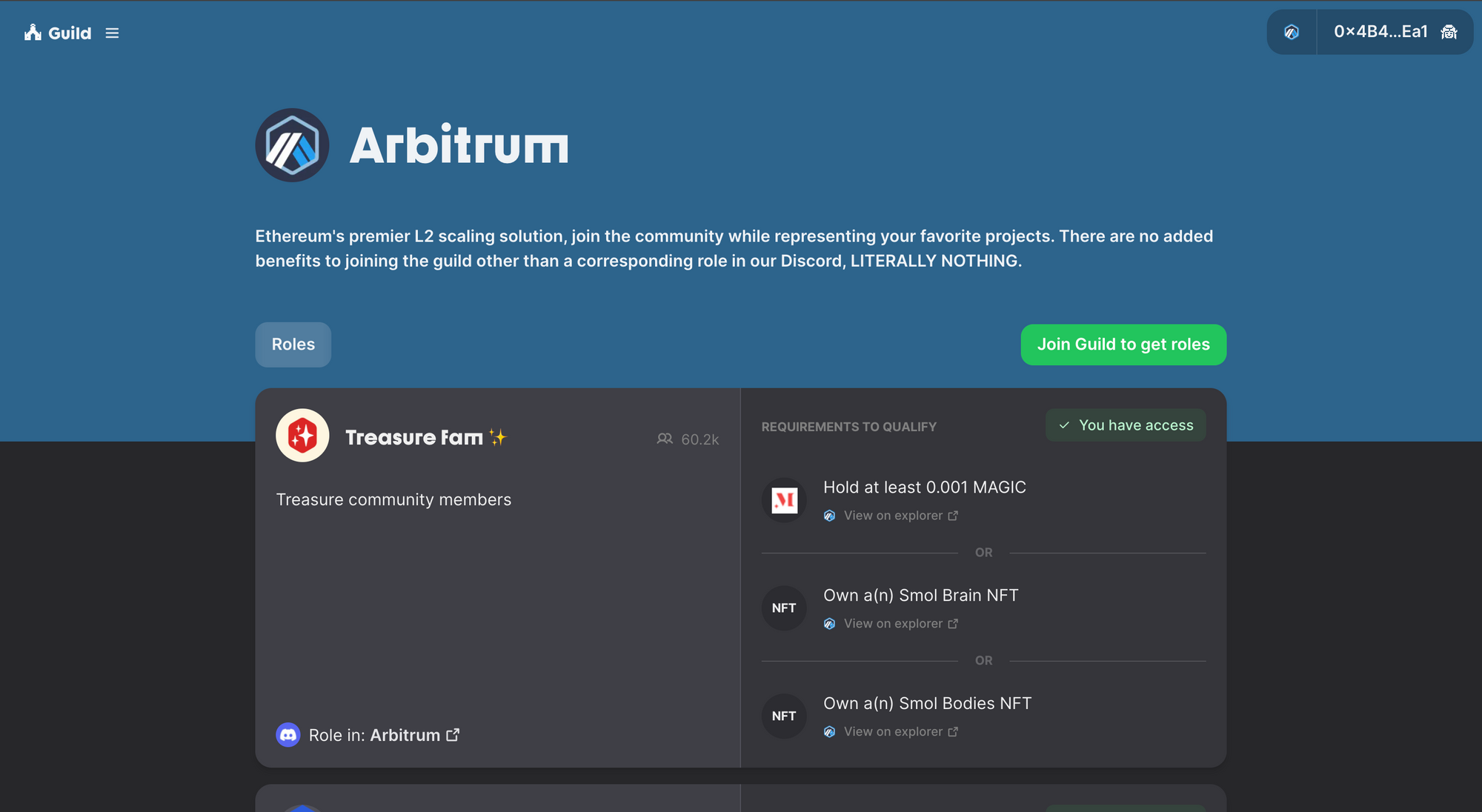 Step 1: Add Arbitrum One Mainnet to Metamask wallet.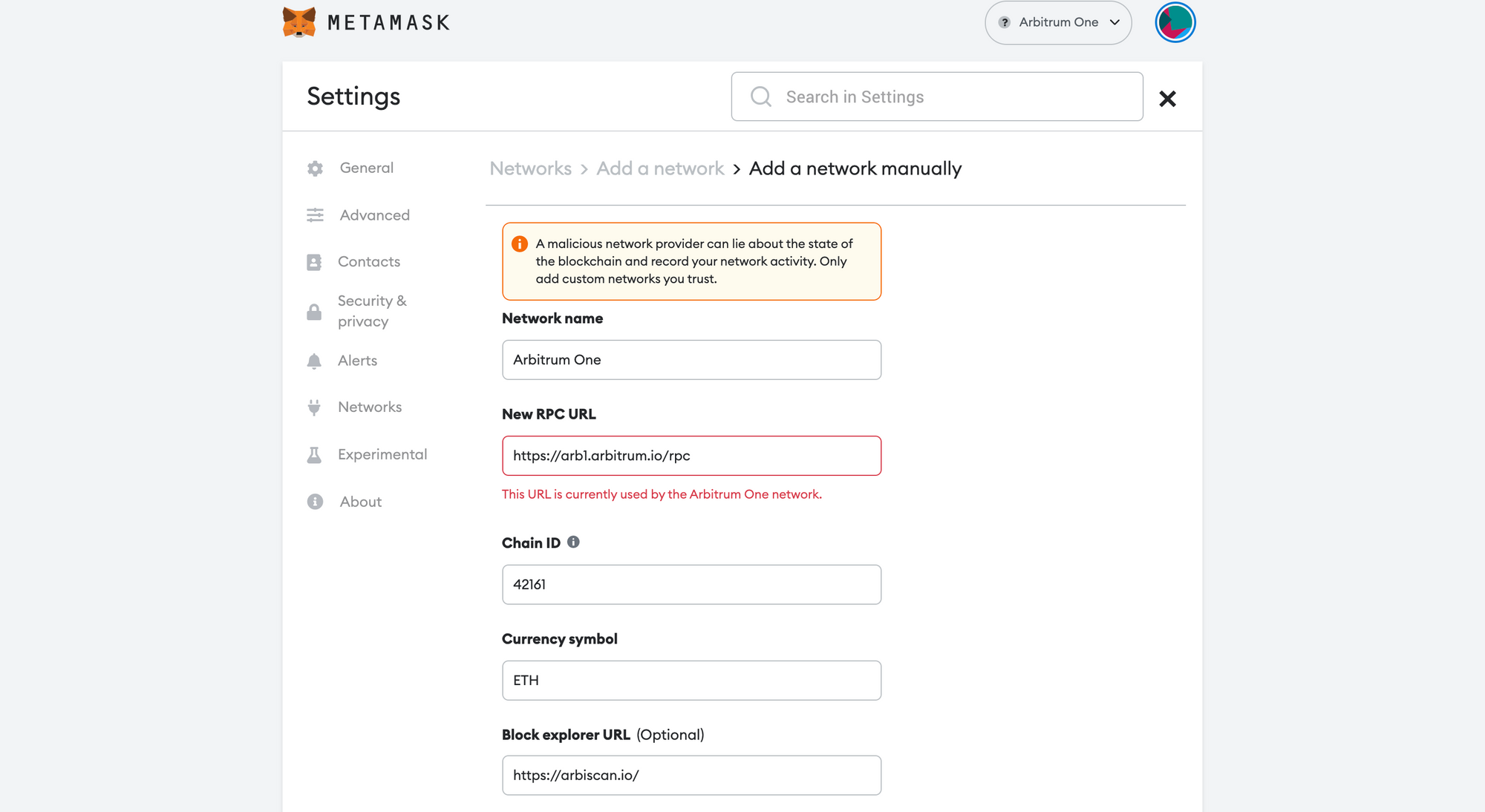 Step 2: Transfer about 0.00755 ETH (about $10) from Binance or Bybit to MetaMask wallet using Arbitrum network very cheap fee.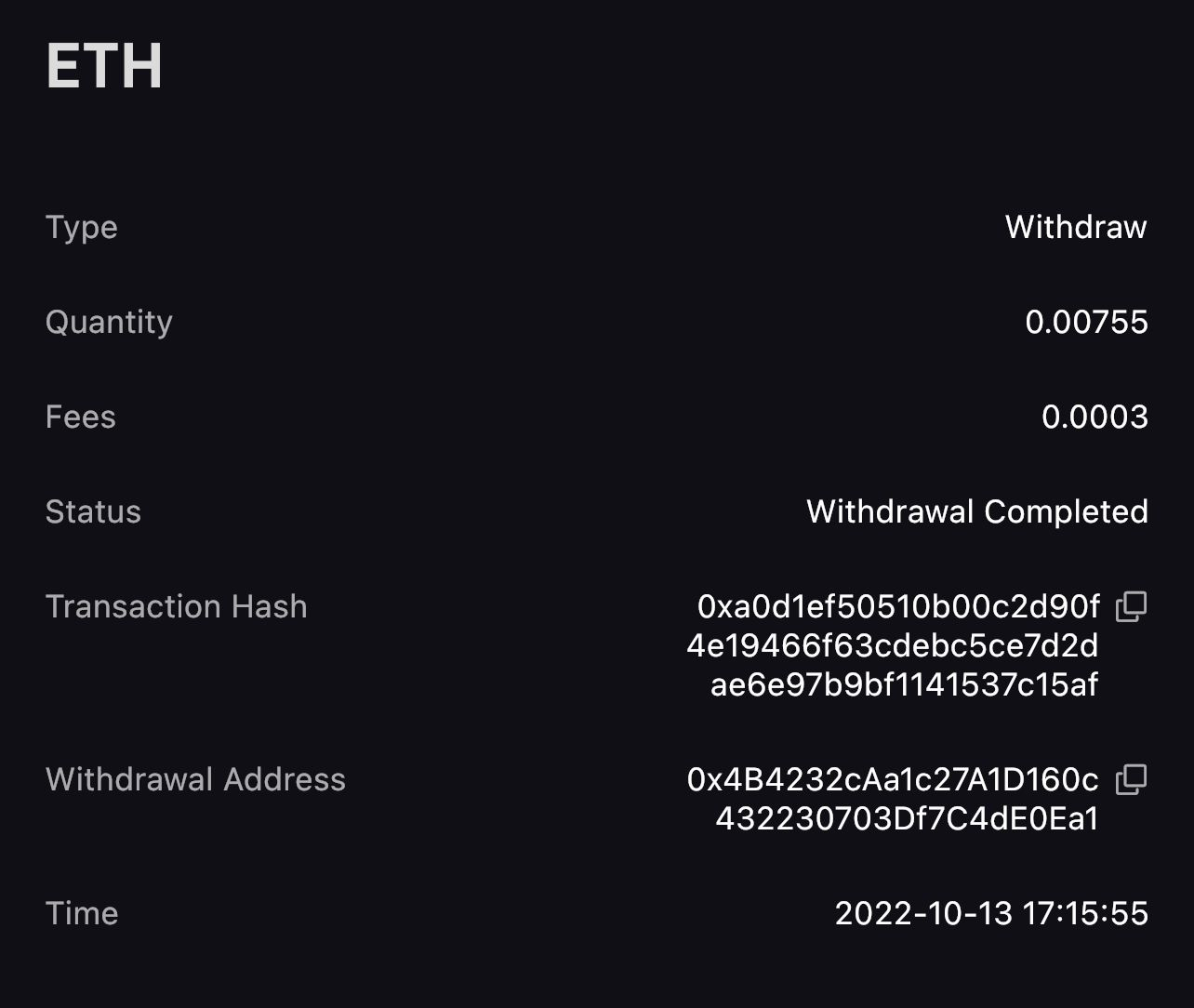 ‌Step 3: Go to SushiSwap or UniSwap and swap tokens to be eligible to claim roles in Discord.
Step 4: Swap tokens with the contract address as follows.
Swap 0.01 Doubloon (DBL): 0xd3f1Da62CAFB7E7BC6531FF1ceF6F414291F03D3
Swap 0.0001 Dopex (DPX): 0x6C2C06790b3E3E3c38e12Ee22F8183b37a13EE55
Swap 0.001 Livepeer (LPT): 0x289ba1701C2F088cf0faf8B3705246331cB8A839
Swap 0.001 Plutus (PLS): 0x51318B7D00db7ACc4026C88c3952B66278B6A67F
Swap 0.001 MAGIC: 0x539bdE0d7Dbd336b79148AA742883198BBF60342
Swap 0.001 Chainlink (LINK): 0xf97f4df75117a78c1A5a0DBb814Af92458539FB4
Swap 0.001 UMAMI: 0x1622bF67e6e5747b81866fE0b85178a93C7F86e3
Swap 0.01 Mycelium (MYC): 0xC74fE4c715510Ec2F8C61d70D397B32043F55Abe
Swap 0.01 Vesta (VSTA): 0xa684cd057951541187f288294a1e1C2646aA2d24
Swap 0.001 Jones DAO: 0x10393c20975cF177a3513071bC110f7962CD67da
Swap 0.01 Sperax (SPA): 0x5575552988A3A80504bBaeB1311674fCFd40aD4B
Swap 0.001 GMX: 0xfc5A1A6EB076a2C7aD06eD22C90d7E710E35ad0a
Swap 0.01 Synapse (SYN): 0x080F6AEd32Fc474DD5717105Dba5ea57268F46eb
Swap 0.01 HOP-LP-USDC: need to add 0.011 USDC and 0.011 hUSDC to the liquidity pool to create HOP-LP-USDC pair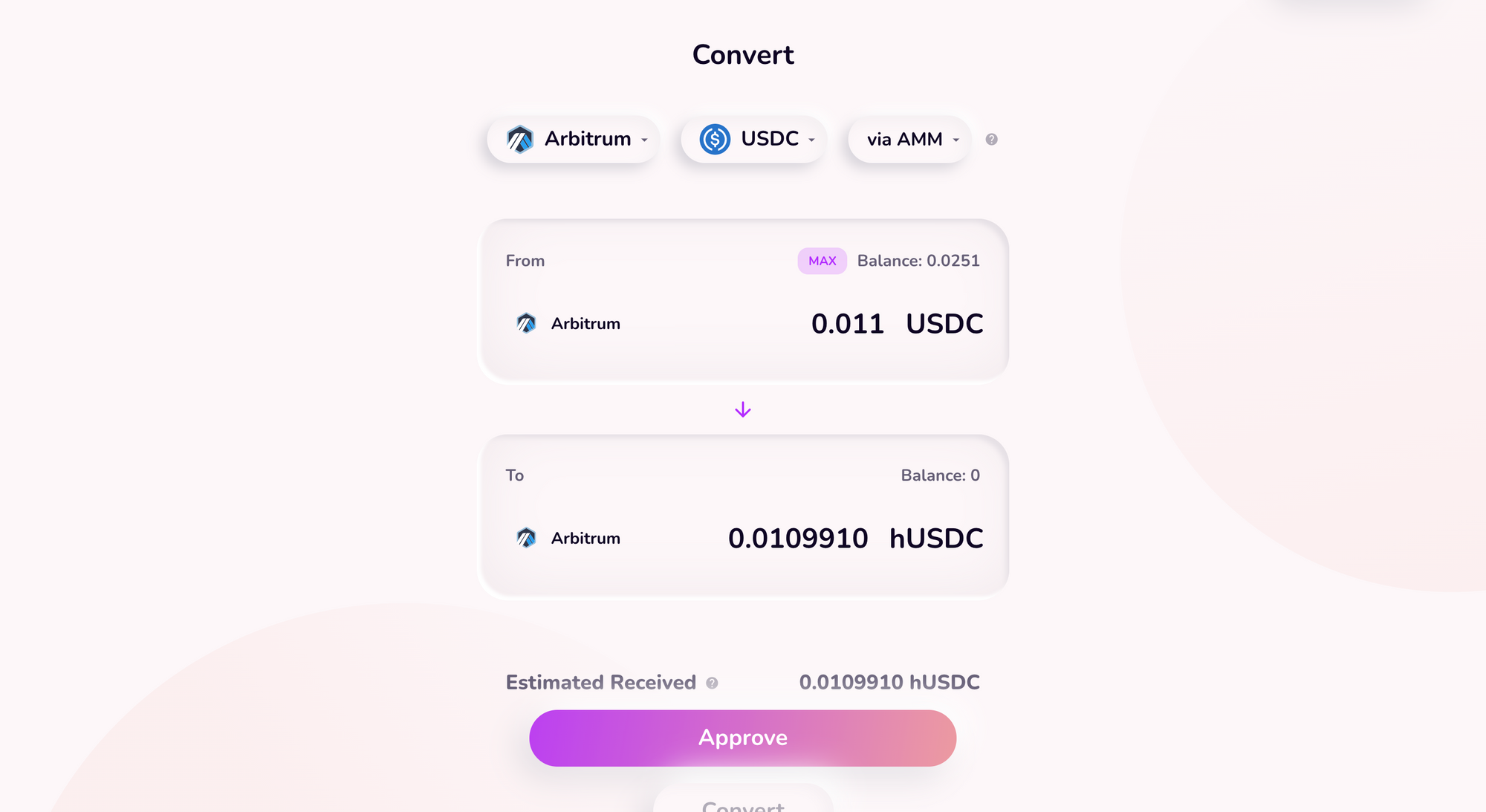 Join the pool on Hope Exchange to add liquidity 0.01 USDC and 0.01 hUSDC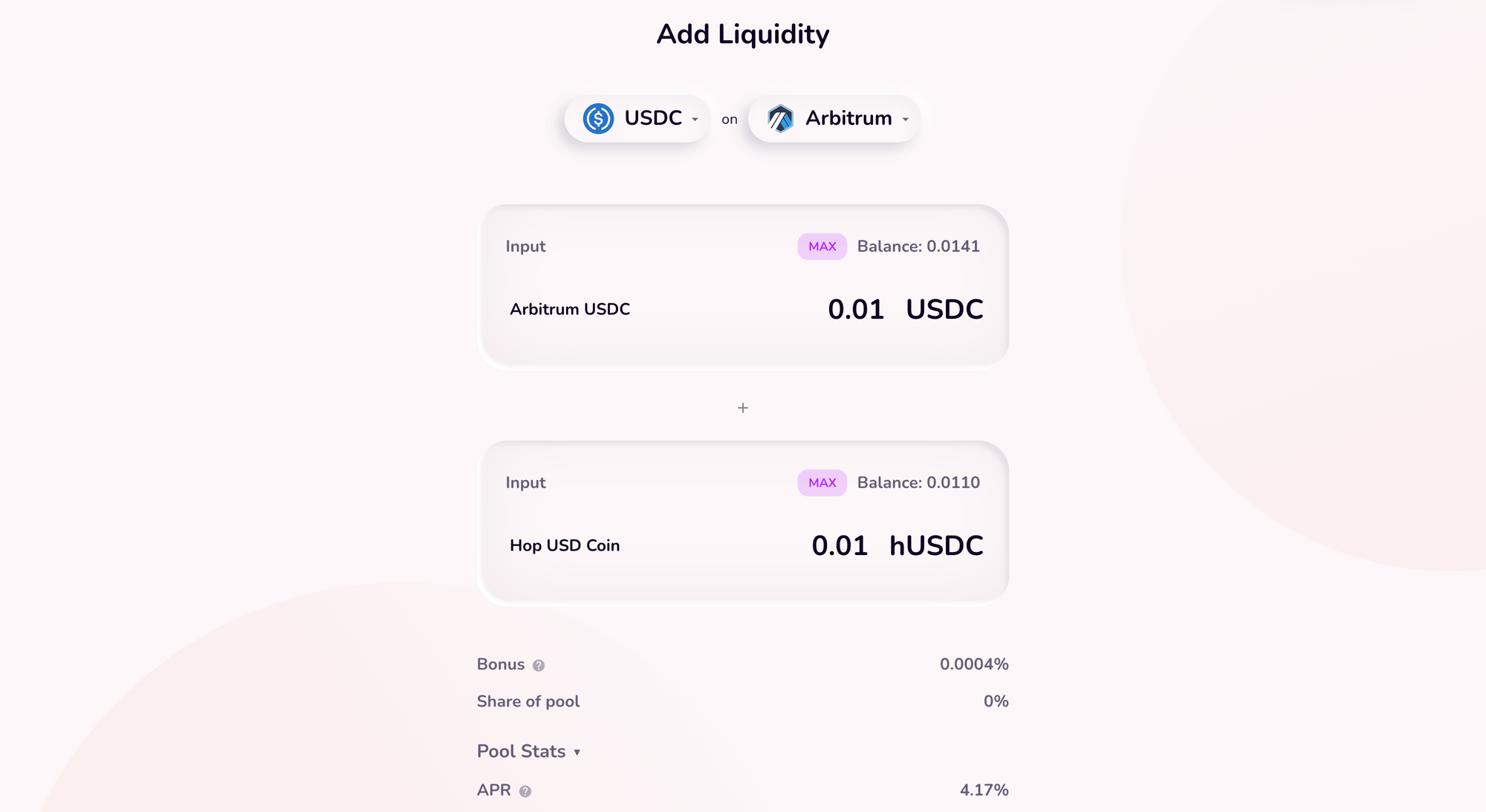 After adding liquidity successfully, you can remove liquidity.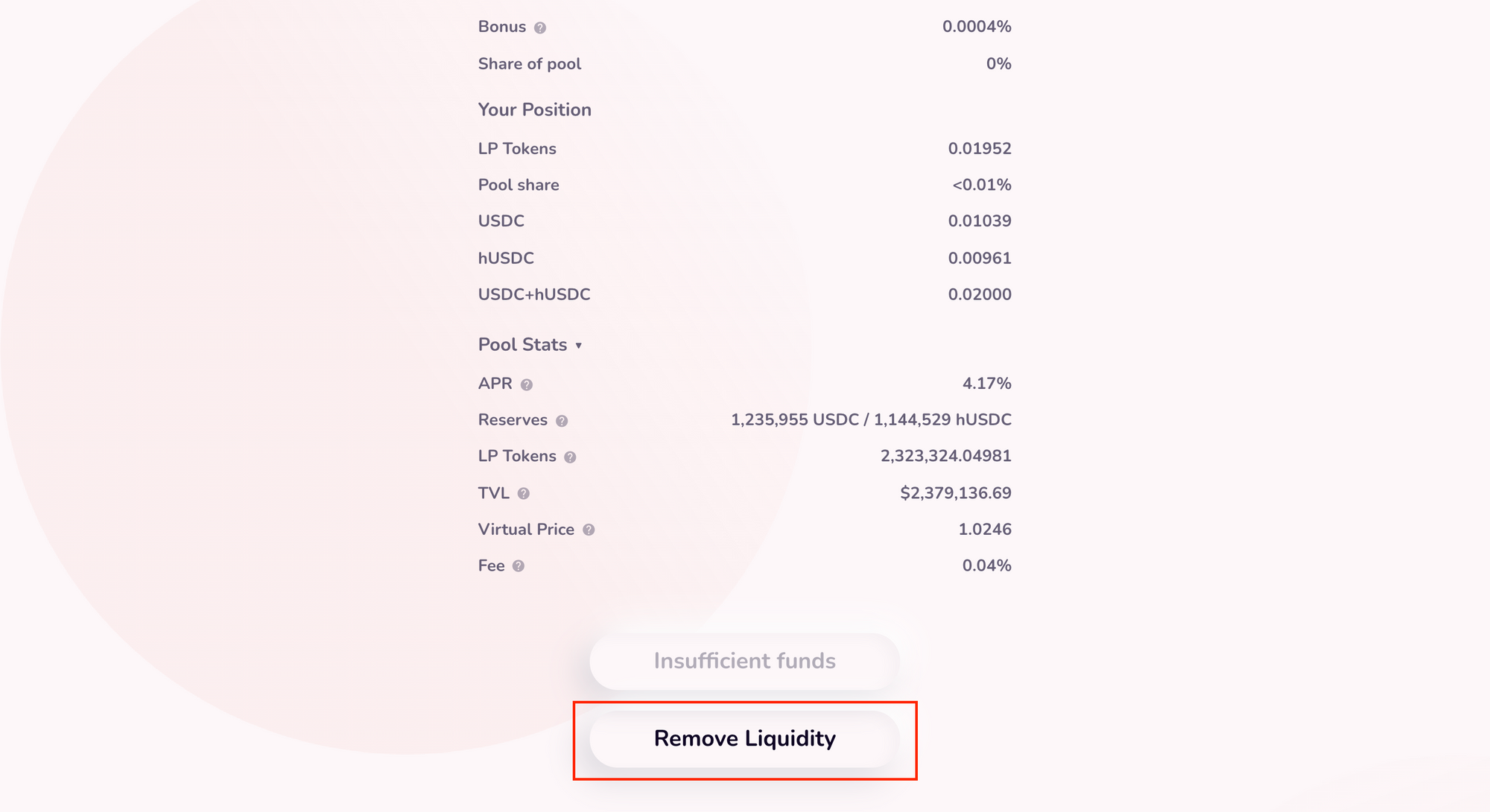 Swap 0.01 Brinc (BRC): 0xB5de3f06aF62D8428a8BF7b4400Ea42aD2E0bc53
Swap 0.01 Elk Fam (ELK) at Elk Finance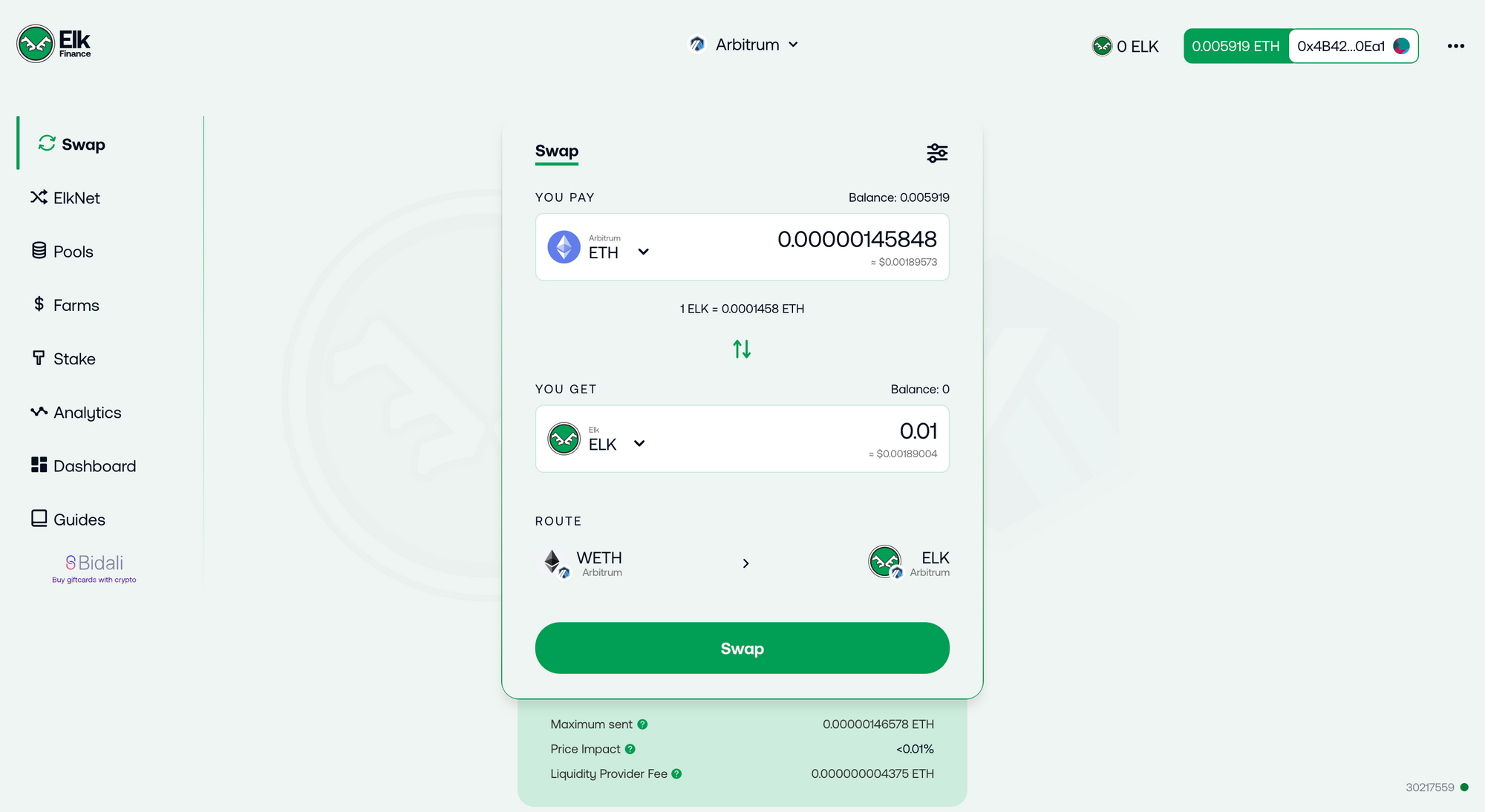 After swapping all the tokens into the wallet, go to the guild by connecting the wallet, Discord, and Twitter.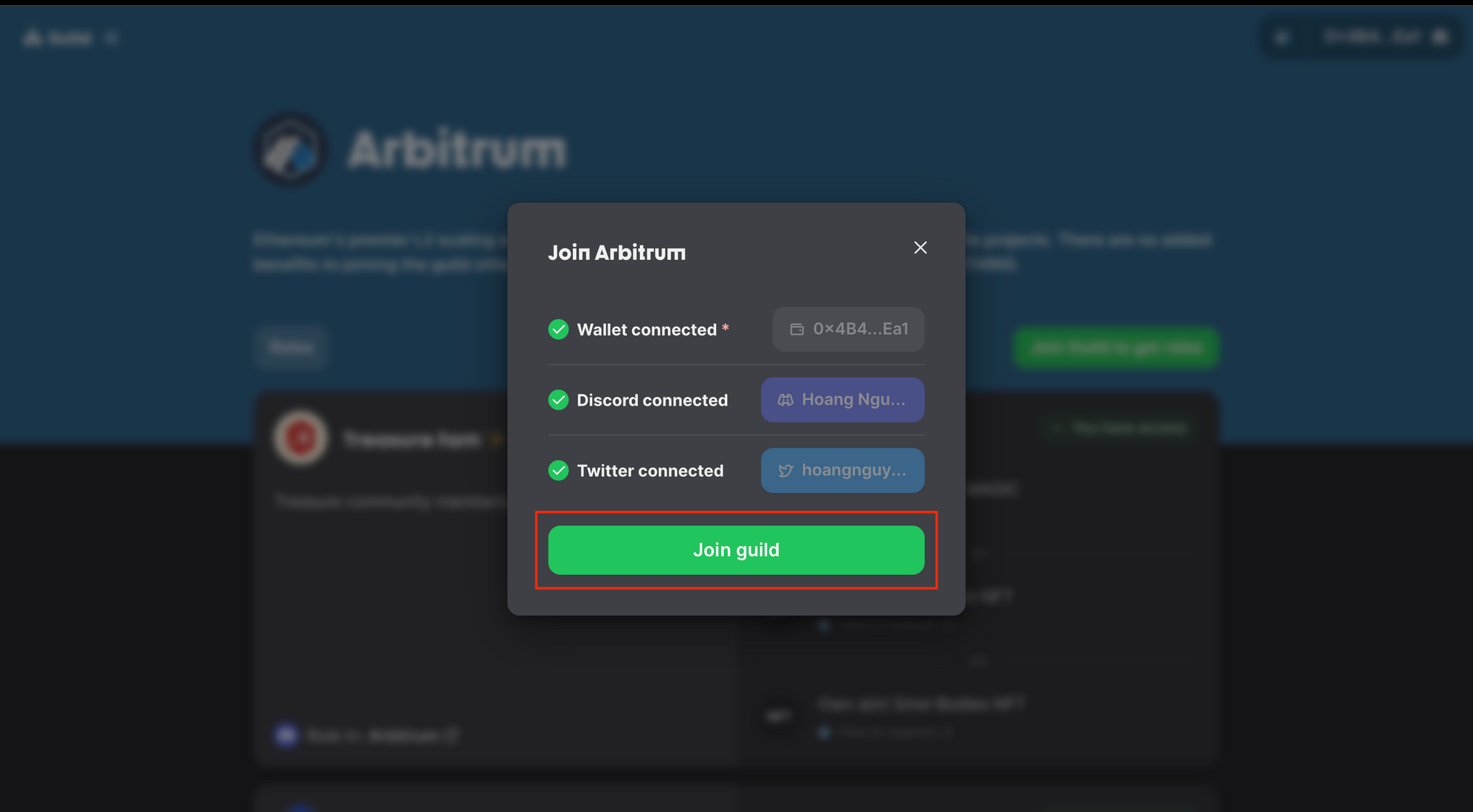 Add Twitter username icon (💙,🧡).

The final role is to own NFT The Odyssey Galxe, which can be purchased on Tofu for around $5.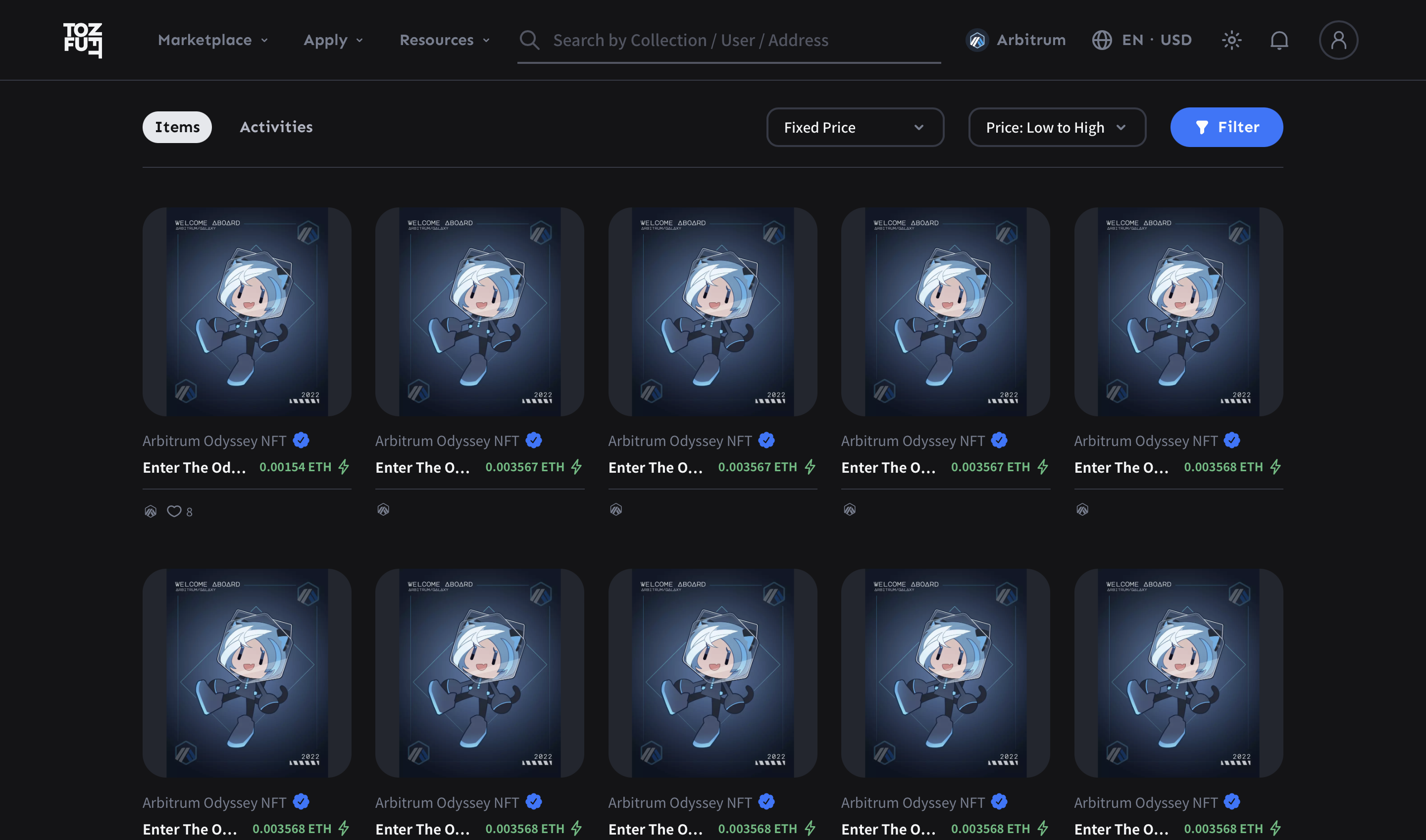 Go to Arbitrum's Discord to confirm the roles claimed.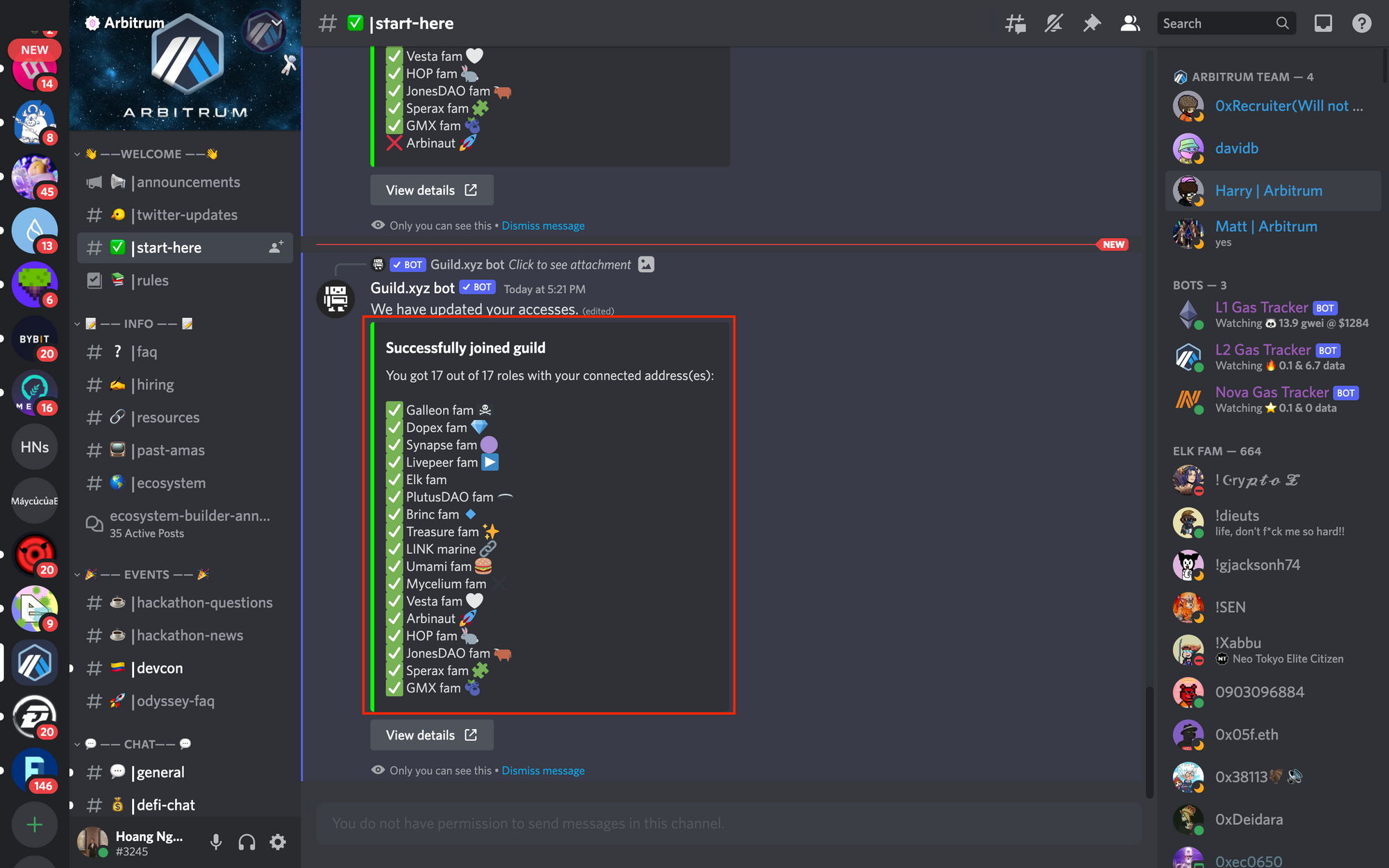 Arbitrum's Mainnet and Funding
Offchain Labs, the firm behind Arbitrum, announced the official launch of the much-awaited Arbitrum One mainnet on August 31, 2021. Aave, Balancer, Band Protocol, Curve, Sushiswap, and Uniswap are among the leading decentralized finance (DeFi) platforms that are already using or planning to employ Arbitrum to boost throughput and minimize costs for its consumers.
Offchain Labs has recently announced a $120 million series B investment round headed by Lightspeed Venture Partners. That results in a $1.2 billion valuation for the firm. Coinbase Ventures, Pantera, Compound, and Blocknation are among the other significant investors in Offchain Labs.
TVL of Arbitrum
The current Total Value Locked (TVL) of Arbitrum is nearly $1.3 billion, with nearly 50% coming from the well-known DEX, which has just listed two "big" exchanges: GMX followed by Stargate and  Uniswap, respectively.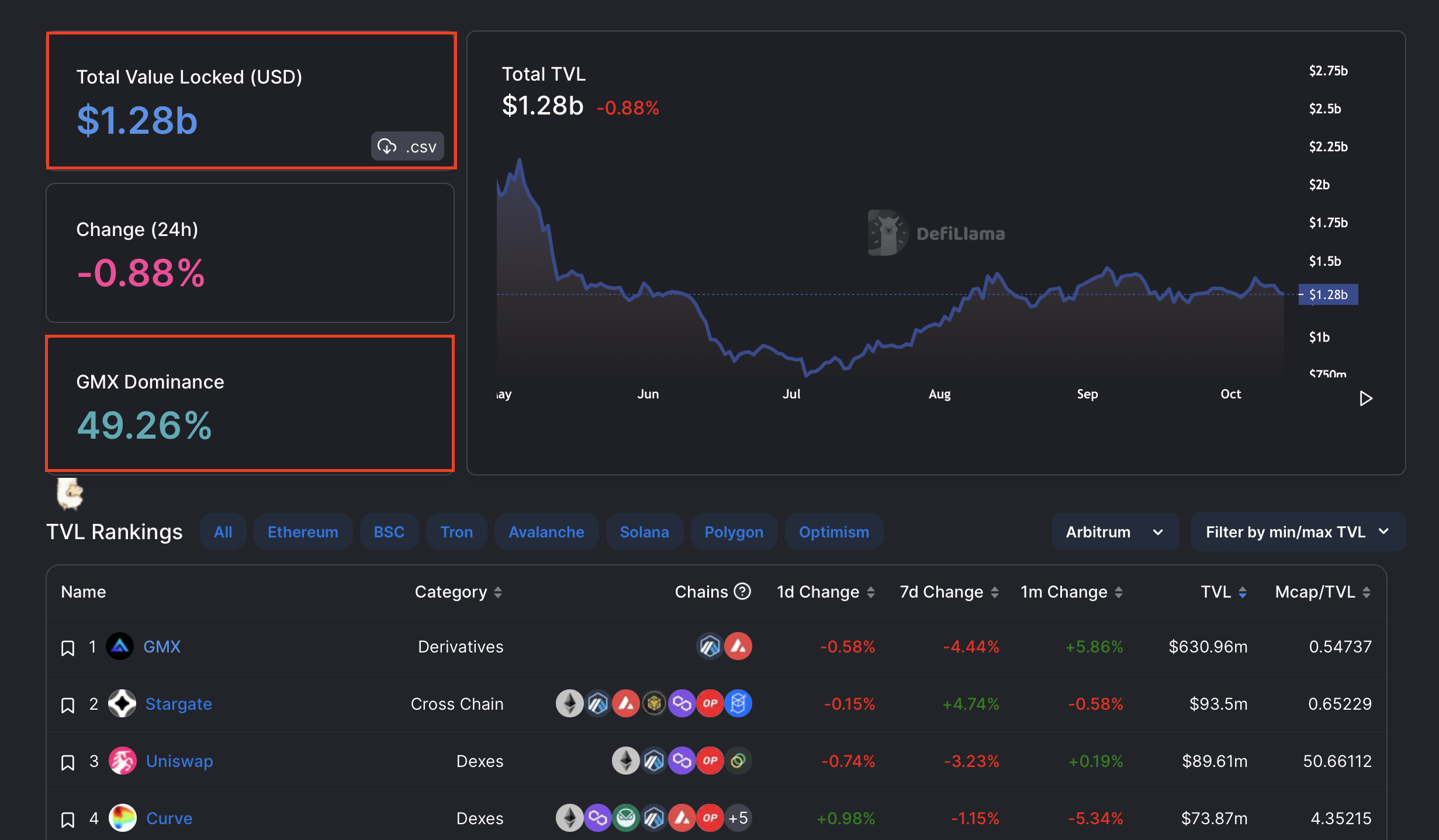 TVL set Arbitrum's peak at around $3 billion in November 2021, along with the market's uptrend. TVL Arbitrum's most recent bottom was in July, with around $700 million. Then TVL witnessed a strong recovery and tripled from the bottom based on the current TVL.
Summary
The Arbitrum ecosystem will be extremely hot soon and will join Aptos and SUI Blockchain to storm the market. When Arbitrum launches the token, it is expected to be a sign of ending the current gloomy downtrend and will blow a "green" breeze into the market. Investors should take advantage of holding Arbitrum tokens to claim a role in Discord and wait for the upcoming big airdrop.