What is The Open Network?
Telegram Open Network is a Layer1 blockchain project, which was originally announced and developed by Telegram but was canceled due to legal issues. After that, the project was transferred to the community and renamed The Open Network.
TON Blockchain
TON is intended to support a large number of concurrent users and daily use, with a transaction volume of up to millions of transactions per second. The network does this using the same blockchain sharding mechanism as NEAR and Ethereum 2.0, which involves using multiple networks or shards on the same blockchain to quickly complete tasks. service. Each shard has its own purpose and works to prevent a large backlog of unverified blocks and speed up the network.
TON is a blockchain that uses proof-of-stake (PoS). All transactions are validated with Toncoin, this token is also used to reward validators. The network also allows nominators to lend tokens to validators to earn increased rewards. To lend tokens, nominators need to join pools and stake their assets. Both nominators and validators are managed using smart contracts, with an additional layer of security. Currently there are 25 million TON, approximately 60 million USD, being staked by Nominators (According to https://tonvalidators.org/ )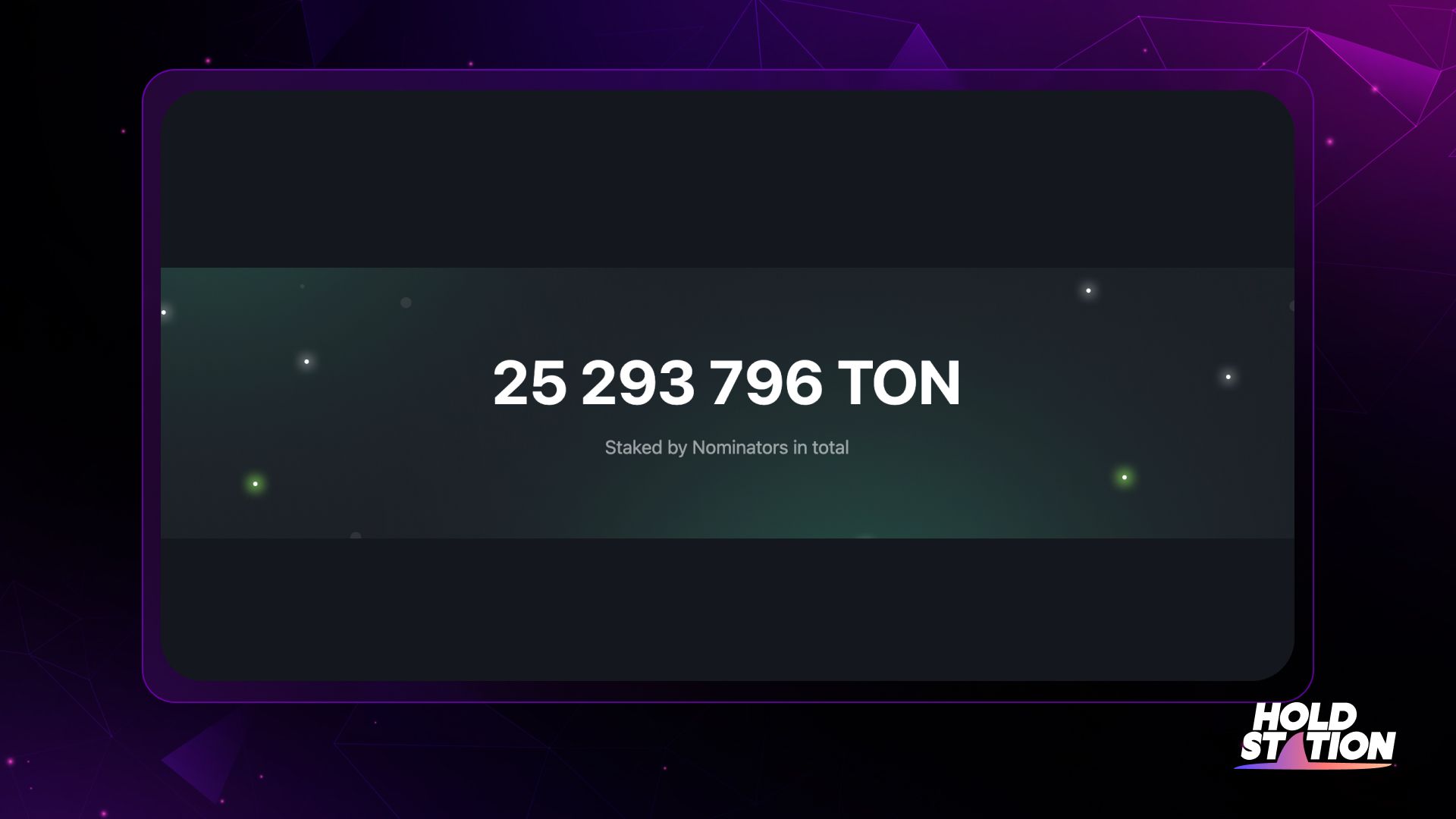 The story of TON
In 2018, Telegram released the whitepaper for Telegram Open Network. Originally known as Gram, the project was in active development until 2020. In April 2018, the $GRAM token sale raised $1.7 billion and became one of the fund raising records in the crypto industry.
With the funding raised, $GRAM started to get a lot of attention, which started to create some challenges for the network. There were scams spreading on Twitter before the official $GRAM ICO was launched. Telegram founder and incumbent CEO Pavel Durov quickly announced that the company would create a mainstream way for investors to participate in the project ICO.
Initially, $GRAM attempted to conduct a public sale under US jurisdiction, so Telegram is subject to all SEC (Securities and Exchange Commission) regulations. The initial purchase agreement is to provide investors with tokens when TON launches. The goal is to prevent the SEC from viewing Gram tokens as securities. However, the SEC considered the original investors as underwriters, and Telegram's offering of $GRAM was considered an unregistered securities distribution.
In the end Telegram failed in court. This resulted in, in May 2020, Pavel Durov terminating Telegram's involvement in blockchain development and initiating refunds to the original investors.
At that time, TON had a dedicated following and a worldwide decentralized community of crypto enthusiasts and developers that saw the potential of blockchain. Since TON is developed as an open source project, easily accessible on GitHub, community developers can continue the unfinished Telegram section and continue building new functionality for TON.
Telegram Ecosystem
The Open Network ecosystem is building in the direction of SocialFi with practical services and dAPPs that act as simplified gateways to help traditional users easily access the blockchain world.
TON Service
TON Storage - an extensible network that provides a platform for data storage. Decentralized information sharing is not a new concept when many famous storage services such as Filecoin or Dropbox have appeared. The main difference between
TON Storage is its full integration with Toncoin as well as the encrypted blockchain-based reserve file that can only be accessed by the owner of the private key of the crypto wallet ⇒ Increased security for private and public archives.
The project will have two major updates in development, scheduled for release Q4/2022 or Q1/2023. This could be good news that will increase the value of $TON in the near future:
TON Proxy - This is an innovation of the development team in building a decentralized and anonymous Internet environment for Web 3.0. Instead of an HTTP connection - off the TON network and unencrypted, TON Proxy allows users to access the TON blockchain through decentralized VPNs and TOR Internet (Special Browser - akin to a browser connection in the background). Metamask wallet platform) ⇒ Censorship avoidance and easy use of dAPPs.
Proxy 2.0 - completely hide the IP addresses of websites and users, protect data and anonymity.
Proxy 3.0 - connect DeFi to the Internet and pay for services using the network through a crypto wallet connection.
dAPPs
In addition to the services provided above, TON has also developed a diverse ecosystem of platforms built on blockchain such as:
If you want to complete a transaction on Telegram, just use the @wallet bot. Wallet - TON provides wallet services including non-custodial and custodial supporting iOS/Android/Web/MacOS operating systems,...
The main highlight is turning Telegram into a crypto wallet through the use of bots ⇒ Easier to convert web2 to web3 user files when the operations are extremely simple.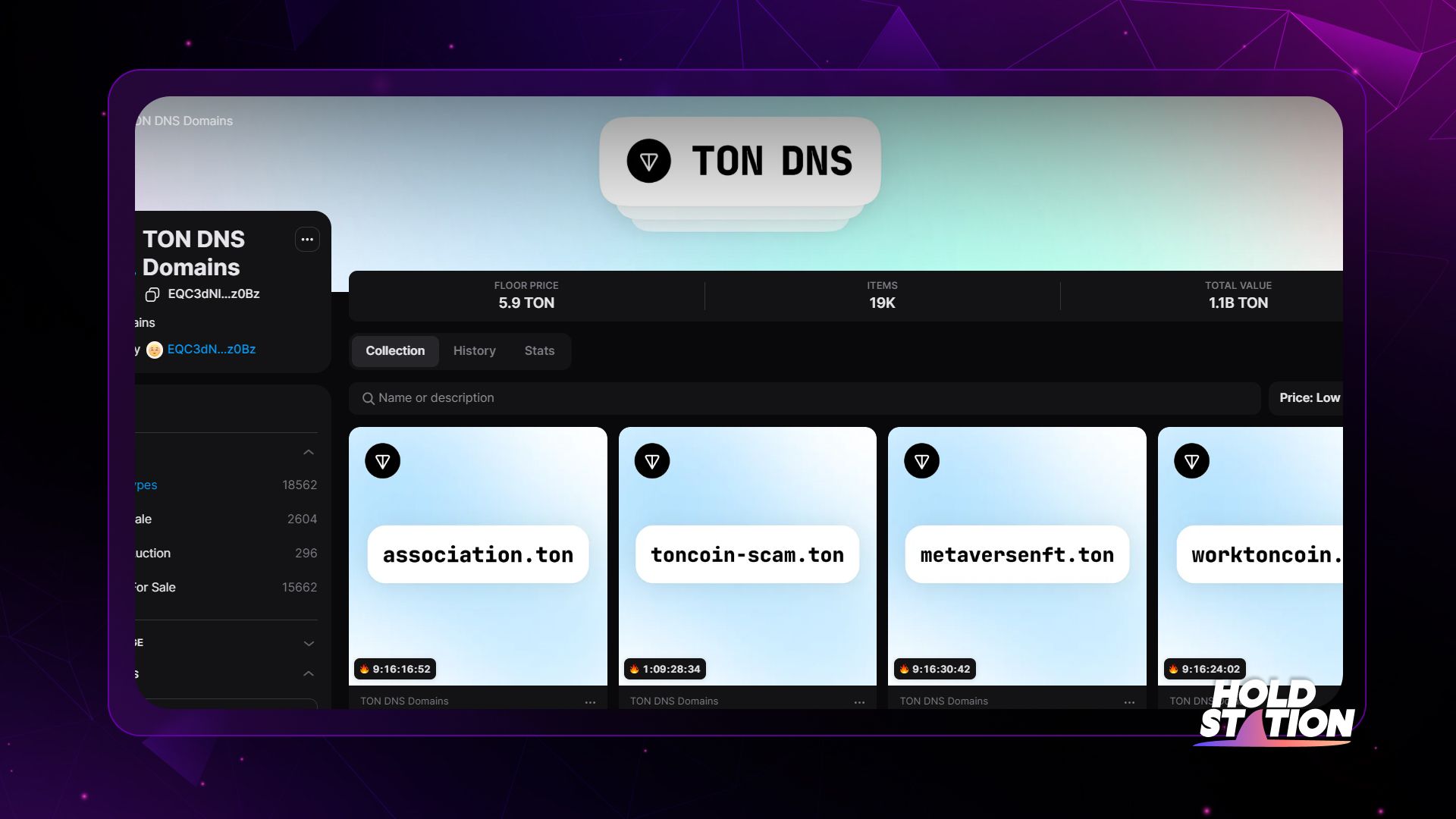 TON DNS - .ton domain name service (TON Domain Name Service) works similar to .bnb or .eth to make wallet identification simpler instead of confusing strings of characters. To own a .ton domain, users will bid and pay with $TON on NFT Marketplace Getgems or the auction homepage HERE .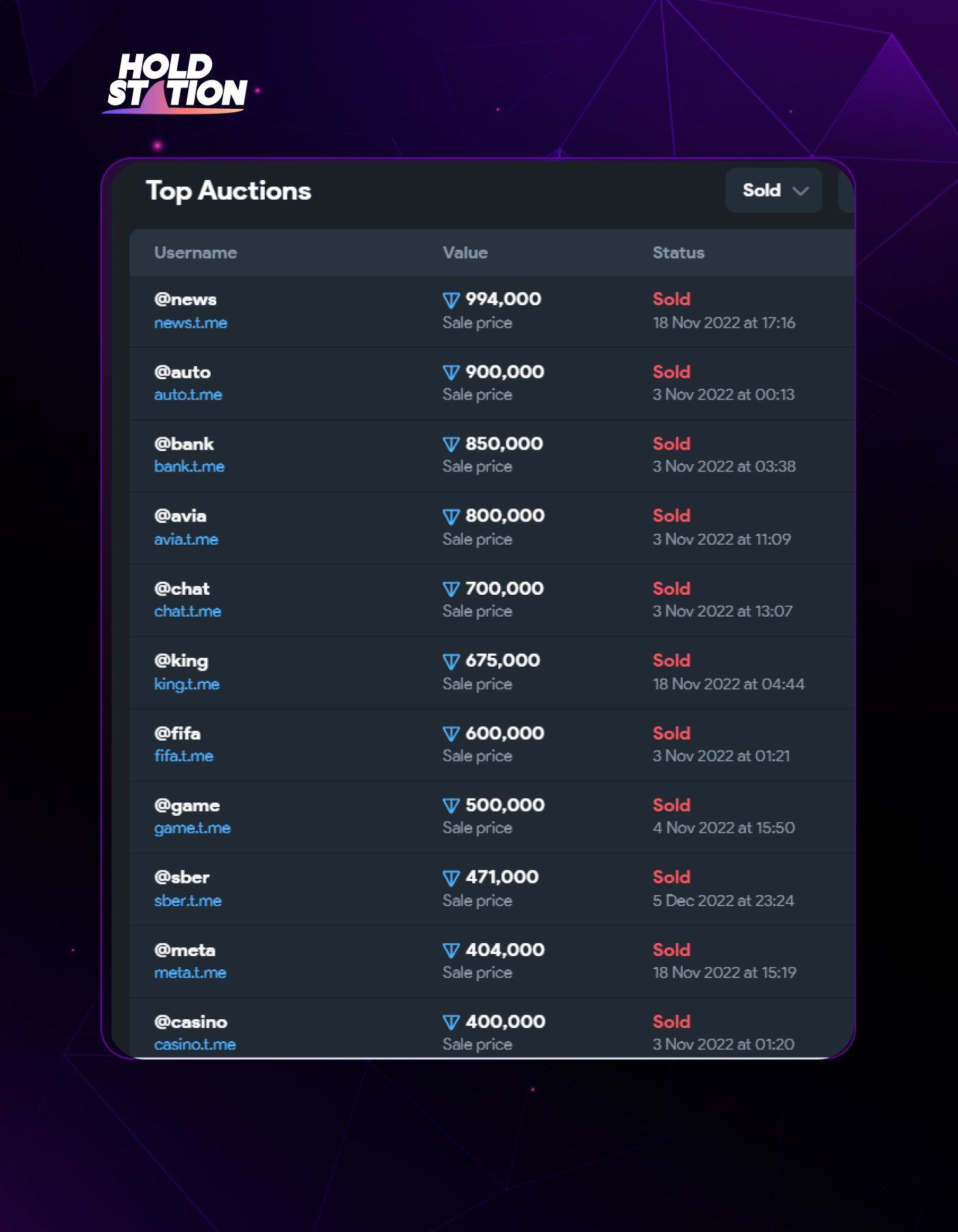 Username Telegram (Telegram username) - user can buy/sell username on Fragment auction platform or NFT Marketplace. This is a pretty good source of revenue for TON when it earned more than $50 million in the first month of sale.
Not only that, the TON ecosystem also owns DeFi market pieces such as:
NFT - many NFT sets have been launched and traded through the NFT Marketplace Getgems or the TON Diamonds auction . In particular, the most prominent is the NFT Whales Club set when NFT owners will receive some privileges such as Whales Club Staking Pool, discounts, ...
Decentralized Exchange (DEX) - TonSwap (currently in Beta) , STON.fi. Both are still in their early stages and have not yet attracted much attention. In addition, the indispensable function is the @cryptobot bot built directly with Telegram - users can easily make transactions and store assets through this form of custody.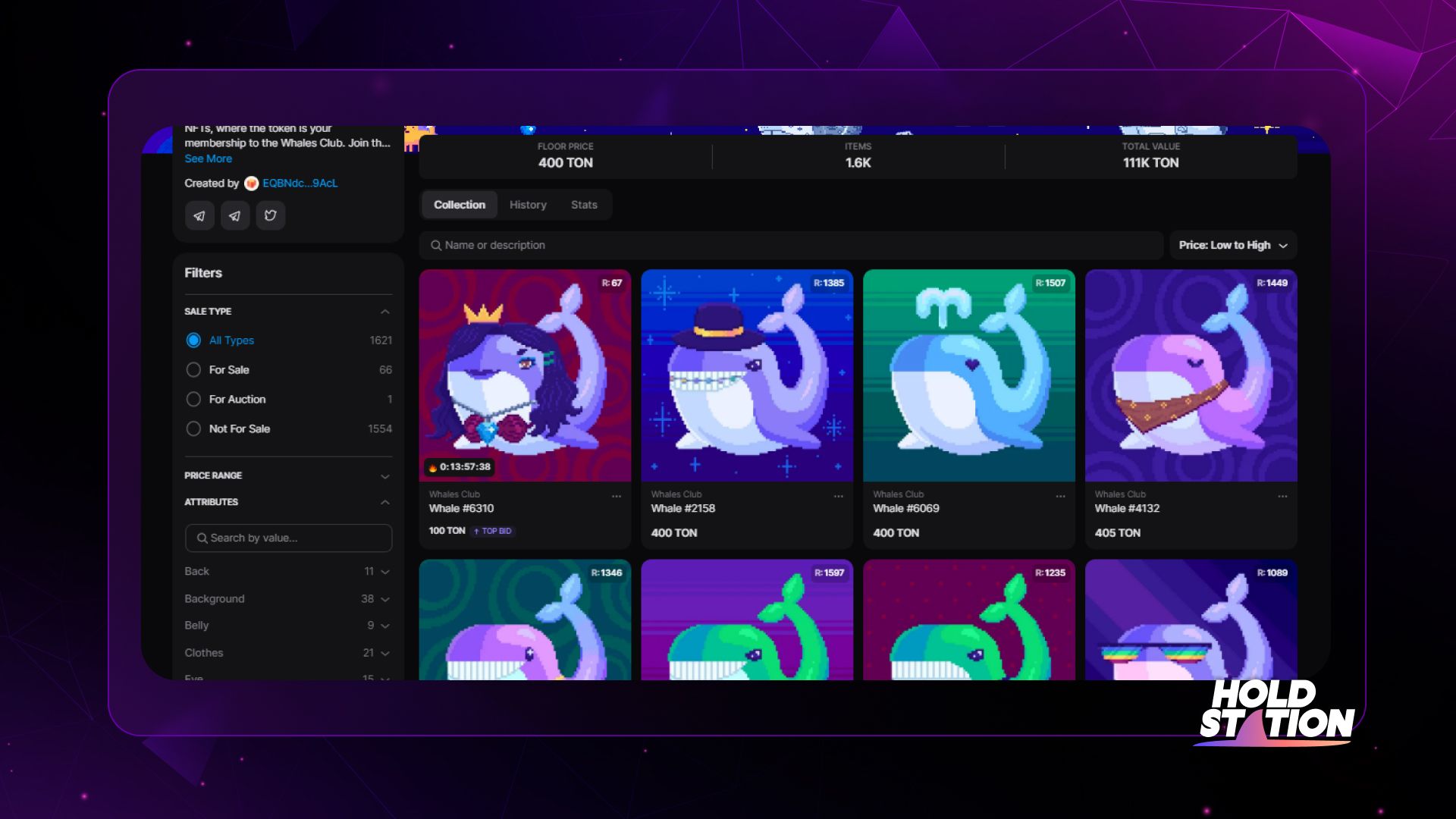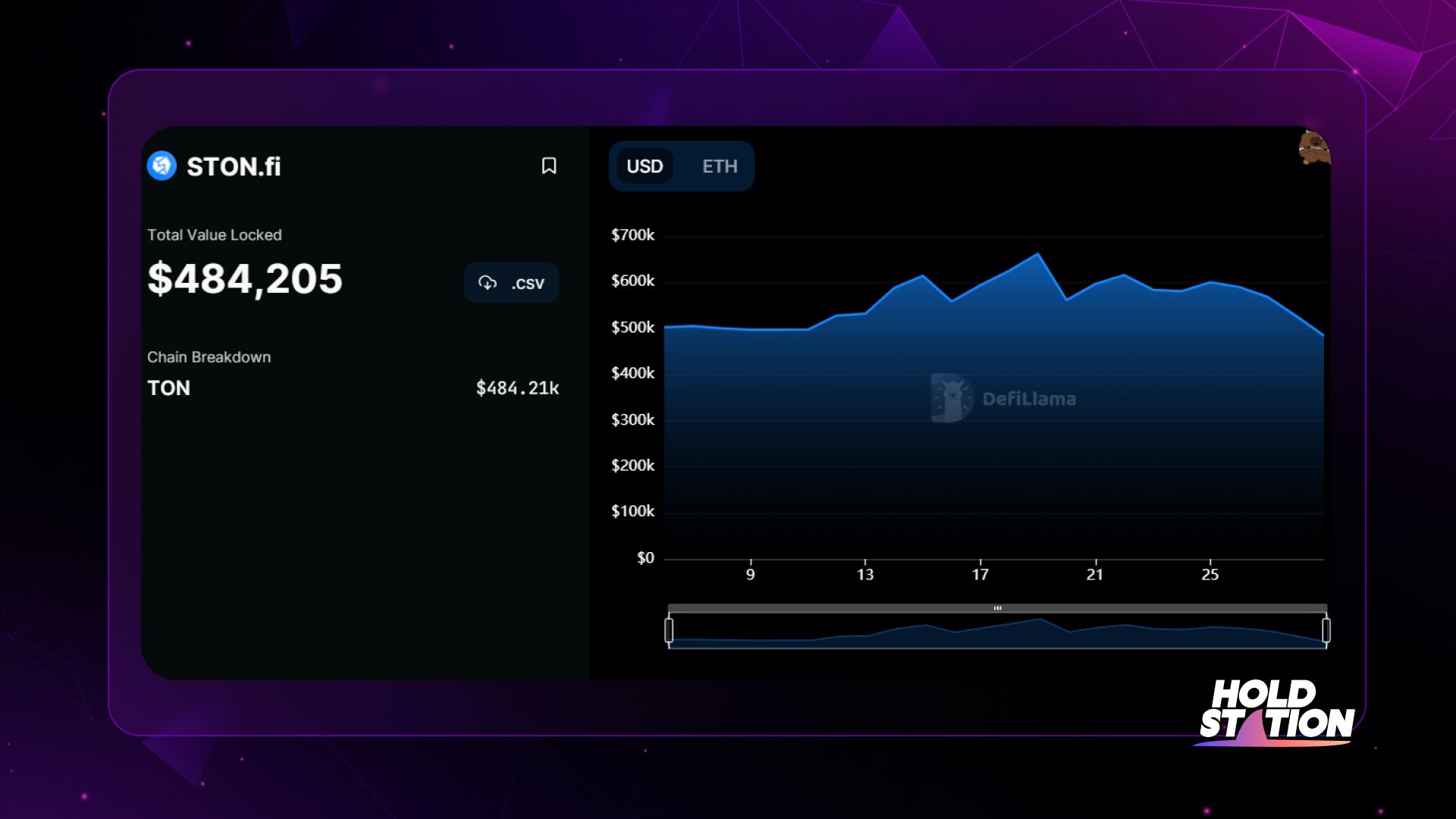 ⇒ The DeFi Ton Blockchain segment is still in its infancy and is mainly focused on developing bots integrated into Telegram that simplifies the process of entering the DeFi market. One of the biggest risks of this model is depending on the control and management of a 3rd party - Telegram.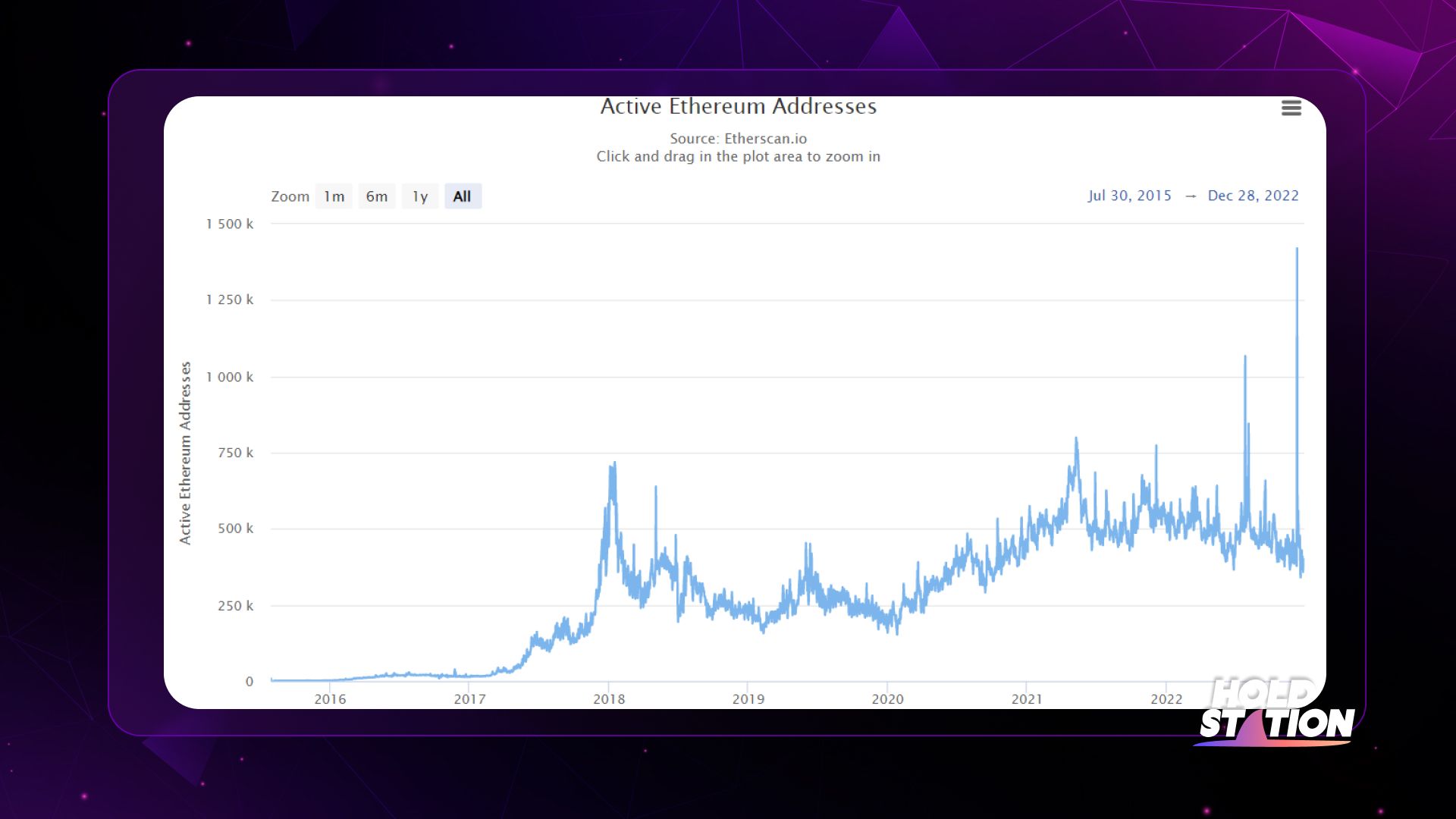 Despite this, TON Blockchain has a customer base of more than 700 million people and a DAU (Daily Active User) of 55.2 million (as of October 2022) - more than 100 times the number of wallet addresses on Ethereum , so if TON Blockchain is focused on developing DeFi infrastructure and successfully transforms this giant file, it will create a wide network - SocialFi Blockchain.
Currently, TonFund is implementing a program to invest and support projects built on TON Blockchain and has started from April 2022 with a total fund of $340 million.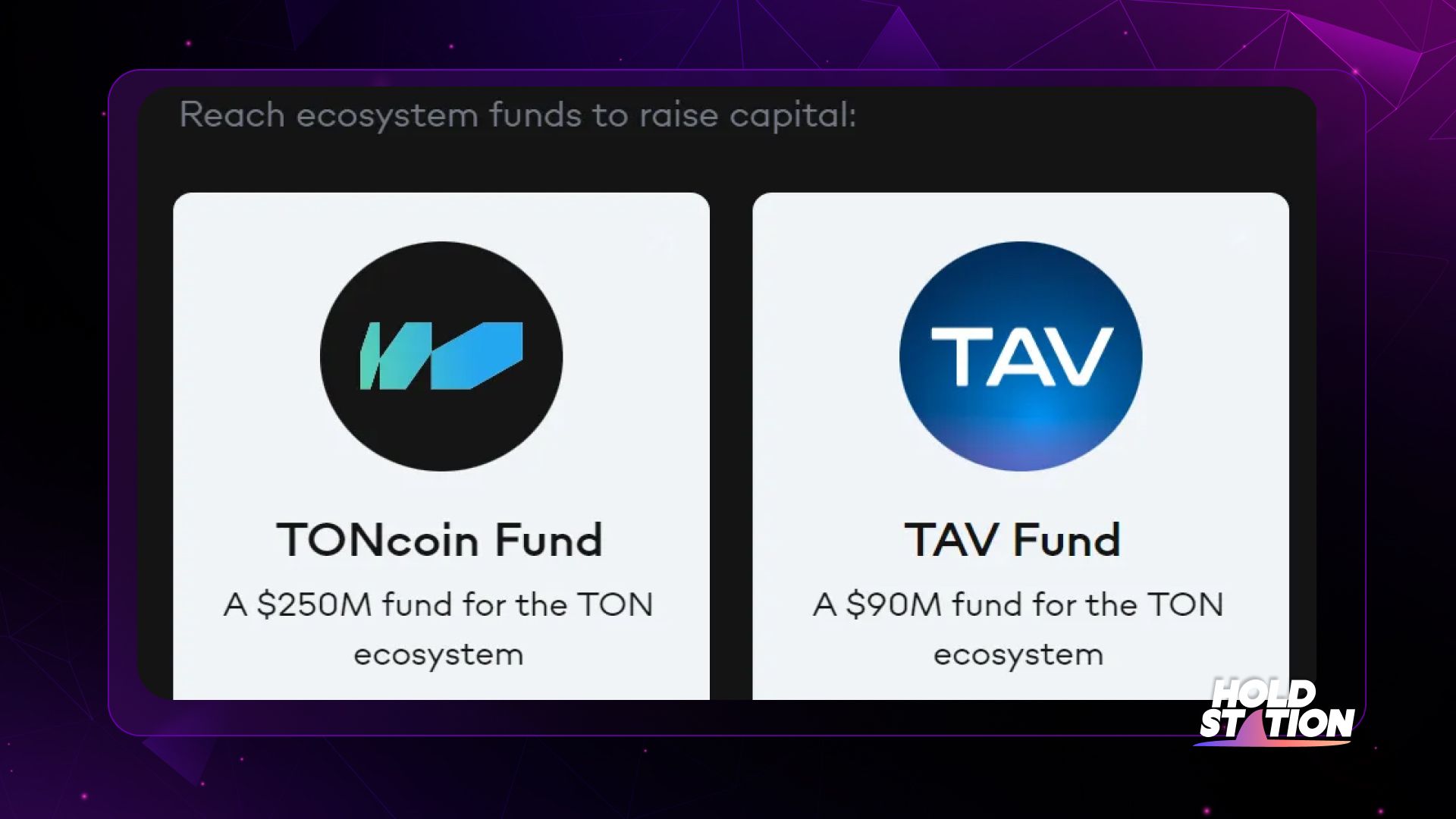 $TON Token
The TON Blockchain design structure allows both PoS and PoW consensus mechanisms to generate new blocks, but $TON is only allowed to enter the circulating supply through a PoS validator.
In June 2022, all 5 billion $TON was mined under special smart contract and has an inflation rate of about 0.6%/year. Therefore, investors do not need to worry about token vesting, but one point to pay attention to is that the initial group of miners holds a large percentage of $TON.
Total Supply: 5 billion $TON
Circulating Supply: 1.4 billion $TON
Market Cap: $2.8 billion
Validators Stake: 150 million $TON
TON Foundation : 40 million $TON
TON can be transferred to Ethereum and BSC via bridge (Wrapped TON - wTON)
wTON Ethereum: 0x582d872a1b094fc48f5de31d3b73f2d9be47def1
wTON BSC: 0x76a797a59ba2c17726896976b7b3747bfd1d220f
The $TON coin application is pretty much used as a means of payment for services and applications throughout the ecosystem. Therefore, the growth momentum of $TON is large when Telegram is widely available to connect customers with DeFi.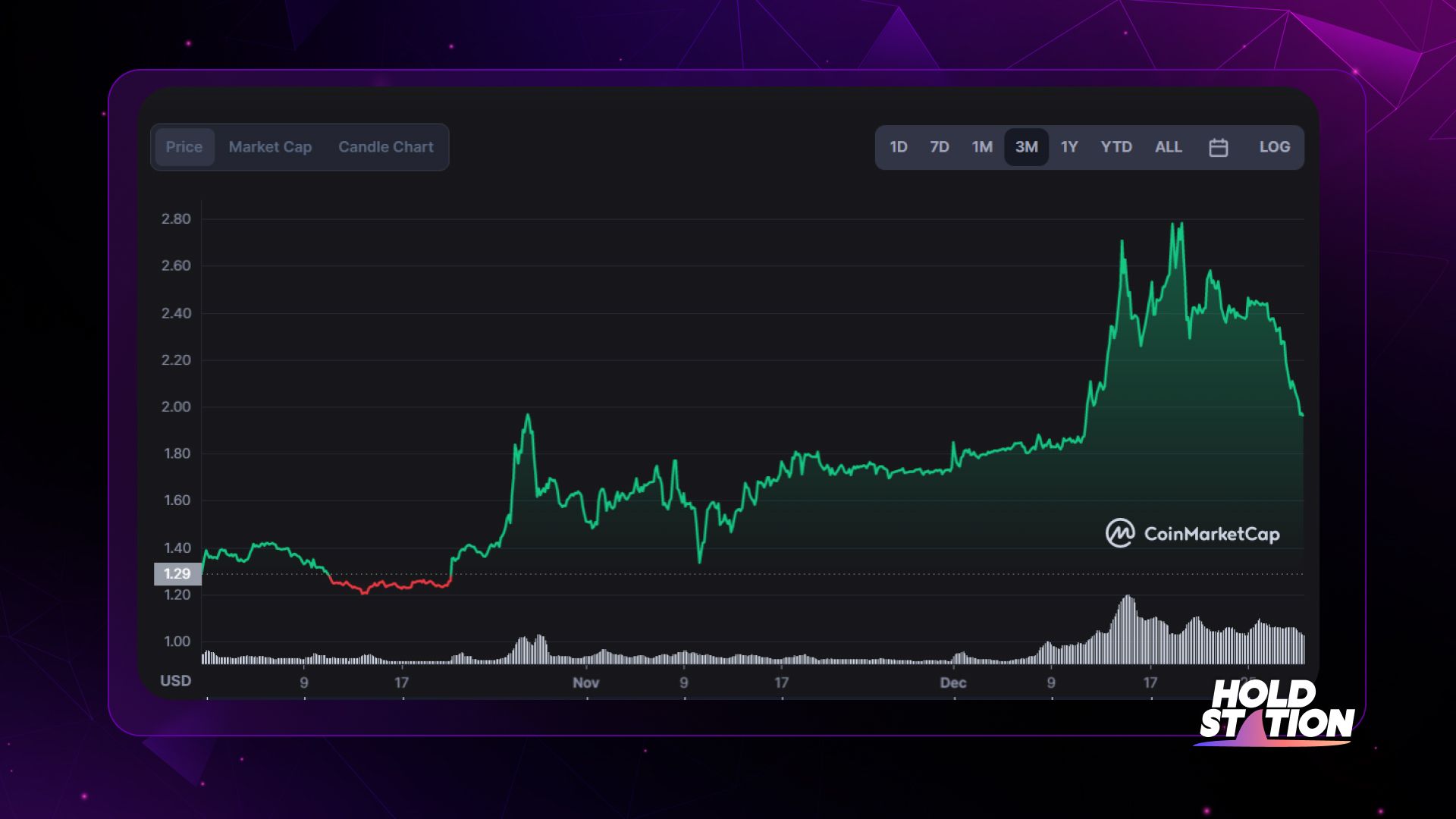 Recently TON coin recorded good growth after TON blockchain released new improvements and Telegram founder - Pavel Durov - also confirmed they are continuing to build decentralized tools for TON including non-custodial wallets and native DEXs.
Investors can trade $TON on centralized exchange like Bybit, Kucoin, OKX,... Telegram bots - @wallet, @cryptobot - or $wTON on DEX - Uniswap, Pancakeswap, 1inch, Biswap - and platform SocialFi Holdstation wallet platform.
Instructions to buy $wTON on Holdstation wallet
Step 1: Click on the Swap icon in the lower right corner of the screen.
Step 2: Select the source token and Paste the contract address wETH network ETH or wETH network BSC (note to switch to the correct network before the transaction) into the Target Token section and then select the TON token.
Step 3: Enter the amount to swap and confirm.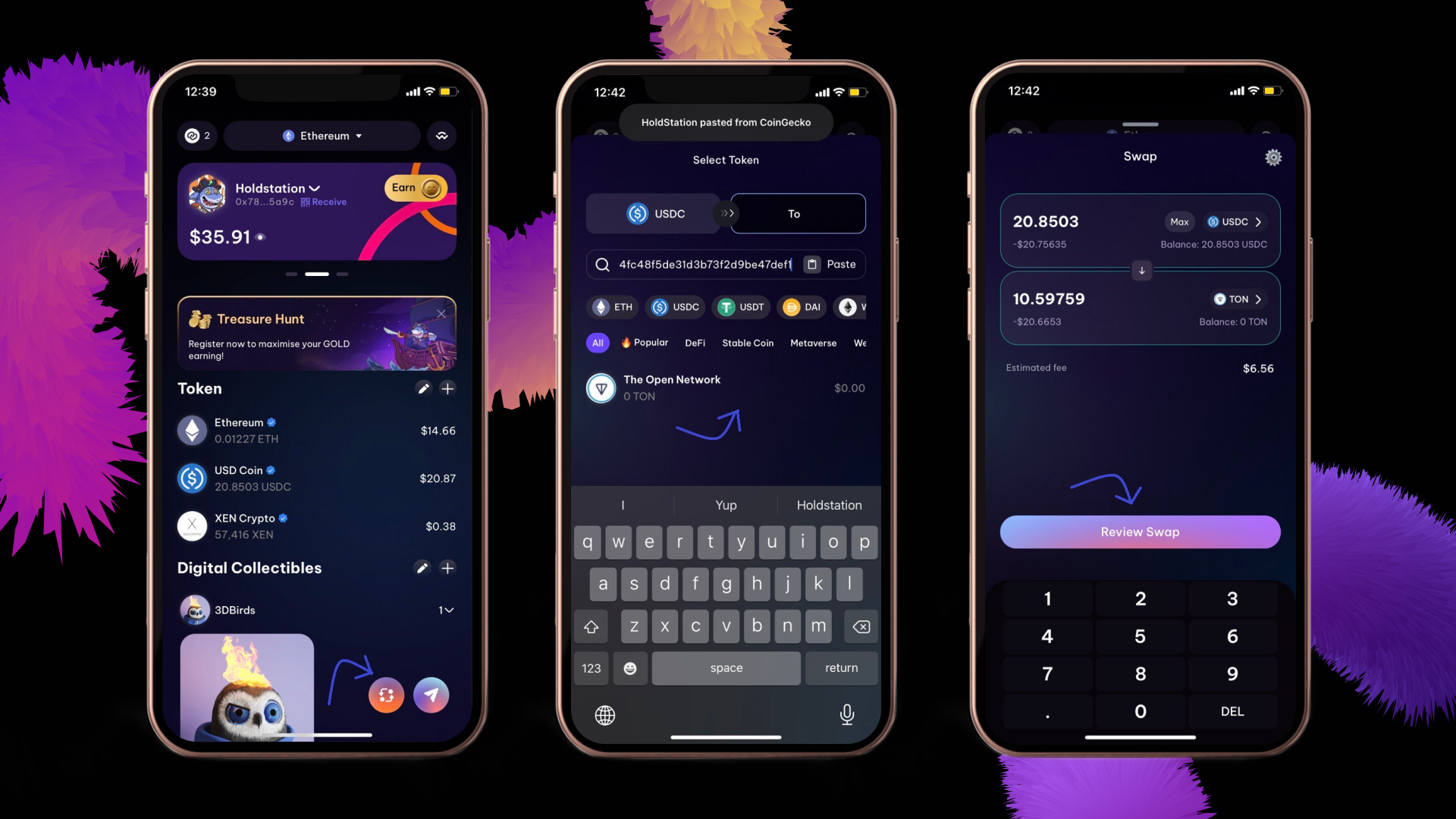 Summary
So, in general, the $TON blockchain technology is quite good - relatively cheap and fast transaction fees - and mainly strong in the service that connects users to Web3, but the DeFi puzzle pieces are still in their infancy. If through the support fund program to attract more Dapps developers to perfect the DeFi infrastructure, the TON Blockchain can scale quickly thanks to the large Telegram network. Thereby increasing revenue and value of $TON.
---
Holdstation Wallet - Your Gate to Web3 💜🦈
Make DeFi as easy as CeFi!
📲 Download now: IOS | Android
Disclaimer:
The information, statements and conjecture contained in this article, including opinions expressed, are based on information sources that Holdstation believes those are reliable. The opinions expressed in this article are personal opinions expressed after careful consideration and based on the best information we have at the writing's time. This article is not and should not be explained as an offer or solicitation to buy/sell any tokens/NFTs.
Holdstation is not responsible for any direct or indirect losses arising from the use of this article content.