Binance Coin (BNB) is one of the most popular cryptocurrencies in the world. Having a market capitalization of 45.5 billion USD, ranked 5th in the ranking of the highest capitalization coins. $BNB is used for the administrative purposes of the Binance Chain chain, in addition, users can also use it to reduce transaction fees on the Binance exchange and for payment purposes through other support channels.
$BNB is also one of the strongest "support" coins during the current bear market. While Bitcoin is down about 73%, Ethereum is down 74% but Binance Coin is down only a "modest" 59%.
Is it possible that investors can get up to 20% bonus just by Staking $BNB?
Optimize amount of BNB holding by Liquid Staking
Getting a reward of nearly 20% just by Staking $BNB is possible at the moment through Stader.
Stader Labs is a multi-chain Liquid Staking platform that currently supports Blockchains such as: Binance Chain, Polygon, Near Protocol, Fantom and more in the future.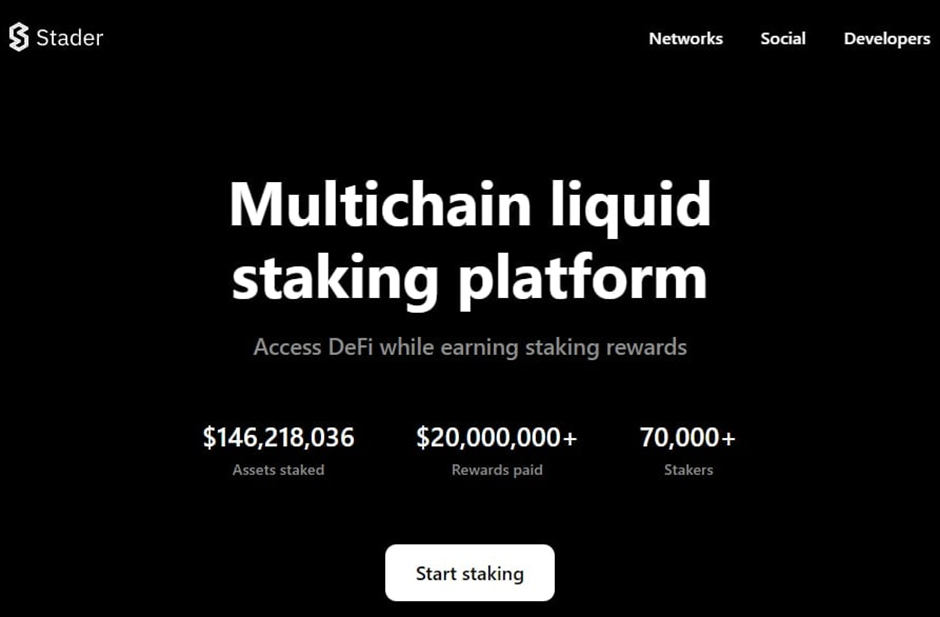 At Stader users can Stake $BNB to the platform and receive $BNBx – a derivative token of $BNB issued by the platform.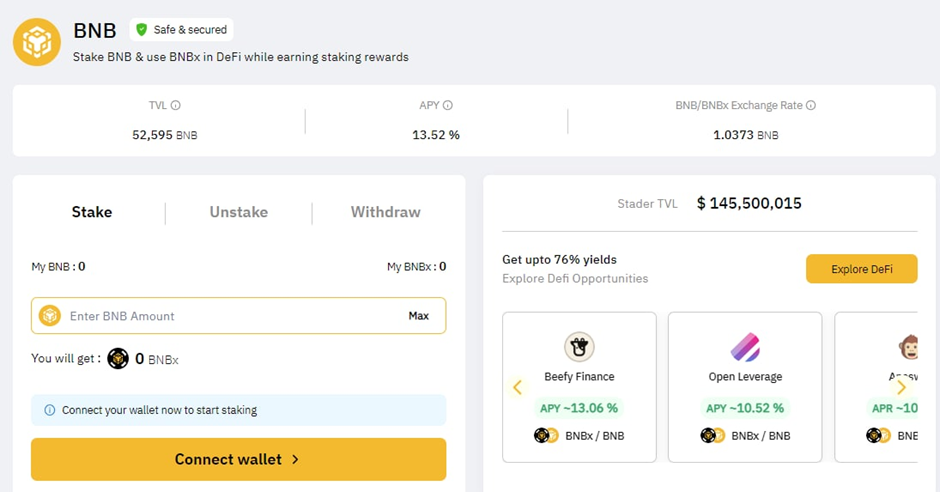 Currently Stader's APY for Stake $BNB users is around 13.5%. In which, 4.5% of the reward comes from Base Staking APY and 9.02% of the reward is awarded by Stader to Stakers.
The amount of $BNBx will grow with the time you Stake, the longer the time, the more your reward will be. When you want to get your $BNB back simply unstake $BNBx (then already incremented) back to $BNB with interest.
Optimizing Liquid Staking through a third party
Stader Labs is currently associated with a number of other projects working in the field of Dex, Yield Optimizer, Lending, Trading,... But according to the title mentioned above, I will guide you to optimize the final amount of BNB holdings through Beefy.finance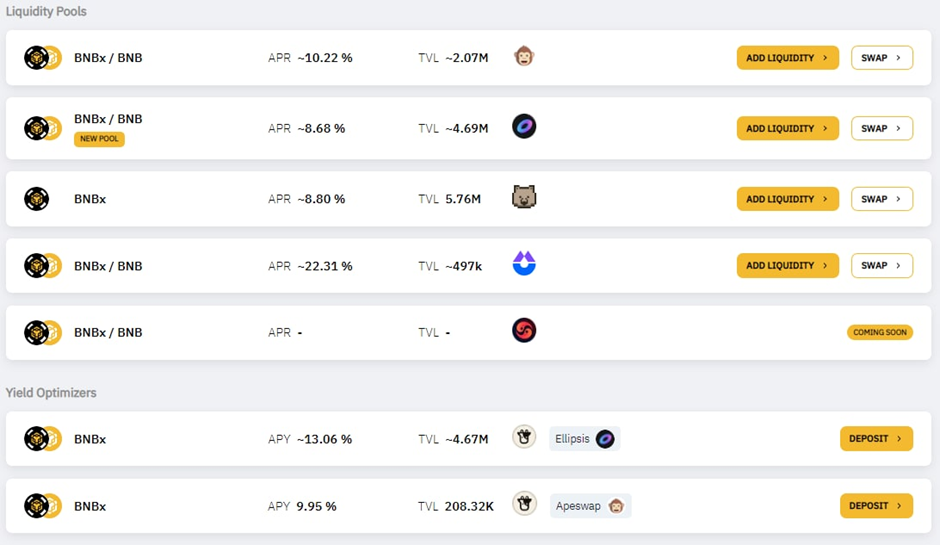 Currently, Beefy.finance is running a Boost APR program for BNBx/BNB pairs taking place within 13 days. Then the APR will be returned to the original APR of 9.45%.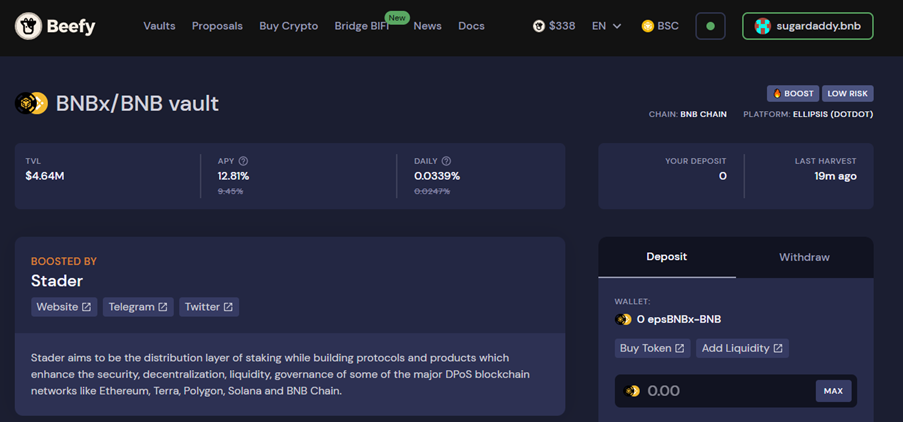 All you need to do is pair the BNBx/BNB LP liquidity on Ellipsis.finance and bring it through Beefy Stake. The interest paid will automatically accrue to your LP. Provides effective compounding along with an increase in the final amount of BNB held.
So completed the process of Stake $BNB get rewarded with APR up to 20%
Summary
This is one of the simplest ways to optimize the amount of $BNB you hold in the long run. In addition to Stader Labs you can use other Liquid Staking platforms such as ANKR, pSTAKE and receive Yield rewards from providing liquidity for Ellipsis, ApeSwap, Wombat Exchange,...
The best point in this method is to receive level rewards. High APR with almost zero Impermanent Loss. Very suitable for those who are intending to invest in the long-term in Binance Coin.