The Merge, a historic event of Ethereum in particular and the crypto market in general, helping to convert Ethereum's PoW (Proof-of-Work) consensus mechanism to PoS (Proof-of-Stake) consensus mechanism. As a result, anyone that has tokens on Ethereum chain previously would receive both Proof of Stake and Proof of Work assets.
On September 12, Kyber Network has just released a voting proposal from users to consider 1-month support for ETH Proof-of-Work with features such as swap, liquidity protocol at KyberSwap. KyberSwap is a multi-chain decentralized exchange (DEX) that provides the best exchange rates and maximizes profits for DeFi traders built by Kyber Network.
The vote was passed with 60.4% support to 39.6% against. Therefore, Kyber Network officially announced to support ETHw  within 1 month from today September 16 at kyberswap.com, after 1 month the UI for ETHw will be officially disabled.
KyberSwap's goal is to provide a simple, fast, secure, and accessible DeFi environment for everyone. Although while always supporting EthPoS as the only canonical chain, Kyber Network has set out to see if there was demand and support to enable EthPoW access on Kyber Network's platform. Kyber Network users can now visit kyberswap.com, connect their crypto wallet, select the network and select the 'EthereumPoW' chain to initiate the transaction.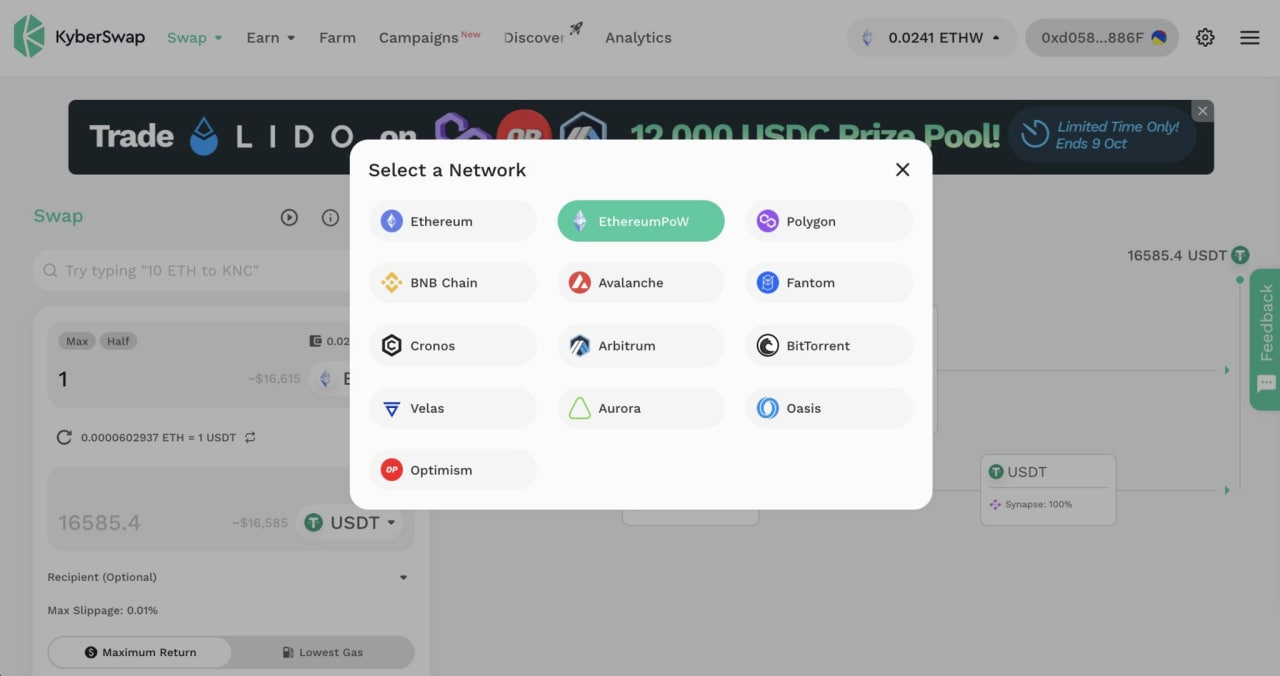 Disclaimer
Before proceeding to use the ETHw exchange feature on KyberSwap, users need to understand about possible risks such as scams and hacks. To prepare yourself with knowledge to prevent trouble cases from happening, readers can refer to the following article.
Source: Kyber Network