Mojito Markets - Betting DEX is a potential project on the Aptos ecosystem followed by AptosLabs. On October 22, 2022, the IDO will be launched, which is a great opportunity for investors.
Guide To Join IDO The First Potential Project On Aptos - Mojito Markets HERE
In addition, the project also implemented an airdrop hunting contest with thrilling content. With just a few simple steps below you will have the opportunity to receive lucrative rewards from this platform, so hurry up and do it.
Information about the event
Experience the platform service by predicting the outcome of events in 8 different markets from sports, politics, and crypto,... provided by Mojito Markets. This is a 10-day contest among other participants, starting on October 17, 2022.
Each player is granted a maximum of 10,000 MUSD devnet/day and is required to participate in at least 500 MUSD for each market.
Ranking will be based on "biggest win" (Amount received - amount bet).
The markets will start at 7 am Vietnam (UTC + 7) every day and run for 24 hours.
Results will show on the Leaderboard 24-48 hours after the event, and you can check your rank and rewards for that day.
If more than one person enters a rank, the prize for that rank will be divided and distributed equally among them.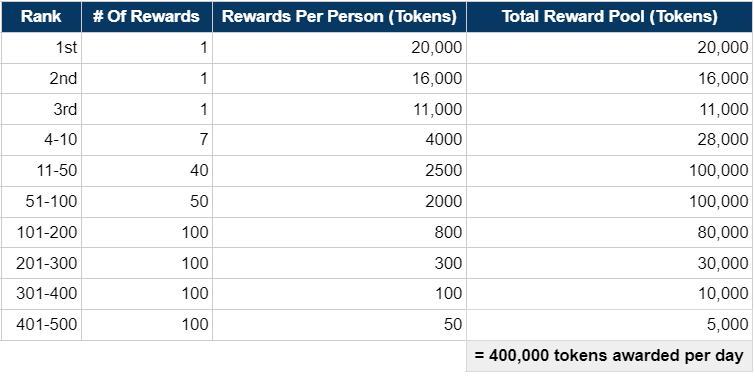 Example: If two people rank 1st, the first and second reward pools are added together and divided among the winners i.e. 20,000 and 16,000 are added to sum up at 36,000 and divided equally to them, i.e. 18,000 tokens each.
In another example, if 100 players come together in the first place, the first 100 prize pools will be added, and each person gets an equal share, i.e. 275,000 tokens total to be divided among 100 winners, i.e. 2750 tokens/person.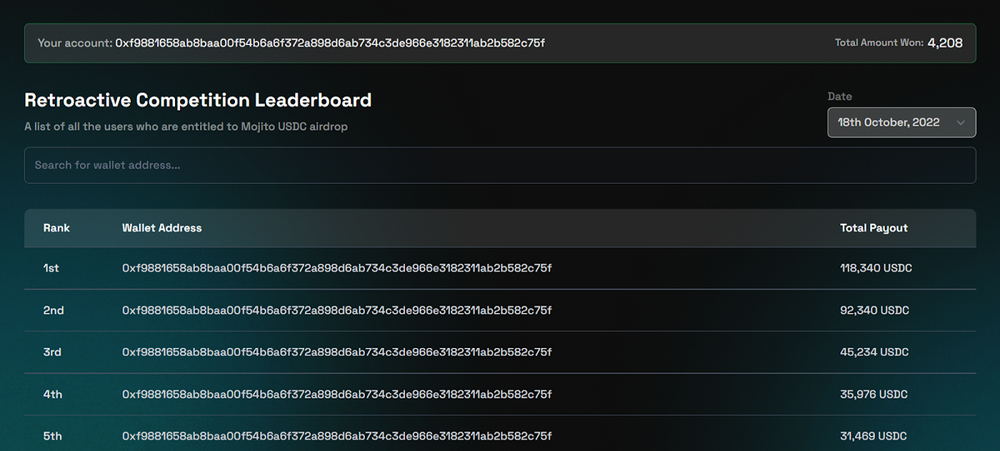 Airdrop will be locked for a while and allocated to winners when 3 months of airdrop contests are completed (expected 12/2022).
Steps to participate in Airdrop Competition Mojito Markets
Step 1: Fill out the registration form HERE. This is a required condition (pretty much the way Aptos did it). The new typed code section is accepted.
Step 2: Visit the homepage HERE and connect the wallet. Use the Aptos Testnet network and have about 2 APT faucets to pay for gas (If you don't have one, you can Claim here). Then get the MUSD faucet from the platform.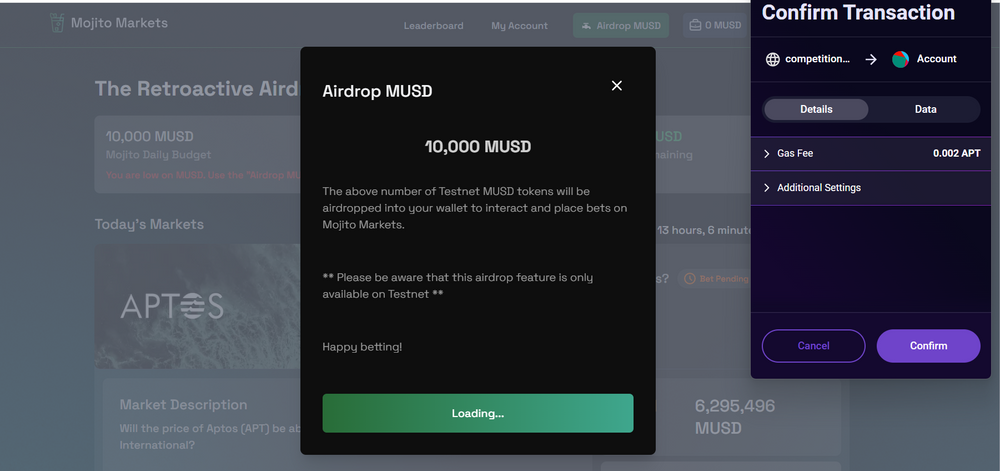 Step 3: Once you have airdropped yourself 10,000 MUSD, you'll be able to start betting. You'll be presented with eight markets that demand you to bet at least 500 MUSD in each market. Winners will be calculated on who has the highest total winning, so we suggest you use your entire MUSD 10,000 balance to enhance your chances of winning. You can only make one bet maximum per market, so choose your option carefully. Potential ROI will converge on actual ROI as the betting period closes.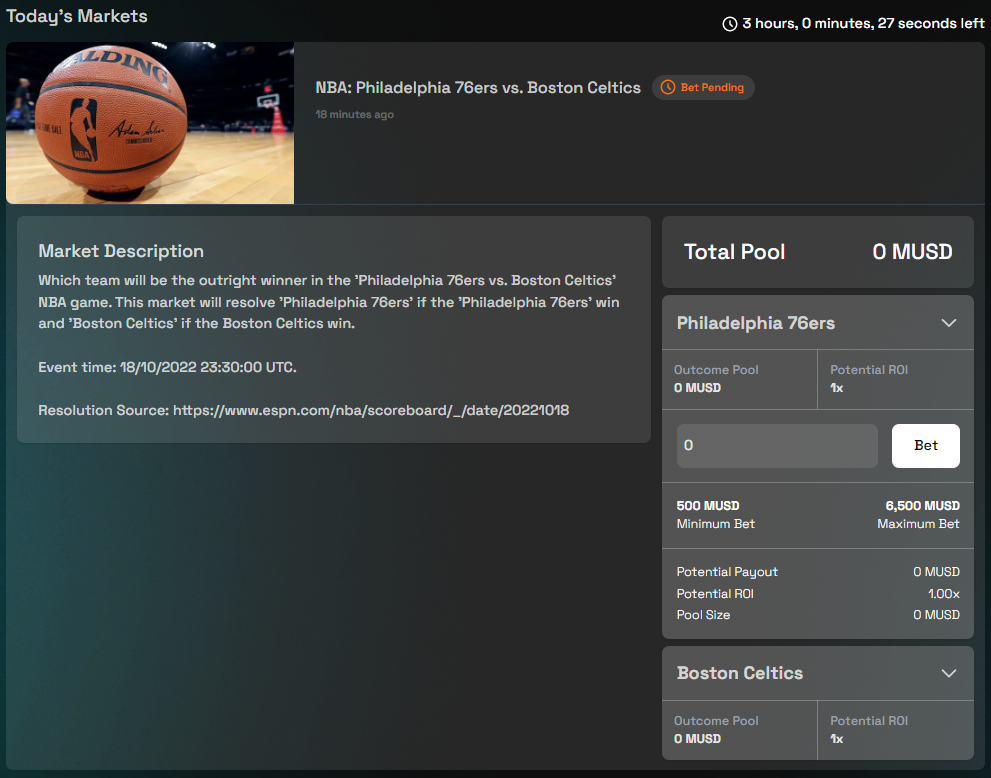 Step 4: As you place your bets, markets will be greyed out and tagged with 'Bet Placed.' You can keep an eye on your budget and how much you've spent at the top of the screen.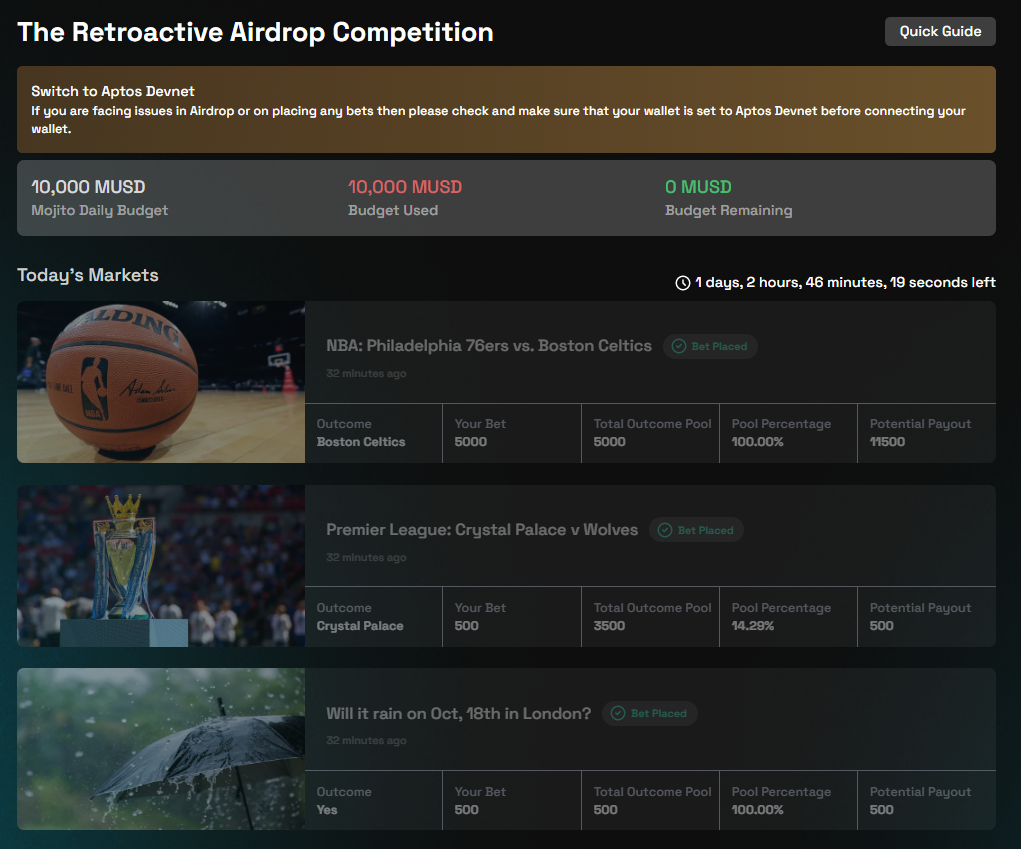 Step 5: Once you've placed all your bets, a 'Congratulations' popup will appear, informing you that you've placed all your bets and completed your entry for the day. Your entry will not be complete until you've bet in every market and see the 'congratulations' popup as confirmation.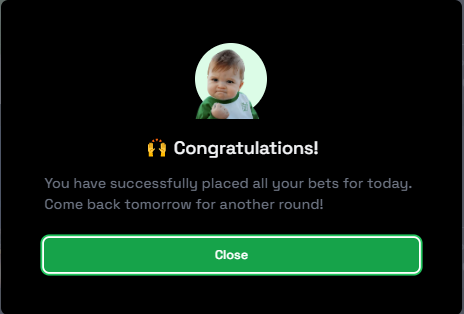 Step 6: You can keep an eye on bets in 'My Account' where you'll see the status of each market (i.e. 'open', 'resolving' in ongoing bets and 'resolved' in past bets).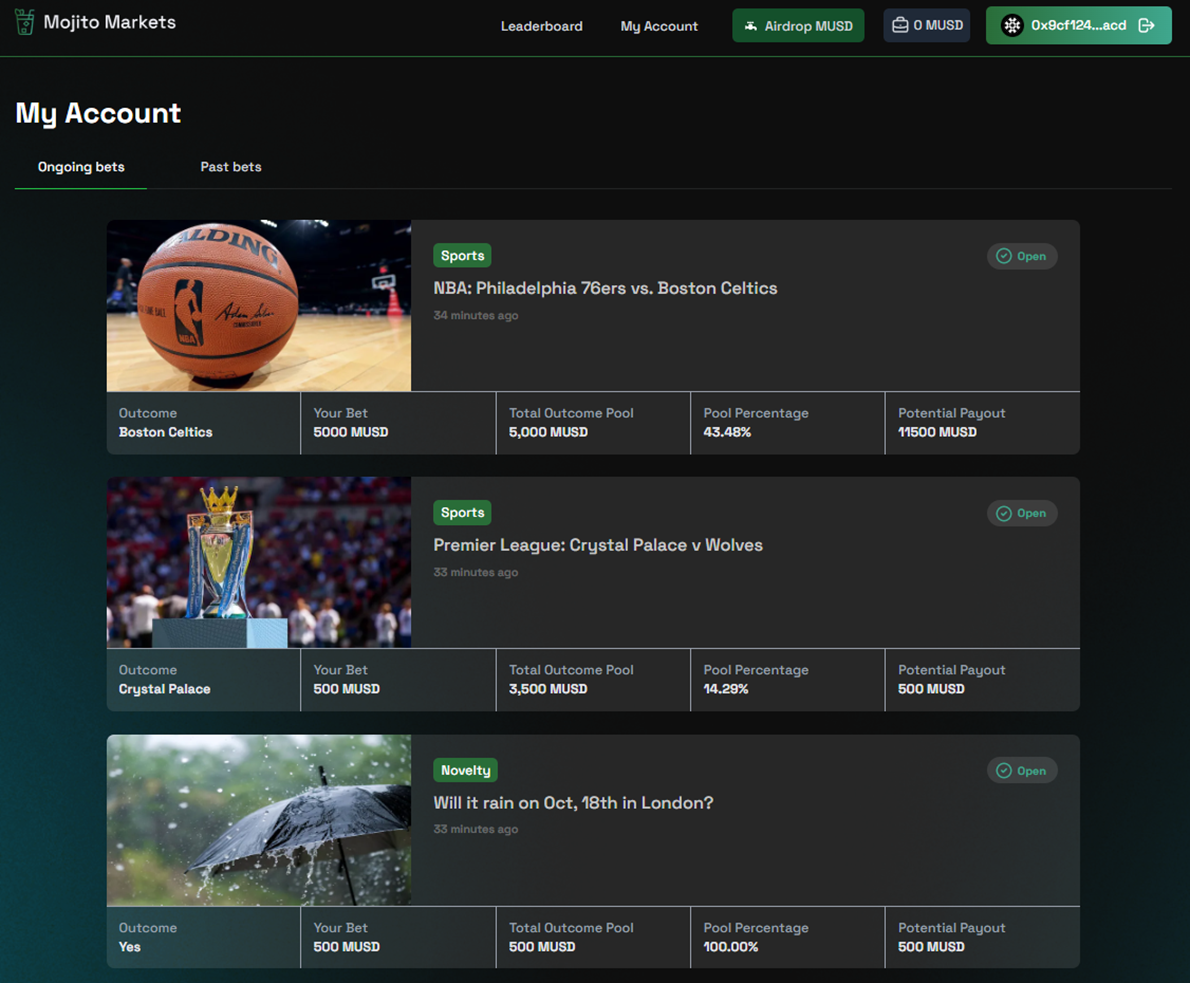 Step 7: The leaderboard for each day will be generated based on resolved markets from the previous period. You can check the leaderboard 24–48 hours after a daily betting market has closed to check your rank and if you've won any retroactive airdrops.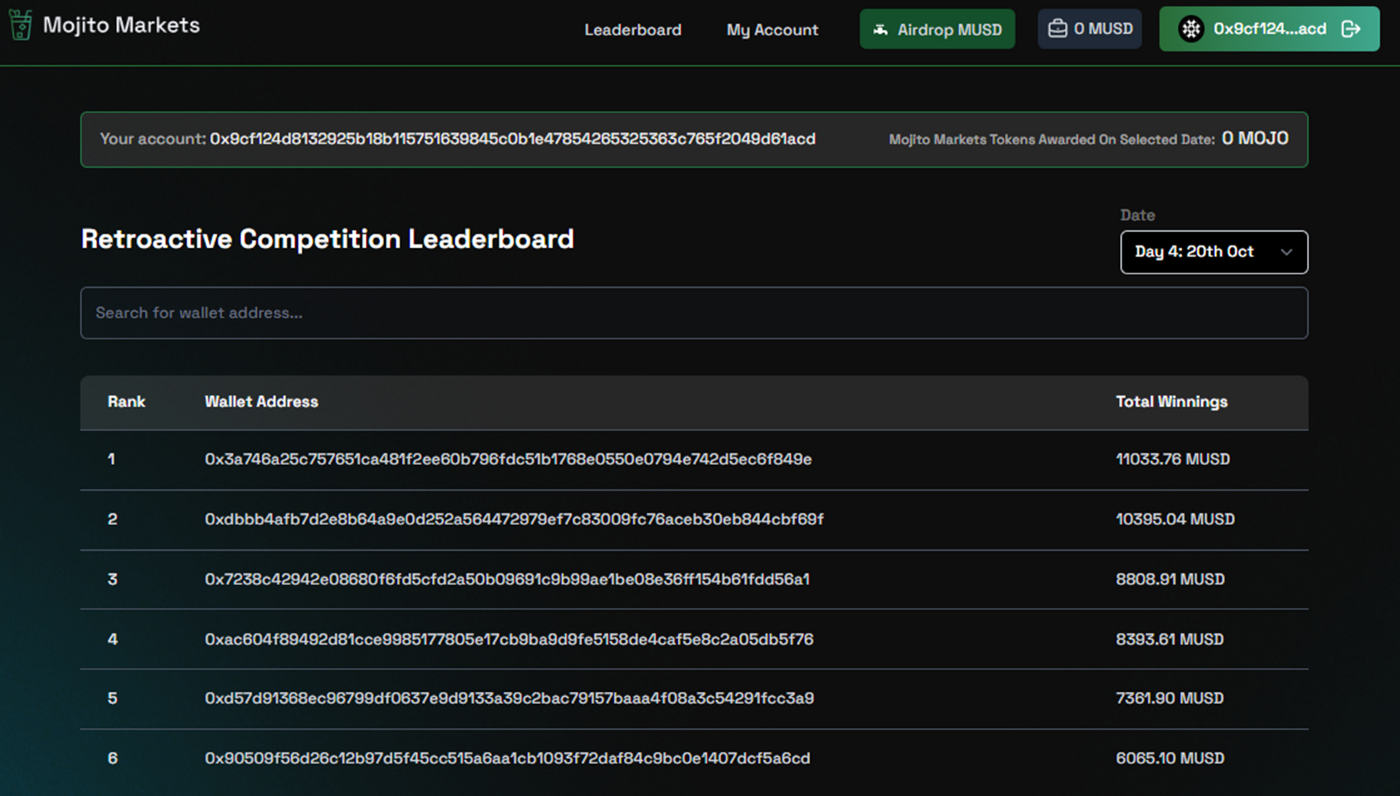 That's it! Best wishes to you guys.