In the past 24 hours, a newly launched project unexpectedly created a wave of FOMO attracting much attention in the foreign investor community, at one point "pumped" x100. Not only that, XEN consumes almost 40% of Ethereum block space as users have spent a total of more than $1.9 million in gas fees to interact with the token smart contract.

According to data from Ultrasound.Money, this event contributed to a decrease in the supply of Ethereum since October 8 thanks to more than 1300 ETH burned and a sudden increase in gas fees.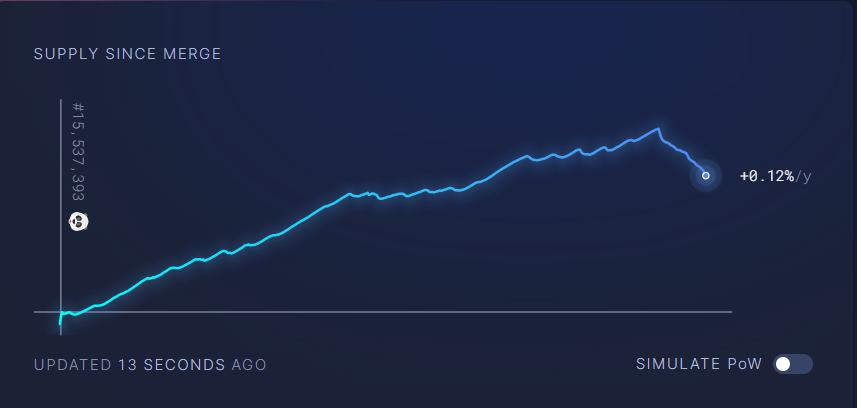 So what is XEN?
According to what is described in the project Whitepaper, the XEN token was created to become the universal currency and the design follows the blockchain core principle as Satoshi Nakamoto mentioned - decentralization, non-custodial, transparent, peer-to-peer exchange,...And especially as an improved version of Bitcoin 2.0 when not taking risks from partners. Is it really so? Let's analyze with Holdstation further.
Built on Ethereum by Jack Kevin - one of the early engineers of the Google technology empire, the XEN token is issued not based on a popular mechanism like PoW or PoS but instead Proof-of-Participation (PoP) - anyone who only needs to own an Ethereum-compatible wallet can participate in the "fairest" release of the project. How is this done?
"Fair" here comes from the following characteristics:
No pre-mint or investment funds
The team does not hold tokens
No initial supply nor maximum total supply is specified (detailed analysis below).
Not listed on centralized exchanges (CEXs), only traded via DEX - preventing interference from 3rd parties
Free mint - users only pay for gas, in addition, there are no additional costs
In general, the project is exhorted to be "for the community, by the community". However, after researching, I found quite contradictory points as follows:
Although Jack Kevin always insists that he will not list on a centralized exchange (via AMA, whitepaper), the announcement of the list of CEXs is constantly being made - MEXC, Gate.io,...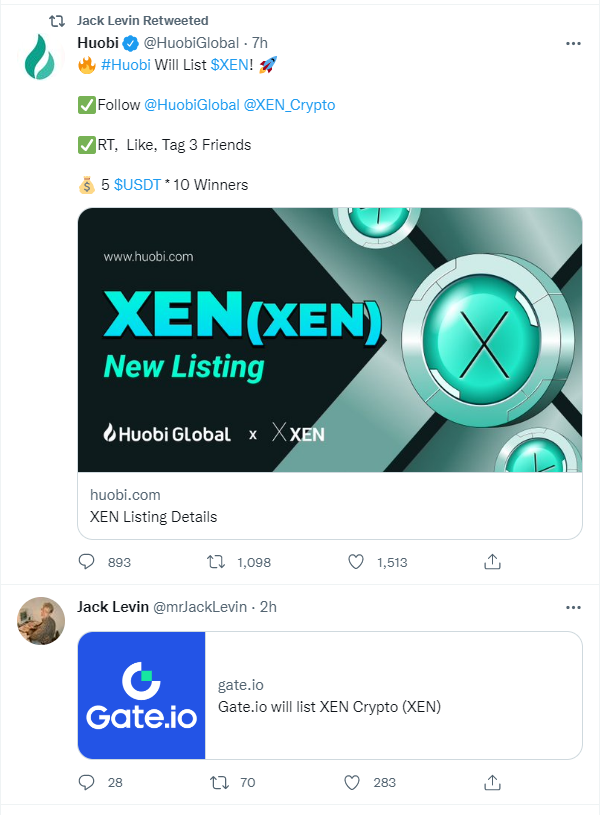 The project has not been audited so there may be potential risks. In addition, the project's whitepaper is not done properly is also a minus point.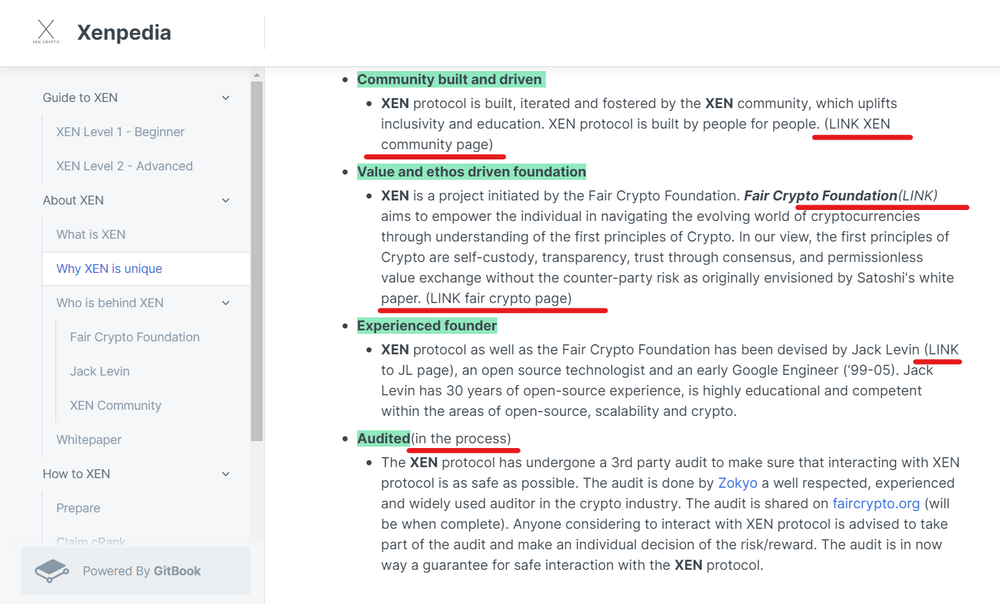 How is the XEN mint mechanism implemented?
XEN does not have an initial supply it also has an infinite supply - it depends on the number of tokens minted by the participants. With the free-mint model, people only pay transaction gas fees to mint and claim, and there are no additional costs.
Many parameters are given to decide the number of mint tokens such as the length of time you are willing to wait to be able to claim (AMP - time-dependent reward), the order of joining sooner or later (EAA - Early adopter amplification), ranking against the global (Global cRank),...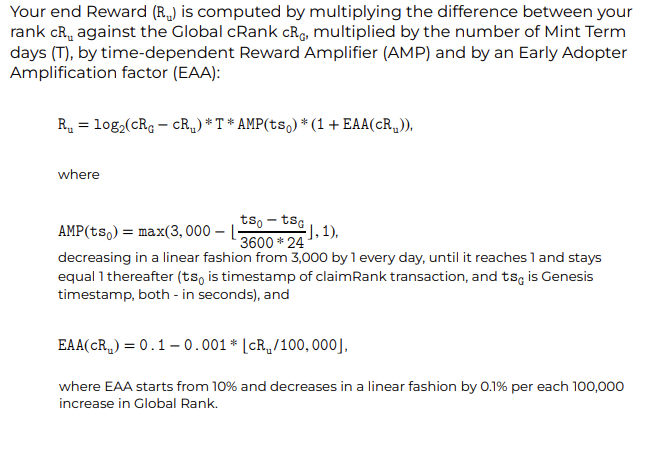 The first 5000 participants can only choose to claim within the 1 - 100 day frame and the length of time will be extended as more people enter the protocol. For example, when you reach 205,000 mint wallets, the time you are willing to wait to claim can be 362.5 days, instead of just 100 days like the original - the longer the claim time, the more mint tokens will be available.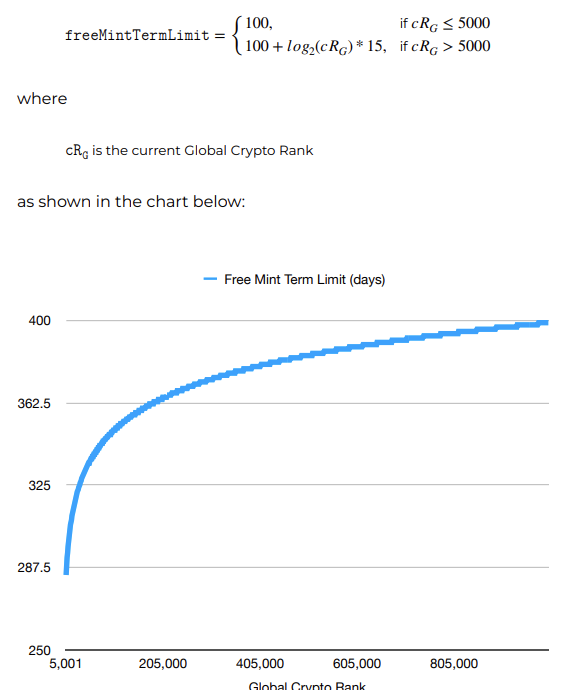 When it is time to claim, you will have 24 hours to receive your token. After this time, the number of tokens will lose exponentially until completely lost within 7 days ⇒ need to remember when to claim otherwise it will be lost, and this amount of tokens will be burned from the circulating supply.

In addition, after receiving the token, you can take away the stake from 1 - 1000 days and the APY will decrease gradually over time from the date of project launch (Time since Genesis). That is, now the mainnet project is on 10/10/2022, 3 months later you will stake XEN token, and then APY will be 19%, if you stake 6 months later, APY will decrease to 18% ⇒ stake as soon as possible, higher returns encourage people to commit to the project at an early stage. The amount of staked tokens will be burned, when you unstake the system will mint again. You can completely unstake ahead of time but will not receive any profit.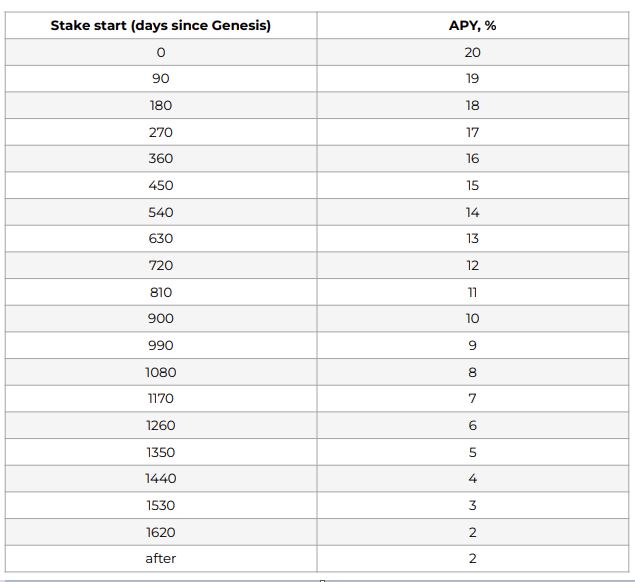 Thus, with this model, the XEN token will be extremely inflationary at first. After a long time as well as more participants, the difficulty of mint increases and the number of tokens minted are also scarce. However, there are no use cases for this token.
What is on-chain data showing?
After 2 days of implementation, the project has attracted 483,201 mint wallet addresses with a total current supply of over 4.2 billion XEN tokens and only 1% of the supply has been staked.

Specifically, more than 50% of mint wallet addresses will claim within a period of 1-3 days ⇒ this explains the price of this token pumped x100 after the MEXC list and then has immediately divided sharply back to the starting line when facing the withdrawal from those who choose to claim after 1 day. There is still a group of 2-3 days waiting to finish, so it is not advisable to speculate on CEXs at this time.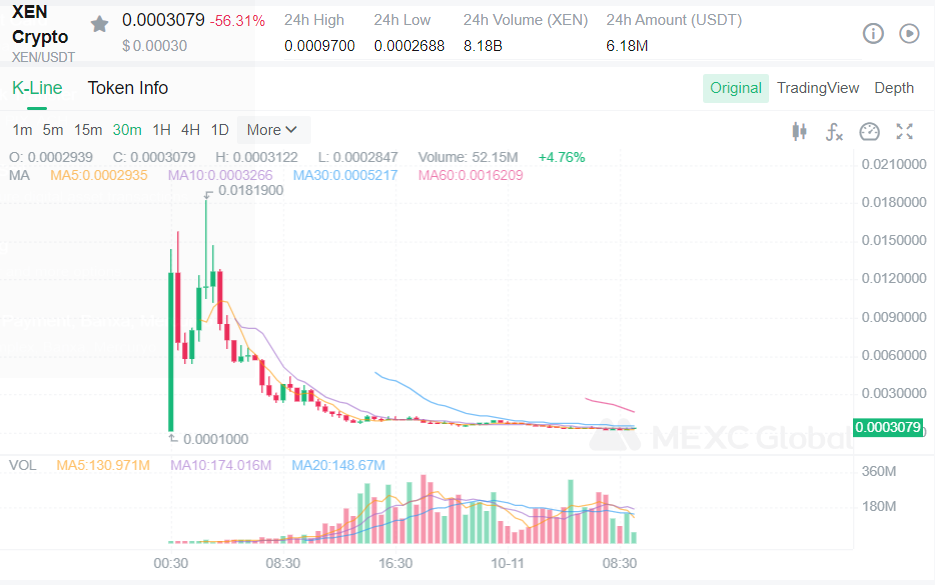 According to research by The Data Nerd, some early mint wallets are depositing on the exchange in a very large amount within the past 12 hours.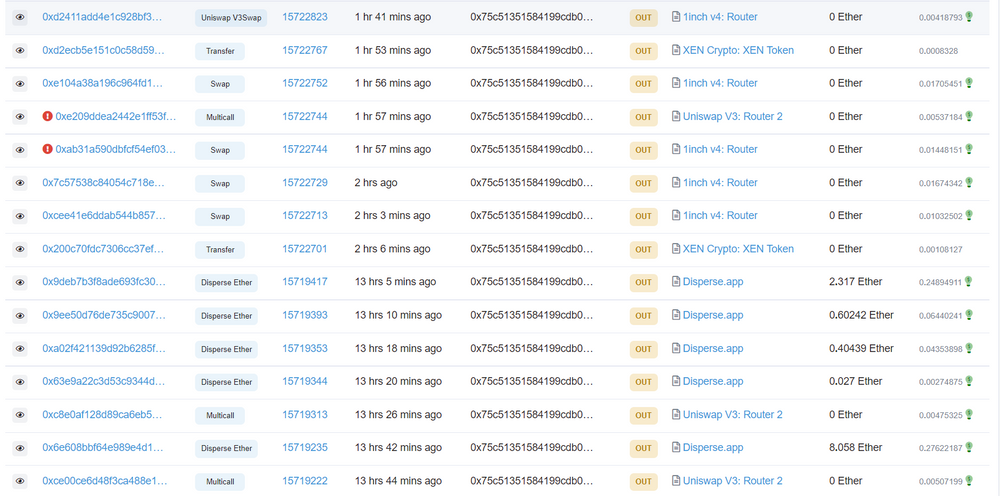 First, wallet 0x75c… has done more than 3,000 transactions to receive XEN, each time about 58.9k (total received is nearly 170 million). Then this wallet transferred tokens to wallet 0xf06… and put more than 50 million on Gate.io 12 hours ago, more than 100 million XEN tokens locked on Uniswap and 1inch, the remaining 23 million are still held.
Wallet: 0x75c51351584199cdb072826c515cd08830ab4a0f
Wallet 2: 0xf06d54a7816e36ba760ec4819ccb2470c2abded2

Another wallet with address 0x6988… earned nearly $30,000 in profits from $XEN. This character used the bot to create 600 accounts and mint 35.5 million $XEN tokens. The total cost of gas and transaction fees was $6000, with an average selling price of about $0.001 this person had a 500% ROI.
This wallet then deposited all of it on the Mex exchange 17 hours ago via wallet 0x2f8… (in the photo).
Wallet: 0x698858e4bffea0281d5841397d959b9fe8a461aa
Wallet 2: 0x2f8bab50f6eac04ca70d6f09d455eb6082bb333a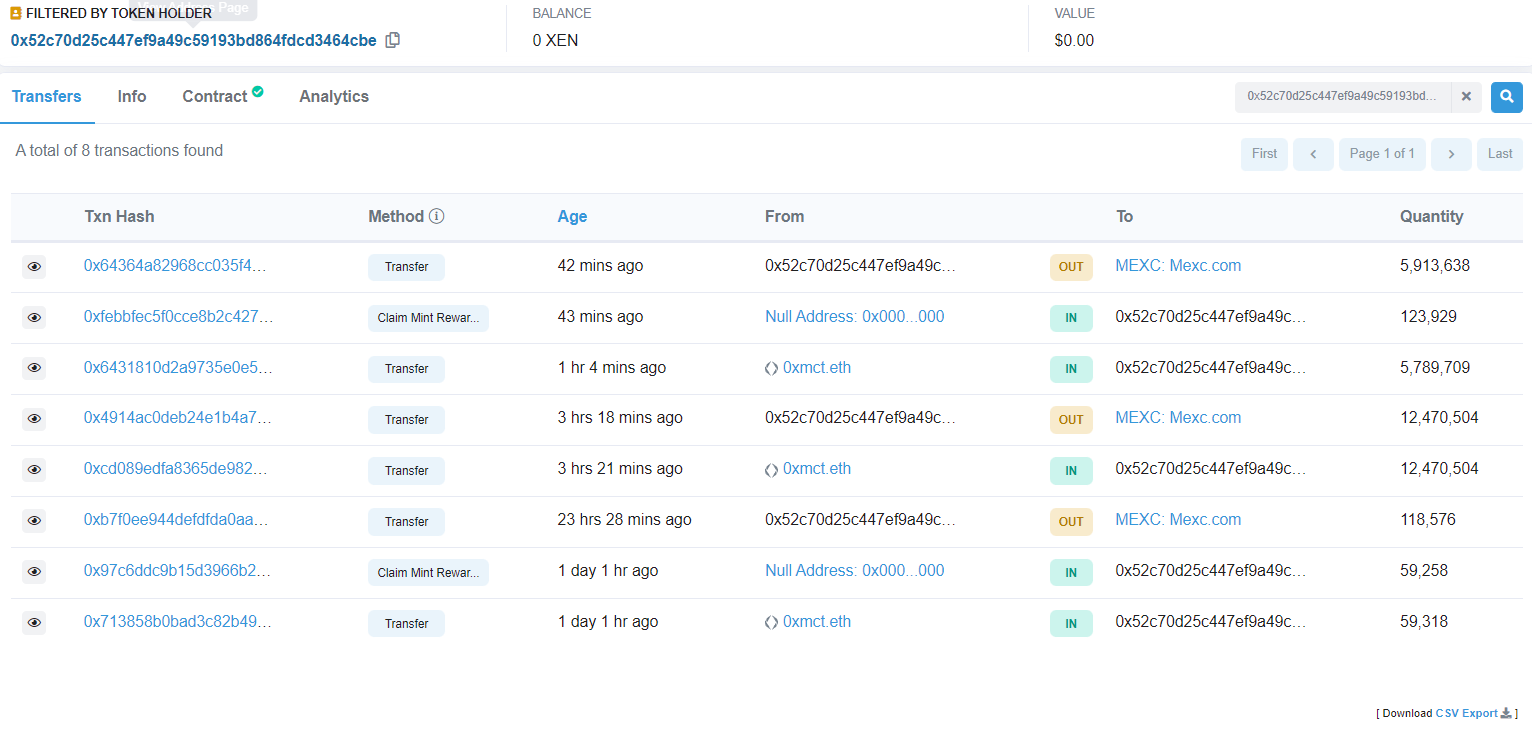 In the end, wallet 0x3aa… made nearly 325 transactions, totalling 17.5 million XEN. Then this wallet deposited 12 million to Mex through a second wallet, 0x52c… just 3 hours ago at the time of writing (in the photo), the rest took profits on Uniswap.
Wallet: 0x3aab9b3145df48a22ae337d50d1d66a3b2a3bda0
Wallet 2: 0x52c70d25c447ef9a49c59193bd864fdcd3464cbe
⇒ In summary, Holdstation thinks that XEN is still in the category of Meme projects when the token has no purpose for use at the moment, anyone who joins early to catch the top wave will make a profit. With unlimited supply and discharge pressure coming from short-term claimants, it is not advisable to speculate on the exchanges at this time. Instead, the amount of capital is quite small, so everyone can mint $XEN, the chance will be higher.
Instructions to mint $XEN
Step 1: Visit the Xen Network page and connect the wallet. Each wallet address can be minted once, so you can create multiple wallet addresses if you want to mint many times. Need to prepare an amount of ETH as a transaction gas fee.
Step 2: Go to mint, enter the number of days you are willing to wait to claim.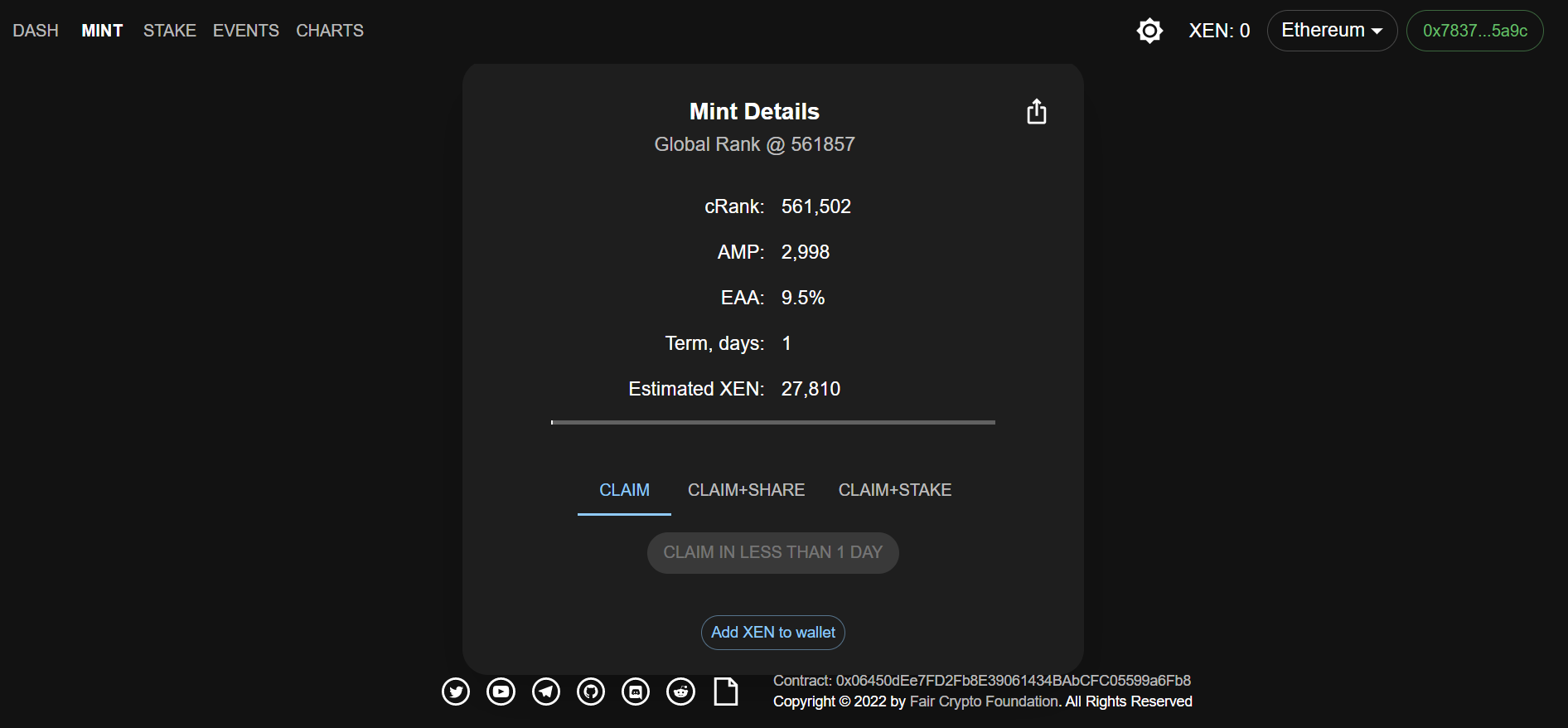 When the deadline is up, you can claim and sell on MEXC, Gate.io,... or stake. At the current price, if the period is short, the profit is only a few dollars per address after deducting the transaction gas cost, so investors need to consider, especially a large number of tokens are about to be released.