What is Open Campus?

Open Campus is a solution for stakeholders such as educators, content creators, students, parents and co-publishers to create a decentralized educational environment that solves currently existing problems.
The protocol uses Blockchain technology to open up an environment where everyone can create the benefits their desire. Students have a new and more diverse learning environment, teachers/content creators generate extra income, and parents can easily manage their children.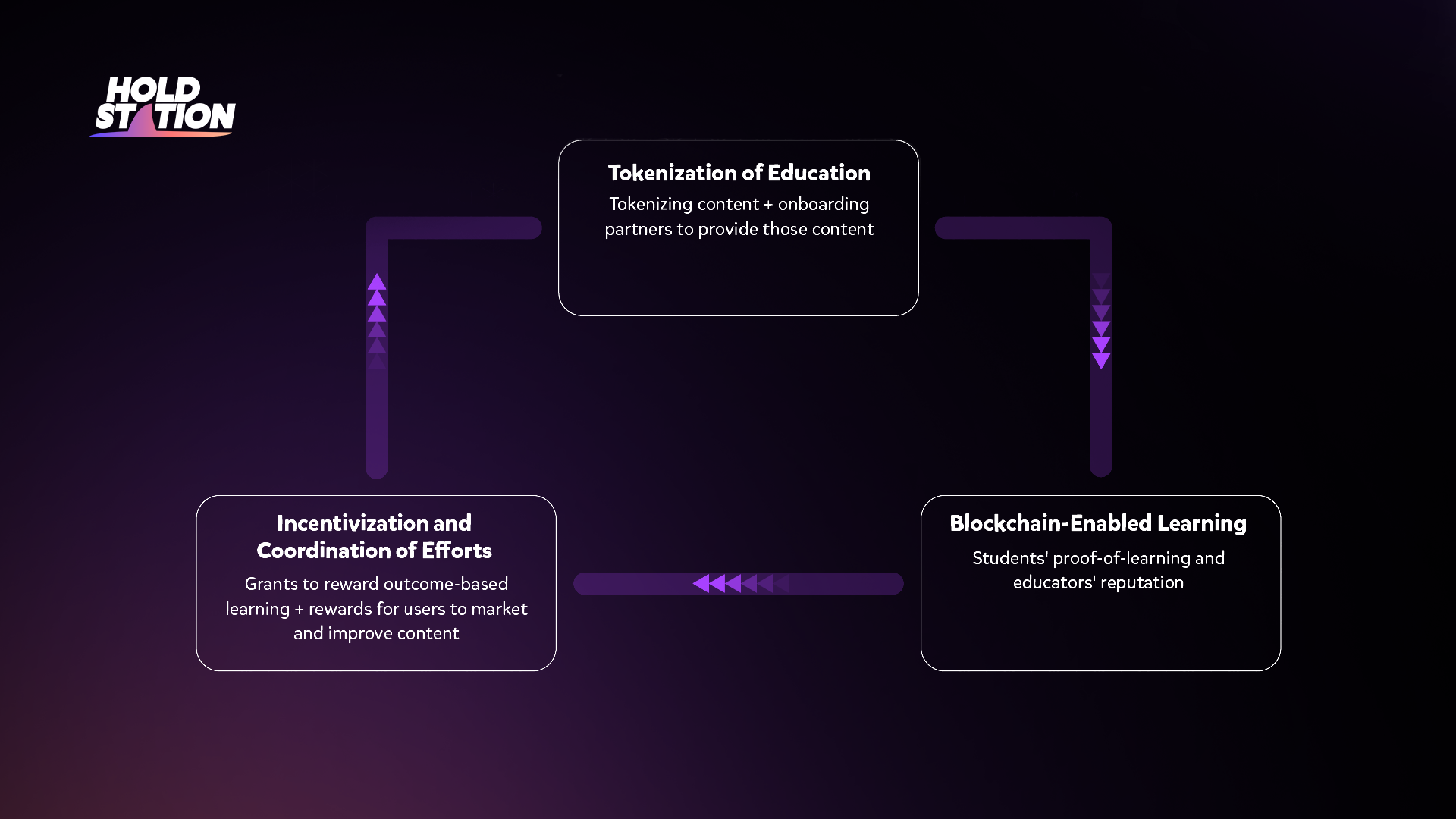 Open Campus Web3 Model

The construction orientation of Open Campus focuses on the following factors:
Digital Content Ownership and Participation

Open Campus will tokenize content into NFTs to create decentralized access to a large number of users. Teachers/content creators tap new sources of income by selling their content co-publishing rights and benefit from new partnerships
Independence

Decentralization allows users to set up, manage, select and use content according to their wishes
Academic records are kept transparently and permanently

Through blockchain technology, users' certificates and education levels are transparently and permanently stored. Users can access their information immediately if they need it
Platform agnostic and community owned

Assets based on blockchain technology open up many opportunities for cooperation with various platforms. Allows creators to share their content across multiple distribution channels while preserving their ownership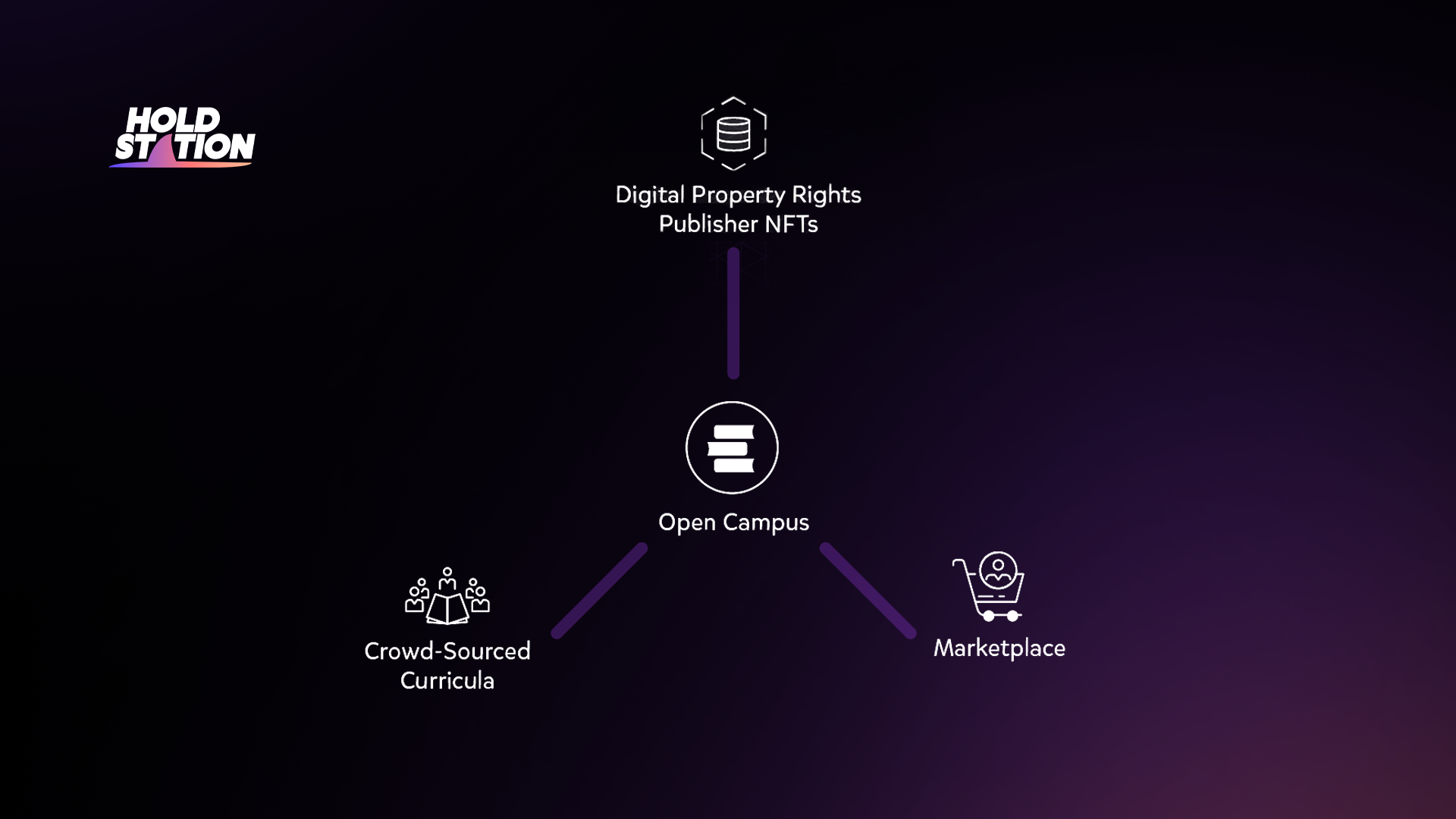 Key elements of the protocol

Digital Ownership as Publisher NFTs

Users tokenize their content to mark their intellectual property (IP) and easily test the performance of their products. Using blockchain technology, Open Campus helps content creators expand their income range while keeping ownership intact.
Publisher NFTs Marketplace

Creators, after NFTizing their content, can bring it to the platform's exchange to sell to co-publishers. Co-publishers, after purchasing content, are responsible for promoting it, in return they receive a revenue share from the subscriptions of people who need that content.
Educational program with collective resources

Open Campus allows content creators, co-publishers, and partners to come together to expand the broad content offering to the community. Generate multiple sources of income and be distributed proportionally
Tokenomics
The main token of the platform named $EDU is deployed on the BNB Chain network with a fixed total supply of 1,000,000,000 $EDU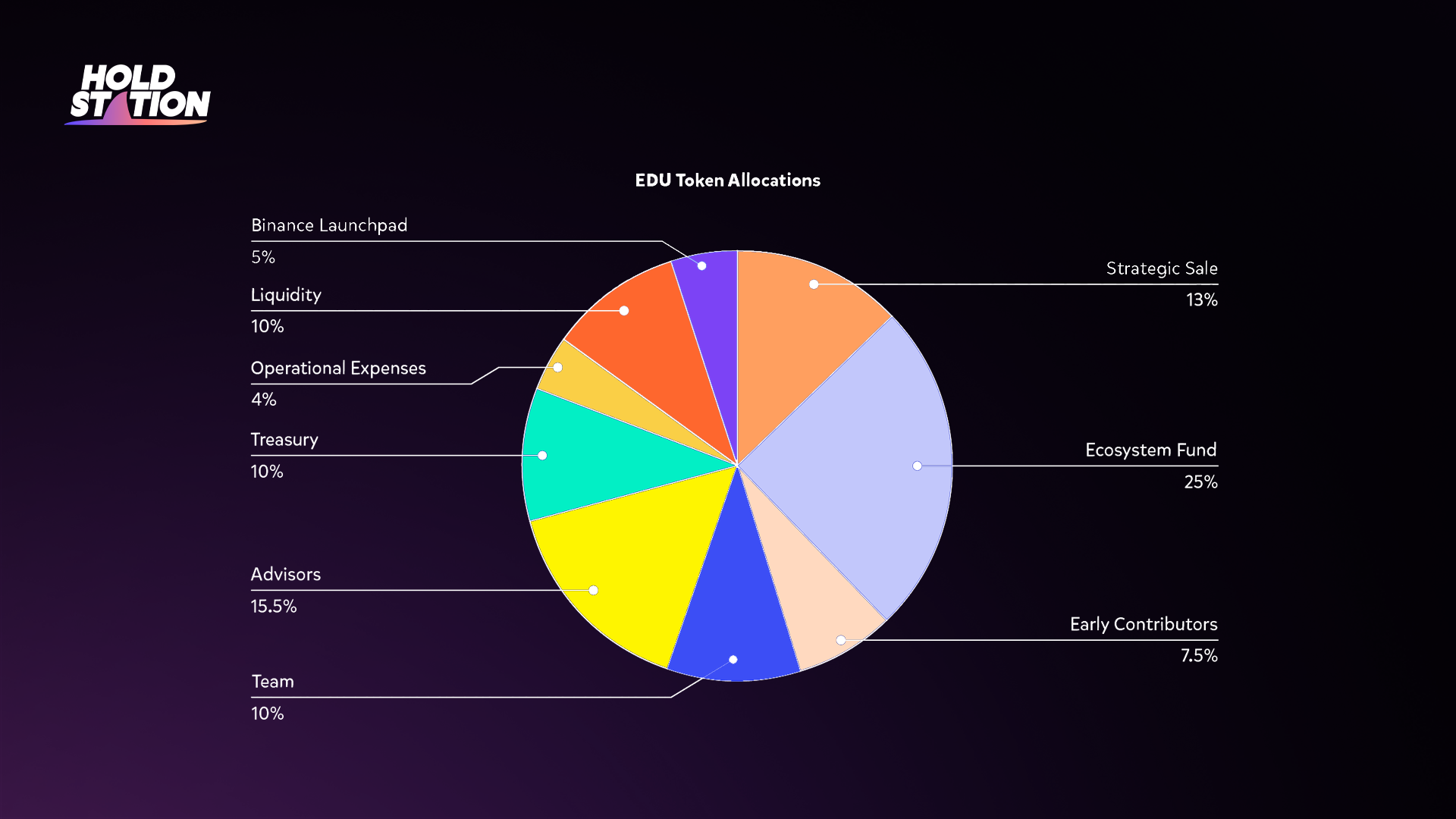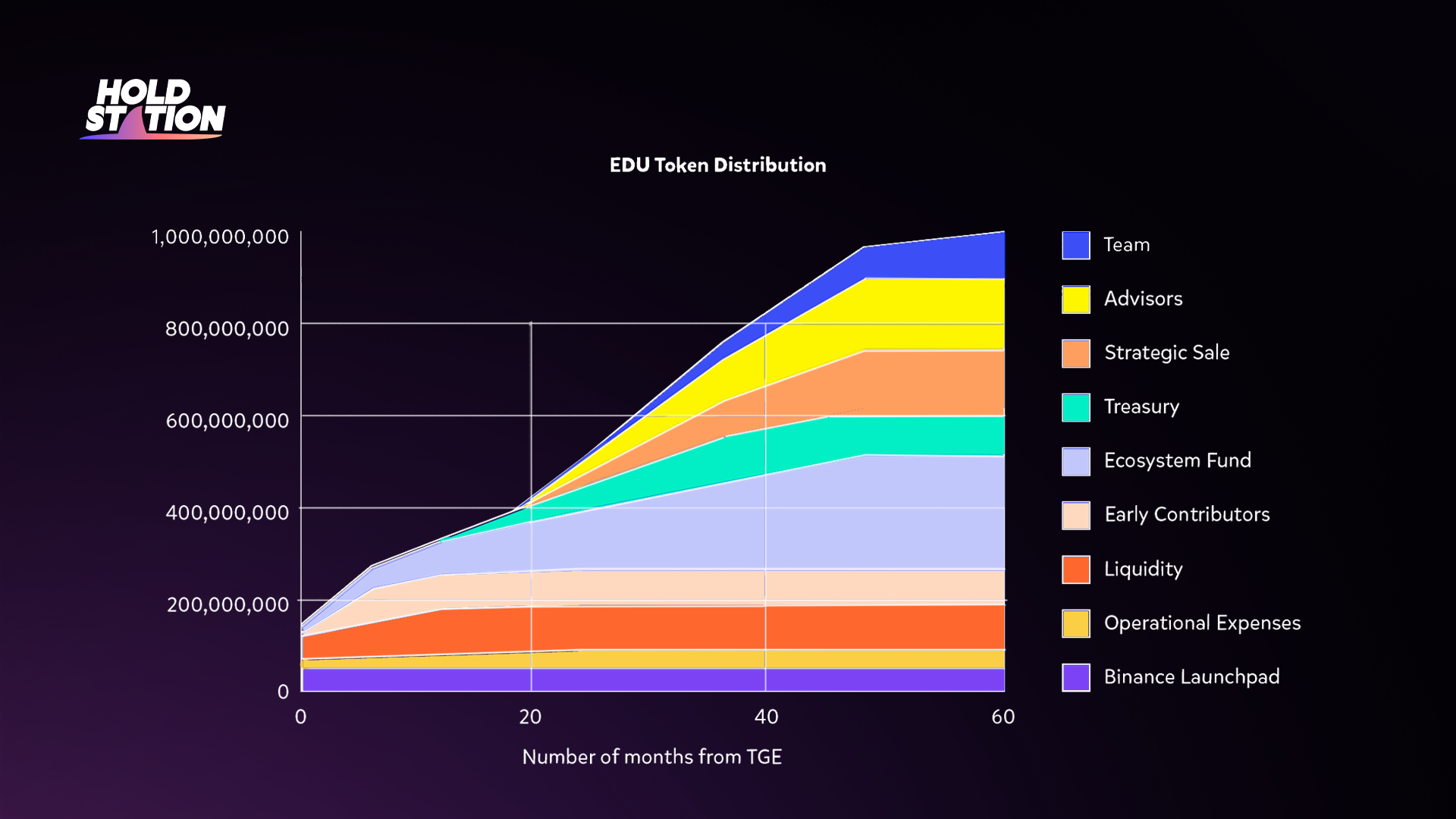 According to the above diagrams, $EDU will have a large emission schedule until about the 8th week then slow down to the 20th week. After that, the large amount of tokens will start to gradually unlock for the project team and developers. investment join early.
Token Usecases

Present:
Reward content creators and Co-publishers
Pay for minting NFTs
Pay to join Open Campus partner platforms
Platform Governance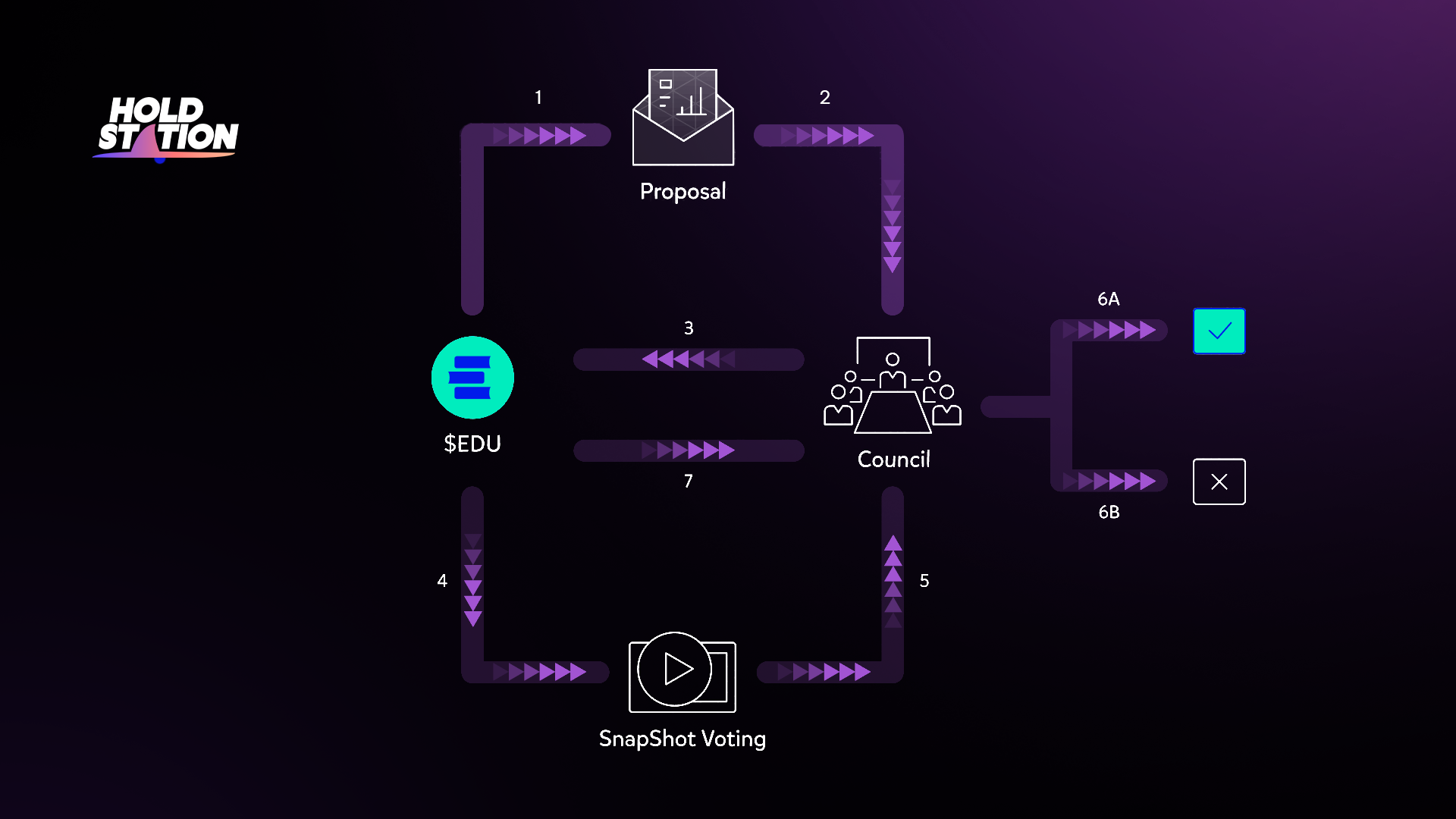 Future:
Used to buy/sell at Open Campus Marketplace
Sponsor scholarships through Smart Donation
Use in decentralized peer-review system
Use in partner education provider services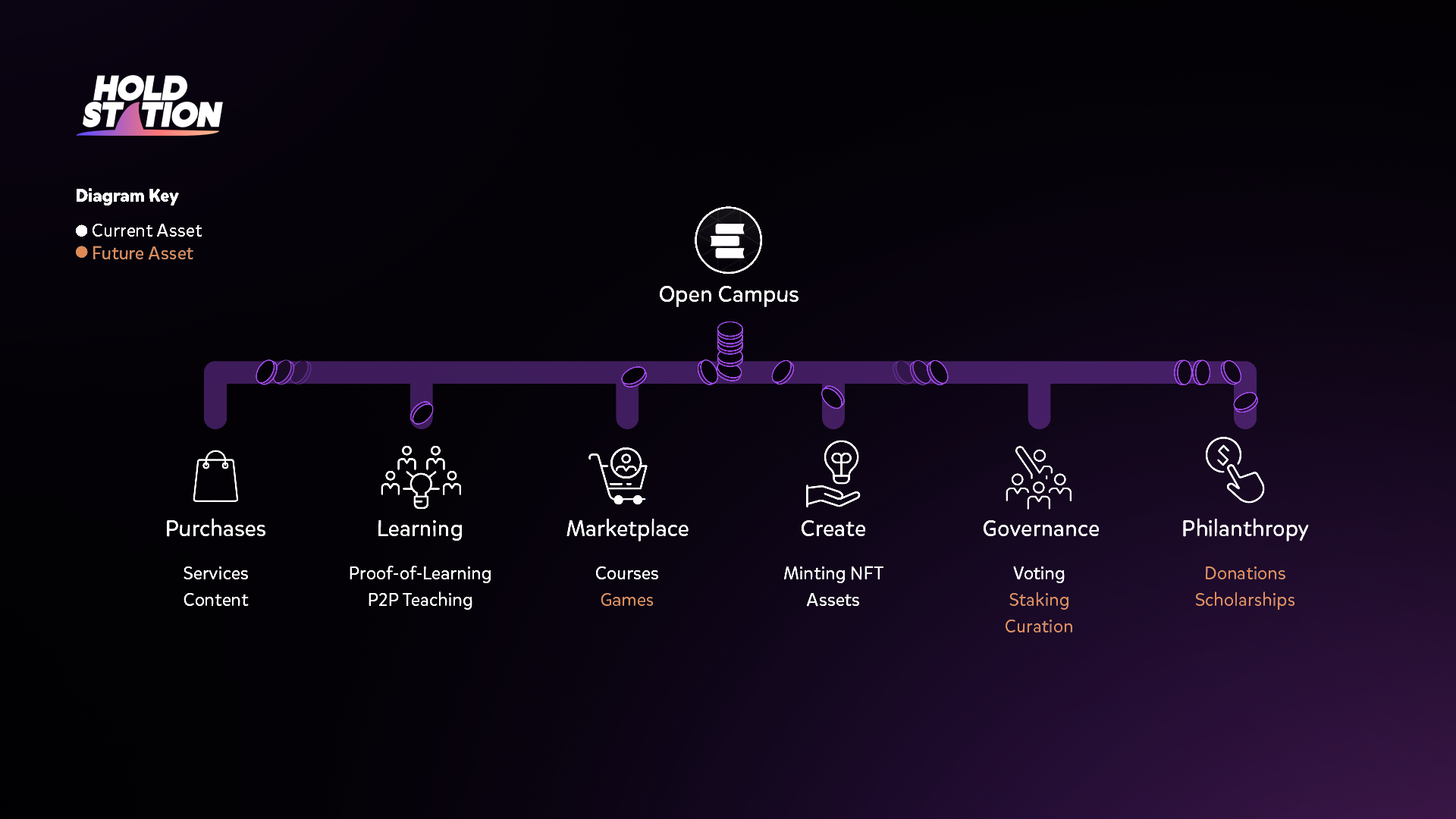 The impact of $EDU on users in the ecosystem:

Content creator
Use $EDU to mint Publishers NFTs
Get $EDU by selling NFT/revenue from co-publishing/royalty fee from secondary market
Co-publisher
Use $EDU to buy Publishers NFT/Marketing expenses
Get $EDU from Publishers NFT revenue

Educational Partner Platform
Pay in $EDU to register for service deployment
Get $EDU from registration and transaction fees

Open Campus Funds
Incentive rewards (in $EDU) for platform participants
Get $EDU from Transaction Fees / Publishers NFT Mining / Service Deployment Subscriptions from Partner Platforms
Parents/Students
Use $EDU to pay fees when using Open Campus services

Ecosystem Diagram

The foundation for building a system of closely related and complementary parties creates important links:
Creators deploy their educational content and pay $EDU to reviewers
After the content is approved they pay $EDU to mint Publishers NFT proof of intellectual property rights
Then can sell their NFTs through marketplaces to make a profit from co-publishers
Co-publishers is responsible for promoting such content to the user community
Content buyers will pay fees when using the platform and buying the course
Co-publishers, content creators, related educational platforms and Open Campus will share in the revenue earned from Publishers NFT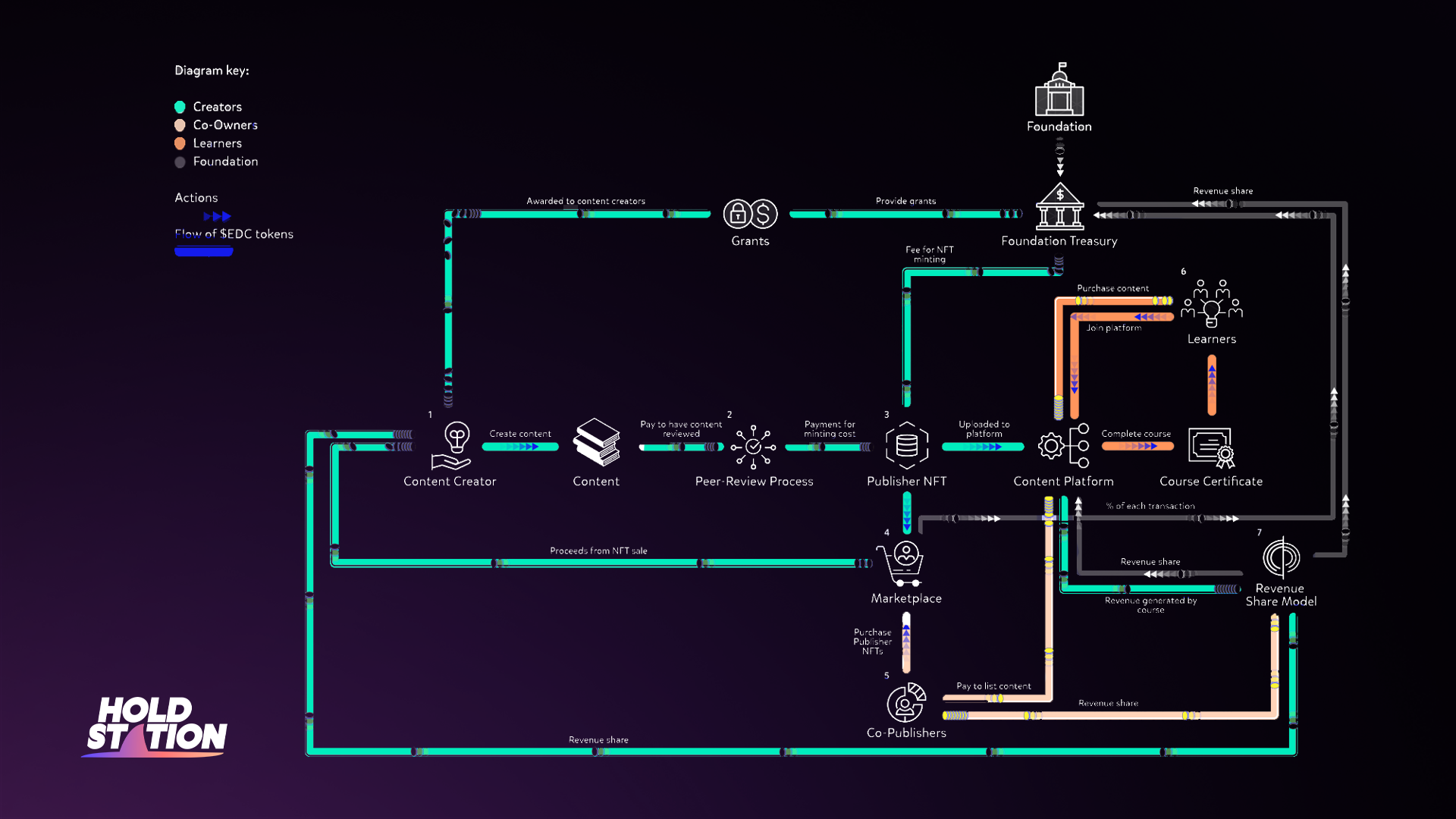 Partner

Open Campus's partners have big names in the market (mostly projects from China) such as: NFT Mocaverse Collection, The Sandbox, Animoca Brands, Hooked Protocol, Highstreet, etc.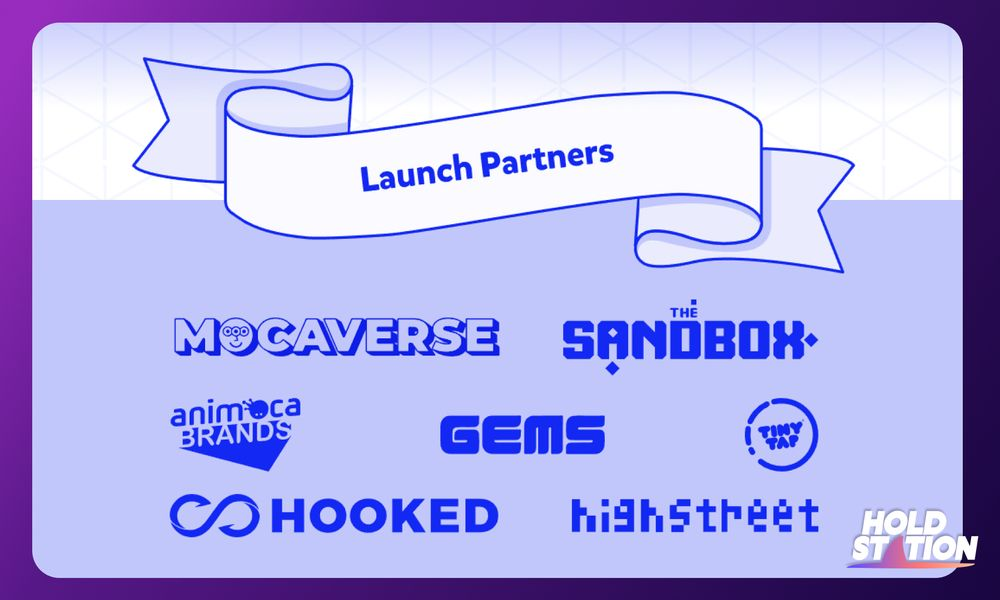 Project evaluation

This is a project with a new and unique model in the market around 4 main factors:
Content creator
Co-publisher
Relevant educational background
Protocol
In addition, education is a segment that is predicted to reach a scale of 1 trillion by 2030. The opportunity of projects targeting this segment in the market will be huge.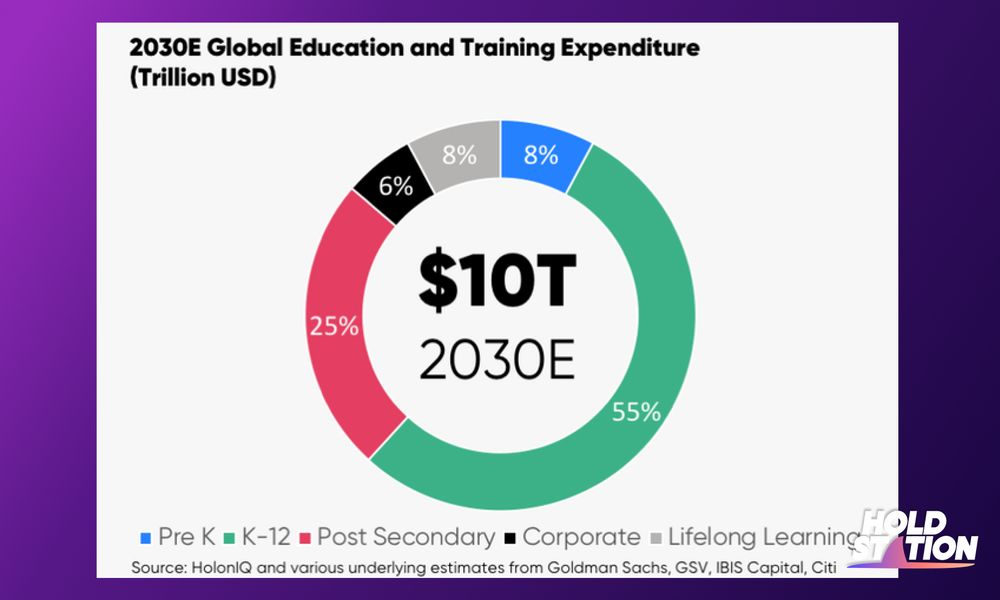 Advantage
$EDU has great usecases and demand in the market
Multiple income generation models in the ecosystem (creation/promotion/service)
Allows multiple projects to be combined or built in the Open Campus ecosystem
Rewards are generated based on the capacity of each participant
Defect
Difficulty in accessing user files from Web2.0 – Web3.0
Depends heavily on the number of users of the platform
Using a single token system for payments/rewards makes it difficult to balance the economy
Above is the collected information that Holdstation wants to share about the Open Campus project, hopefully valuable for your investment decisions!
---
Holdstation Wallet - Your Gate to Web3 💜🦈
Make DeFi as easy as CeFi!
📲 Download now: IOS | Android
Disclaimer:
The information, statements and conjecture contained in this article, including opinions expressed, are based on information sources that Holdstation believes those are reliable. The opinions expressed in this article are personal opinions expressed after careful consideration and based on the best information we have at the writing's time. This article is not and should not be explained as an offer or solicitation to buy/sell any tokens/NFTs.
Holdstation is not responsible for any direct or indirect losses arising from the use of this article content.