In the Crypto Winter, making money becomes even more difficult. Investors tend to withdraw money from the market and for other profits. But there are still investors who still persevere in searching for opportunities. And most of them hold Stablecoin to wait for the bottom or the average purchase price. So is there any way to optimize the holding of that stablecoin?
Let's find out with Holdstation through the following article.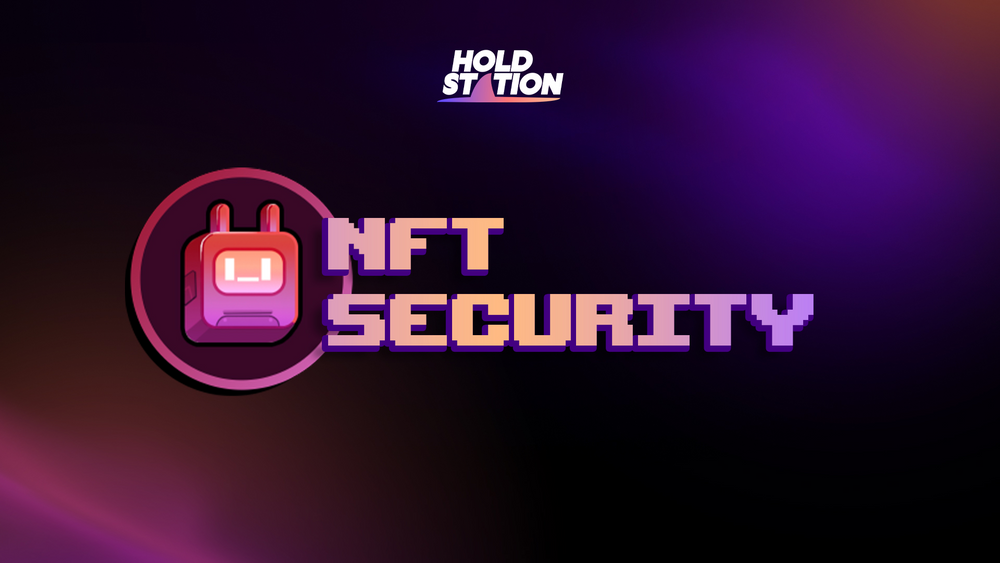 What Is Pandora Digital?

Pandora Digital is an AMM Dex that is "gameized" and has the best price built on the BNBchain network. Pandora's ecosystem includes many products linked together such as ammicent amm, NFT to create passive income, P2P market, Launchpad, decentralized lottery, ...
What Is NFT Securities?

NFT Securities is the latest product of Pandora Digital combined with NVC Group. By buying NFT Securities, investors are considered to be providing a loan in the previous listed period and receiving a fixed interest rate reward.
How To NFT Securities Work?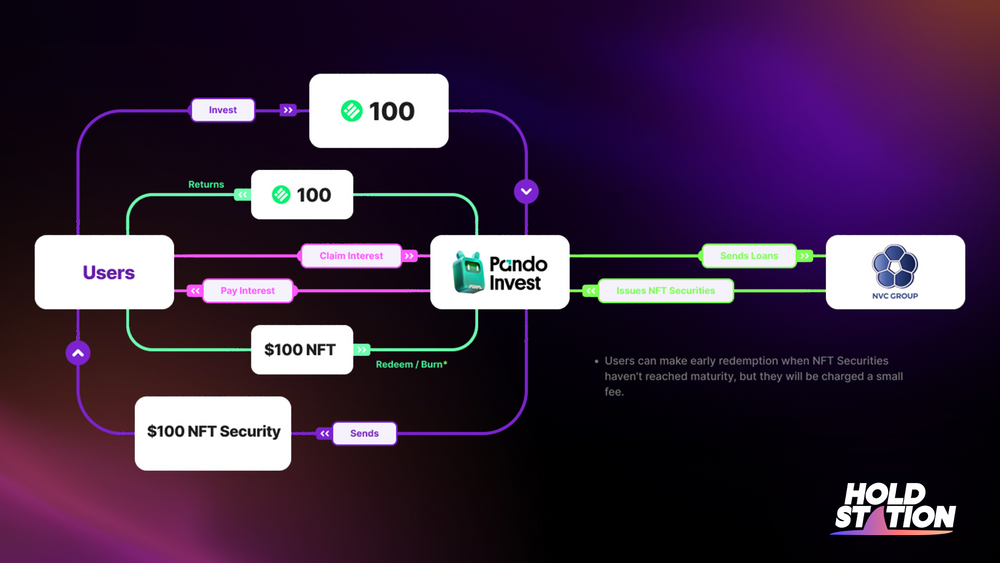 Investors deposit the desired amount of money for a year and receive NFT Securities as a deposit receipt with the parameters:
The amount of money has been lent
Expiration date
APR of NFT
After that, investors can take their NFT to Stake at Incentive Staking Pool for its NFT Securities to receive additional rewards.
Note:
Incentive Staking Pool is only for VIP NFT Securities
NFT can trade in the secondary market of the platform by P2P transaction
If you want to withdraw money before the maturity date, you must bear a small fine for the platform
Interest rates for NFT Securities are currently ranging from 7.87% - 11.31% a year paid by stablecoin. For VIPs NFT Securities will be added to Incentive Staking Pool with an interest rate of about 130% per year paying with the platform token $PSR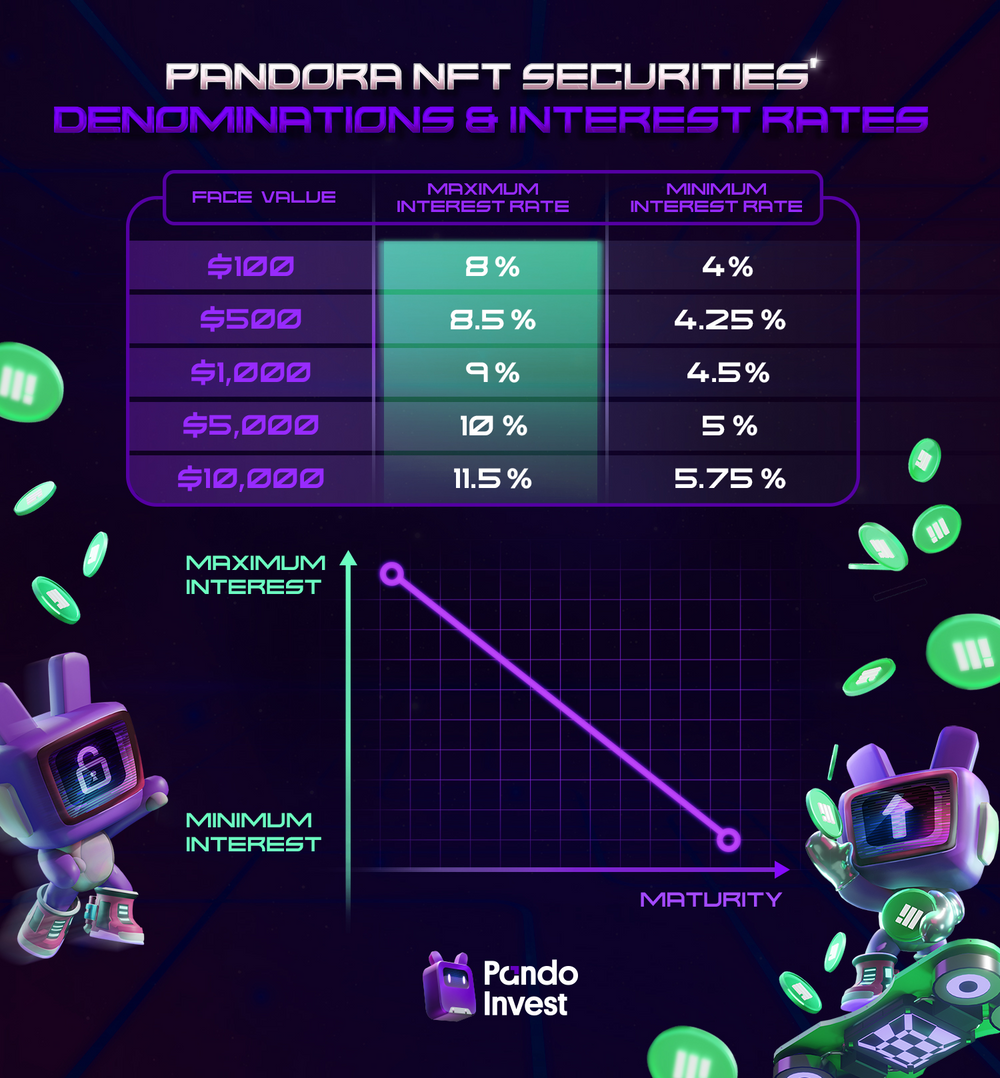 If compared to the bonus platforms to Stablecoin supplier, the APR level is outstanding. Investors may consider the idle amount in downtrend and make the most reasonable decision.
A Special Feature Of NFT Securities

Guaranteed

Pandora is committed to ensuring that investors are returned 100% of the money used to Mint NFT Securities regardless of whether they withdraw money early or until the expiry date.
Diversify The Portfolio Safely

Pandora provides NFT Securities with a fixed and stable interest rate that comes with Stake mechanism to increase passive income for users in Bear Market. In addition, investors can also easily access the diversity of investment packages from only $ 100 Busd
Investing Without Borders And Receiving Interest Immediately

There is no limit to prevent investors buying or selling or Mint NFT Securities. You can own NFT anywhere and whenever you want. In addition, blockchain technology also helps investors receive interest immediately paid whenever a new "bloc" is born.
Double interest rate and not locked

When owning Pandora's NFT Securities, the investor can receive an interest rate of up to 140% APR and can get their money back at any time. However, there will be a small penalty (10%) if investors want to refund NFT and withdraw money early. If you do not want to pay the above fee, the investor can trade NFT you own in the secondary market of Pandora
In addition, Pandora also has incentives with Incentive Programs for buyers and receives $ 10 cashback for new buyers
Community incentives

Besides the above incentives, the Pandora NFT Holders community is also the community with regular and regular user. NFT Holders participating in the community will also receive rewards from many different promotions in the future.
Instructions Mint NFT Securities and Stake receive preferential prizes

Step 1:

Visit the Pandora Digital page to choose the wallet connection.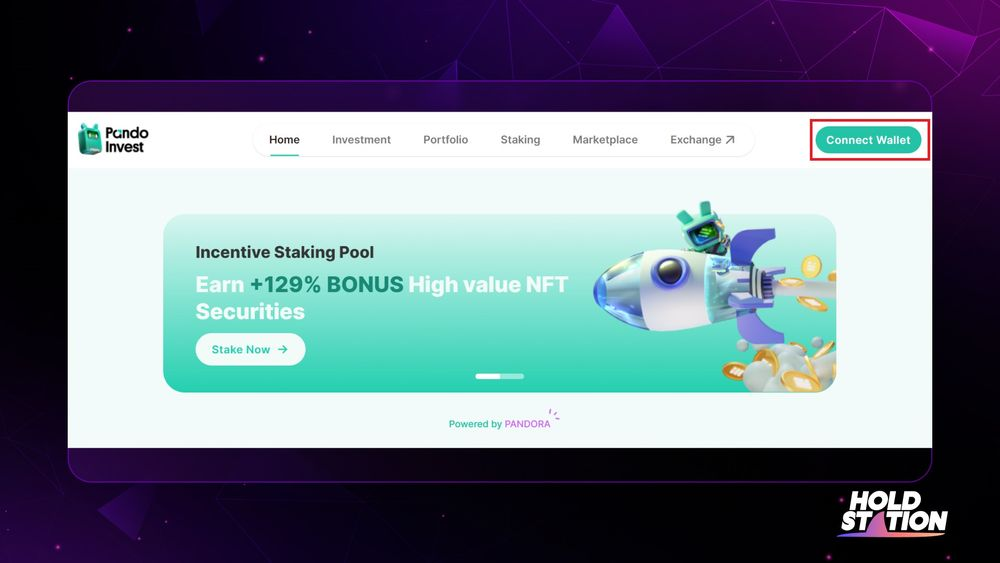 Step 2:

Select Walletconnect and scan your personal wallet to connect to the platform.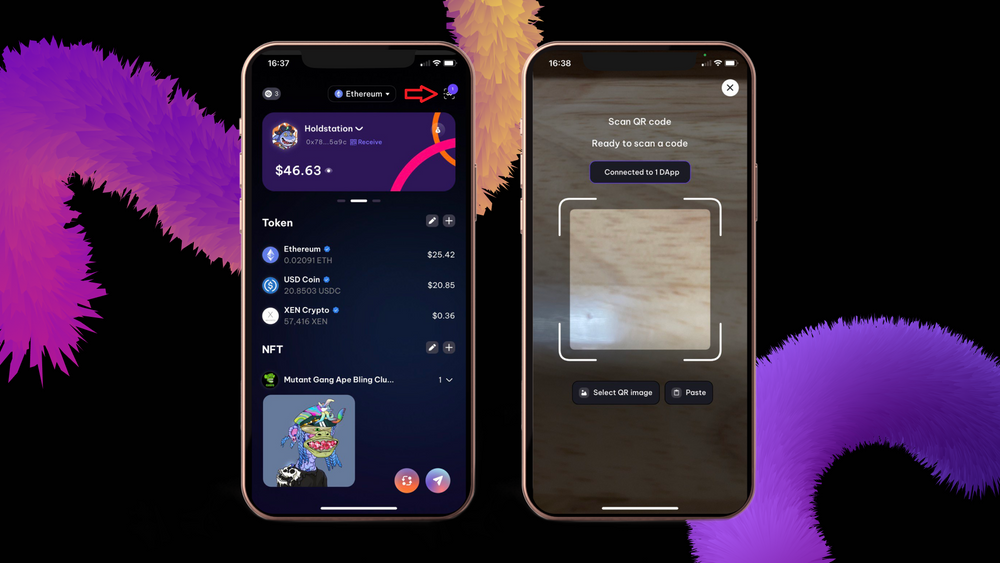 Step 3:

Select the Invesment section and select the NFT Securities package you want Mint, the number of NFT along with the expiry time. Besides, if you Mint NFT with a package of $ 1,000 or more you will own for yourself VIP NFT Securities and enjoy the privilege from NFT Incentive Staking.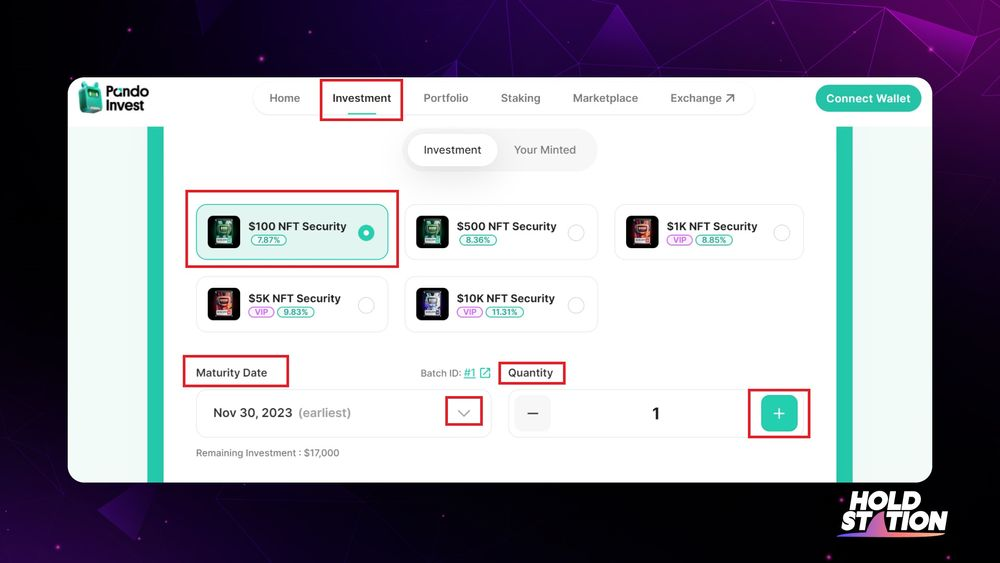 Step 4:

If you Mint Vip NFT can go to the Staking section to your Stake NFT and receive more preferential rewards up to 130%.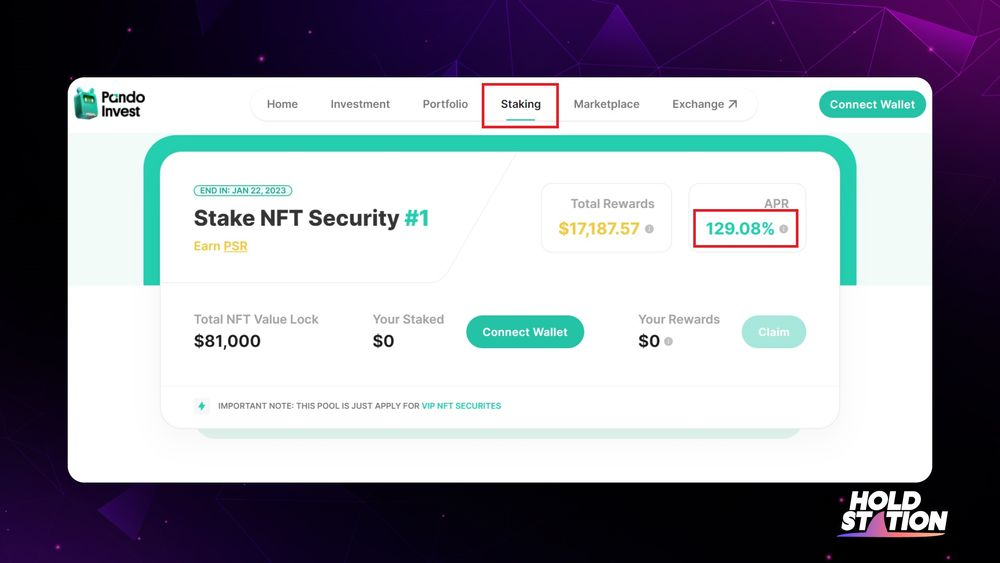 Step 5:

You can check your NFT number in the Porfolio section or may not have a statement without having to pay for the secondary school in the Marketplace section.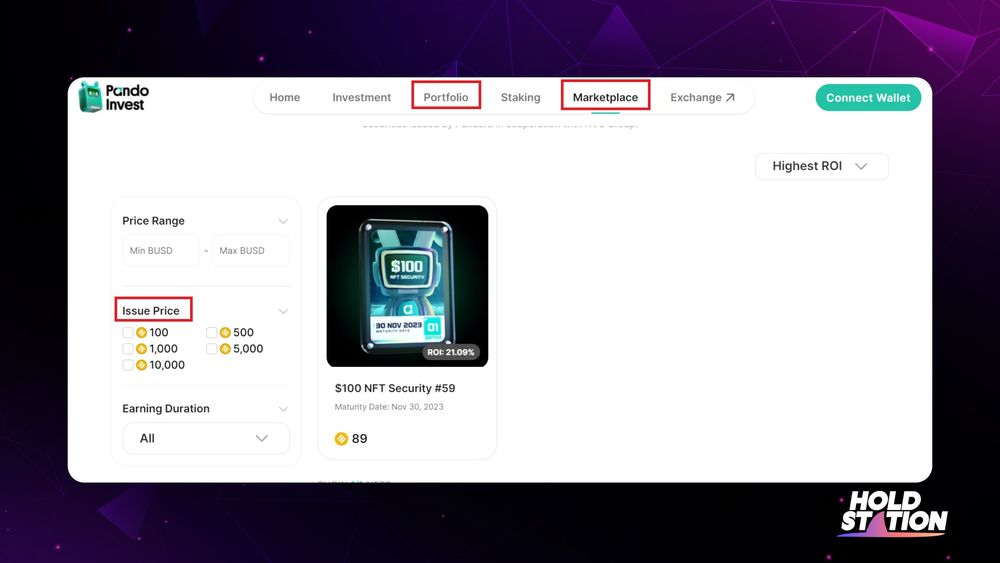 So you have completed the passive income from your stablecoin with more preferential interest rates than other platforms on the market.
Disclaimer:
The information, statements and conjecture contained in this article, including opinions expressed, are based on information sources that Holdstation believes those are reliable. The opinions expressed in this article are personal opinions expressed after careful consideration and based on the best information we have at the writing's time. This article is not and should not be explained as an offer or solicitation to buy/sell any tokens/NFTs.
Holdstation is not responsible for any direct or indirect losses arising from the use of this article content.