The projects on Arbitrum are seeing good development with many tokens growing 2-3 times in January 2023 such as $VELA, $BFR, $GNS,...Besides, attention is on the upcoming platform that implementing IDO on Camelot since the first two tokens $GRAIL, $NEU are x2 up to now.
With the Real Yield model and about to open a public sale on Camelot, JustBet has the ability to receive cash flow from the Arbitrum ecosystem. In addition, the project Blockchain Bets on Ethereum with the token $BCB has just x5 shown its attraction, so JustBet is also worth watching.
What is JustBet?
JustBet is a decentralized and provably fair on-chain game built using the WINR Protocol on the Arbitrum blockchain. The project cooperates with SupraOracles to generate random data on JustBet along with the application of blockchain, so JustBet does not have interference from the project like current web2 applications.
Currently, there are 6 games that have been released such as CoinFlip, Dice,... and it is planned to develop at least 8 other forms in the future. In addition, players can also receive revenue share from the platform by staking or providing liquidity.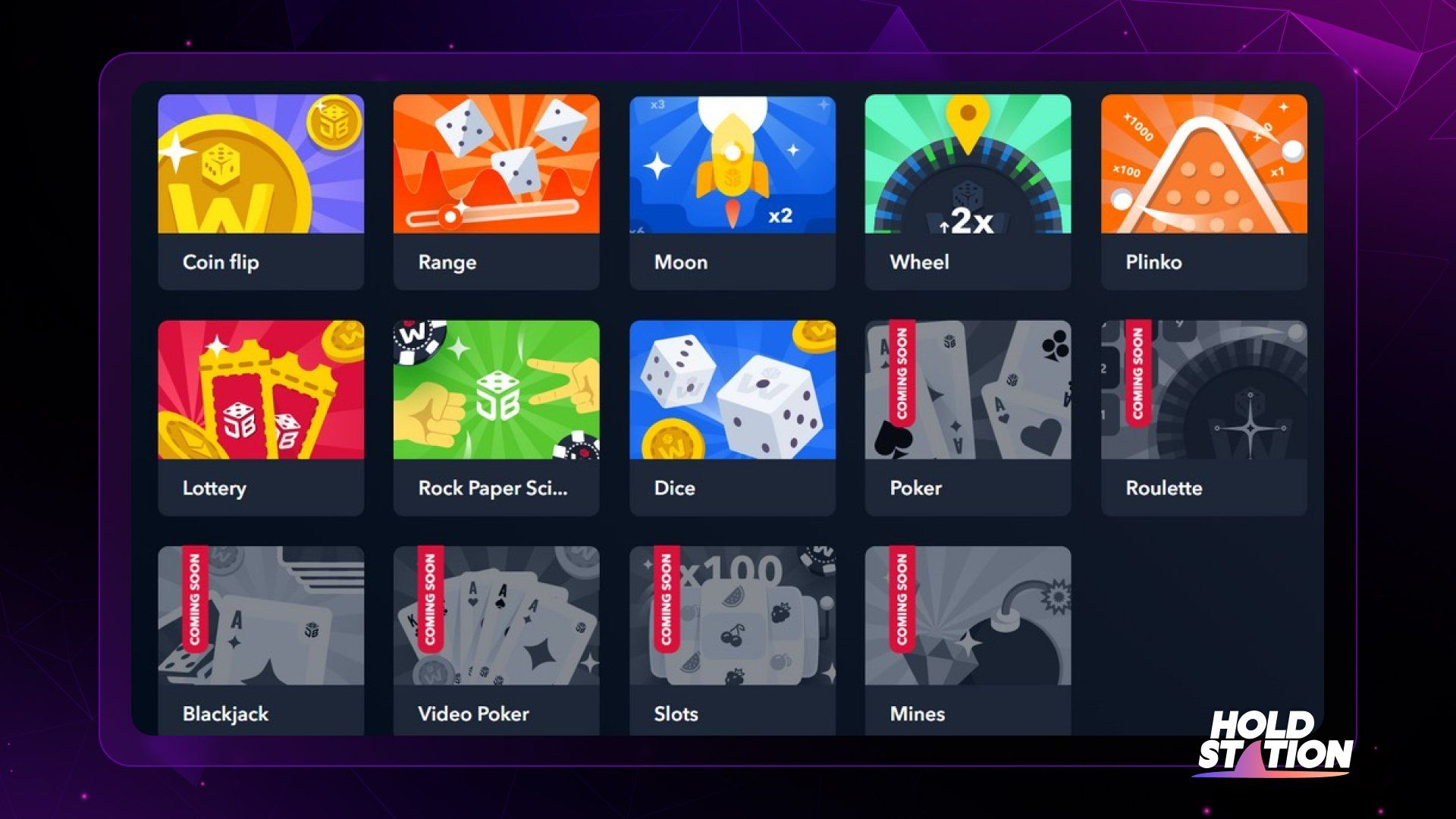 Operation Model and Tokenomic JustBet
Players can use wETH to predict single or multiple times on 1 transaction. For Multiple Bets mode, All of the bets are made with the same type of wager - somewhat helping to test strategy and probabilities.
For example, if you have chosen tails on the Coin Flip game and 60 multiple bets, the coin toss will happen 60 times, and your bet will be Tails for all of the games.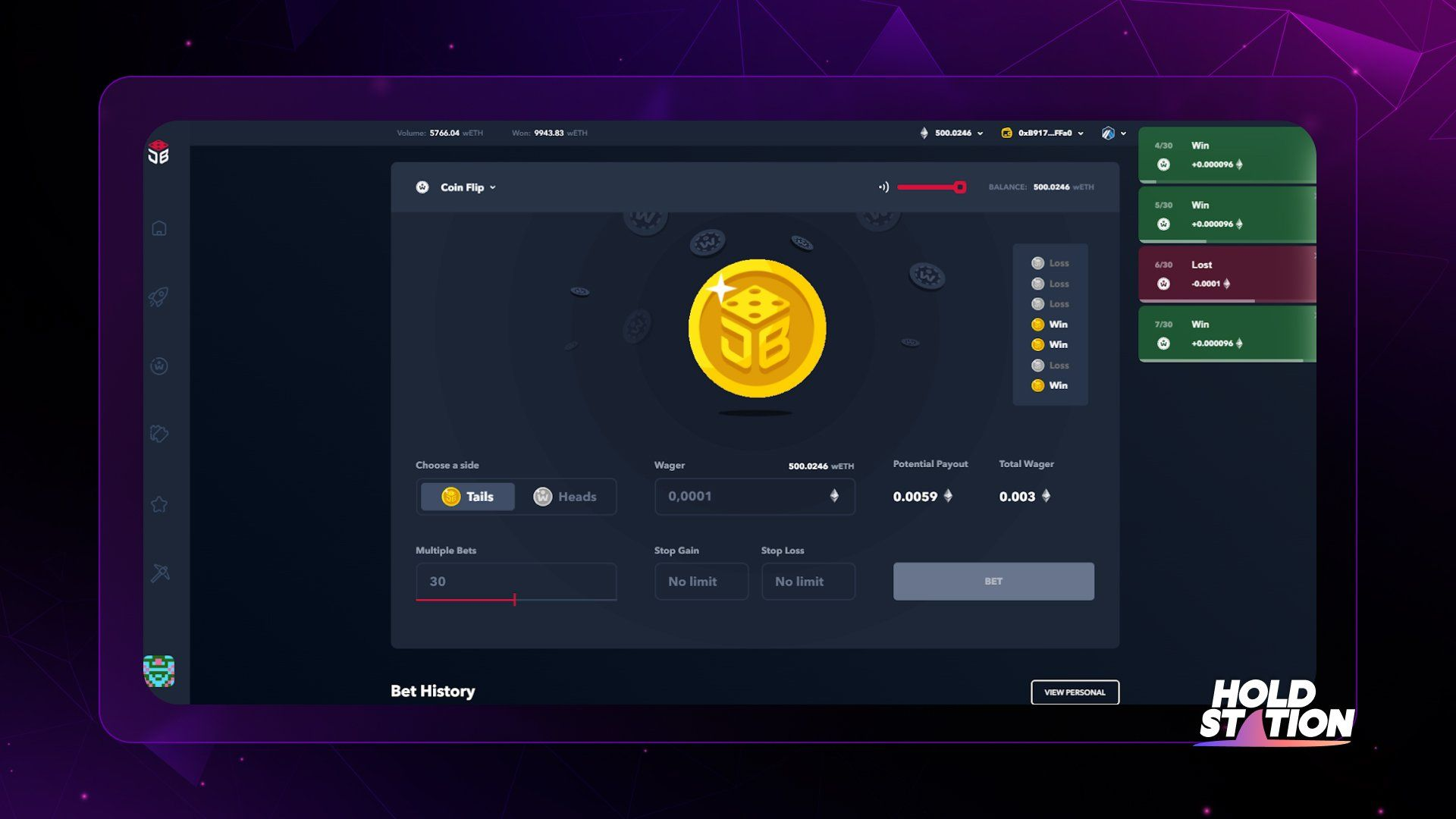 Besides, players can set profit and loss levels before starting the game. This allows for capital management and profit optimization.
Each time a bet is made, the player will receive a cashback in the form of $vWINR. At the same time, there will be a portion of 0.1% - 0.5% wETH deducted for the staking pool.
Tokenomic
JustBet builds a dual-token tokenomic model including:
$WINR: Tradeable utility token. The $WINR application includes swapping to vWINR to receive split fees from the platform, using payments for Booster and scratch cards - creating a demand for $WINR.
$vWINR - vested yield-bearing token.
Information on the allocation rate and vesting schedule is yet to be announced. Soon JustBet will IDO on Camelot and everyone can follow the project's twitter regularly to update the earliest announcement.
Users can stake $vWINR to receive platform revenue share or swap to $WINR after 15 days. The swap rate will start at 0.05:1 and gradually decrease to zero after 180 days.
Liquidity Pool
Sigle-sided Pool wETH acts as the platform's bank with the Real Yield model. The pool will grow regardless of the player's results thanks to a portion of the bet amount.
Users can also provide wETH liquidity for a split reward from losers' funds. In addition, the higher the liquidity in the pool, the larger the $wETH reward for $vWINR stakers will be.
NFTs

NFTs can be viewed as in-game items that increase the reward rate and also contribute to the application of burning $WINR in circulation.
There are 6 types of NFTs:
Minting Booster NFT - increases the amount of $vWINR received.
Scratchcard NFT - same function as Minting Booster but with added rarity.
Streak Repair NFT - restores chain to complete daily quests if broken.
LootBox - chance to get Scratchcards and other types of NFTs. LootBox can only be obtained by achieving certain achievements on JustBet.
Badges NFT - record member rank.
Referral Rank NFTs - 5 Ranks come with conditions when inviting friends. Players will receive additional $vWINR and $WETH rewards on each referral.
Roadmap JustBet
JustBet development roadmap has many new improvements in 2023
Q1/2023: Testnet for a month and is expected to officially launch the mainnet in early March after being audited. Develop new games every two weeks and function 500x or 1000x Longs, Shorts,...
Q2/2023: Smart Account system using MetaMask and extended to Optimism, zkSync. An LP incentive program also takes place.
Q3/2023: Launching Real-time card Games (Poker and BlackJack).
Instructions for participating in testnet
The team confirms that there will have an airdrop for early users.
There are two ways to participate:
Claim OAT on Galxe: Complete 200 transactions with the platform and receive OAT NFT. Testers could receive $vWINR reward pools and future benefits.
Crew3 Quest: Perform Crew3 tasks such as playing the game daily on the testnet, interacting with Twitter,... to accumulate XP. The more you complete, the higher the XP. Top 1-20 get $50 + 1 mystery box/person, top 21-100 get $10 + 1 mystery box/person, top 101 - 1000 get 1 mystery box/person.
Step 1: Go to JustBet Crew3 and then connect your wallet and Twitter.
For games, it is required to play 10 times and then paste your wallet address in the corresponding entry to confirm.
There are also other tasks such as Twitter interaction, Stake,...
Step 2: Go to the JustBet Testnet page and connect the wallet. Then, select Faucet to get testnet tokens.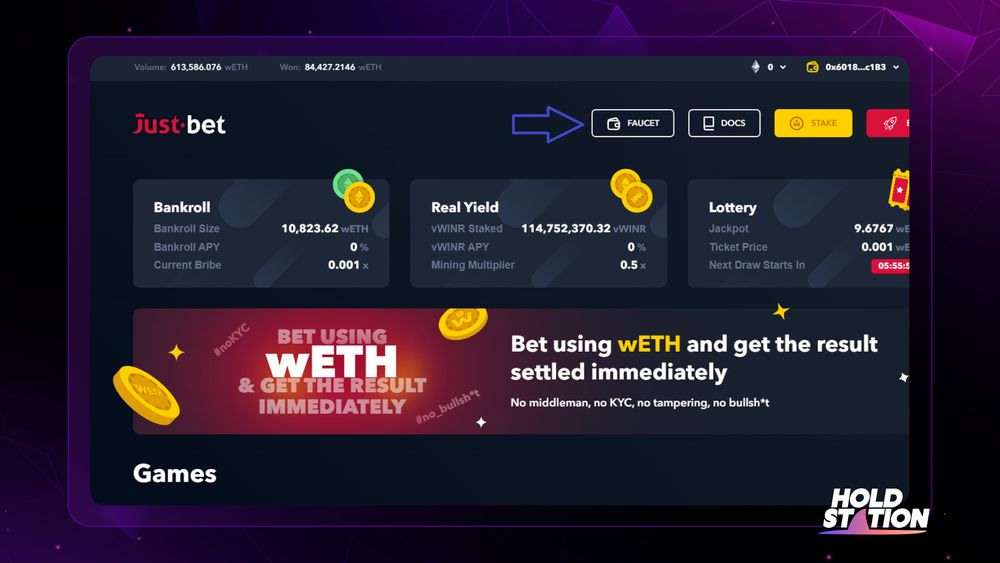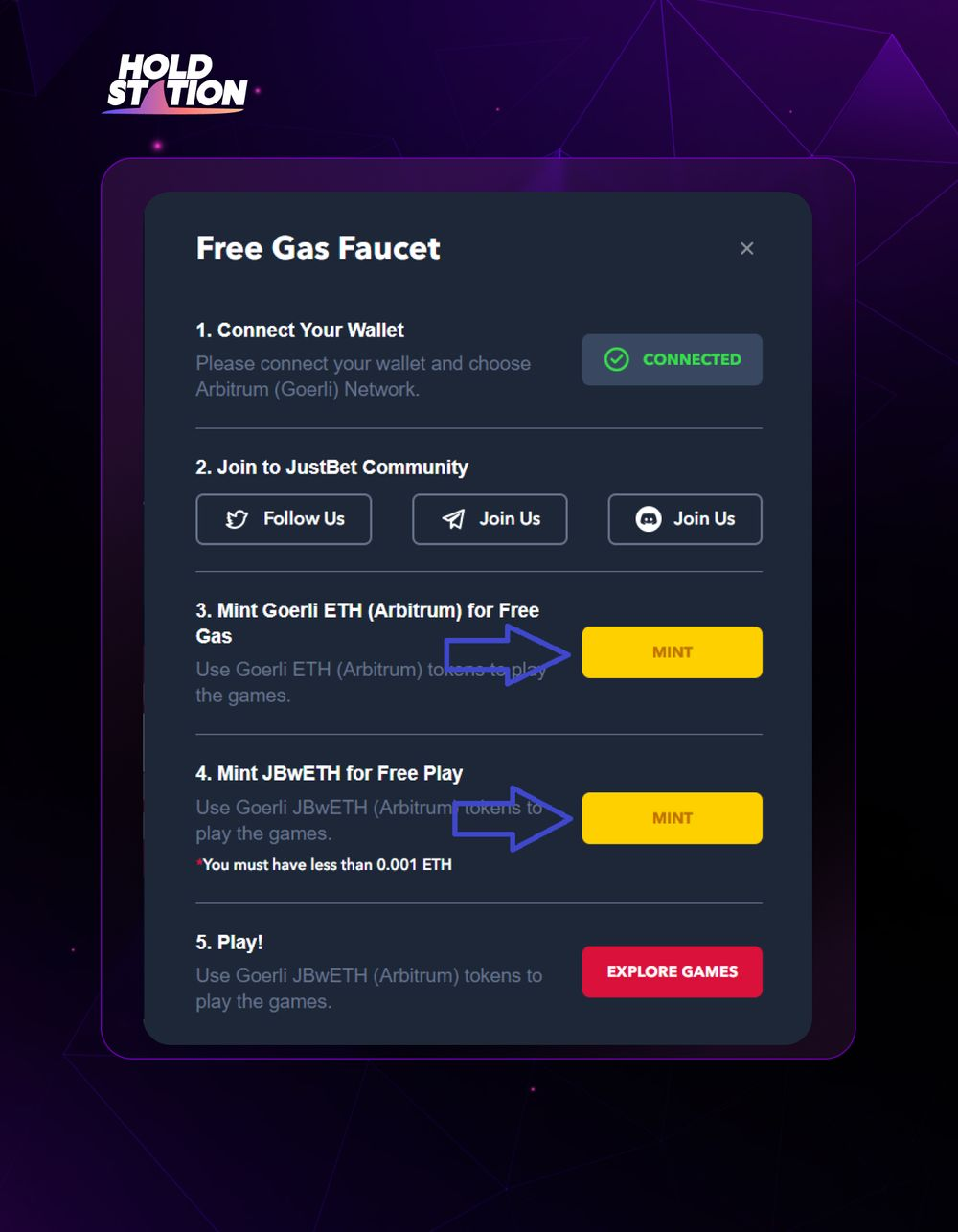 For example, if the DICE game mission requires 10 times a day, you will bet 10 times and then go to Crew3 to confirm completion.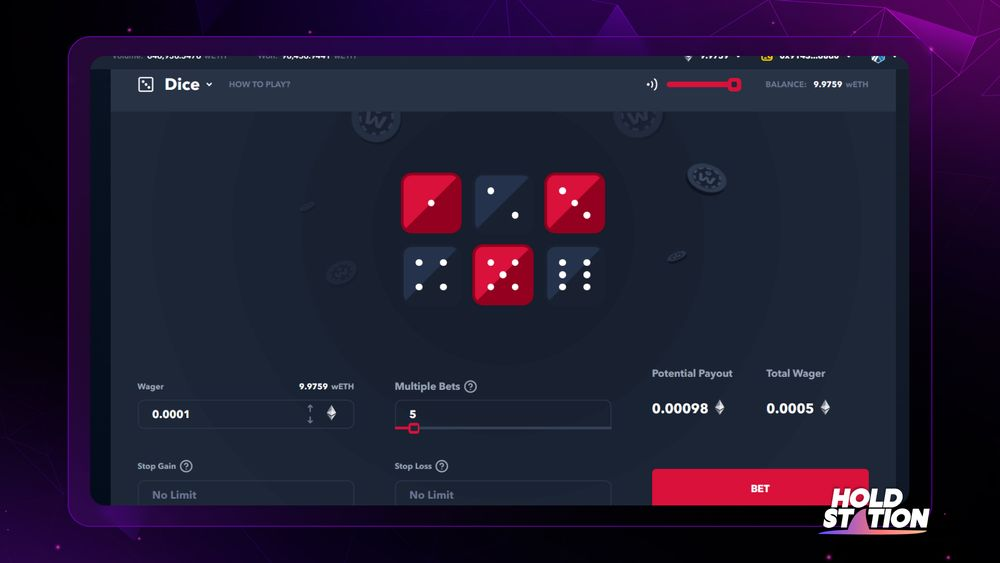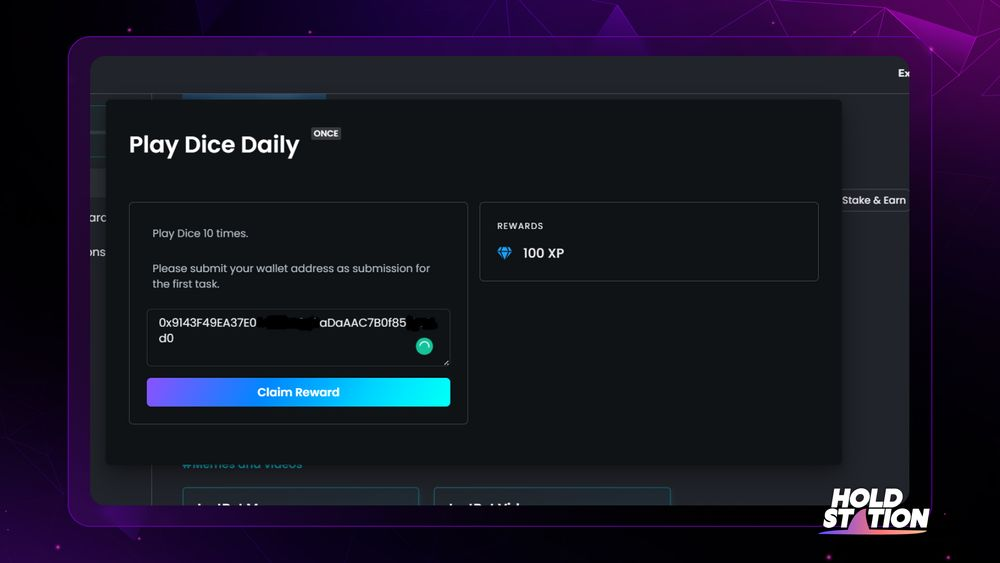 Other games do the same. You should do every day to get more XP and increase the rank to receive rewards.
---
Holdstation Wallet - Your Gate to Web3 💜🦈
Make DeFi as easy as CeFi!
📲 Download now: IOS | Android
Disclaimer:
The information, statements and conjecture contained in this article, including opinions expressed, are based on information sources that Holdstation believes those are reliable. The opinions expressed in this article are personal opinions expressed after careful consideration and based on the best information we have at the writing's time. This article is not and should not be explained as an offer or solicitation to buy/sell any tokens/NFTs.
Holdstation is not responsible for any direct or indirect losses arising from the use of this article content.