What is Hooked Protocol?
Hooked Protocol is a platform to build a fiat-to-crypto layer for Web3 at scale for widespread We3 adoption. Bringing Learn and Earn products and infrastructure to users and helping more businesses thrive in a Web3 environment while helping to connect Web3 projects together into an aggregated network. Thereby helping to form a community-owned economic ecosystem in the future and aiming for billions of internet users on Web2 to convert to the Web3 ecosystem.
The applicability of Hooked Protocol is determined by three main factors: determinability, interoperability, and attribution. Currently, the Hooked Protocol development team is implementing the integration of wallets and decentralized identifiers (DIDs) into the Hooked ecosystem, thereby allowing users to access Web3 identities automatically.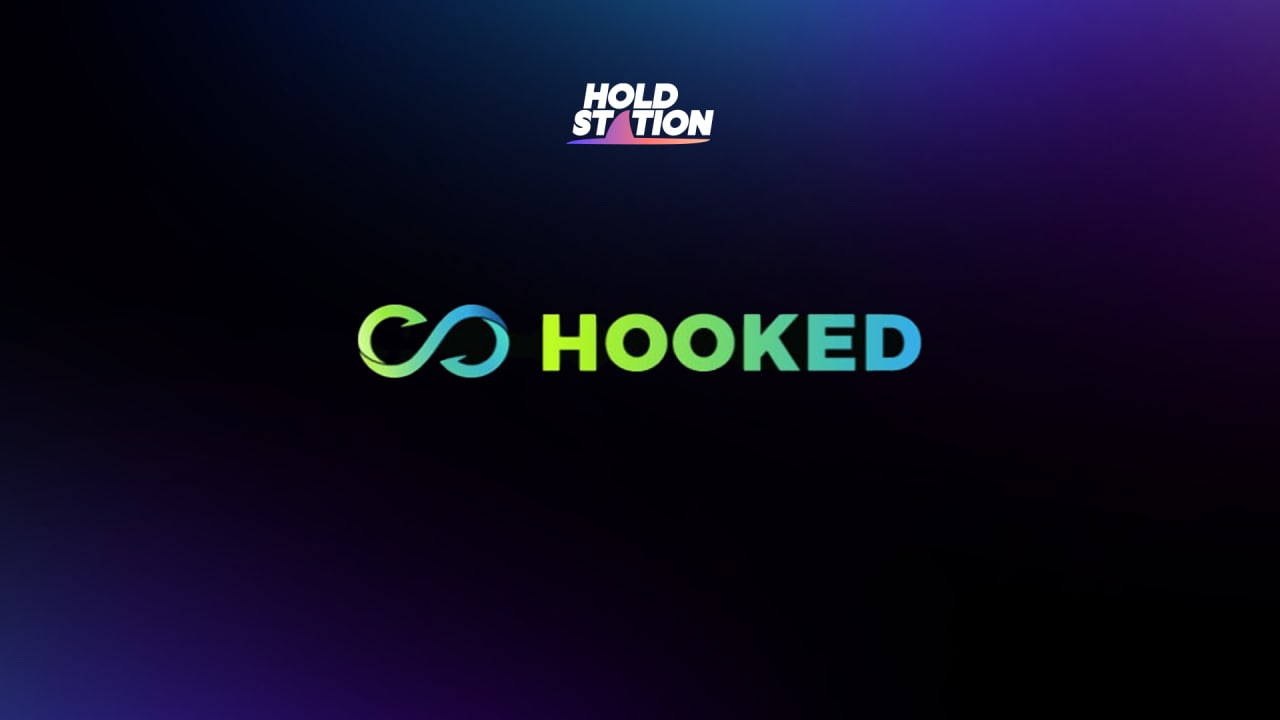 Hooked Protocol's outstanding products and features
Up to now, Hooked Protocol has launched its first test dApp called Wild Cash, with the goal of becoming a web3 community portal in emerging markets such as Brazil, Indonesia. Although it has only been released for less than a month, the application has over one million downloads and is dominating the Google Play charts in Indonesia.
Currently the application has basic functions including:
Quiz-to-Earn (Crypto Camp): Every day, Wild Cash will provide a reward pool of $HGT tokens, users will need to answer a number of questions correctly (usually 10 questions) to be able to share and receive this reward with other players. Questions are often taken from content related to Web3, Blockchain and Crypto in general, making it easy for users to learn about this field through Wild Cash.
Mining game, based on POWT (Proof of Work & Time) mechanism: An idle game integrated on Wild Cash, $HGT tokens will be automatically accumulated over time or users can click the "tap" button to actively mine more tokens. After accumulating enough tokens, users can use them to buy upgrades to increase mining efficiency.
Social Referral : Wild Cash's referral system is generally nothing new, users can use the ref code to invite more friends to receive more HGT tokens and answer questions.
Stake and Swap: Users can swap the HGT earned from the above activities into uHGT or BUSD. Or you can take away stakes to receive interest, currently the APY when staking HGT is about 20%.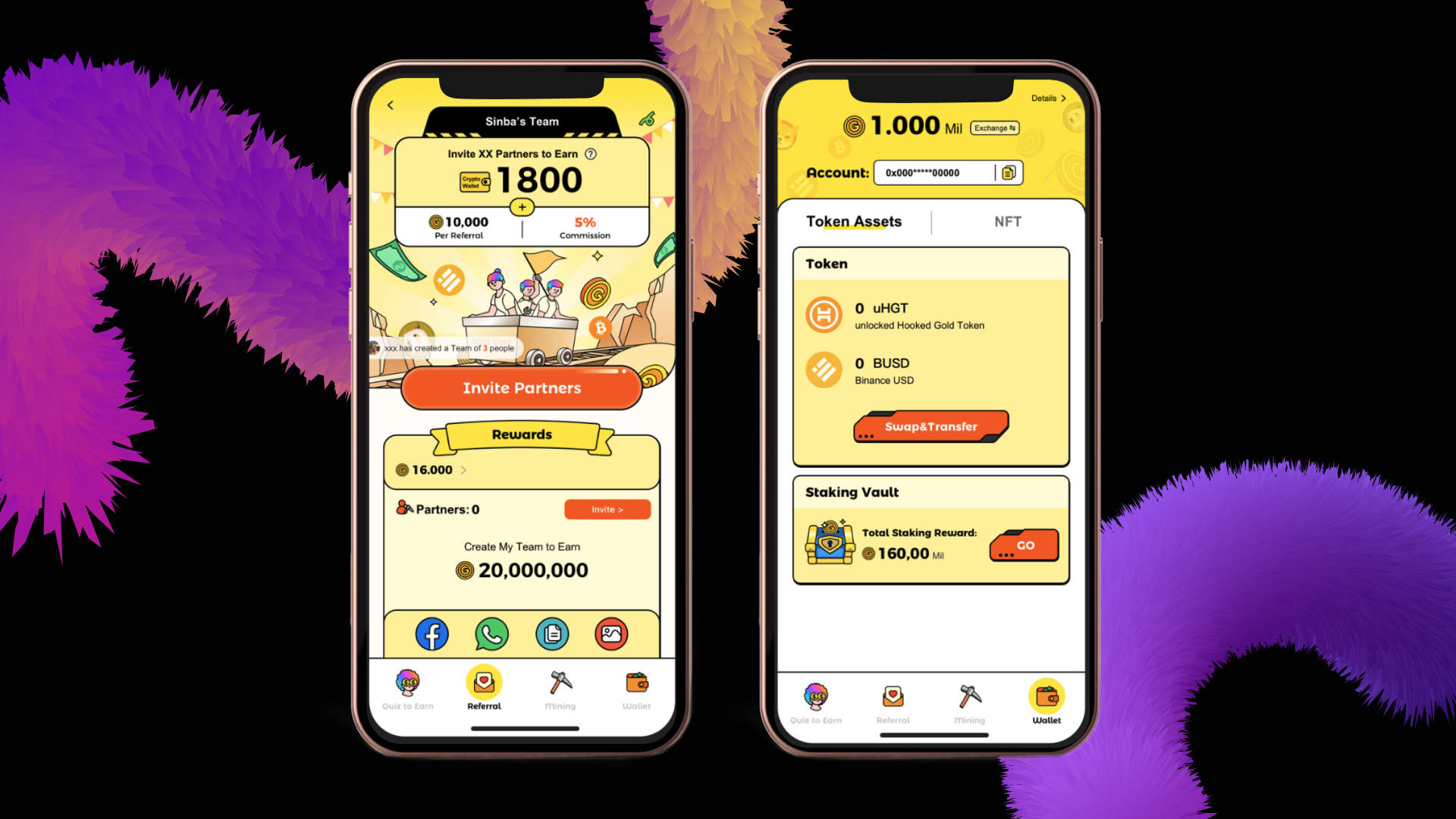 Besides, Hooked Protocol will still focus on Web3 services as well as solutions to deploy Web3 to everyone, with products and features being developed such as:
Hooked Soulbound Token (Hooked SBT): Playing a role in digital determination, Hooked allows members of its community to participate in the Web3 domain, ensuring transparency and trust among members.
Hooked Wallet: store Web3 assets and execute transactions.
Web3 User Behavior/Data Collection: Hooked accumulates behavioral data on-chain by participating in all protocol interactions on the BNB Chain, allowing for extensive behavioral insights and analysis, while laying the foundation for the formation of communities and ecosystems.
Hooked Protocol development team
The Hooked Protol development team is mostly anonymous and currently only has preliminary information of 3 people in the Hooked team, specifically:
Jason Y : Founder of Hooked Protocol, with over 10 years of growth strategy and consumer internet experience, built multiple products with over 100 million users. Also a former manager at Uber and Facebook.
Jess L : CMO of Hooked Protocol, experienced in marketing, business development & strategy. He is also a former employee at Uber and Google, and has worked in many leading technology corporations in Silicon Valley.
Mike Y: CTO of Hooked Protocol, with extensive expertise in consumer product development and large-scale financial services engineering.
Hooked Protocol Roadmap
At the present time, Hooked Protocol has completed a number of milestones in the proposed roadmap, namely:
Milestones completed
Q2 2022: Completed the funding round
Q3 2022: App release on CH Play in Indonesia
Q3 2022: Over 50000 daily users on the first day of launch on BNB Chain
Q3 2022: Ranked as SocialFi app in all chains on DappRadar
Q4 2022: Reaching more than 2 million monthly active users
Next milestones
Q4 2022:
Product development and user growth: Expanding international markets, launching Quiz-to-Earn in more regions of the world
Infrastructure: Partnering with Layer 1 infrastructures on scalable solutions that help facilitate user growth
H1 2023:
Community: Develop and gamify a variety of learning experiences in Hooked's community
Ecosystem: Collaborate & collaborate with more Web3 projects, to deliver more apps built on Hooked's protocol
Infrastructure: Integrate Hooked's community wallet solution
H2 2023:
Community: Aim to be one of the leading communities in Web3
Ecosystem: Launching a variety of applications to leverage the infrastructure of the Hooked ecosystem
Infrastructure: Application of middleware solutions such as wallets, DIDs,... for ecosystem developers launched with early benefits of Hooked Protocol early adoption
Governance: Launching Governance DAO for Hooked Protocol
Investors of Hooked Protocol
Hooked Protocol is invested by two big names in the crypto market, namely Binance and Sequoia. Binance and Sequoia are also the only funds leading the Hooked Protocol seed round, the amount of which has not been disclosed.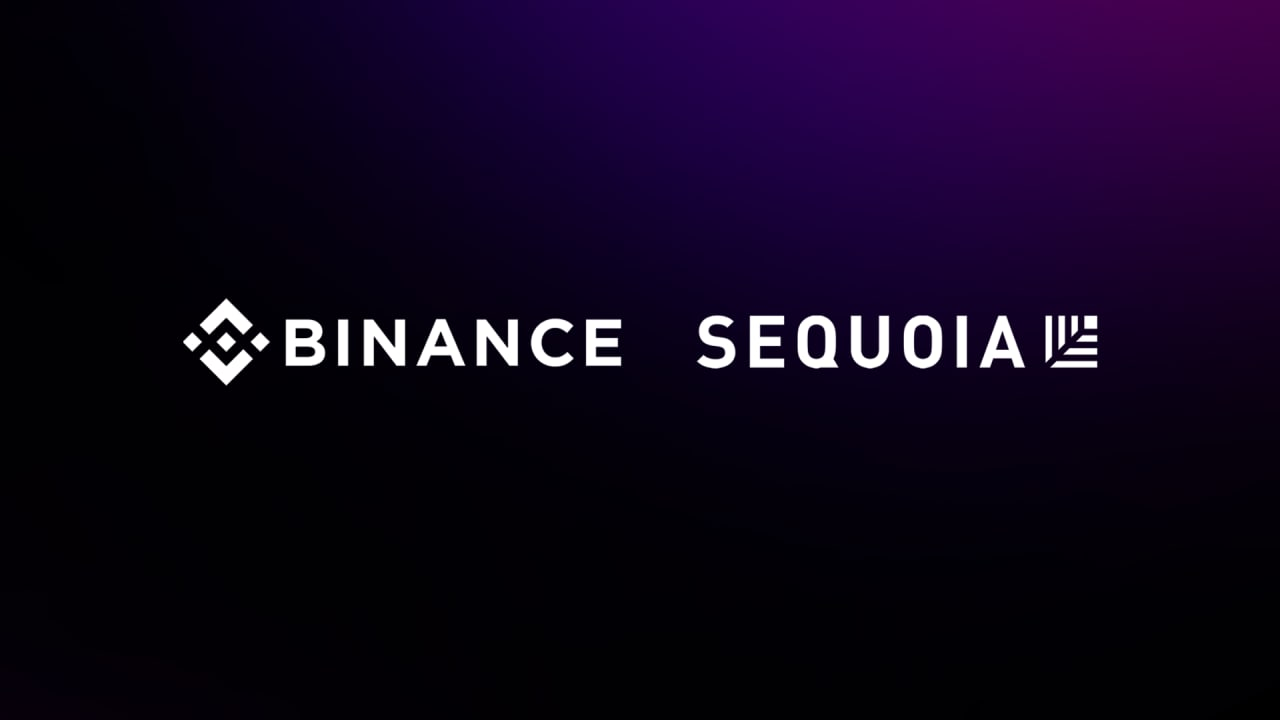 Hooked Protocol is also the 29th project on Binance Launchpad. To participate in buying $HOOK on Launchpad, you need:
Step 1: Sign up for a Binance & KYC account here
Step 2: Buy and hold $BNB from 7:00 a.m. on November 24, 2022 to 7:00 a.m. on December 1, 2022
Step 3: Register to participate from 13h on 1/12/2022 - 16h on 1/12/2022
$HOOK Token Allocation for Binance Launchpad: 25,000,000 $HOOK
Price: 1 $HOOK = 0.1 USD
Distribution time: 17:00 on December 1, 2022. After calculating and deducting the respective $BNB from the user's locked $BNB, the participant's $HOOK and $BNB tokens will be transferred to the spot wallet.
See more details about Binance Launchpad
Hooked Protocol's Tokenomics
Hooked Protocl uses a dual-token system with:
$HOOK
Basic information:
Name: Hooked Protocol token
Ticker: $HOOK
Type: Governance token
Chain: BNB Smart Chain
Contract (BEP-20): Updating
Total Supply: 500,000,000 $HOOK
Initial circulating supply: 50,000,000 $HOOK (10% of total supply when listing on Binance)
$HOOK is the platform's governance token with liquidity, designed for deflation. However, at first $HOOK will be inflated through the token payment schedule.
Token allocation and unlock schedule $HOOK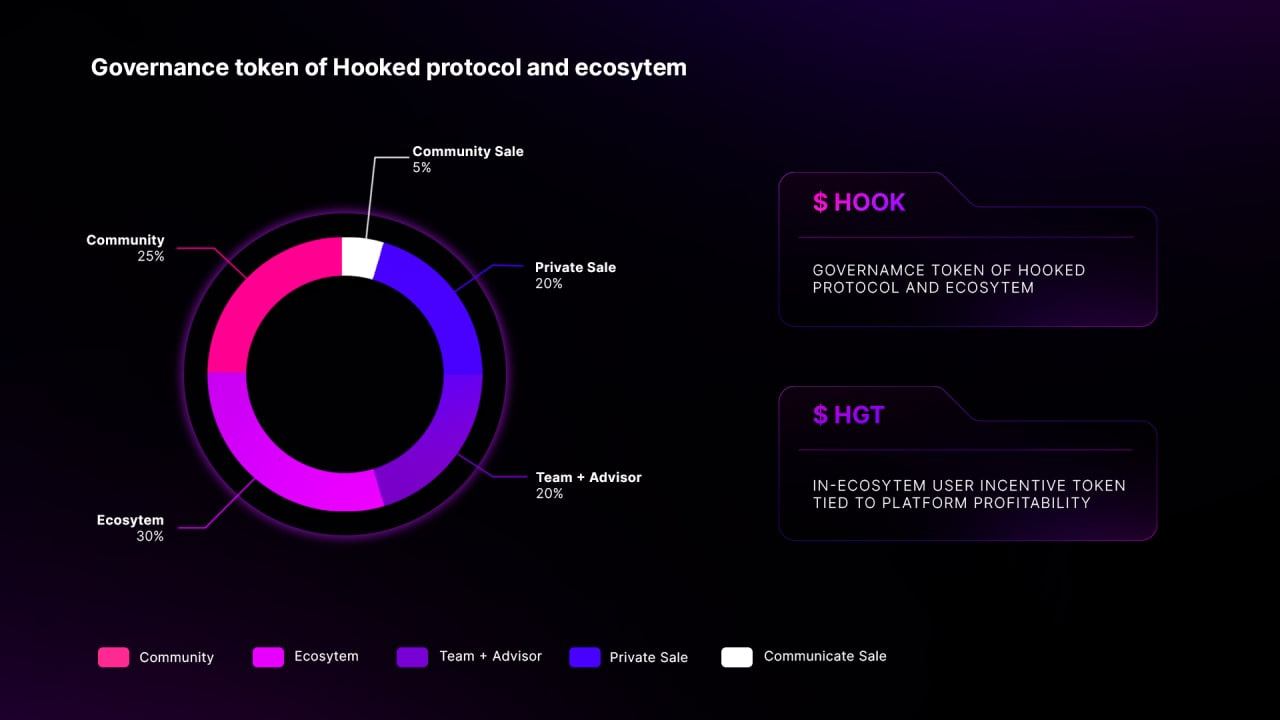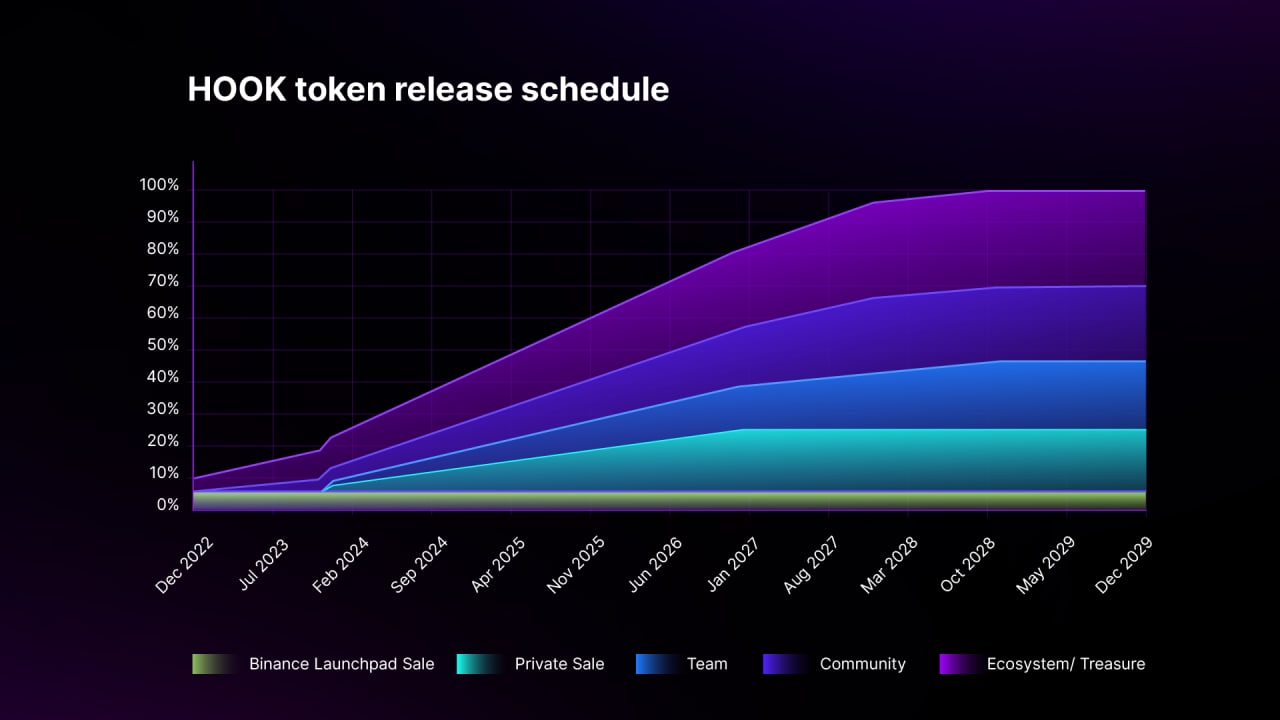 Usecase of $HOOK
$HOOK has the following features:
Users holding $HOOK can vote to determine the future direction of the platform, and those who contribute to creating value for Hooked Protocol will have a chance to receive an airdrop. Besides, $HOOK is also used for Stake to receive rewards from the platform's revenue.
Use as gas fee/payment in the ecosystem
Hooked builds infrastructure with Rollup technology for their Dapp-enabled Layer 1s, and $HOOK will be used for in-game purchases. In the future, all projects built on Hooked must use $HOOK tokens to pay fees for on-chain transactions.
The right to participate in exclusive NFTs
Holders are incentivized to hold $HOOK for the right to participate in the platform's exclusive NFT receiving event and receive valuable incentives
$HGT
Is a token in the ecosystem of Hooked Protocol used to pay back to users. $HGT has an infinite supply however this will be limited through $uHGT.
Usecase of $HGT
$HGT has the following features:
Paid Quiz-To-Learn
Reward users who invite friends to join through the referral program.
Paying for mini-games inside the ecosystem (currently a BTC POW simulation mining game)
Use to buy, sell, upgrade items in the game
$HGT will be converted to $uHGT (liquidable token via $BUSD) at a rate according to the proof of user contribution in the ecosystem. This means that the more you contribute, the faster the tokens will be unlocked. Encourage users to increase interaction and build the ecosystem together.
Comment on the potential of $HOOK
Hooked Protocol has an effective marketing strategy when applying the unlocking mechanism to users who contribute to the platform, the more users contribute to Hooked, the faster the $HPG token will be unlocked, thereby helping to create efficiency. The snowball response makes more and more users want to contribute more to the platform to get their tokens unlocked soon. This unique reward mechanism helps incentivize users to interact with the platform. However, currently those features have not appeared much, only in the development roadmap of the project, thereby making the $HOOK token not have the motivation to increase in price at the time of its launch. On the other hand, if the project goes on the right track with the proposed bonus features and the products are gradually completed, the $HOOK token will have the potential to increase in price in the near future.