The Arbitrum ecosystem is increasingly firmly built with many projects possessing innovative strategies that bring various forms of investment to users such as GammaSwap, GMX, PlutusDAO,... and is about to add another soon. FactorDAO is currently of interest to the Twitter community and foreign KOLs.
Prominent in crypto market asset management by providing investment solutions to both amateur and professional investment groups, Factor has the potential to attract a wide range of users, especially when the crypto market change rapidly and is not immediately accessible to newcomers. Following the Real Yield model with a starting diluted capitalization of only $10,000,000 with a deflationary tokenomic and largely community-held, Factor could be a potential project in the near future.
What is FactorDAO?
FactorDAO is a platform that provides the infrastructure that allows investors to create and manage or invest in asset portfolios with a variety of strategies and forms from traditional finance to crypto - to suit the market. taste and preferences as well as the investment ability of each person.
This model is similar to the asset management industry in traditional markets such as ETFs, indices, etc., but FactorDAO will exploit blockchain technology to limit risks from third parties.
FactorDAO's products and operating model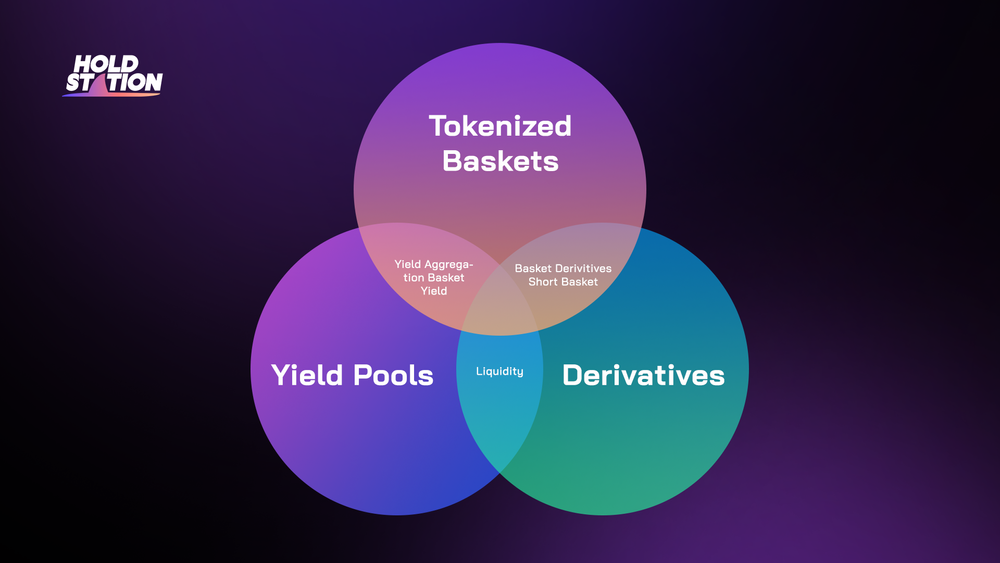 Tokenized Baskets
The tool makes it easy for managers to create portfolios that can combine crypto and traditional financial products. FactorDAO will then mint tokens representing this basket of assets. The token value represents depends on the underlying asset class.
Yield Pools
Pools are created for the purpose of borrowing and lending. Investors can provide or borrow assets from these pools. In addition, the pools also support compatibility with yield-bearing tokens.
Derivative
Derivative products allow traders to hedge their positions or execute a market-neutral strategy using a basket of assets and tokens on the platform, such as futures or arbitrage. It will be divided into two phases:
Phase 1 - options trading of highly liquid tokens such as WETH and WBTC.
Phase 2 - can create any other derivative products (specific information has not been published).
FactorDAO's users
JonesDAO on the Arbitrum ecosystem is also in the field of fund management, but one of the differences of FactorDAO is that it provides tools for users to directly create and manage instead of a fixed team like JonesDAO. Thus, the client file will be more expanded:
Asset managers - can design a portfolio to their taste and customize their regulation and service fees.
Treasury manager - deploying a variety of investment strategies from the DeFi ecosystem such as hedging, staking,...
Investors - can choose the appropriate form of passive investment based on the performance results recorded. This saves in-depth research time and gas costs.
Community building
With its role as a tooling intermediary and self-sustaining community, it is imperative that Factor attracts all three user files to ensure smooth operation. In addition to product quality, community development events need to be promoted and the Factor team shows great attention in this stage when planning campaigns:
Vault leaderboard with the best performance and top fund managers will be rewarded from the $FCTR ecosystem fund to incentivize professional traders and asset managers highly effective vault can attract investors.
In the current early stage, Factor also contacted quite reputable crypto KOLs on twitter to act as a consultant as well as spread information and educate users about the project.
Tokenomics
The $veFCTR model
$FCTR holders can stake and lock $FCTR to receive $veFCTR (yield-bearing token - the longer the lock, the amount of $veFCTR received will increase over time) with the following functions:
Governance rights on platform fees and inflation if any.
Receive 50% of revenue (the remaining 50% goes to the treasury). However, the form of the reward received has not been finalized by the project - it is possible that stablecoins or stablecoins combined with tokens have high liquidity (this is a point to keep in mind because volatility can affect the value, so this must be considered). market conditions and maturities can be claimed before locking).
Participate in events like Trading contests.
$FCTR allocation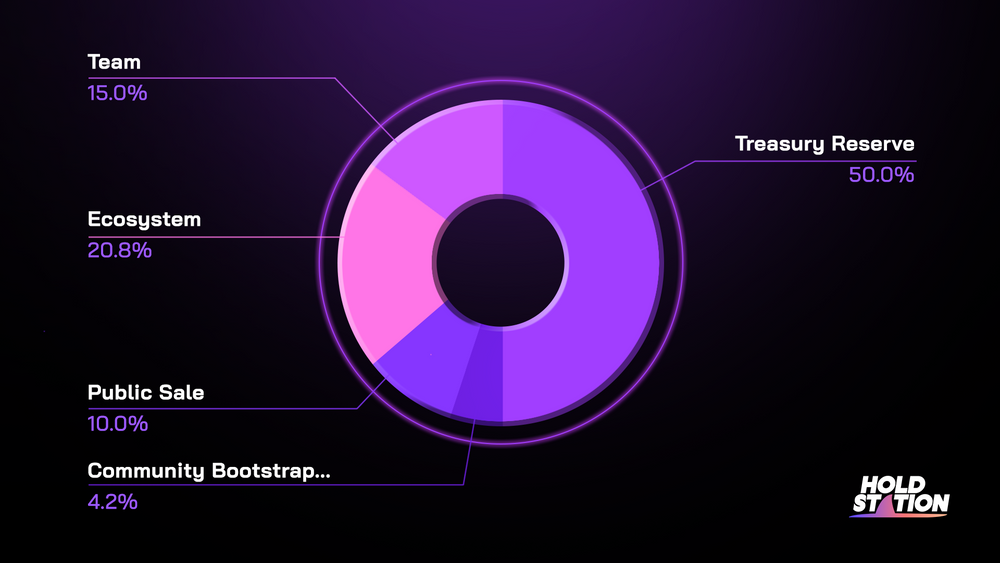 Total supply: 100 million $FCTR (Fixed so no inflation. Can only mint more if approved by the community for some really necessary cases).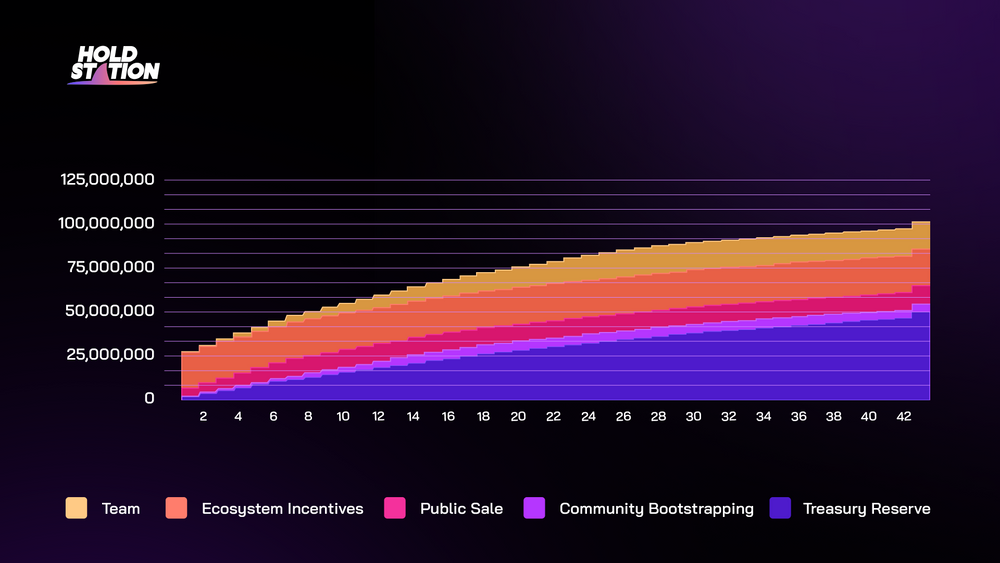 Treasury fund: 50% - gradually released into circulation over 3.5 years.
Incentivize ecosystem development: 20.8% - in addition to circulating supply immediately upon issuance to provide liquidity and activities to encourage innovation.
Team: 15% - vesting within 24 months.
Private Sale: 4.2% for $0.05. Vesting for 12 months and during this time will not receive $veFCTR as Public Sale.
Public Sale
10% of the total supply will be sold through Camelot exchange on the Arbitrum ecosystem.
Time: 1 a.m (GMT+7) February 21, 2023 to 1 a.m (GMT+7) February 25, 2023
Pricing starts at $0.1 - FDV $10,000,000. The price of $FCTR will fluctuate based on demand during the 5 days of the sale and the final price will be decided after the end. At this point, all participants will pay the same final price for their allocation.
Hardcap is not fixed in advance.
Vesting: None, 100% unlock
After the release, 32.51% of the total supply will be released into circulation and gradually emitted within 3.5 years.
Thus, the tokenomic of Factor has a good distribution ratio when most of it belongs to the community and there is no strong pressure discharge. The demand for $FCTR comes from the benefits received from $veFCTR, so it requires a well-functioning platform to generate attractive revenue.
Roadmap and Team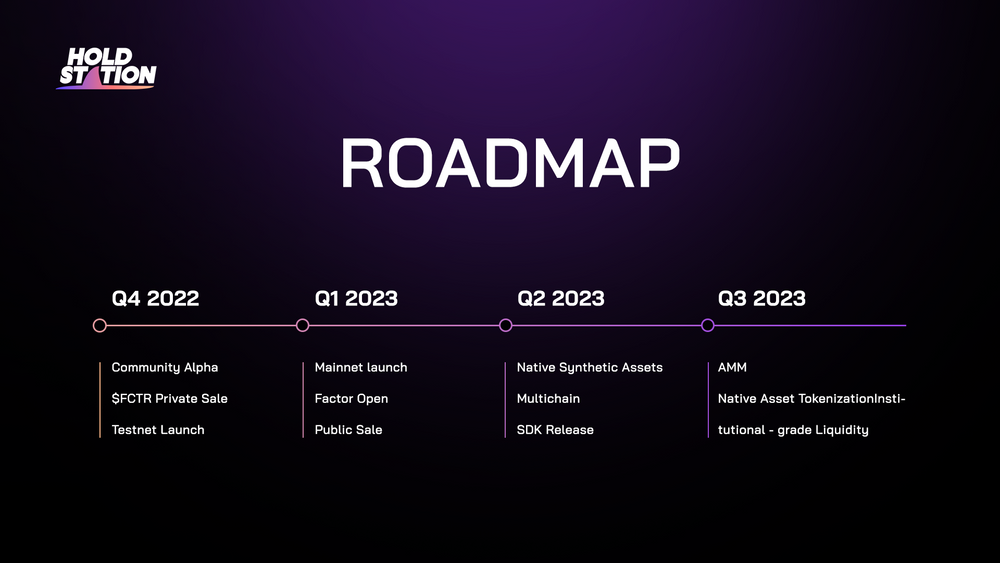 It is expected that after the public sale, Factor will deploy the mainnet on Arbitrum and integrate other ecosystems in the second quarter of 2023.
The project team anonymously and according to share has experience in the field of asset management.
Kurapika - in charge of tokenomic
ALΞX - strategic consulting
Summary
Compared to similar projects like JonesDAO, Factor is geared towards a wider range of customers with a good tokenomic model and an average starting FDV, so there is room for growth. However, investors need to evaluate the effectiveness of the product after its release and community campaigns because the value of $FCTR depends in part on revenue attractiveness.
---
💜🦈 Holdstation Wallet - Your Gate to Web3
Make DeFi as easy as CeFi!
📲 Download now: IOS | Android
Disclaimer:
The information, statements and conjecture contained in this article, including opinions expressed, are based on information sources that Holdstation believes those are reliable. The opinions expressed in this article are personal opinions expressed after careful consideration and based on the best information we have at the writing's time. This article is not and should not be explained as an offer or solicitation to buy/sell any tokens/NFTs.
Holdstation is not responsible for any direct or indirect losses arising from the use of this article content.