Enchanter Finance overview
Enchanter Finance is a leading community-driven decentralized exchange on the Aptos ecosystem. Enchanter Finance aims to build the first Move language-based AMM DEX Social Trading on the Aptos network. In addition to trading and yield farming, Enchanter Finance will provide secure Defi alternatives that will help better manage assets for traders and liquidity providers.
Features of Enchanter Finance
As an AMM DEX, Enchanter Finance also has the basic features of a decentralized exchange like Swap, liquidity provision and Yield Farming.
Among them is the Yield Farming feature, which is one of the first projects to bring this segment of DeFi to the Aptos ecosystem.
Yield Farming on Enchanter will be implemented in different Chapters, each Chapter lasts 1 month, incorporating "yield weighting" proposals - different Yield Weighting depending on each liquidity group, with a total weight of 100x.
Yield weighting example:
The total yield farm reward is 10,000 $ENT. They are to be distributed to 2 token pair liquidity pools with a weight distributed as follows
APT — USDT,30x
ENT — USDT,70x
This means the APT-USDT liquidity pool will receive 3000 $ENT tokens rewards while the ENT-USDT pool will receive 7000 $ENT tokens.
Each user will then be rewarded $ENT based on their position within a liquidity pool.
Alice provides 10% of the overall liquidity for ENT-USDT liquidity pool. While the pool receives 7000 $ENT token per day, Alice's daily $ENT reward will be:
7000 * 10% = 700 $ENT
Tokenomic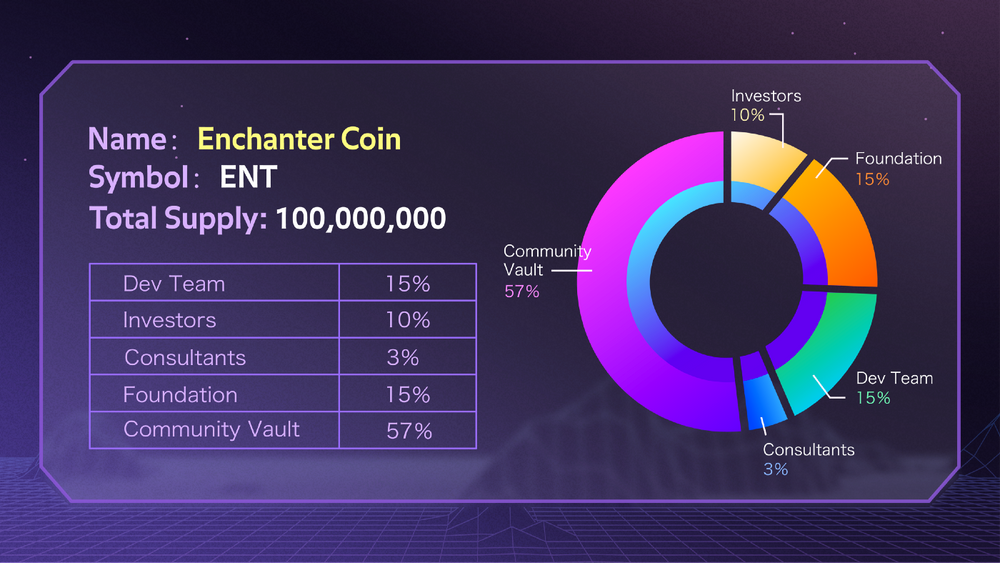 Total Supply: 100,000,000
Allocation
Dev Team:15%
Investors and backers:10%
Consultants:3%
Foundation:15%
Community Vault:57%
According to Enchanter's tokenomic, 57% of the total token supply is allocated to the community vault and a large portion of this will be distributed to liquidity providers through yield farming. This is designed to help keep the Enchanter Finance community engaged and growing for the long term as per the development team plan.
However, it should be noted that 43% of the total token supply will belong to the team, advisors, funds and initial investors, although it is not clear how the token vesting process will take place, but the majority of tokens are under the control of the team and there will be dump/pump risks, the long-term upside potential of the token.
Roadmap
Launch Phase
During the launch phase, the main focus will be the deployment of Enchanter Finance on the Aptos Mainnet. This version will include Swapping, Farming, and other basic functionalities.
Code audit
Mainnet deployment
Cross-chain protocols integration
Yield Farming V1.0
Yield Farm V2.0 (staking availability)
Build Phase
The build phase emphasizes completing additional functionalities for Enchanter Finance. The goal during this phase is to improve user experience, provide better support for builders, and promote community governance.
veENT Launch
Info
Dashboard
Community proposals and voting
Multi-sig community vault
Enchanter Launchpad
Availability of project self-generated farms
Growth Phase
During the growth phase, Enchanter Finance will bring in more social elements. The project will also focus on exploring new trading mechanisms and potential new asset types.
Social Trading System (including Enchanter Chatroom)
User-friendly mobile wallet & DEX for crypto newcomers
Upgraded trading model
More asset types
In general, the development roadmap of Enchanter Finance outlined is still general, there is still nothing innovative compared to DEX or Yield Farming products in general. The roadmap may still have changes depending on the direction of the team, as well as the development of the entire Aptos ecosystem.
Summary
As a DeFi project, Enchanter Finance, currently, has not yet made the necessary breakthroughs compared to previous projects on other ecosystems. Currently, the project will soon be deployed on Mainnet, but more monitoring is required for operability. Investors need to follow the trends of the entire ecosystem and the market to be able to clearly determine the development potential, and make clear investment judgments. Not to mention the risks when the ENT token supply is heavily controlled.
Disclaimer:
The information, statements and conjecture contained in this article, including opinions expressed, are based on information sources that Holdstation believes those are reliable. The opinions expressed in this article are personal opinions expressed after careful consideration and based on the best information we have at the writing's time. This article is not and should not be explained as an offer or solicitation to buy/sell any tokens/NFTs.
Holdstation is not responsible for any direct or indirect losses arising from the use of this article content.