GMX Blueberry Club (GBC) is a collection of 10,000 NFTs on Arbitrum, created for the community of the decentralized exchange GMX.io and featured the blueberry symbol.
This collection is partly Free Mint from December 2021, the rest is publicly sold for 0.03 ETH per NFT.
What's special about GMX Blueberry Club?
The Real Yield feature is reflected mainly in the project's reward mechanism using the profits from this project.
Read more: What is Real Yield? Is This The Next DeFi Trend?
All profits from the GBC public sale will be used to create the Community Treasury. The fund is governed by a voting method (each GBC owned equals 1 vote), with assets consisting of only GMX and GLP tokens on the Arbitrum and Avalance blockchains.
When users stake NFT GBCs, the profits earned from the Community Treasury will be directly redistributed to them as trading rewards - esGMX tokens.
According to GBC's public whitepaper, every month, 5000 esGMX tokens will be provided, of which 80% of these are distributed to GBC and GMX holders, and 20% are directly put into the Blueberry Club Treasury fund.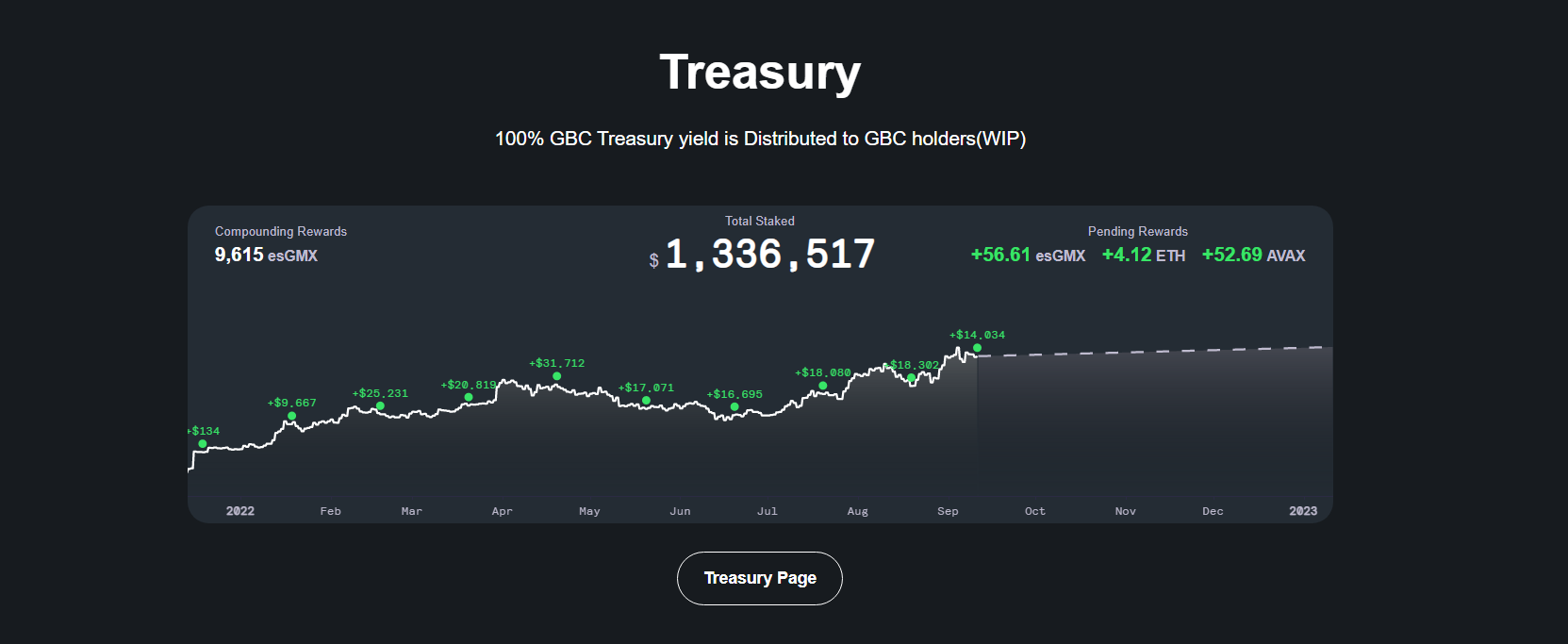 Currently, there is only nearly 1,336,517 USD staked on the platform, which is relatively low compared to the potential and long-term development of the GMX ecosystem.
So, where do the paid rewards come from?
GMX and GLP trading
NFT GBC collection royalty revenue: 2.5% per transaction
Blueberry Lab, a tool that allows users to customize new properties for their NFT, expands collaboration with major events and brands. 100% of the profit from this sale will be put into the Community Treasury to reward users further.
Profit from Yield Farming investment and liquidity provision (LP)
GBC is also promising to launch GBC trading with leverage trading and Puppet Mirror Trading, which allows copy trades of other successful traders on GMX.
The above features will bring the potential to succeed in the GBC collection and attract new users if the GMX ecosystem does well in what it intends to do in the future. Currently, each NFT GBC has a floor price of about 0.39 ETH, the price has almost doubled in just one week, increasing 13 times the starting price of 0.03ETH.
With the many uses that this collection brings, and at the same time helping to eliminate prejudices about NFTs having no practical value, will future NFT projects with high application like GMX Blueberry Club be a triumphant revelation?