Recently, more and more hacks have been happening, mainly due to the security of the platforms. Recently, it was the 10 trillion aBNBc hack in Ankr that caused this token to dump intensely and lose 99.5% of its value immediately.
Process of Hacked
On-chain security analyst PeckShield appeared to be the first to notice the attack on December 2 at around 8:35 a.m. (GMT+7).
Ankr confirmed on Twitter within an hour of the attack that the aBNB token had been exploited and that they are working with exchanges to halt trading of the compromised token immediately. Ankr also stated in a subsequent post:
"All underlying assets on Ankr Staking are safe at this time, and all infrastructure services are unaffected."
Users can earn interest by allocating BNB tokens to the liquid staking agreement and obtaining Ankr Reward Bearing Staked BNB (aBNBc), a reward-bearing token for BNB staked on the protocol, which BNB Chain previously launched through Ankr. After exploitation, the price of aBNBc fell by 99.5%.
To begin, according to a Lookonchain tweet, Ankr Exploiter stole the key of an Ankr developer and minted 10T aBNBc to send to himself. The attacker then transferred 1.125 $BNB to Ankr Exploiter address as a gas fee while controlling Ankr Deployer's key and then began to dump aBNBc.
The hacker exchanged $4,050,500 $USDC and 5,000 $BNB ($1.5M), exchanged 4,500 $BNB for 1,293,087 $USDC and depositing 900 $BNB into Tornado Cash.
The hacker then transferred all $USDC to the Ethereum network via the Celer Network and Multichain, exchanging all 4,684,156 $USDC for 3,446 $ETH.
Simultaneously, $ANKR dropped from $0.225 to $0.221 - a 1.8% drop.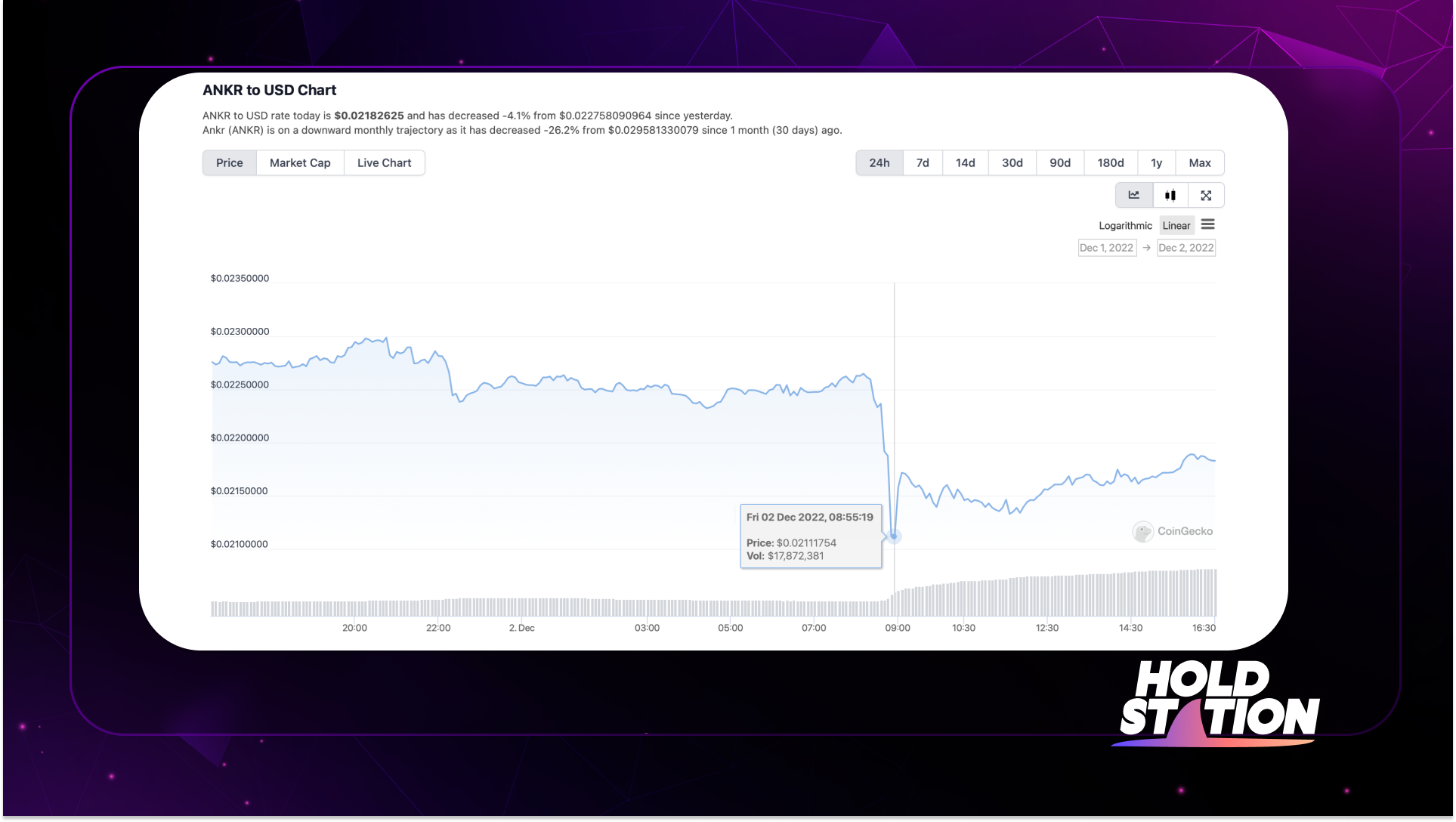 After dumping 10T aBNBc, the attacker allegedly was able to mint another 10T aBNBc and leave it on PancakeSwap for WBNB, BUSD, and USDC, worth approximately 1,650,000 USD.
On December 2, from approximately 9:30 a.m. to 1:30 p.m. (GMT+7), the hacker also minted nearly 50T aBNBc but could not dump that token.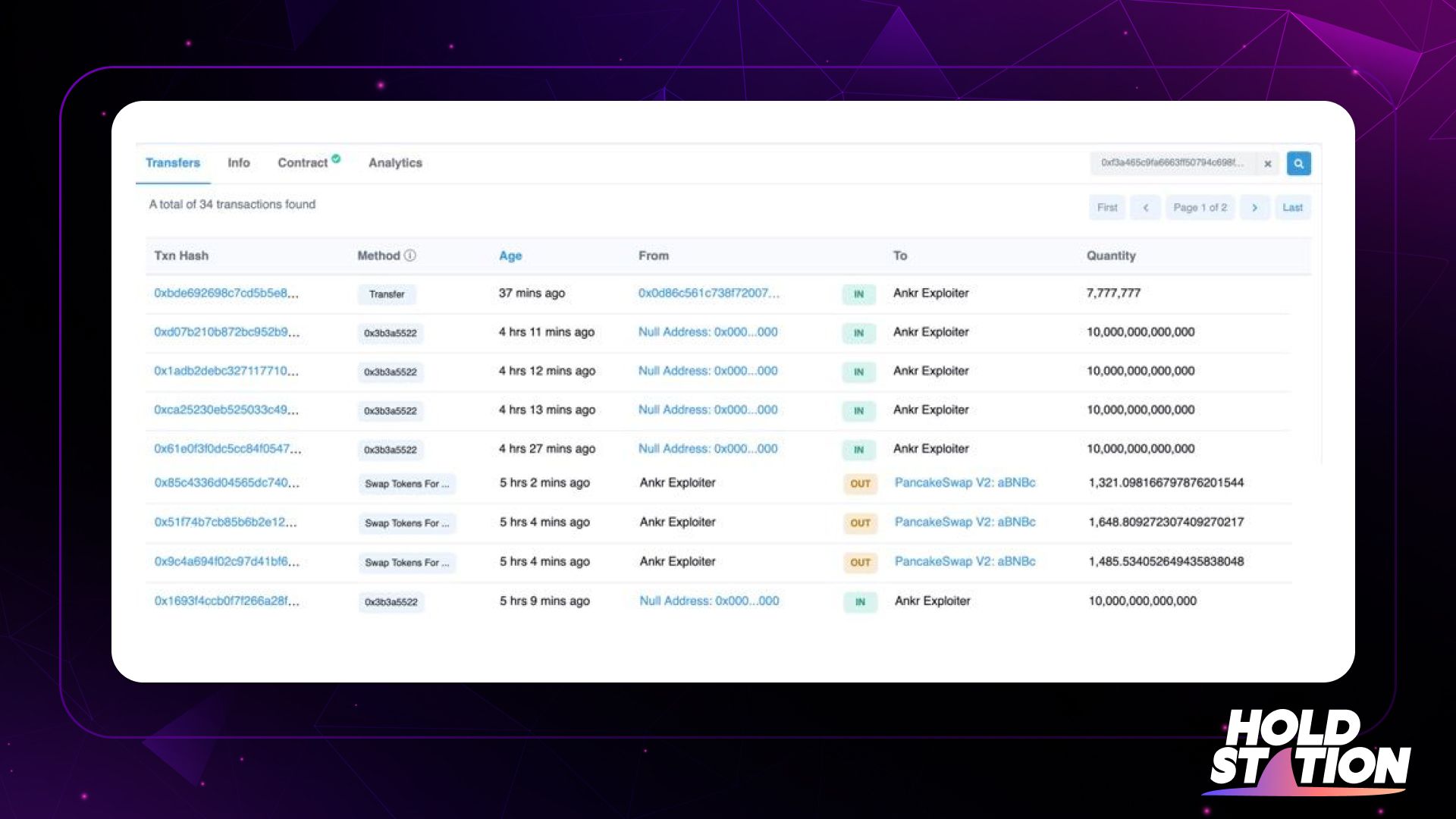 At 11:25 a.m. (GMT+7) on the same day, Binance confirmed that its team is working with relevant parties to investigate the matter further, adding that Binance's user funds are not at risk.
The exploiter's wallet address has been blacklisted, according to the BNB Chain Twitter page.
CZ - CEO Binance recently revealed the Ankr hack. The developer's private key was compromised. Furthermore, Binance halted withdrawals and froze $3 million that the hacker transferred to Binance.
Smart Money Turns 10 BNB Into 15.5M USD
According to Lookonchain, after Ankr Exploiter dumped aBNBc, others purchased 183,885 aBNBc for 10 $BNB ($2,879). Then, as collateral, 183,885 aBNBc were deposited into Helio Money, and 16 million $HAY were borrowed. Ultimately, it sold 16 million $HAY for 15.5 million $BUSD.
In fact, this SmartMoney has previously used cheap aBNBc as collateral and borrowed $HAY. However, even though aBNBc was recently dumped, the price has not dropped to $0.
Personal Opinion
That is a million-dollar hack because the private key of Ankr developer was hacked. This has resulted in tens of trillions of aBNBc tokens being dumped on the market. Besides, although Ankr reassured investors that their stakings were still safe, it still failed to reassure investors after the hack and caused a loss of investor confidence.
Therefore, investors should be careful and deliberate with investment decisions on different platforms to protect their own pockets. After Ankr is attacked, Binance and its partner's intervention will take much time for the hacker to launder all the hacked money on the platforms. However, the remarkable thing is that the hacker transferred $ 3 million to CEX and is being frozen - an extremely confusing decision of the hacker.
Summary
While the downtrend season is lasting, platforms are constantly being hacked due to security-related issues, private keys, APIs, etc. Therefore, investors should be careful and store their private keys safely to avoid possible problems. Besides, investors can use smart money to earn extra income in the next possible hacks.
Disclaimer:
The information, statements and conjecture contained in this article, including opinions expressed, are based on information sources that Holdstation believes those are reliable. The opinions expressed in this article are personal opinions expressed after careful consideration and based on the best information we have at the writing's time. This article is not and should not be explained as an offer or solicitation to buy/sell any tokens/NFTs.
Holdstation is not responsible for any direct or indirect losses arising from the use of this article content.