Sorare, the popular web 3 gaming platform recently announced a partnership with the NBA to develop a basketball simulation game. In particular, this game is completely free to play and will integrate with NFT. The game will release right this fall, to prepare for the 2022-2023 season.
According to the official announcement from the NBA, Sorare will have legal rights to the league and the teams. Adam Silver, Commissioner from the NBA stated:
"Our partnership with Sorare will give NBA fans an entirely new way to engage with our teams and players. With Sorare's emerging NFT fantasy platform, we see significant opportunities to broaden our community of fans and grow NBA basketball around the world."
Why pay attention?
Every day in the crypto market, we come across dozens of news about development cooperation. But what makes this deal stand out:
👉 Sorare is an NFT interactive sports gaming platform, which has had great success with football games and currently has about 2 million users worldwide. In September 2021, Sorare raised over $680M from Softbank, with a valuation of about $4.3 billion.
👉 The NBA is the biggest basketball league and one of the biggest sports leagues on the planet. With a huge attraction and a large fan base, the NBA has more than 2 billion followers worldwide. Maybe in Vietnam, basketball hasn't thrived, but in the US and many other countries, this is the #1 sport.
Therefore, the NBA is the most important missing piece for Sorare. Successful implementation of this game will make Sorare almost monopolistic in fantasy sports games and have a large position in the NFT segment. Previously, when the NBA teamed up with Dapper Labs at the end of 2020 to launch the NBA Top Shot collection, this collection dominated the market for many months in a row. So far, despite the significant drop in trading volume, the NBA Top Shot remains among the top collections.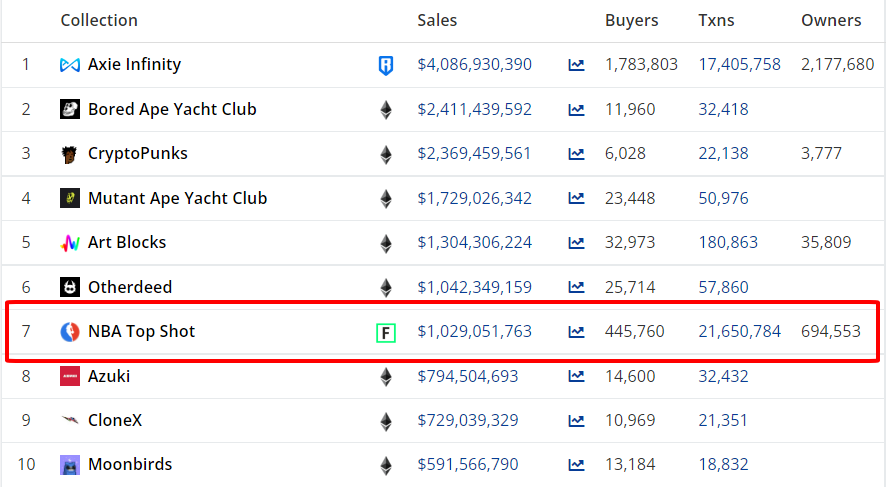 Not to mention, Sorare itself and its NFT set from its soccer game are already a top NFT collection. The daily trading volume often reaches millions of dollars and maintains a stable level even when the market falls into a downtrend for half a year.

So to sum up, this successful cooperation will turn Sorare into a new Bluechip in the market. This is also a good opportunity to spread crypto/NFT to the worldwide community. If you are passionate about basketball, you should also take the time to invest and learn about this "NFT market" when it is still very "young".