What is Primex Finance?
Primex Finance is a cross-chain liquidity protocol that supports margin trading across multiple decentralized exchanges (DEXs).
Primex Finance makes trading and investing unlimited and can globalize transactions as well as gives access to liquidity without going through any intermediaries.
Primex Finance is currently running the beta phase on the Ethereum Goerli Testnet network and will soon also participate in zkSync - a potential Ethereum Layer-2.

How Primex Finance works?
Primex Finance is a solution for the lack of liquidity in the DeFi space, Primex Finance creates 5 contributing roles, participates in the process and makes transactions in DeFi happen smoothly. Particularly, these are the 5 specific roles in Primex.  
Lenders: A role that provides sources of liquidity for a trader to open a leveraged margin trading position
Traders: An integral role in DeFi. At Primex, traders will use Credit Buckets assets to trade and generate profits
Notaries: A role that helps assess the risk that the Lender performs when lending . This role is very important that it needs to be someone with real authority and knowledge of finance to be in charge and it requires nominations, votes and approval from the Primex community
Delegators: A role that attach to the Notary role, this role will guarantee a Notary by depositing Primex's governance tokens because not all qualified Notaries can afford to deposit assets on Primex platform
Liquidity providers: A liquidity providing role that separate than the Lender role. When a Credit Bucket is overextended, and there are not enough assets to meet the loan. The liquidity provider will be the one providing the liquidity needed to keep the Credit Buckets activate.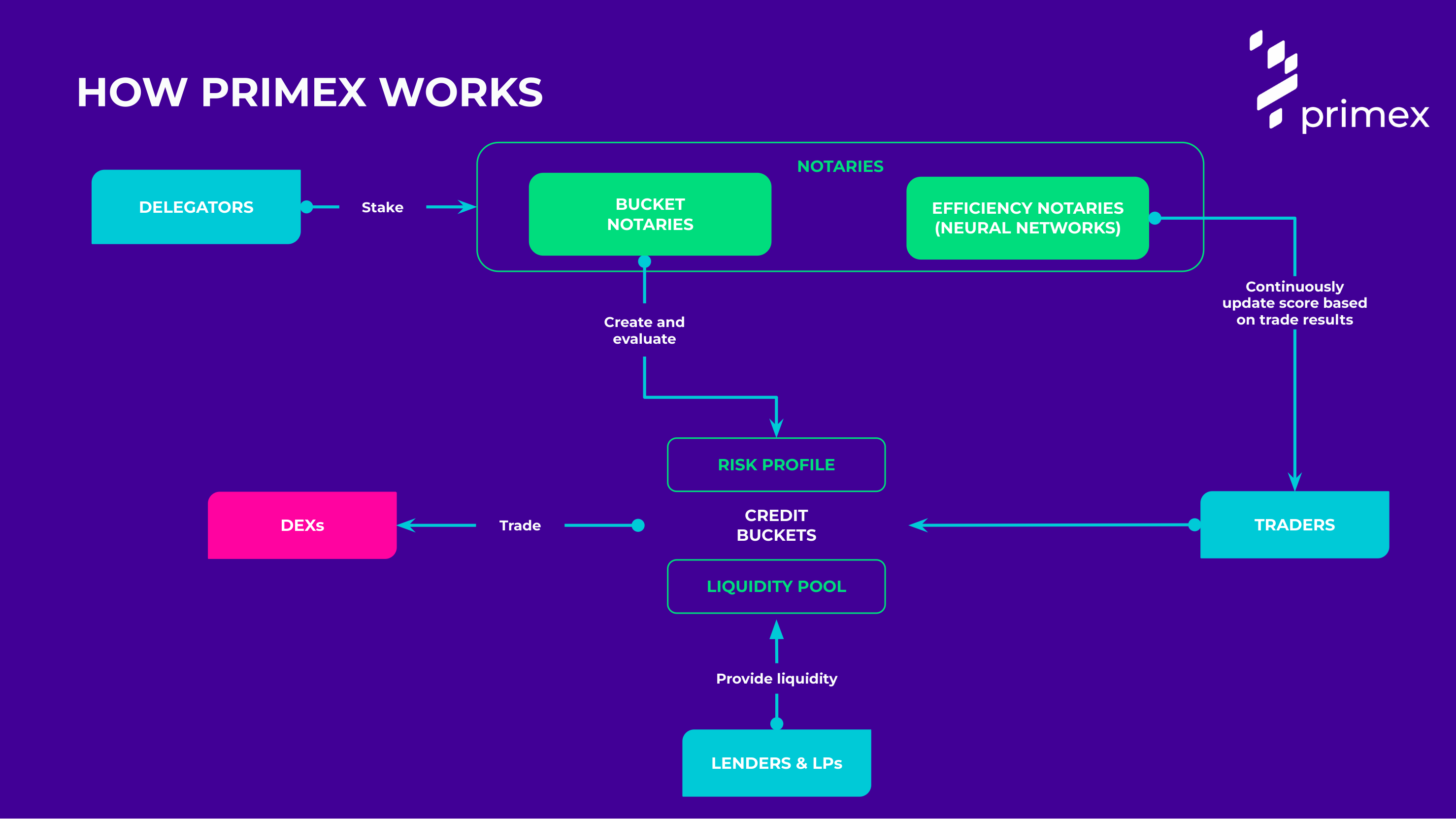 Highlight features
Primex Finance has many outstanding features that help users trade on DEXs with leverage support and provide profit supported by transaction fees from farming on yield. These highlight features are:
Cross-DEX, cross-margin, and cross-chain trading
Investors can open positions without collateral
Primex Finance offers a fixed interest rate for lenders
Risk management of assets, trading pairs, as well as traders
Yield Farming is supported by margin trading fees
Scoring for traders based on AI technology
Investors
Primex Finance ended the seed round from February 4, 2022 with a raised capital of up to $5.7 million from investment funds, such as Stratos Technologies and CoinFund as the two leading investment firm in the seed round, followed by Wintermute, GSR, and LedgerPrime, Morningstar Ventures,... Readers can refer the full details of Primex Finance's investors in the image below.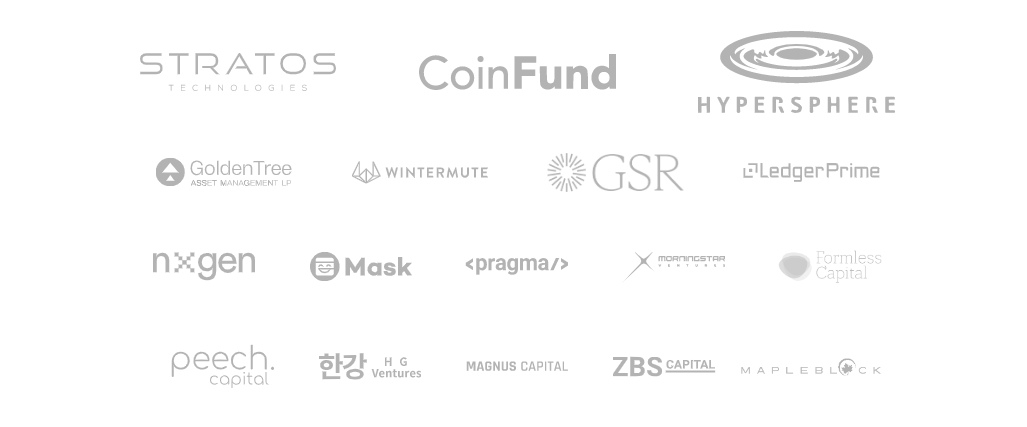 Primex Team
Primex Finance's development team consists of blockchain engineers with years of experience in the crypto and fintech markets, and a passion for the DeFi space. Primex Finance owns the following core team.
Vlad Kostanda: CEO, co-founder of Primex Finance. He is an experienced blockchain engineer and former CEO of Adoriasoft
Dmitry Tolok: Vice President, Co-Founder of Primex Finance. He used to be an analyst at UniCredit Europe, and has experience in blockchain, fintech
Alex Marukhnenko: CTO of Primex Finance. He has experiences in multiple fields such as cryptography, cybersecurity, computer networks and blockchain
Anton Demenko: Product Manager of Primex Finance. He has a background in PR and Marketing, and is a former Product Manager of Adoriasoft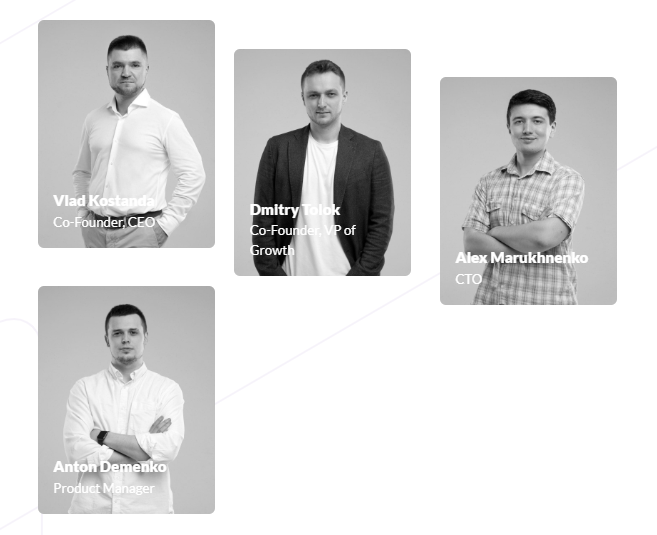 Roadmap
According to information from the project, Primex Finance outlines a clear development roadmap and stable development process with a well-balanced product in each stage, specifically Primex has 5 main stages:
Phase 1 (May 10, 2022): Primex Alpha (Completed)
Phase 2 (September 27, 2022): Primex Beta (Ongoing)
Phase 3: Primex V1
Phase 4: Primex V2
Phase 5: Adding new future features
Primex Finance has been on the right track as set out by the developers, and is accelerating the official launch in phase 3 after the testnet process ends in phase 1 and 2. Readers can check out the features of Primex Finance at each stage of the development roadmap shown in this image below.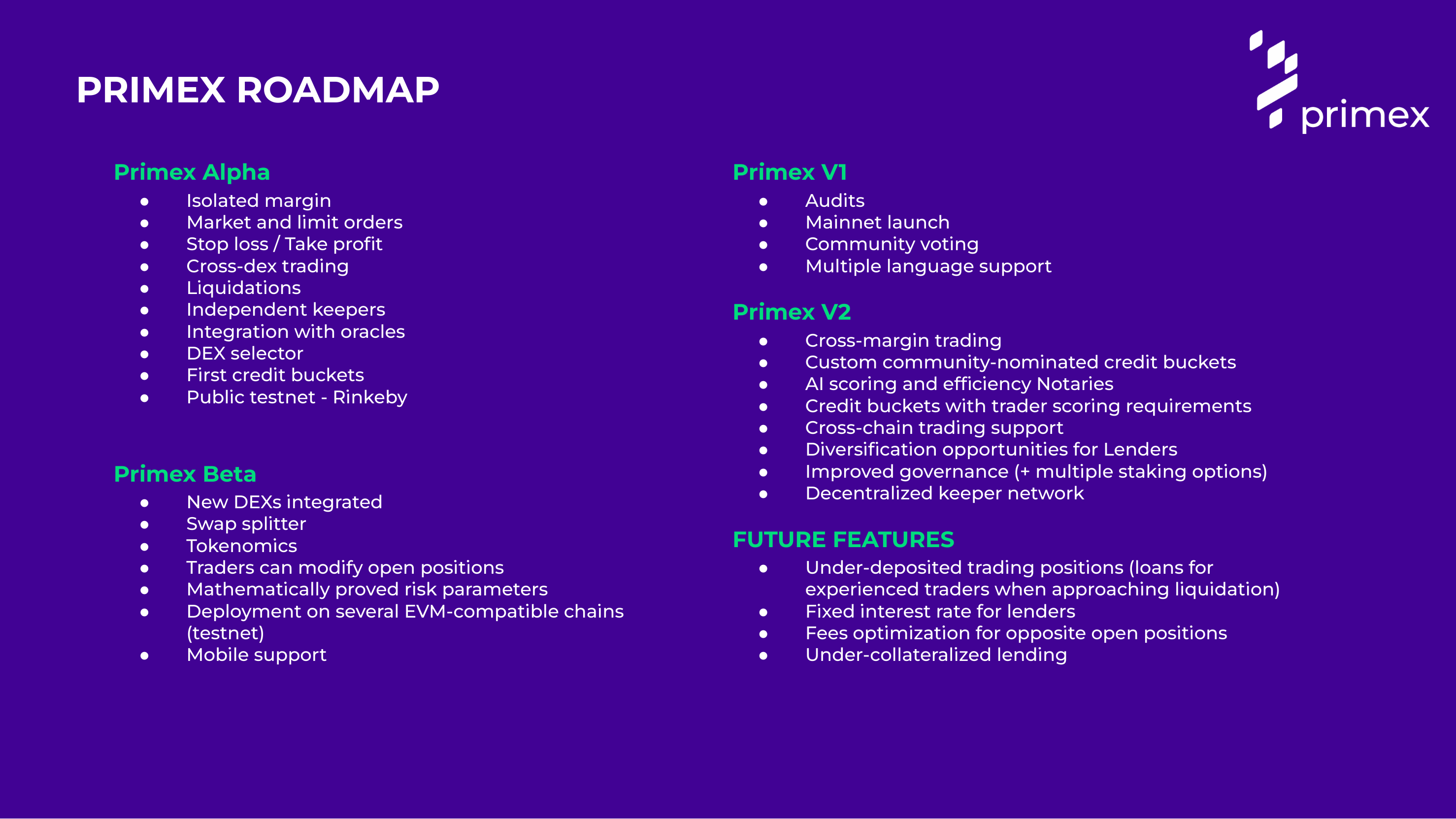 Tokenomics
Currently Primex Finance does not have any information about the project's token nativea.
Updating
Conclusion
Primex Finance owns a unique operating mechanism with closely linked roles in order to bring a new and interesting experience in the DeFi ecosystem. This helps to create an expanded liquidity pool for participants, regardless of roles, can earn profits if they have the right investment perspective. Primex Finance also owns a platform with a stunning user interface along with a professional user experience. With a quality launchpad from large investment firms and also has an experienced team, Primex Finance will likely be a prominent project in terms of leading liquidity protocol on the zkSync ecosystem in the near term.