Billionaire Sam Bankman-Fried's crypto empire is officially divided into two main segments: FTX (centralized exchange) and Alameda Research (trading company), both of the firms are industry giants. Despite being two separate businesses, they share similarities based on Alameda's balance sheet, according to financial documents which CoinDesk reviewed.

Other critical assets on the balance sheet include $3.37 billion in "crypto held" and Solana tokens: $292 million "SOL unlocked," $863 million "SOL locked," and $41 million. dollars "collateral SOL." Bankman-Fried is an early investor in Solana. Other tokens mentioned by name are SRM (token from decentralized exchange Serum Bankman-Fried co-founder), MAPS, OXY, and FIDA. There is also $134 million in cash and equivalents and a $2 billion "investment in securities."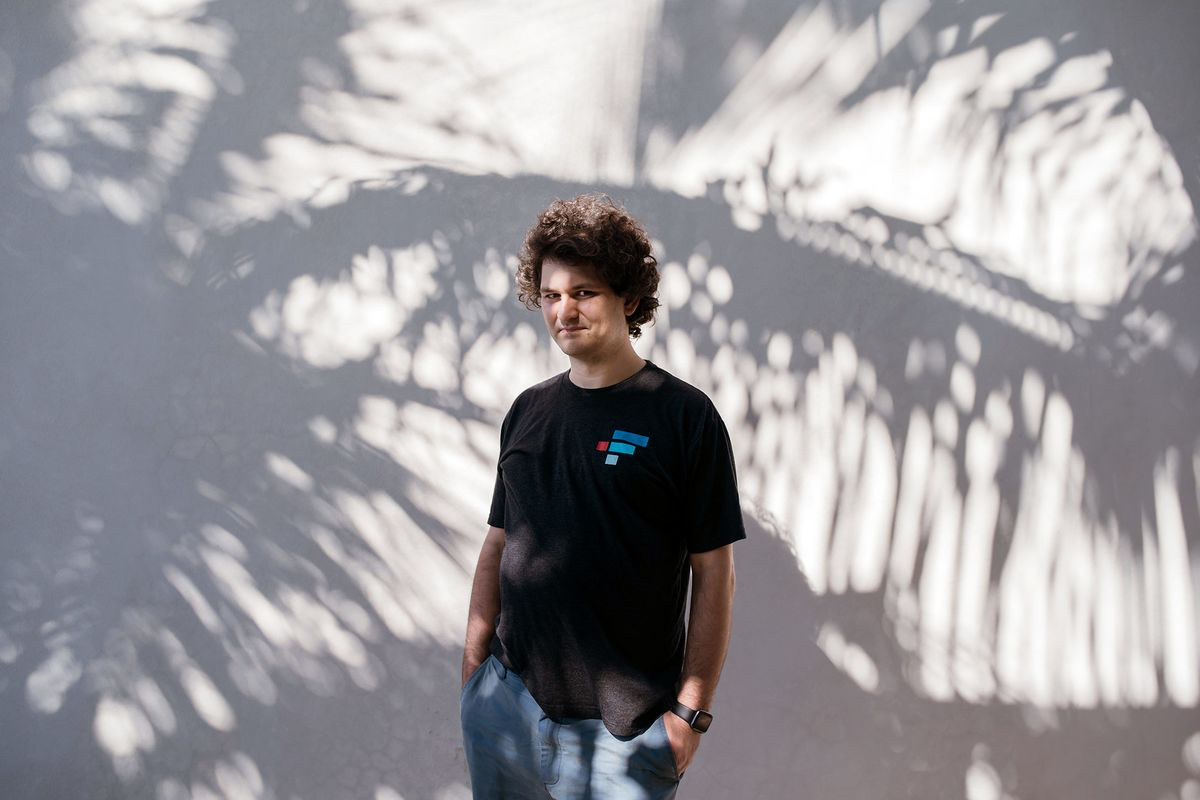 CZ, Sam, and FTT
After the balance sheet of Alameda Research was published by Coindesk, CZ - CEO of Binance, tweeted the next day that he would sell FTT tokens from his investment last year and withdraw about $2.1 billion in BUSD and FTT tokens.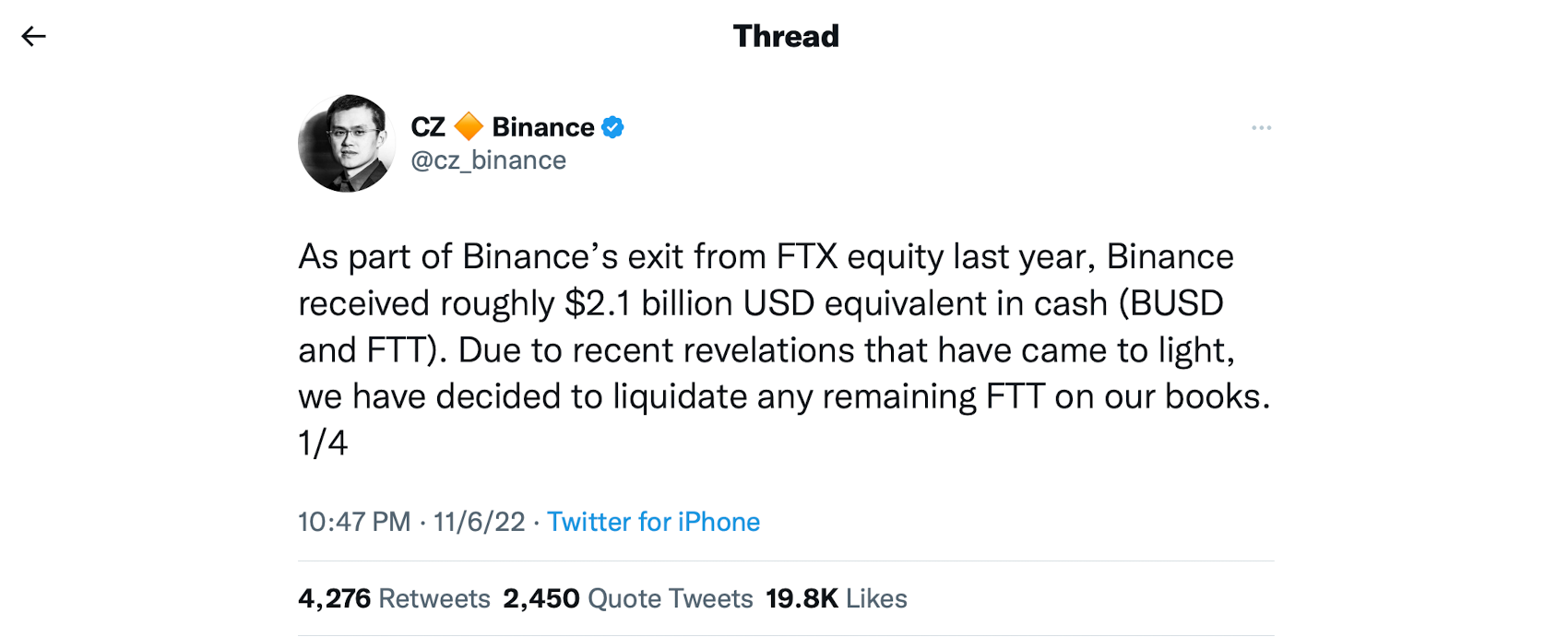 After that tweet, CZ said he would try not to affect the price of FTT in the market and expected it to take several months to liquidate all of the FTT Binance holdings. In addition, CZ further explained that it has held FTT tokens for a long time and is transparent with its decisions. The vital thing CZ wants to explain is that Binance always encourages cooperation between "industry players" (here, Binance and FTX), and this is not a move to "play bad" against the opponent because when a project fails. Failure will result in losses for all investors and platforms, such as exchanges.
CZ then tweeted more information about the liquidation of FTT just for risk management since the LUNA crash caused a lot of damage to investors as well as Binance from a $1.6 billion investment to nothing. up to $300k. However, CZ also hinted that he would not support or otherwise continue to invest in an "industry player," stabbing himself in the back could be a reference to Sam.

After CZ's liquidation of FTT was rampant in the media, Sam Bankman-Fried - CEO of FTX, also tweeted to explain the community's questions after 2 hours. In it, there is a tweet that Sam says he respects everyone who has contributed to and built the crypto industry into what it is today, including CZ.
Sam: "Anyway -- as always -- it's time to build. Make love (and blockchain), not war"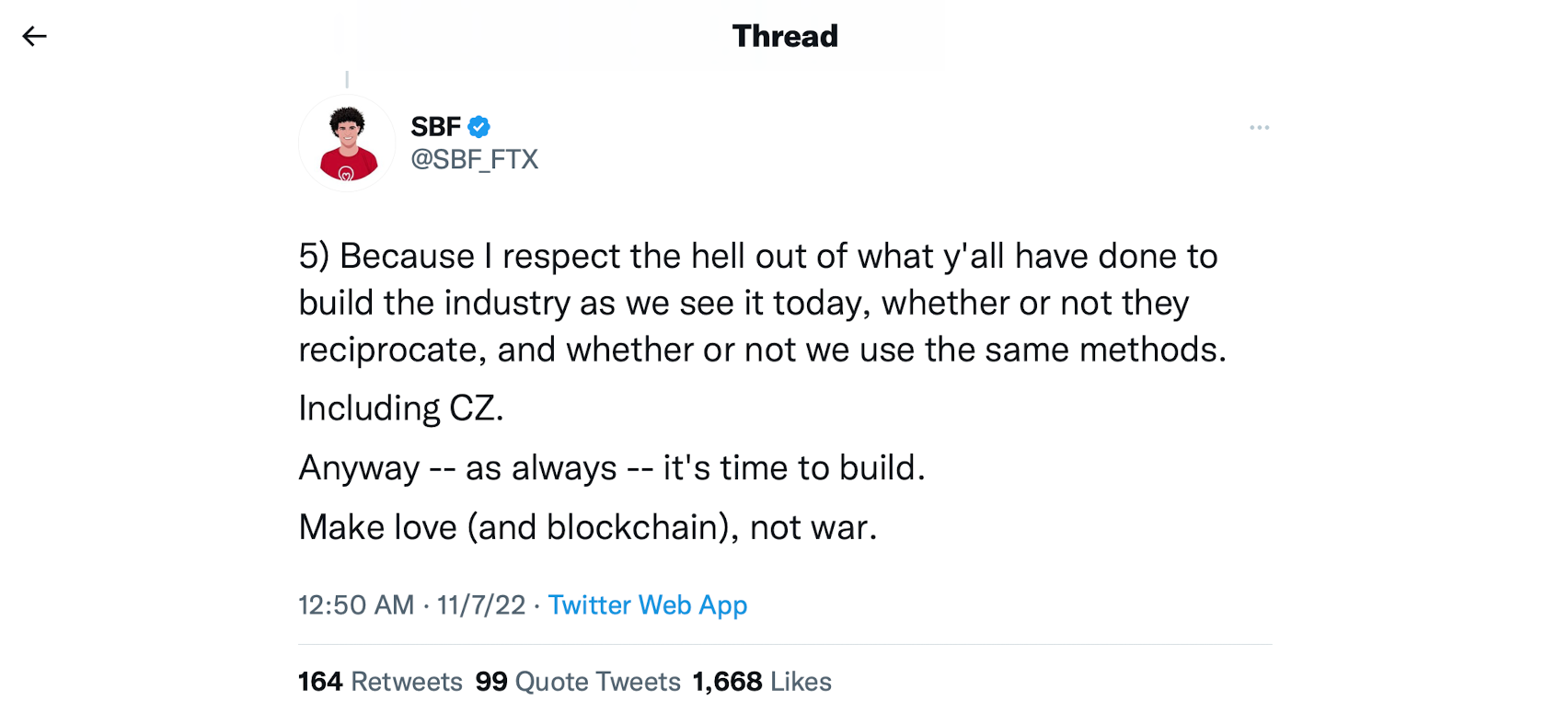 After FTX got caught up in a lot of FUD and was questioned about its financial potential to secure investors' assets. Billionaire and CEO of FTX exchange Sam Bankman-Fried tweeted that the FTX exchange was being tried by a competitor to make up bad news about FTX. Sam has a legal reminder - one of FTX's advantages over other businesses is GAAP audits and over $1 billion in cash. Finally, Sam looks forward to working with CZ to develop the crypto ecosystem.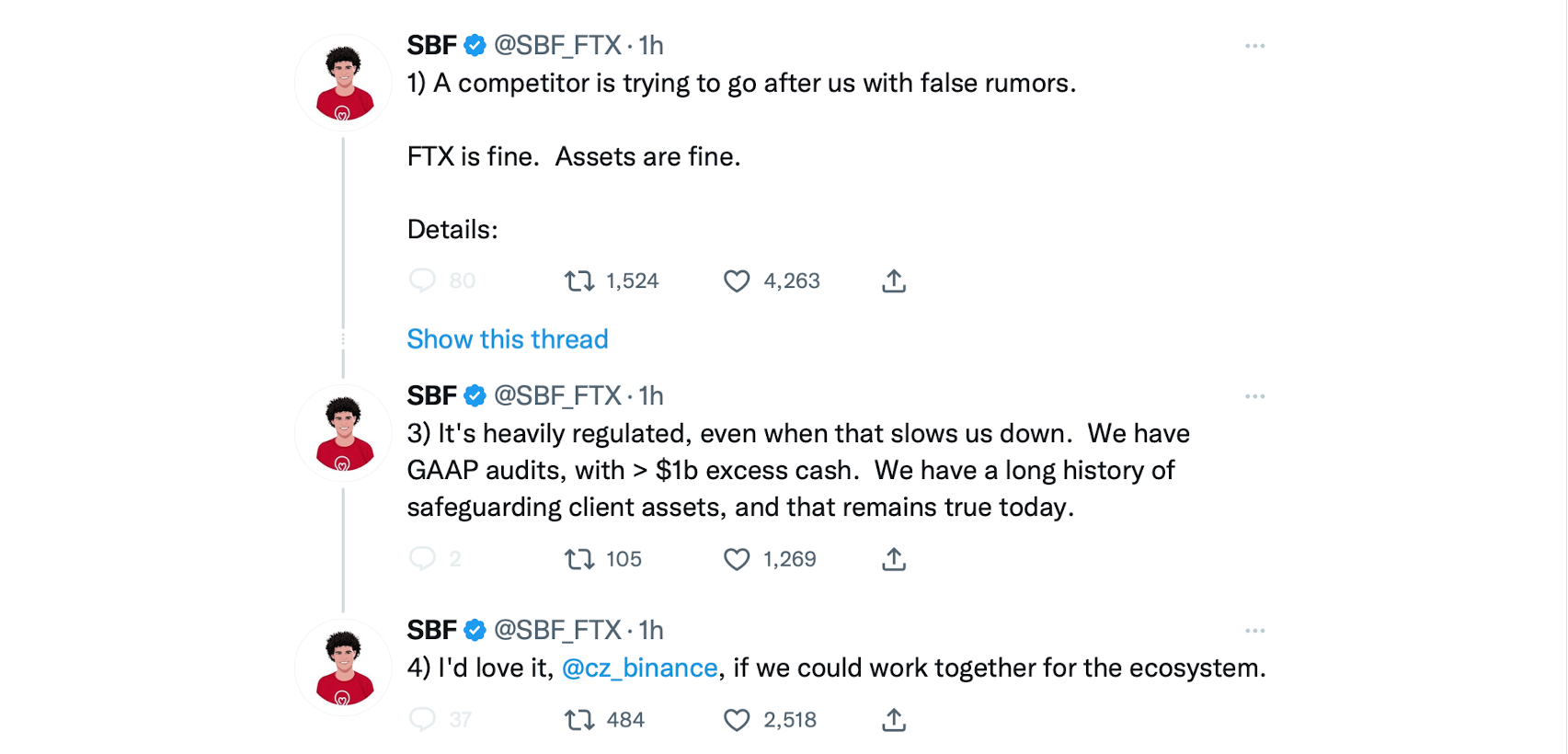 In addition, the current FTX exchange is having trouble withdrawing BTC and stablecoins from Sam-Bankman Fried's exchange. According to the explanation from the FTX exchange, BTC withdrawal is malfunctioning due to node overload and stablecoin because USD is needed to create a stablecoin for users to withdraw. Still, FTX's reserve USD is at the bank, which closes at the end of the week, so it will take time to withdraw stablecoin.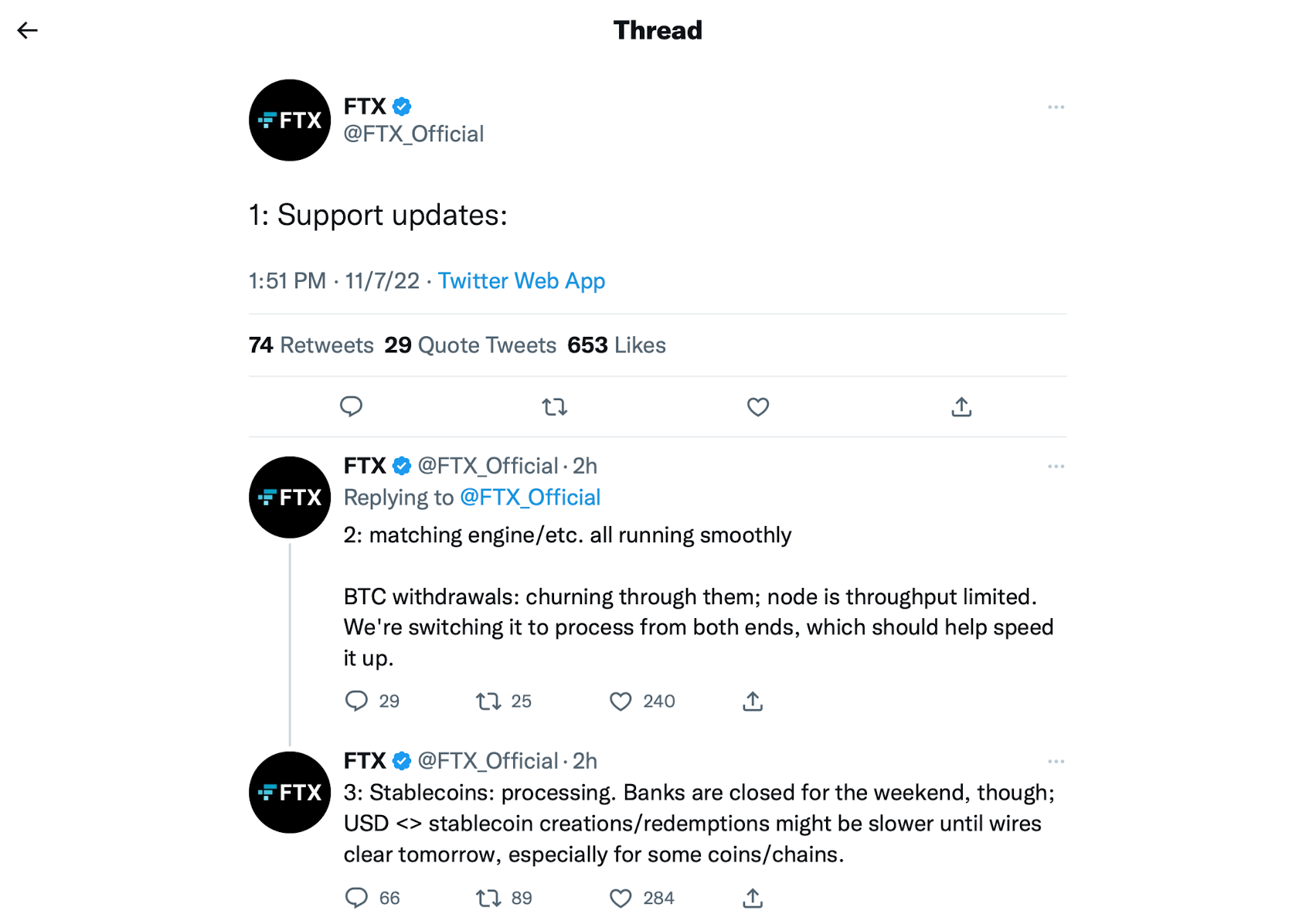 FTT Token of FTX
At the time of writing, the FTT token is trading around $22.75 with a 24-hour trading volume of nearly $1.5 billion. When CZ tweeted that it would liquidate FTT, the price of FTT tokens plummeted about 15% from $24.7 to $21.4 and saw a significant recovery when Caroline, CEO of Alameda Research, tweeted to reassure investors about CoinDesk's incomplete balance sheet.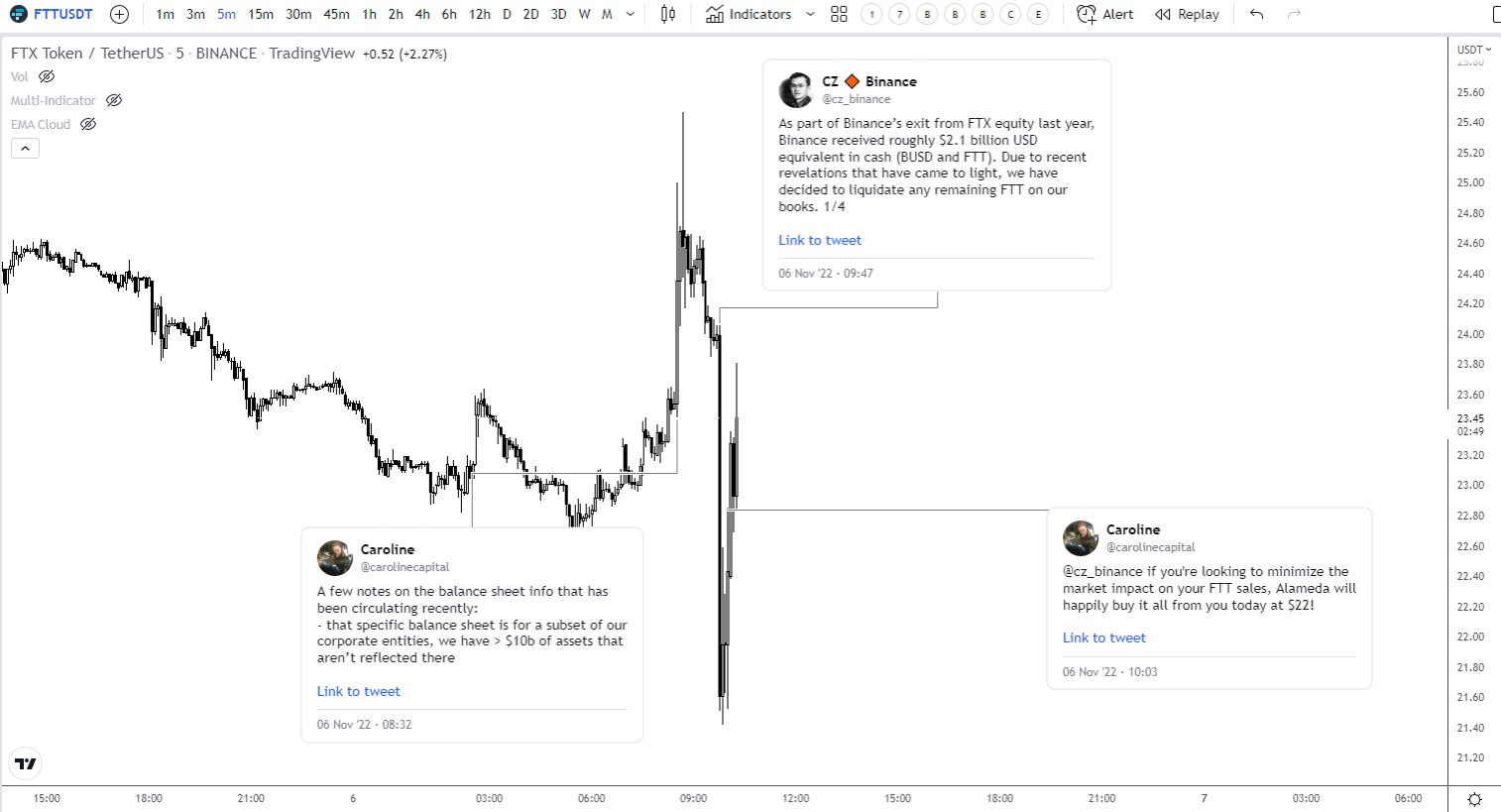 On-chain data by The Data Nerd
On November 5, a wallet transferred a large amount of FTT tokens, namely $23 million (equivalent to 580 million USD), to Binance. As noted, this wallet purchased $FTT from FTX between December 2019 and December 2021. During these 2 years, the wallet occasionally transferred 1-2 million $FTT to Binance.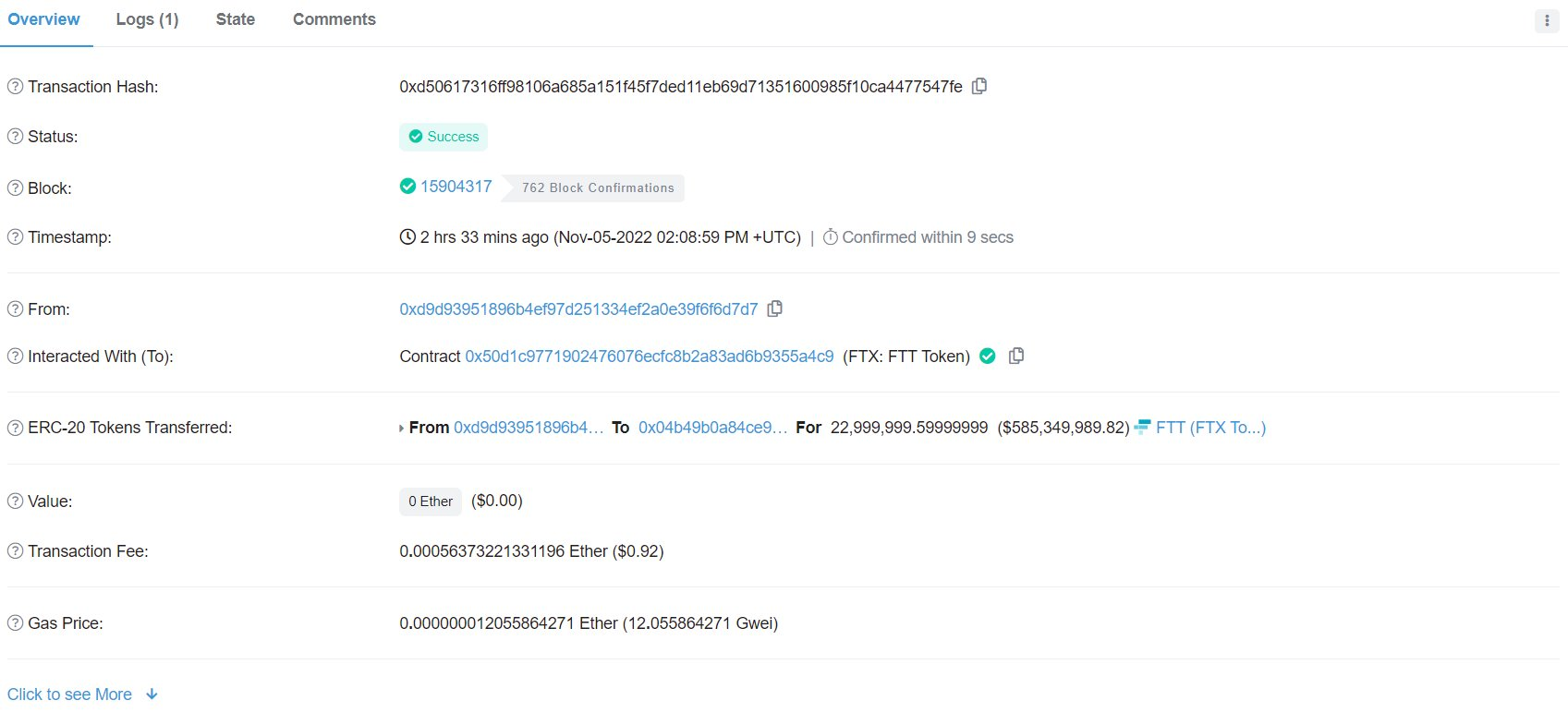 Later, CZ also confirmed this wallet is owned by Binance and is moving to cancel $FTT holding even though CZ previously stated in his tweet that he would release this token within a few months to avoid price fluctuations.
At the same time, we look at the wallets holding large amounts of $FTT tokens belonging to Alameda Research to get a better overview of the movement of $FTT.
Top 4 wallet (0x4aa), currently holding 10 million $FTT ($230 million). This wallet receives the unlocked $FTT token from the wallet (0x5bb), and the wallet (0x5bb) also transfers $FTT to the top 11 wallets (0xef9a).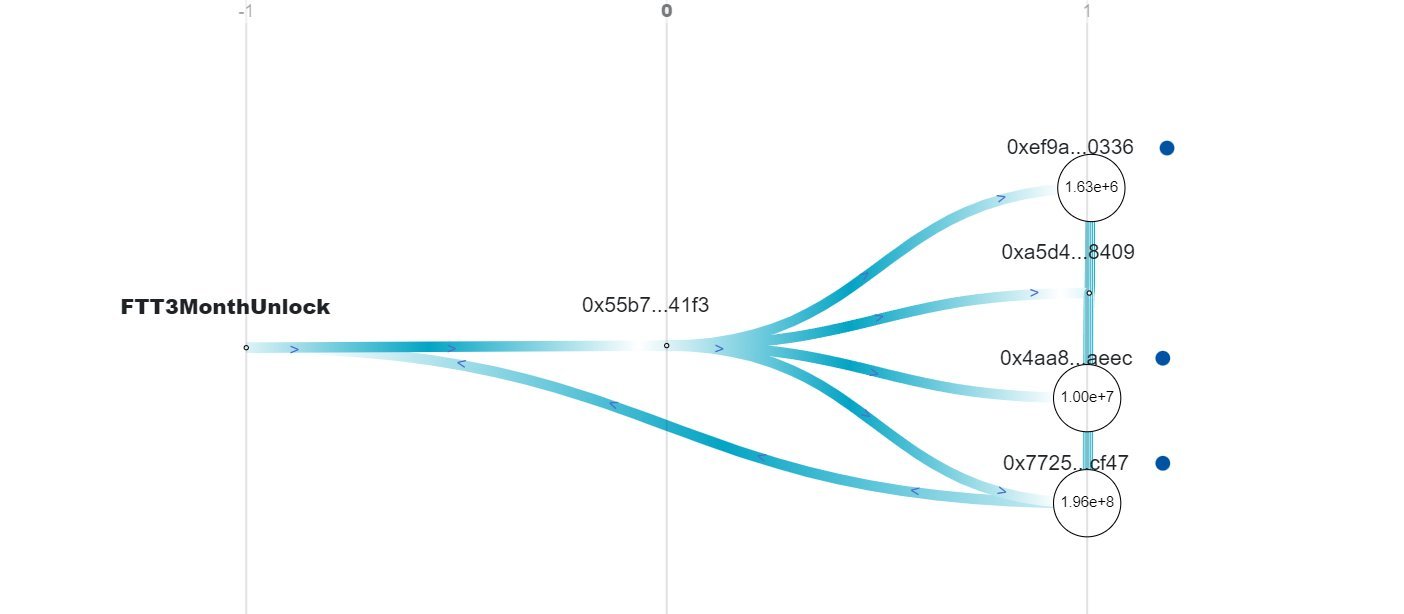 The top 6 wallets (0x946) are holding $5.7 million FTT (USD 133 million) received from FTX on November 6. This wallet also interacts with 2 other wallets (0xf155) and (0xf25), with relatively large transactions involving $FTT. Then the wallet (0xf25) sent 30 million $FTT back to FTX.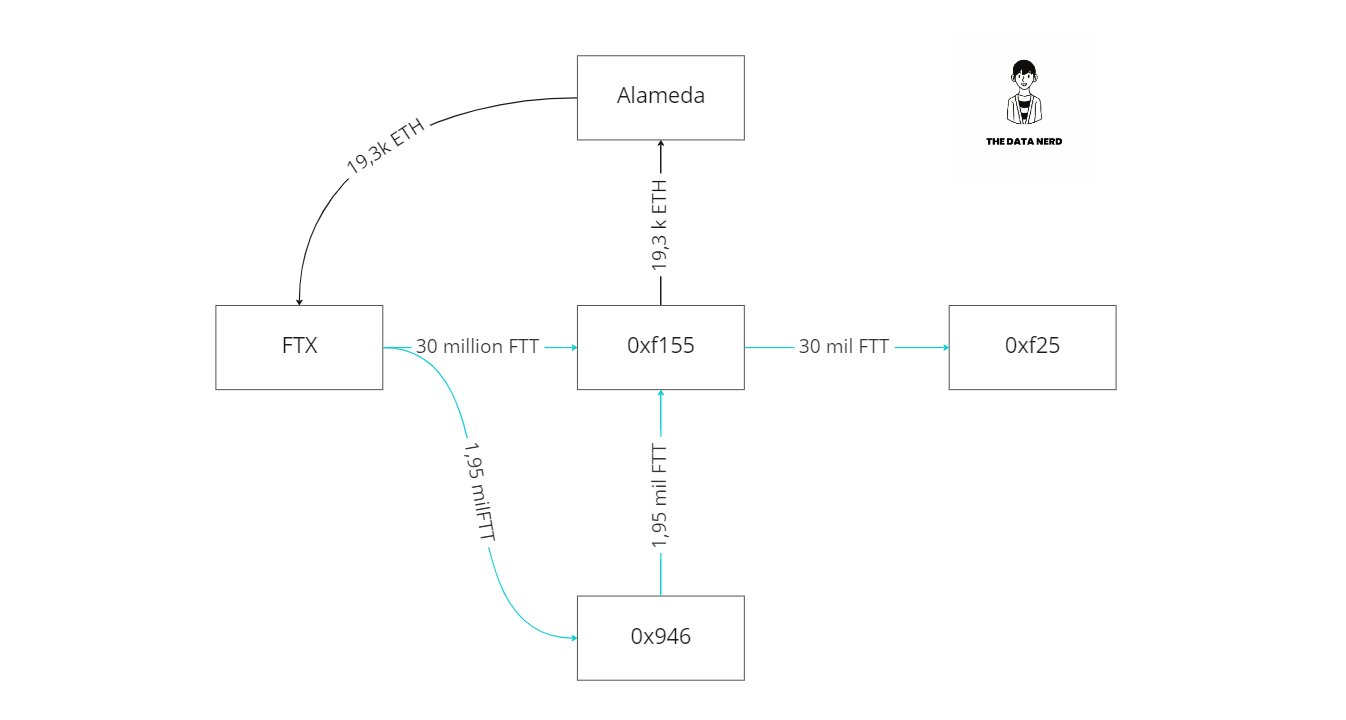 Personal opinion
From the confusing incident between CZ and Sam about the FTT token, many conspiracy theories have been raised in the context of the current challenging market, also known as the "bear market." Therefore, CZ's liquidation of a large number of FTT tokens may be a sign of a rupture in the relationship between CZ and Sam as well as between Binance and FTX - the two leading exchanges in the world. If this rift happened, as CZ alluded to, it seems that Sam has poorly played with CZ and hopes to be revealed soon.
On the sidelines of this incident, it is impossible not to mention Elon Musk - a Chief of Twitter. Before that, Binance had $ 500 million in support for this billionaire to complete the acquisition of Twitter, but Musk refused to fund up to several billion dollars from Sam. From there, it can be shown that the crypto market can be divided into 2 camps: CZ + Musk vs. Sam will be the "industry player."
Although CZ dumped the FTX exchange's FTT token, the FTX exchange is still doing quite well with good revenue and a large user base, and legality in significant markets such as the US, Europe, Japan, etc. From that, it can be shown that the FTX floor in the market can still perform well and still have its position in the market after this "drama." As for the FTT token, this is a coin of the FTX exchange that has many benefits for holders, such as reduced transaction fees, increased commissions when referring new users, and receiving rewards. The value of FTT is maintained, and the supply is reduced by the FTX buyback and burn program until the FTT token is only 50% of the total supply. Therefore, the FTT token may be affected in the short term, but in the long term, the FTX exchange coin is still very attractive in the portfolio of investors, especially whales.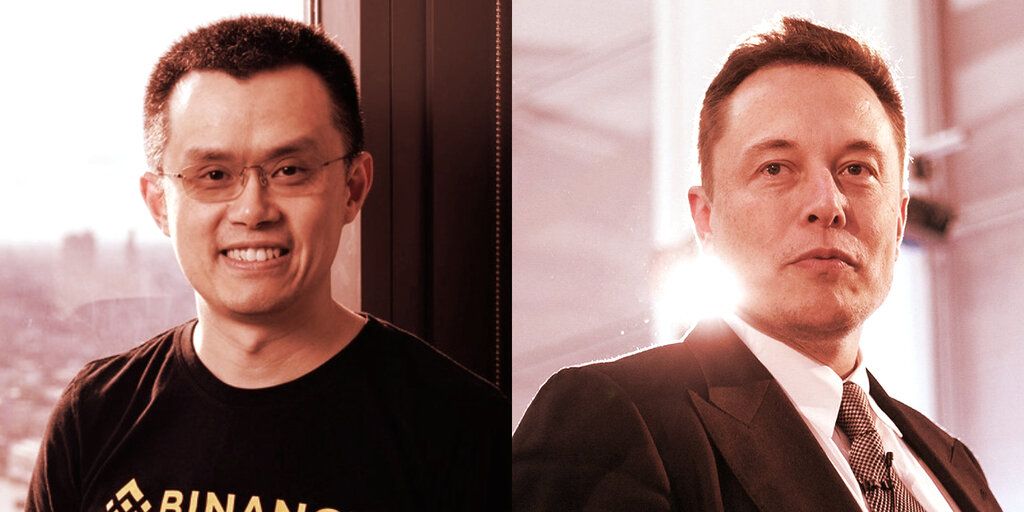 Conclusion
In short, CZ's liquidation of FTT tokens heavily affects the price of FTT tokens when tweeting on Twitter instead of having an agreement with FTX to buy back all of those FTT tokens. Besides, the relationship between CZ and Sam is still a big question mark about the backstabbing that CZ alludes to of the "industry player," likely Sam. From the inability to withdraw BTC and stablecoins and as explained by FTX, it can be seen that users are withdrawing a large number of assets from this exchange, leading to a shortage of USD to create current stablecoins, while FTX's USD primarily is in the bank.
Disclaimer:
The information, statements and conjecture contained in this article, including opinions expressed, are based on information sources that Holdstation believes those are reliable. The opinions expressed in this article are personal opinions expressed after careful consideration and based on the best information we have at the writing's time. This article is not and should not be explained as an offer or solicitation to buy/sell any tokens/NFTs.
Holdstation is not responsible for any direct or indirect losses arising from the use of this article content.
Source: CZ, Sam Bankman-Fried, FTX, Devchart, Caroline, CoinDesk, Data Nerd