In September, Solana's transaction volume (about 2.9 million) surpassed that of Ethereum (about 2 million). However, in terms of volume, does Solana's NFT outperform Ethereum in price?
NFT Solana Market Overview
Along with the decrease in the price of $SOL, the NFT market in general and Solana's in particular has been volatile despite a significant recovery since September. However, the number of NFTs minted on Solana has reached an all-time high. in early September.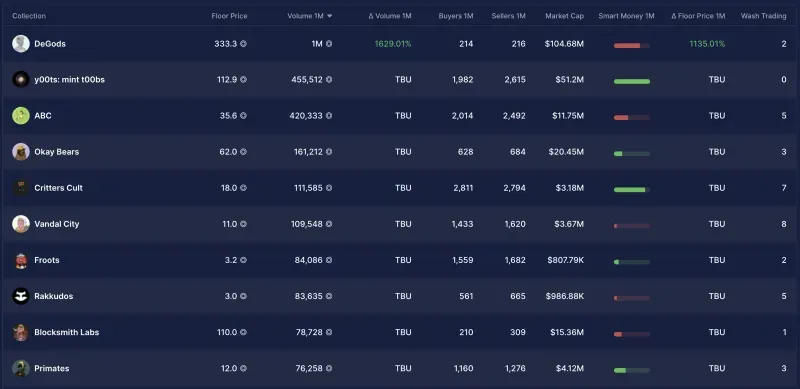 The rise may have been influenced by the excitement surrounding the y00ts minting. The powerful NFT 15,000 collection is a new release from Dust Labs, the team behind the DeGods NFT collection.
In terms of trading volume, Solana also saw some gains this month, but the numbers are still much lower than at the start of the year.

The most prominent such as the M2E StepN project has witnessed the departure of users. The value of GST has dropped 99% in 2022 from an ATH of $9.41 to $0.02 at press time. However, StepN has scored 67 million miles since its launch last year. Although StepN is no longer as hot as at first, this number is still very noticeable.
There's also positive news like SudoAMM hitting over $50 million in transactions since launch and Solana-based NFT volume has increased, with total volume across markets hitting $11.5 million as of October 3. September 6 - ATH since May. Magic Eden has launched as a dedicated marketplace for Solana NFTs.

Is Solana Really Winning Ethereum?
Solana's NFT has recently emerged with new records, most recently the DeGods collection. Degods set a new record with a floor price of 580 SOL or about $19,000 for an NFT in the collection.
Solana's share of total NFT trading volume has increased sharply from 7% to 24% over the past 1 month.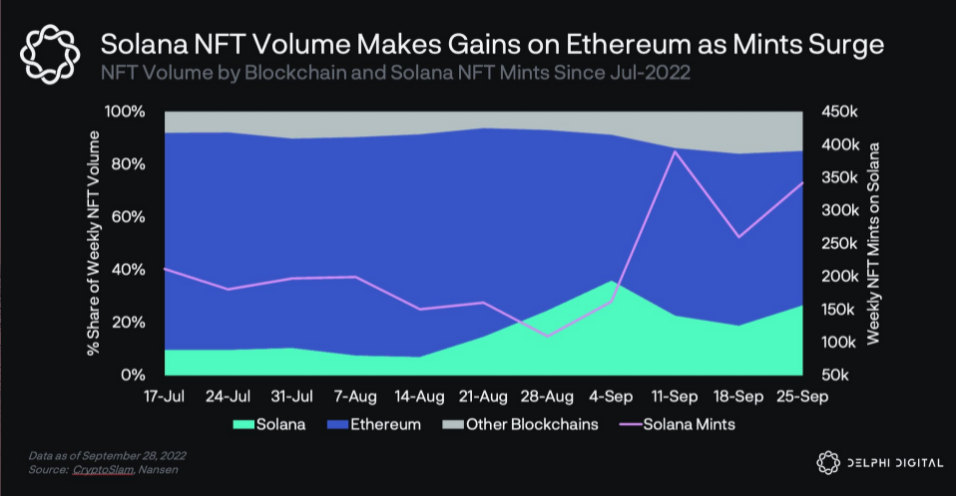 Number of new buyers
When the market became more bleak, the number of new users on Ethereum also had a sharp decrease but when the NFT market exploded again, the number of new people has gradually returned but still far from ATH.
In terms of Solana's NFT number of new buyers, compared to ATH the number of new buyers has been on a strong downward trend in June-August.

In particular, the falling chain stopped when the number of newcomers returned in September and surpassed Ethereum.

Trading volume
NFT volume on Solana is a bright spot in the NFT market but has not yet been able to make up for the market's losses earlier this year.
Although the number of newcomers or the number of transactions increased again and somewhat won Ethereum. However, in terms of total transaction volume, Ethereum on OpenSea is still many times more than Solana on Magic Eden.

And the value of top Ethereum NFTs is still much more than NFTs on Solana.
Solana's problems
While there has been steady growth in parts of the network, it is not without problems. There have been two major outages during this time. Especially at the time of writing, the Solana network has stopped processing transactions due to problems, although Solana's upgrades seem to be having a positive impact on the entire ecosystem.
Solana's Q2 2022 report highlighted issues with Solend, Slope Finance, Crema, Nirvana and Saga, and cybersecurity issues that need to be improved.
Conclusion
In Solana's Q2 report, the biggest issue was still the network outage that had a major impact on the entire Solana network that directly affected the Defi market share. Solana still needs to make a lot of efforts to keep old and new customers if not improve stable network quality and better experience.
But besides the difficulties in security as well as network quality, NFT on this ecosystem is still a bright spot with many emerging NFT projects, but it still needs a lot of effort to surpass Ethereum.