Following the announcement of a $54 million funding round, according to data from Cryptoslam, the NFT Doodles collection went viral and raised $2.1 million through sales within 24 hours, setting a new record with a growth of 1,224%.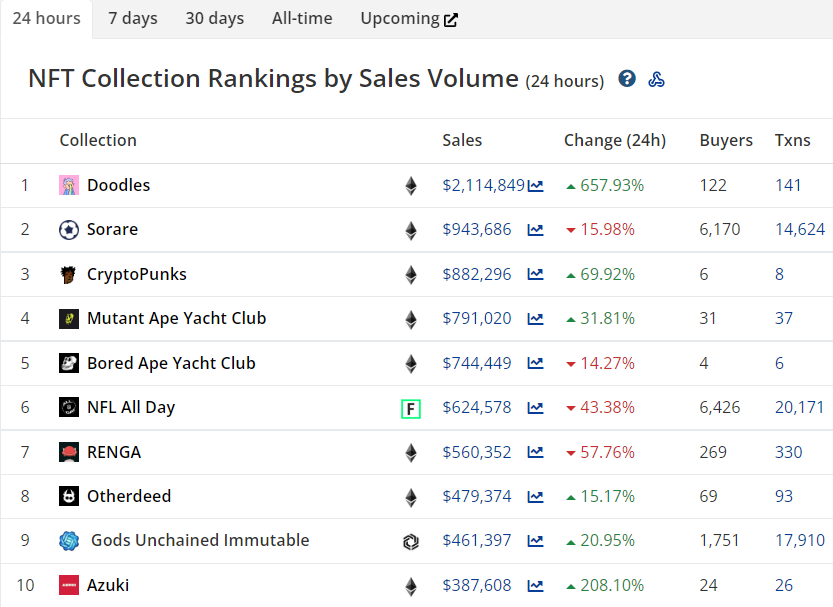 With over 141 NFTs sold in 1 day, the floor price of this collection has increased by more than 19% and is currently trading at 7.49ETH, or about $12,071.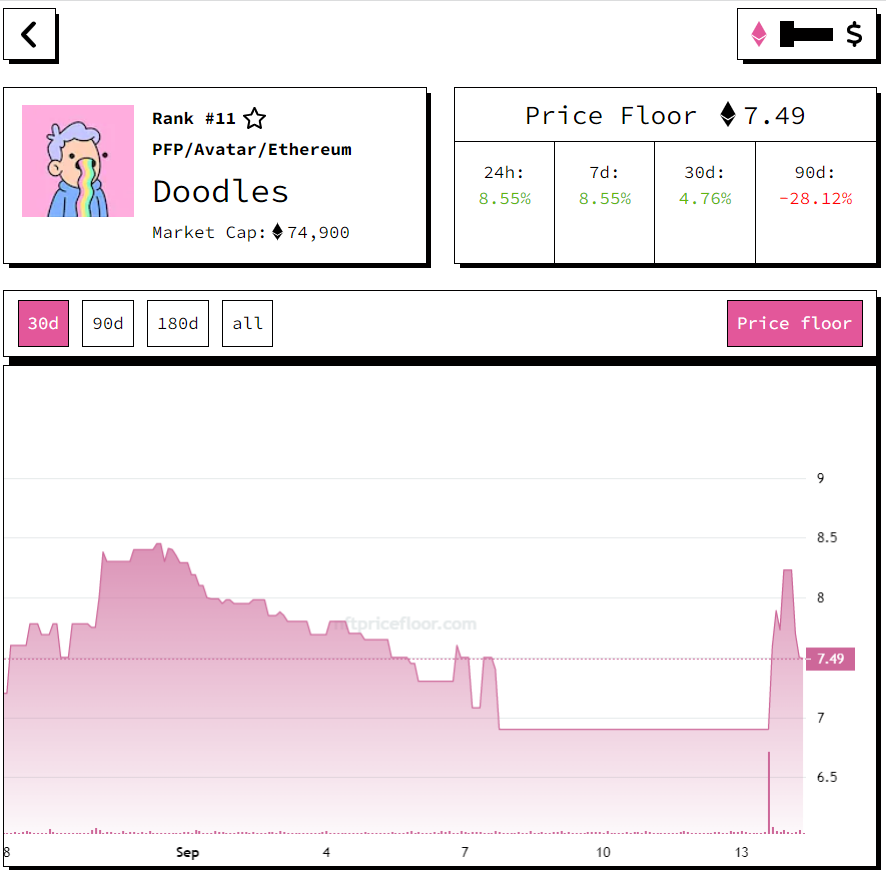 On September 13, Doodles announced a $54 million funding round led by Reddit co-founder Alexis Ohanian. Not only that, this deal also has the participation of "big guys" in the industry such as FTX Ventures, Ancrew Capital, 10T Holdings and raises the project's valuation to $704 million. Earlier, during the NFT NYC event in June, the Doodles team also said that it had successfully raised capital from Seven Seven Six, the specific value was not disclosed.
👉 Backed by large investment funds belonging to Tier 1 of the market with such a large capital, this will be a potential for Doodles to deploy potential plans as well as new technology (analyzed below).
Doodles is a collection of NFT Blue-chips on the Ethereum ecosystem and ranks 11th in total market capitalization. 10,000 NFT Doodles was developed by an experienced team that includes former members of Dapper Labs and the popular Play-to-Earn project CryptoKitties. The collection released last fall went "Soldout" instantly and total secondary market sales to date are around $528 million, with the most expensive NFT coming up to 296.69ETH (over $1.10 million at the time of transaction).
Doodles ecosystem
Doodles Bank
This is a DAO (Decentralized Autonomous Organization) managed by the Doodles community. A percentage of the sales goes to the treasury and the community decides how the funds will be used, 1 Doodle equals 1 vote. Besides, it is also possible to propose other issues such as team expansion, Doodles events, Doodles 3D project sponsorship,...
Space Doodles
If previous famous NFT projects will release other collections such as Cool Pets, Bored Ape Kennel Club, KingFrogs, ... besides the original to expand the ecosystem and increase their revenue, then Doodles deploys in a completely different direction.
The Doodles team implemented a mechanism that allowed Doodles owners to swap their NFT for a new, spaceship-themed one.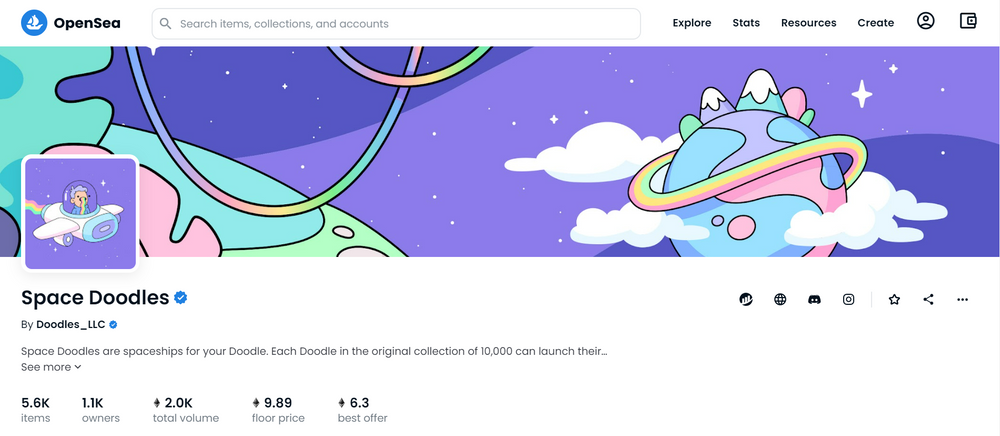 Dooplicator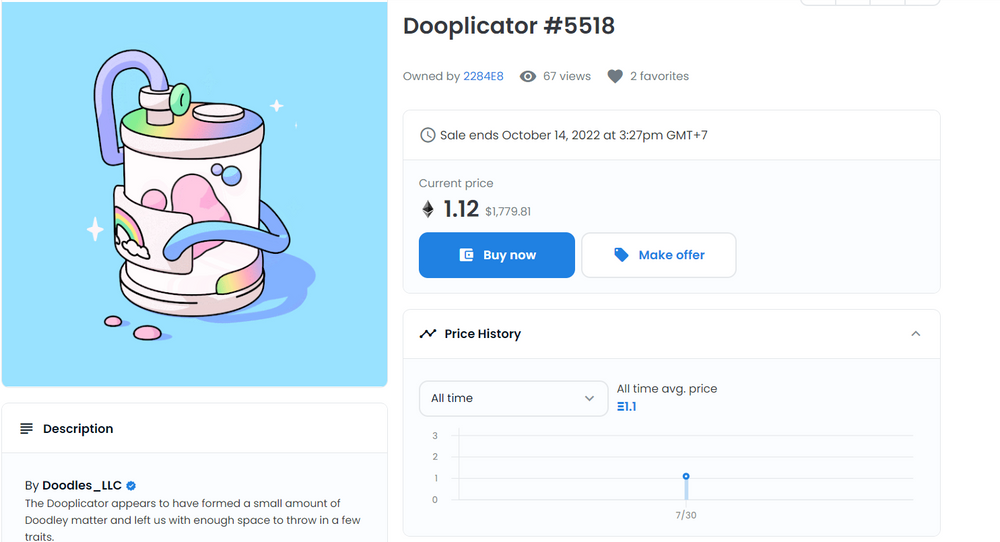 Dooplicator remains a mystery to the Doodles community. As revealed by the project, this will be the "super-powered device" that will allow collectors to bring rare features from the original collection of Doodles to Doodles 2, a fun way to interact with the future  Doodles ecosystem.
👉 The pieces in the ecosystem always come with smart strategies - new stories, new products bring value to old products and increase demand for both,... After each release event, Doodles all recorded a certain growth. Not only does it meet the goal of economic benefits and expansion, but it can also be seen that the team is very focused on developing their community.
Development plan
One of the interesting aspects of Doodles is bringing projects from the blockchain into the real world. The founder's vision always emphasizes the goal of developing a comprehensive Web3 entertainment company, aiming to diversify fields such as music, games, events, and animation,...
Doodles 2
Doodles 2 will probably be part of this plan. Doodles 2 will be a collection of dynamic NFTs that will allow collectors to creatively customize the appearance of Doodles with various features such as skin, hair, ... as well as unlock an animated version of their NFT complete with original music. And Dooplicator will also be present in this phase.
👉 It is predicted that this may be the next trend of NFT by allowing users to interact more with their assets and increase the use value for NFT, not just a "photo".
👉 Investors can buy Dooplicator during this period because it is possible that features in the upcoming ecosystem can be exploited from NFT Dooplicator.
Music
Not only that, last June, the team's potential was increased with the participation of famous American artist, Pharrell Williams, as Chief Branding Officer.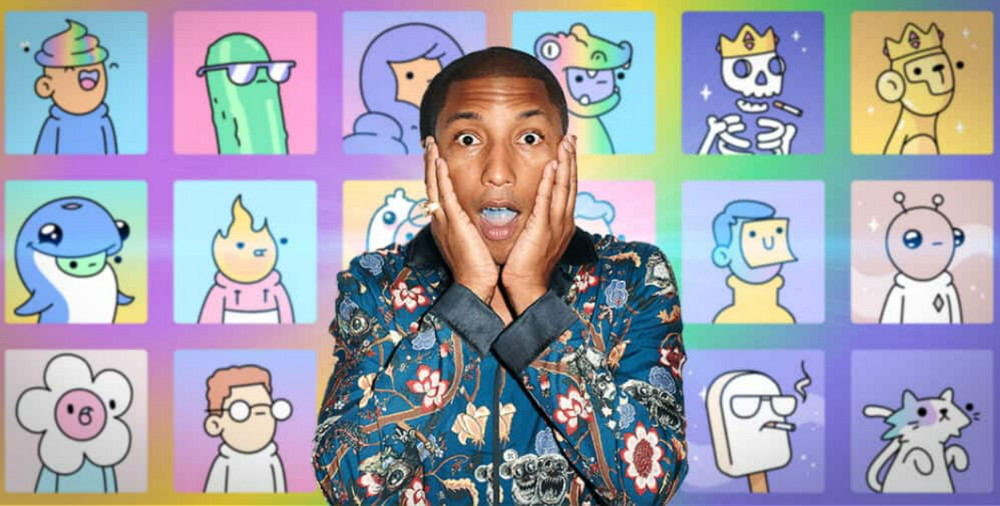 👉 Possessing a large fan base (14 million followers on Instagram, 10.6 million followers on Twitter), Pharrell Williams is sure to be a "quality weapon to" hit the music market in particular as well as the community who is still unfamiliar with the Crypto market in general. In addition, the interest from other music artists such as DJ Steve Aoki, or Justin Bieber in the Doodles collection shows the great potential in this entertainment industry.
Doodles' music NFT project will be released in partnership with Columbia Records in the next six months. The company would not provide details, other than to say it involved a song that would get radio play and streaming exposure but have "an underlying adaptation experience" for NFT holders.
Additionally, Space Doodles, the company's gaming branch, will look to ease the entry into the Doodles ecosystem. The company says it will allow users to purchase characters and animations with credit cards, instead of requiring crypto.. This will be a step to help expand the customer base and spread web3 to those who have not yet approached crypto.
Summary
Thus, compared to the total revenue of 629,000ETH of the top collection Bored Ape Yacht Club, the figure of 141,000ETH of Doodles shows that there is still great growth potential, especially when long-term plans are being built actively by an experienced team and the support of a large community. With the newly raised capital as well as the support of large investment funds, the project is strong enough to grow through this period and reach higher milestones in the future.