Early on the morning of October 7, BNB Chain announced that it was shutting down all operations on the Binance Smart Chain network because of a vulnerability in the BSC Token Hub protocol - used for cross-chain transactions between the BNB Beacon Chain and BSC - being exploited. Losses are estimated at $100 - $110 million, of which about $7 million has been frozen thanks to internal security partners.
Details of the story
First, at around 0:30 (GMT +7), two million BNB tokens worth approximately $590 million were transferred to a newly created wallet to an address. The blacklist was discovered by a Tether bot on Twitter, sparking rumors of one of the biggest hacks of the year.
Specifically, according to on-chain data, large amounts of previously withdrawn tokens have been staked in various blockchain ecosystems. It then started swapping and borrowing tokens from a multitude of different protocols very quickly. At the time of writing, the wallet controls over $536,930,715 different assets.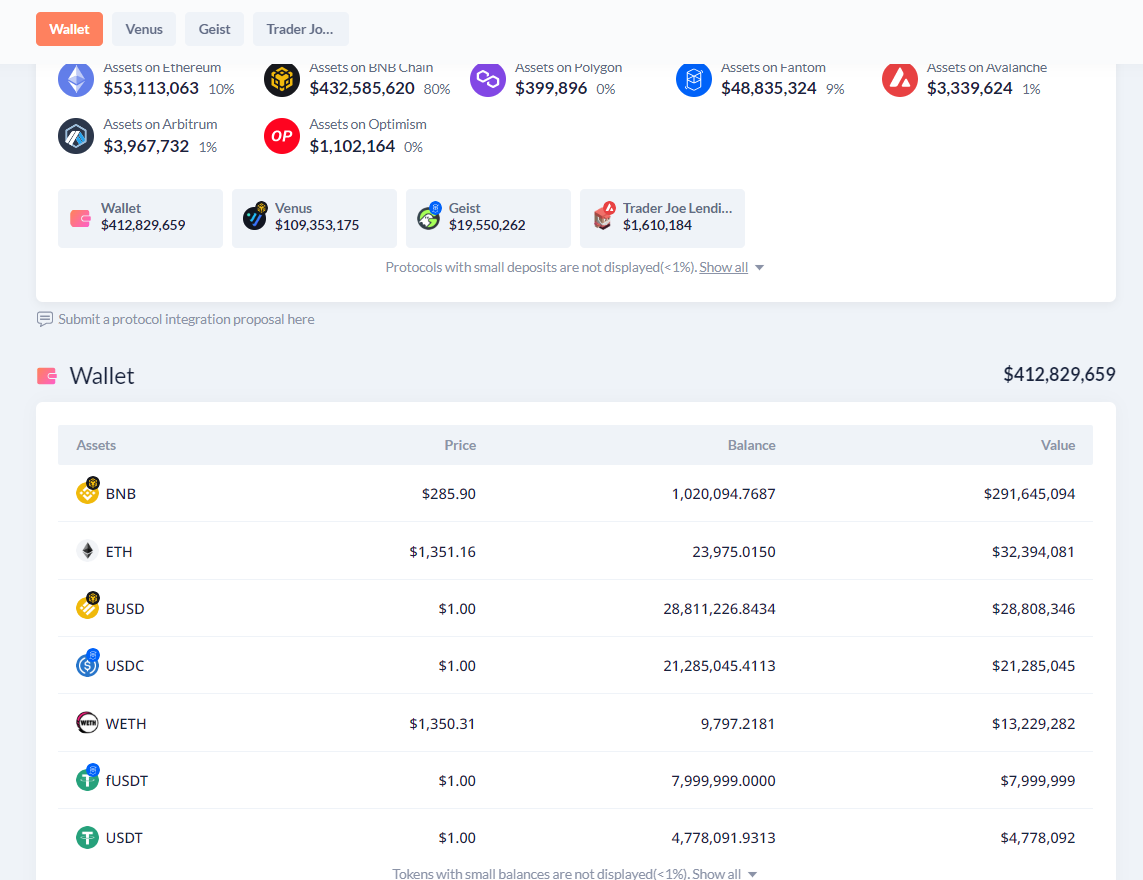 The erratic nature of the wallet's on-chain activity suggests it may have been compromised. Stablecoin issuer Tether immediately blacklisted this wallet address, preventing it from sending USDT to the new wallet.
Currently, the wallet owns 1,020,094,7687 BNB (approximately $287,870.744), 33,772 ETH and WETH (approximately $45,696,989) and around $63 million in stablecoins including USDT, BUSD, USDC and fUSDT. The wallet also has over $127.7 million in assets locked on the Venus, Geist, and Trader Joe lending protocols.
2 million $BNB ($550 million) withdrawn from the bridge. Half of that is exchanged for other tokens through multiple transactions.
Tokens have been transferred to many places.
- ~$50 million $ETH bought on mainnet.
- ~$20 million $ETH borrowed from TraderJoe and Geist.
- $10 million $USDT frozen.
After that, Binance Chain officially confirmed this information and suspended BNB Chain, and reassured users. The team said it is working with partners to find the cause and safely resolve it.
A Twitter account @jeffthedunker - a person with experience in the crypto market - after analyzing, raised a question as to why Tether can react faster than Binance. At the same time, with the "professional" trading actions from the low amount of slippage or swap fees that are controlled through many different bridges and chains, it is more like an experienced trader than a hacker.
Another theory is that the Ethereum held in the wallet could have been sent to Tornado Cash. However, only about 20% of the total wallet value is converted to ETH.
Following the above news, BNB price reacted with a drop of more than 5% and is currently trading around the $280 region.
Holdstation will continue to update the latest information from the incident.