Mask Network's $MASK token is one of the most popular names in the community recently besides the dog $DOGE. Starting to increase sharply a few days ago, now $MASK has x6 value and the trading volume sometimes reaches more than 2 billion USD/day. A lot of rumors go on around the MASK story, including Elon and CZ. So what does this project do and why has it pumped so dramatically? What is the potential? Find out with Holdstation below.
Mask Network overview
If many people are thinking that Mask Network is a just junk project or meme that has long dead now revived, it is not. This is a big project established in 2019 and supported by many big investors. Mask has raised capital from a series of large funds such as Animoca Brands, HashKey Capital and raised strategic capital from both Binance and Filecoin.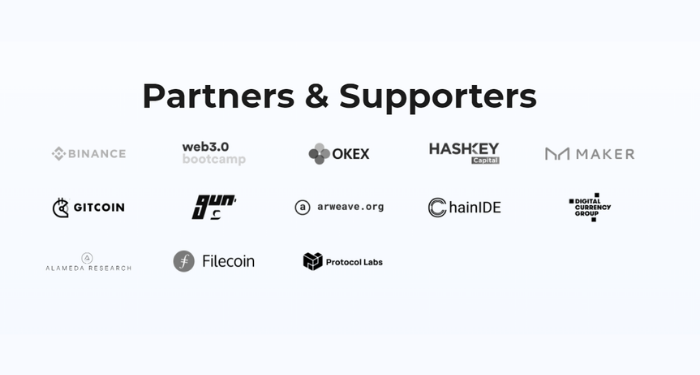 Mask Network is a gateway that brings social network users from Web2 to the world of Web3. Thanks to Mask, users can directly interact with Dapps, NFT suites or crypto assets through social networks such as Facebook, Twitter.
So what exactly does the project actually do?
Web2 users will log in to their social media accounts through the Mask Network. From there, they can use key features such as:
👉 Token/Dapp Interaction: Users can easily swap with Uniswap, Sushiswap and other DEXs through Mask Network. It is also possible to buy crypto from cash through the international payment gateway Transak. Or learn about any project from sources Coinecko, Coinmarketcap, …
👉 Interact with NFT: Users can easily set any NFT as avatar. Buy and sell NFTs from the biggest marketplaces like OpenSea, Rarible, … or check NFT orders via Mask's plugin.
👉 ITO - Initial Twitter Offering: is a form of fundraising for new projects launched similar to IDO, ICO, only the process and participants are on the Twitter platform.
In addition, Mask has many other applications such as encrypting messages, user tweets, bridge token, etc. It can be said that almost all Web3 activities can be brought into Twitter and Facebook by Mask.
The reason MASK increased sharply
Looking around the community, I see many people still think that $MASK increases because Mask sounds like Musk in Elon Musk, quite a meme. Maybe this is also a factor, but I personally think that the project pumped strongly because of the following positive expectations:
1.Elon Musk and Twitter deal
Clearly, the future of Mask Network goes hand in hand with social networks like Twitter. Therefore, when it was announced that Elon Musk successfully acquired Twitter on October 27, MASK price started the first pump due to many expectations.
Owning Twitter, Elon Musk is expected to "web3" strongly this social network. Shown by Musk's emphasis on decentralization with freedom on Twitter. In interviews, he has also repeatedly expressed his support for crypto. In particular, CZ himself also contributed 500M for Elon to buy back twitter with the desire to further promote the development of crypto.
➡ To achieve this goal, a platform that integrates Web3 into Twitter strongly and has many years of developing a full set of features like Mask Network would be a great choice for Elon. Instead of rebuilding Twitter, Elon Musk simply collaborated with Mask Network. Even if that doesn't happen, promoting crypto on Twitter will provide a huge opportunity for Mask Network's business.
2. Even CZ implicitly supported?
As mentioned above, it was CZ who invested Musk 500M to acquire Twitter. Longtime market investors know, when CZ/Binance invests in something, there is a great opportunity. Just then, this afternoon, Binance launched the Bluebird Index, which is made up of BNB, DOGE and, surprisingly, MASK.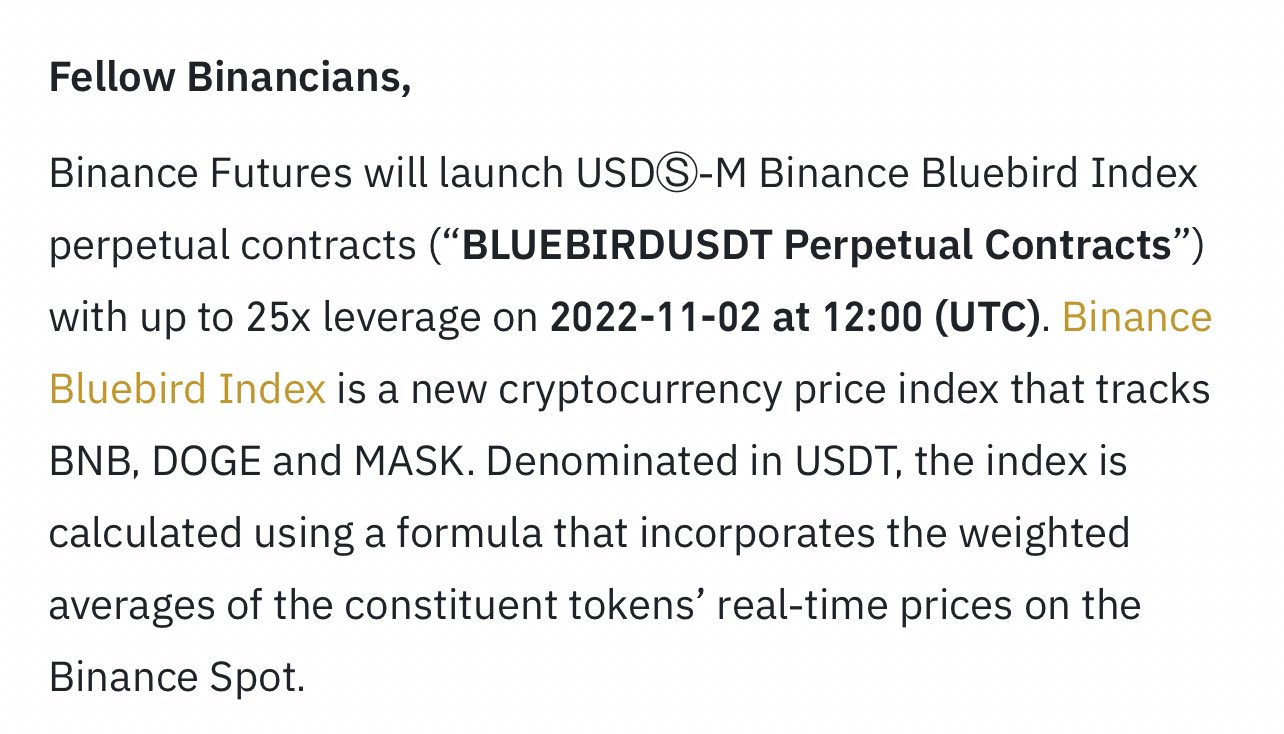 This can be understood, Binance sees MASK and DOGE tokens with potential for price growth in tandem with BNB, CZ's native token. Some even suggested that $MASK could potentially be used to pay Twitter fees in the future. Either way, this is a very positive expectation for MASK.
3. Expectations ITO
ITO or Initial Twitter Offering is a form of IDO to raise capital for a project held right on Twitter. At first, this concept sounds new, but it has been applied by Mask Network for a long time. The first 2 projects to apply ITO, Loopring (LRC) and Mirror's Synthetic asset (mTSLA), successfully sold out tokens in a few minutes. And then there was MASK itself, which raised $3 million.
Now that the project has tokens, it is possible to expect for a lock/stake of $MASK to participate in ITO in the future. Thereby increasing the demand for this token.
4. MASK Token
It can be seen that the trading volume of $MASK in the past few days has ranged from 1-2 billion dollars, while the current capitalization of Mask Network is only about 50-100 million. That means investors have completely FOMO and have great expectations for this project, regardless of tokenomic.
Meanwhile, the amount of $MASK in the market is also very condensed, when up to 60% is held by project funds, early investors and exchanges. About 21% circulate on major CEX exchanges. The FOMO market and condensed supply are easy price pushers for the token.

Note further that with the ICO price = 3.9 USD, which means only carrying the current market price ➡ there will not be much motivation for whale/ early investors to sell out this time.
In addition, recently FTX has also officially announced the MASK token list. This is a move that shows the market's interest in MASK is large.
Summary
Mask Network is a quality project with a lot of potential. Although there have been flops in the past, with the support factor from the Elon Musk deal, we can fully expect Mask to grow strongly again. The project plays a big role in the future of Web3. Accordingly, the token price has been strongly FOMO, but in my personal opinion, there is still room to increase.
Disclaimer:
The information, statements and conjecture contained in this article, including opinions expressed, are based on information sources that Holdstation believes those are reliable. The opinions expressed in this article are personal opinions expressed after careful consideration and based on the best information we have at the writing's time. This article is not and should not be explained as an offer or solicitation to buy/sell any tokens/NFTs.
Holdstation is not responsible for any direct or indirect damages arising from the use of this article content.