On X2Y2, the user may use their NFTs as collateral to borrow ETH from other lenders, known as an NFT Loan. NFT that can be used as collateral must fulfill the following criteria:
The NFT collection has been added to the whitelist.
On X2Y2 or other marketplaces, the NFT is not listed as stolen or deleted (e.g., OpenSea).
The NFT has received valid loan offers (which means some lenders want to lend you ETH).

The loan offer allows lenders to demonstrate their desire to lend ETH depending on the value of NFT. There are two sorts of loan offers based on the target types:
Offers that apply to all NFTs in a single collection.
Anyone who owns one of the collection's items is eligible to accept the collection offer.
Offers that only apply to a specific NFT. Only the NFT's owner might accept the offer.
Accepting a loan offer results in establishing an NFT Loan:  
The lender will send a sum of ETH to your wallet.
You must refund a sum of ETH (the amount borrowed plus interest) before the due date.
Locks your NFT as collateral in the smart contract until you pay off the loan.
Allows the lender to obtain the NFT collateral if you fail to repay the loan on time.
How to borrow ETH?
To begin borrowing ETH, you must first discover one of your NFTs that has received loan offers. On the NFT's detail page, look at the Loans section.

For the time being, only NFTs on the following whitelist can make a loan, users can view loan offers by visiting the NFT's detail page:
+ Otherdeed for Otherside
Doodles
Bored Ape Yacht Club
Azuki
Renga
CLONE X - X TAKASHI MURAKAMI
Several offers are available, each with a different loan amount, APR, and length. Consider carefully and select the best option. Then, on its right side, click the Borrow button, confirm the terms once more, and click the Borrow button at the bottom to accept the offer and establish the loan.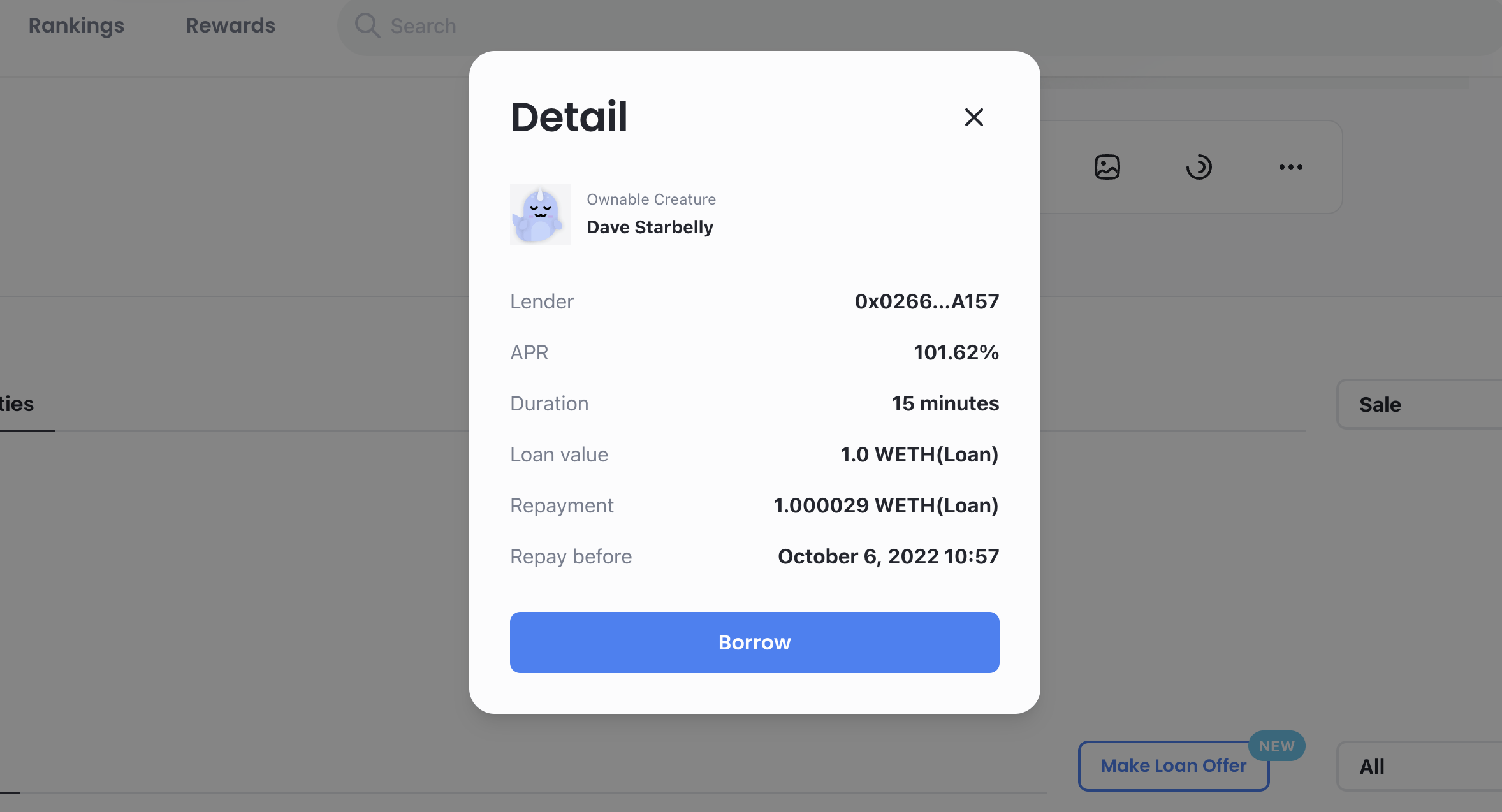 You may view active loans on your profile page by clicking the Loans tab. To repay the loan and receive your NFT, click the Repay option on the right. You can pay off the loan early at any moment, but the payback amount will remain the same.
Attention: If you do not repay the loan before the due time, the loan will become Defaulted after the due time. You would never be able to repay the loan and get your NFT back via X2Y2, and the lender will be able to retrieve the NFT.
Summary
To sum up, this is an excellent feature from X2Y2 to leverage from the user's asset, which is an NFT. Users can borrow ETH by collateral their assets like in real life. While this function is operating, it will be invaluable to an NFT and NFTs collection by viewing them as an asset, especially in high value.
Source: X2Y2