Recently, the market and community are gradually paying more attention to the Arbitrum ecosystem, as this Layer 2 prepares to launch the token. It can be seen that the speculative cash flow has gone ahead and these low cap tokens have all increased very strongly, typically $SWPR x3, $dAMM x5, …. However, lowcap is just a speculative lottery, and if the Arbitrum system is really in season, it will certainly be indispensable for this project - Jones DAO - the connecting link of Arbitrum. Join Holdstation to explore the potential of Jones below.
Overview
Jones DAO is a new Options project on Arbitrum, providing investment solutions at the level of financial institutions for retail investors. Simply put, users will put money into Vaults (safes), Jones' professional financial team then invests the money in Options (low risk / moderate return) and collects fees.

In particular, Jones not only supports normal assets but also synthetix assets minted from staking of other projects such as gOHM, rDPX. Meaning users both enjoy APR from staking, and APR from Jones. So Jones provides a solution for those who:
Want to invest safely but don't have time to research or monitor the market.
Want to optimize profits from staking large projects. Get double APR with low risk.
In addition, JonesDAO also supports staking of the above assets. Currently, the project has Vaults and the corresponding assets are ETH, gOHM, DPX, rDPX. Due to the new Dapp operation, this number is still low, according to the roadmap, it will grow in the future.
As can be seen, $DPX is strongly supported on Jones. This is understandable because according to Holdstation research, at least 2 of Jones' developers are on the Dopex team, one of the top DApps in the Arbitrum ecosystem.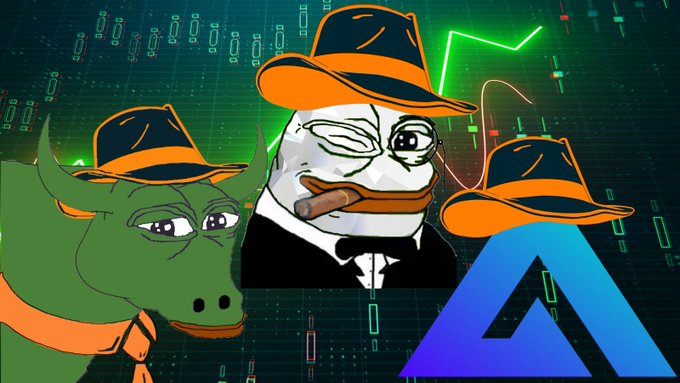 jAssets
jAssets is an asset that is generated when a user puts a token into the vault, for example, putting ETH in the vault will be minted in jETH. From there, it can be further optimized by borrowing or staking jETH.
Performance
Jones' Vaults have average returns of around 6.83% APY, ranging from -0.1% to 14.5%. Sometimes up to 37.4% APY.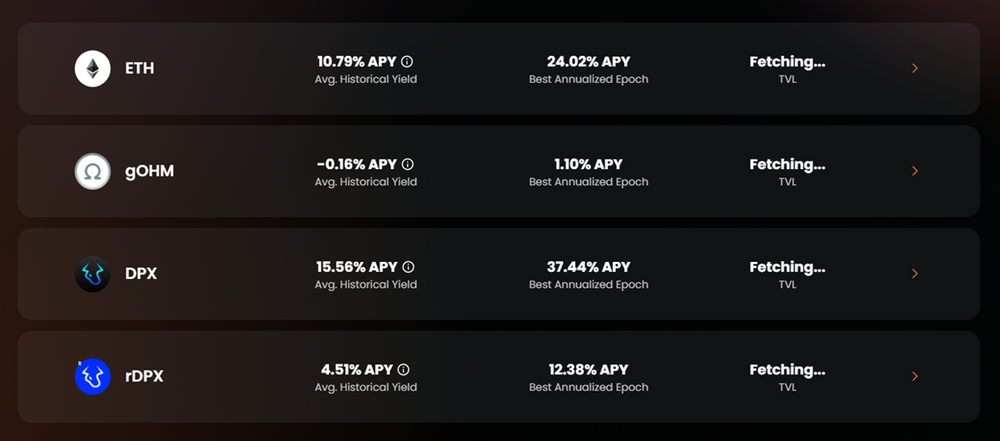 Vaults on this platform are an attractive profit, especially for investors who both enjoy APY stake the original token and add APY from Jones. It can be seen that during 7 months of operation, although the general market suffered a sharp decline, Jones still made a good profit and almost no loss ➡ efficiency and sustainability.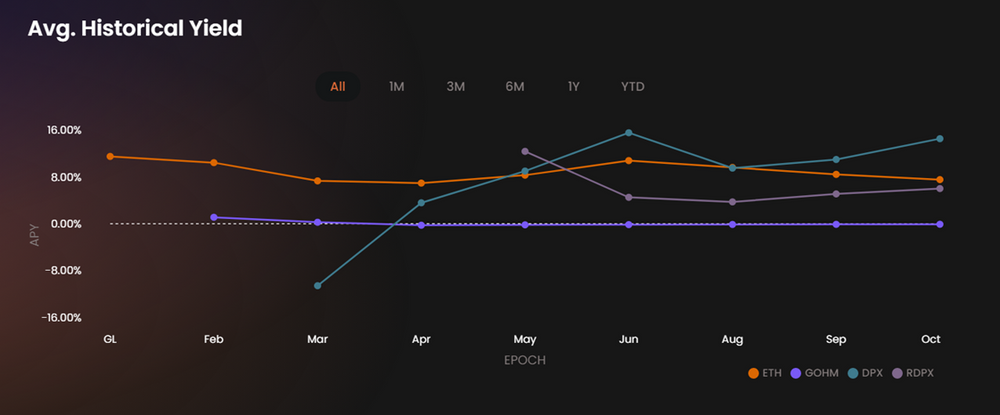 As a result, a large amount of money has been poured into the project. Starting to deploy from the end of February 2022 with 1 asset, currently, Jones' TVL has reached more than 10 million USD and is still increasing with 4 types of assets.
Tokenomic
$JONES is the main token of JonesDAO.
Contract address: 0x10393c20975cF177a3513071bC110f7962CD67da (Arbitrum network)
Features of Governance Token
Governance: Allows holders to vote on important decisions such as adding a new Vault, investment strategy, distribution of rewards.
VeJONES: $JONES works under the veToken mechanism, users will lock $JONES to receive veJONES, and enjoy special benefits:
Share project fees. Currently, the project is collecting 20%   of the profit and 2% of the user's annual total asset fee.
Decide on rewards for jAssests pools and Vaults.
Token distribution
Total supply: 10,000,000 tokens.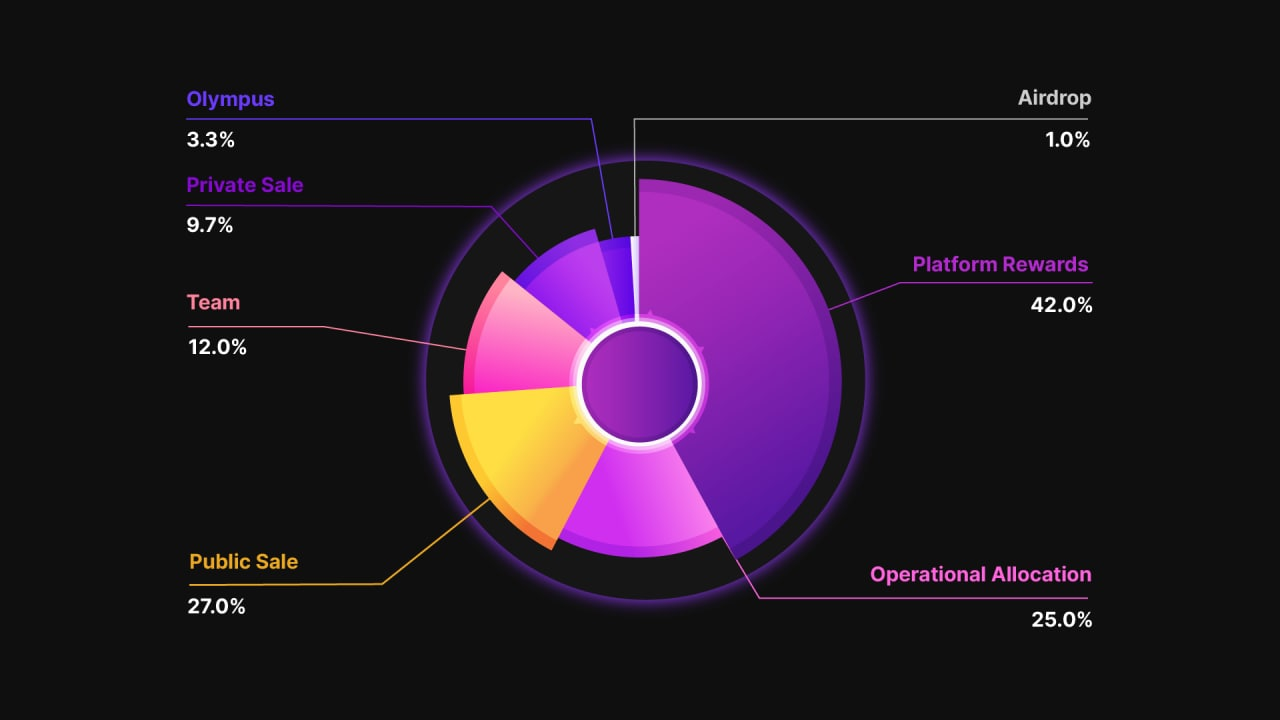 The number of tokens in circulation is approximately 4,162,078 $JONES. However, looking at the table and after being checked by Holdstation, it can be seen that up to 85% of the supply of JONES is still in the operating and distribution fund. This bonus fund will be distributed over 5 years, while the operating fund is buying into Jones thanks to good performance ➡ not much discharge pressure.
Team
Currently, JonesDAO team is an anonymous team, but you can follow project progress updates via Twitter @FroyoFren, @RafterDegen, @unicornnewborn, @0x_ivan, @shreddydefi, @JonesDAO_Intern, @GilgameshOfJPEG, @0x_ultra
Investors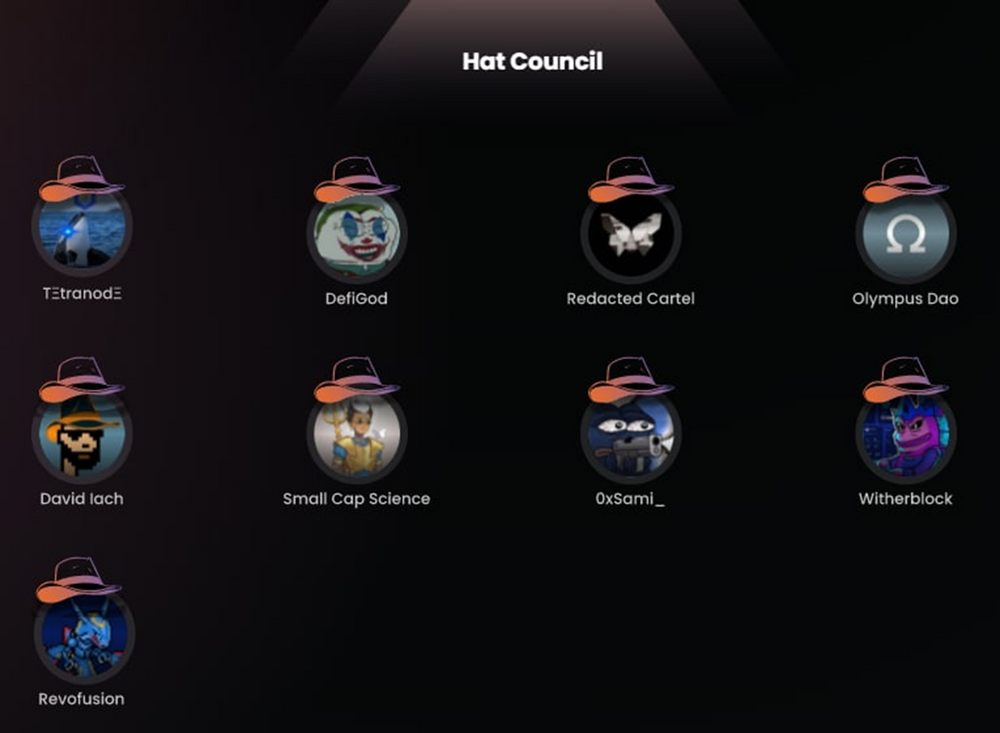 JonesDAO did not have any investment funds involved, instead the project was supported by OlympusDAO and the Redacted Cartel. Besides, there are also investors who in my "personal opinion" are people with very good mindsets and perspectives in the crypto world, typically: @Tetranode, @DeFifrog1, @SmallCapScience and especially Founder by Dopex - @witherblock.
Potential Analysis
Rebalancing for $JONES
According to the above information, on November 8 JonesDAO will rebalance with inflation reduction in Stake Pool products such as jDPX-DPX, jrDPX-rDPX. And increased rewards for $JONES Pool and JONES-ETH Pool.
However, this does not make the project's tokens more inflationary but simply "makes up for the shortage", increases the demand for $JONES and creates a good liquidity depth for further improvements.
veJONES
veJONES is the main reason to push $JONES to the next level. Using the same mechanism as veToken in the market, veJONES is used:
Governance on the platform, especially management of $JONES inflation for Stake Pool products. This will cause users and other platforms to participate in the jockeying for $JONES for absolute voting rights.
Generate passive income for Holders. Activities on JonesDAO after veToken implementation, the platform will start collecting fees to the treasury, then share it back to veToken Holders.
veJONES also has a Boost APR effect for Stake Pools, the more $JONES locked, the higher the APR rate is increased.
In general, when veJONE is released, some $JONES circulating in the market will disappear for a while. The cause comes from participating platforms that will collect $JONES for their platform. Expect to create a wave of Jones Wars. However, unlike Curve Wars, Jones Wars will be a war of interests about Strategies Vault for Option Trading.
Currently, the amount of $JONES locked in the pools is about 3M tokens, accounting for 72% of the circulating supply, in addition to about 7% of $JONES locked in PlutusDAO. That makes only about 1M $JONES in circulation outside of the market.
Real Yield
The model after the launch of veJONES is Real Yield. This model will generate sustainable income especially during the bear season without causing the amount of $JONES to be over inflated. Because when collecting fees from activities, the platform will collect a part of tokens such as ETH, DPX, ... according to the transaction volume and share back that token.
Partner
Dopex
Dopex is an intimate project partnership with JonesDAO when the investor in JonesDAO - @witherblock is the Founder of Dopex. JonesDAO uses Dopex as the main platform for Option trading, thereby earning profits for investors. It's no exaggeration that JonesDAO is the factor that creates more features for $DPX - Dopex's governance token. It is expected that when Dopex adds dpxUSD soon, JonesDAO will benefit from $DPX and $rDPX depositors to the platform.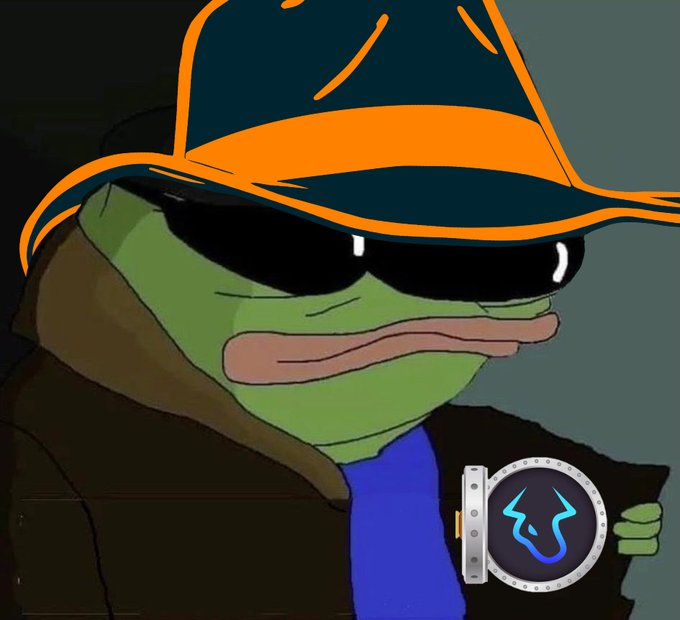 PlutusDAO
If comparing JonesDAO is Curve Finance, then PlutusDAO will be Convex Finance. This is also a platform that closely supports JonesDAO, currently PlutusDAO has collected about 7.5% of $JONES from the market. The reason for this is that JonesDAO has not launched veJONES yet, so the 2 platforms can only negotiate the Stake Pool for the JONES-ETH pair, so the holding percentage is still limited.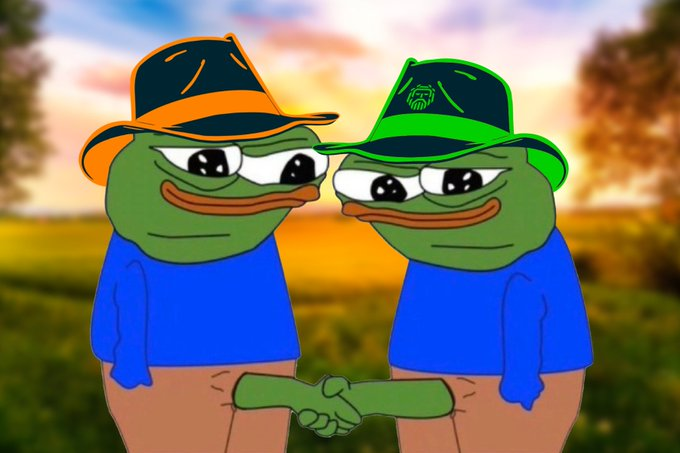 GMX
GMX and JonesDAO have been collaborating since the early days but currently there is no Strategies Vault/Stake Pool for $GMX or $GLP. Let's wait for GMX's "derivative token" at the end of November to have a clearer picture with the cooperation from both sides.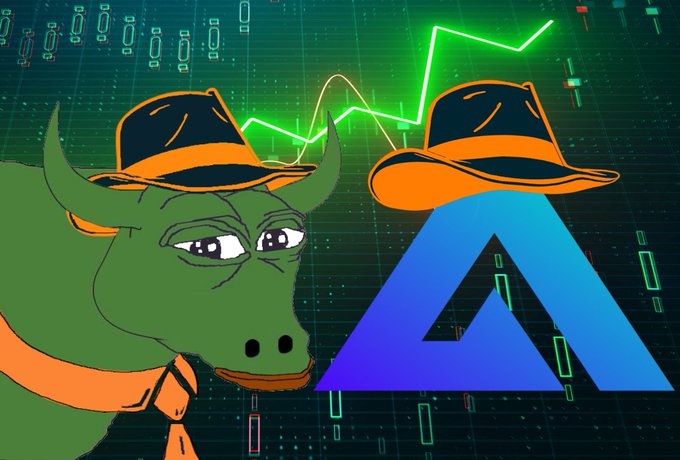 Aura Finance and Redacted Cartel
Aura Finance is an optimized platform for Balancer on the Ethereum network, this partnership will open up a new source of liquidity for all three projects once Aura starts rolling out through the Arbitrum network.
With veToken about to be deployed, Redacted Cartel's Hidden Hand is indispensable, this will be one of the important factors to enhance the strength of veJONES with "Leverage Bribes"
Roadmap
Future plans of JonesDAO
jAssets Lending/Borrowing
Strategies Vault for the community
Various levels of risk for the Vault
Bribe for DAO
On-chain analysis
According to data provided by The DataFi, the transaction volume on Dex has increased in the past 6 months. This is usually a good sign that demand for the token has returned.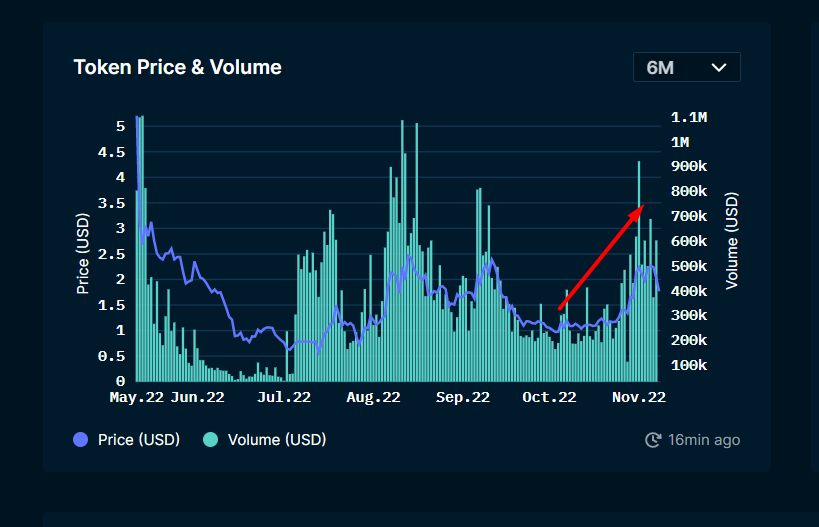 Currently JONES is being traded on Sushiswap's DEX, the DataFi team quickly checked and found that there was a large outflow (compared to the rest of the days) around the end of October.
A small note for newbies is that for DEX, if 1 token A outflow from the DEX is equivalent to the action of withdrawing that token from the liquidity pool (liquidity pool) is considered an act of buying A token. From there it can be Seeing whales, smart money may have collected JONES 1 week ago.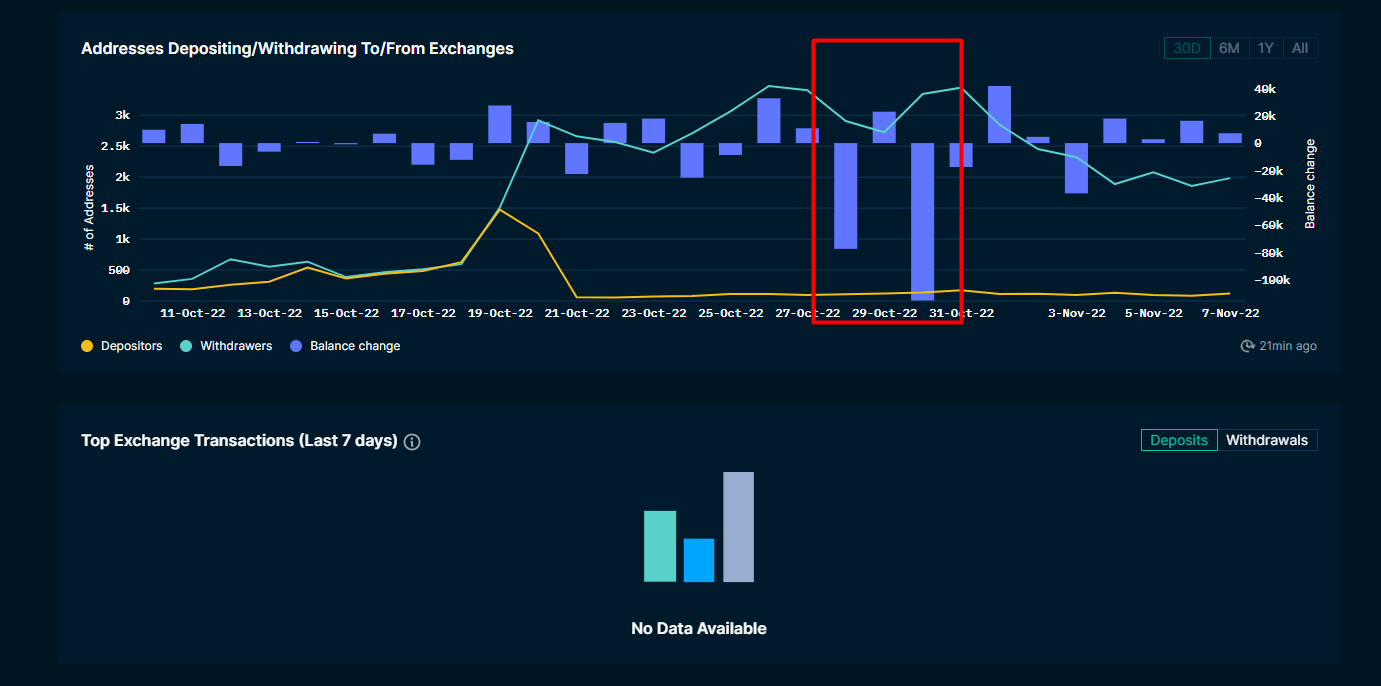 Considering the top personal wallets holding $JONES, most of the wallets are holding and increasing their positions, currently there are no negative fluctuations (balance reduction).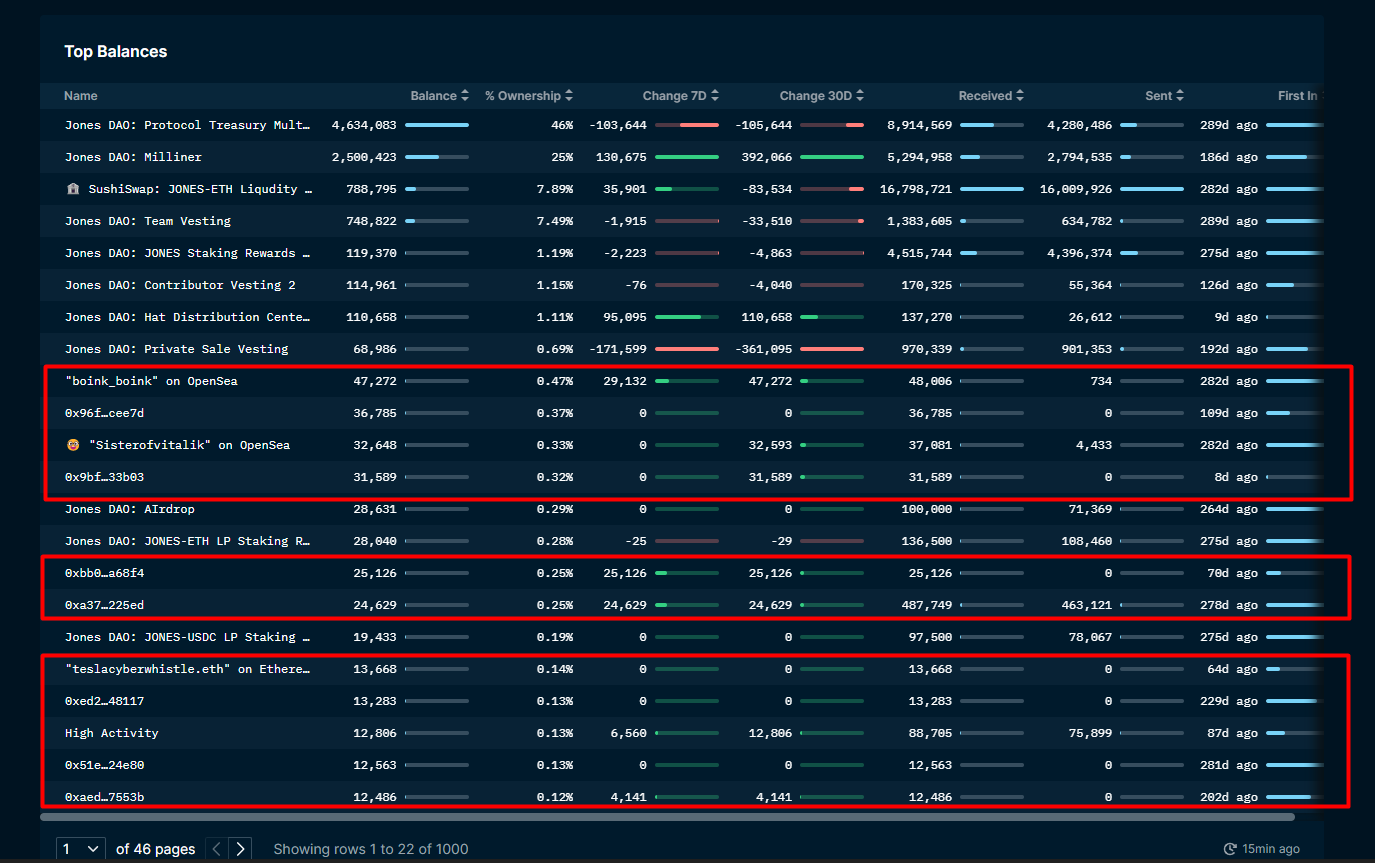 Summary
JonesDAO is a piece of the most interesting force on Arbitrum right now (Dopex-JonesDAO-PlutusDAO). Hopefully, through this article HoldStation has provided more necessary information and fresh perspective for investors.