The first IMX Layer 2 solution to support fast NFTs trading on Ethereum has a token payment schedule on November 5. This payment of IMX tokens is for investors who buy in the private sale. Will the price of IMX be pumped up in preparation for this token payout? Let's find out with Holdstation in this analysis!
What is Immutable X?
Immutable X is the first Layer 2 solution to support fast NFTs trading on Ethereum, with TPS up to 9,000 transactions per second and no gas fees. The project is developed by StarkWare's Rollup technology to solve the problem that NFT on Ethereum is facing, which is high gas fees.
IMX pays 24 million tokens
On this 5/11 IMX will pay 24 million tokens, these tokens are the tokens allocated in the privatesale. According to CoinMarket Cap, the current circulating supply of IMX is around 240 million tokens. So this token payment has injected approximately 10% more tokens into circulation. One of the numbers is not little at all.
As is common practice before the token payment due date, market makers tend to pump up the project's token price to release the goods. So will IMX be pumped up?
According to author's perspective, the rate of IMX being pumped up to discharge is very likely when the price of IMX is currently approaching the bottom and it is difficult to fall further. The 1D frame technical indicators show that IMX is also showing signs of turning around in the oversold zone.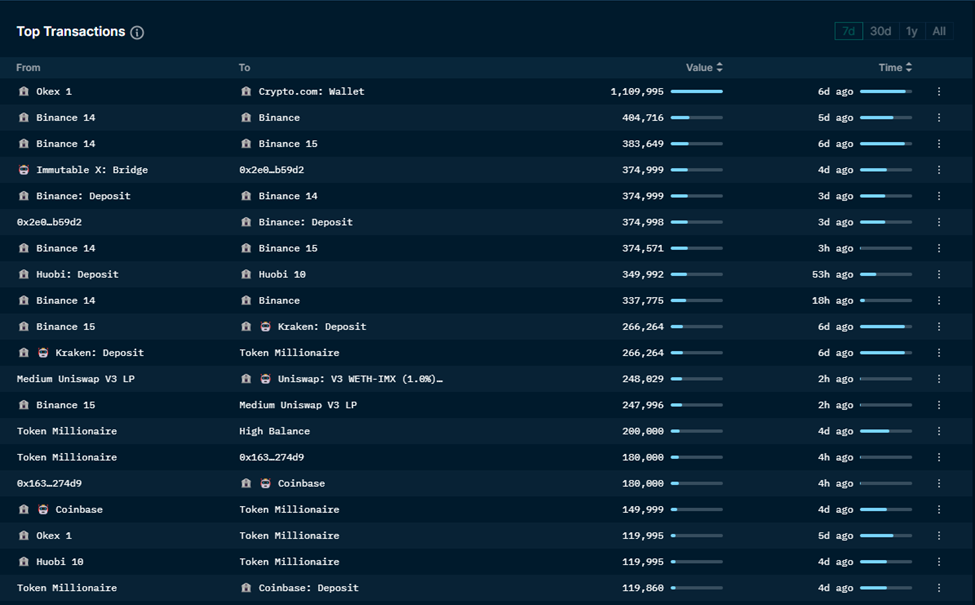 Collecting data from Nansen, 1 week ago the sharks were showing signs of buying into IMX. A shark wallet during the past 7 days has continuously transferred IMX from different exchanges to a single wallet address, bringing the total value of IMX balance in the wallet to nearly $ 8 million.
Looking broadly at the October macro situation and trend, there is a high probability that the green color will return to the crypto market as there is not too much macro news with a specific schedule in October. BTC is also giving the signal of recovery when the 4H frame BTC price is tending to break the accumulation pattern and go up. November 5 will be the date the tokens will be paid, coincidentally November 8 will be the date the US Midterm Elections will take place. In order for the political situation to be less tense as well as for the people to feel secure and comfortable in voting, it is highly likely that the FED will pump some positive news into the market to reassure people.
With the above information, the individual writer's strategy is that investors can start to consider disbursing 10-20% of assets at the price range of $0.7 -$0.75. $0.9 -$1.2. Stoploss when puncture 0.7.