Besides spot trading, derivatives are one of the options of many investors to earn more profits with the high application of financial leverage. The cex exchange (Binance, ByBit, ..) has become a habit of most investors when looking to derivative services. However, trading on the DEX with many advantages such as not being afraid of being killed or having to pay funding fees, has recently become the choice of many big players in the market. Let's learn with Holdstation how to trade non-term futures contracts on the GMX dex exchange with the top derivatives trading volume in the market through this article!
General
GMX is a leveraged trading platform developed on Arbitrum and Avalanche with unique tokenomic with Real Yield bias.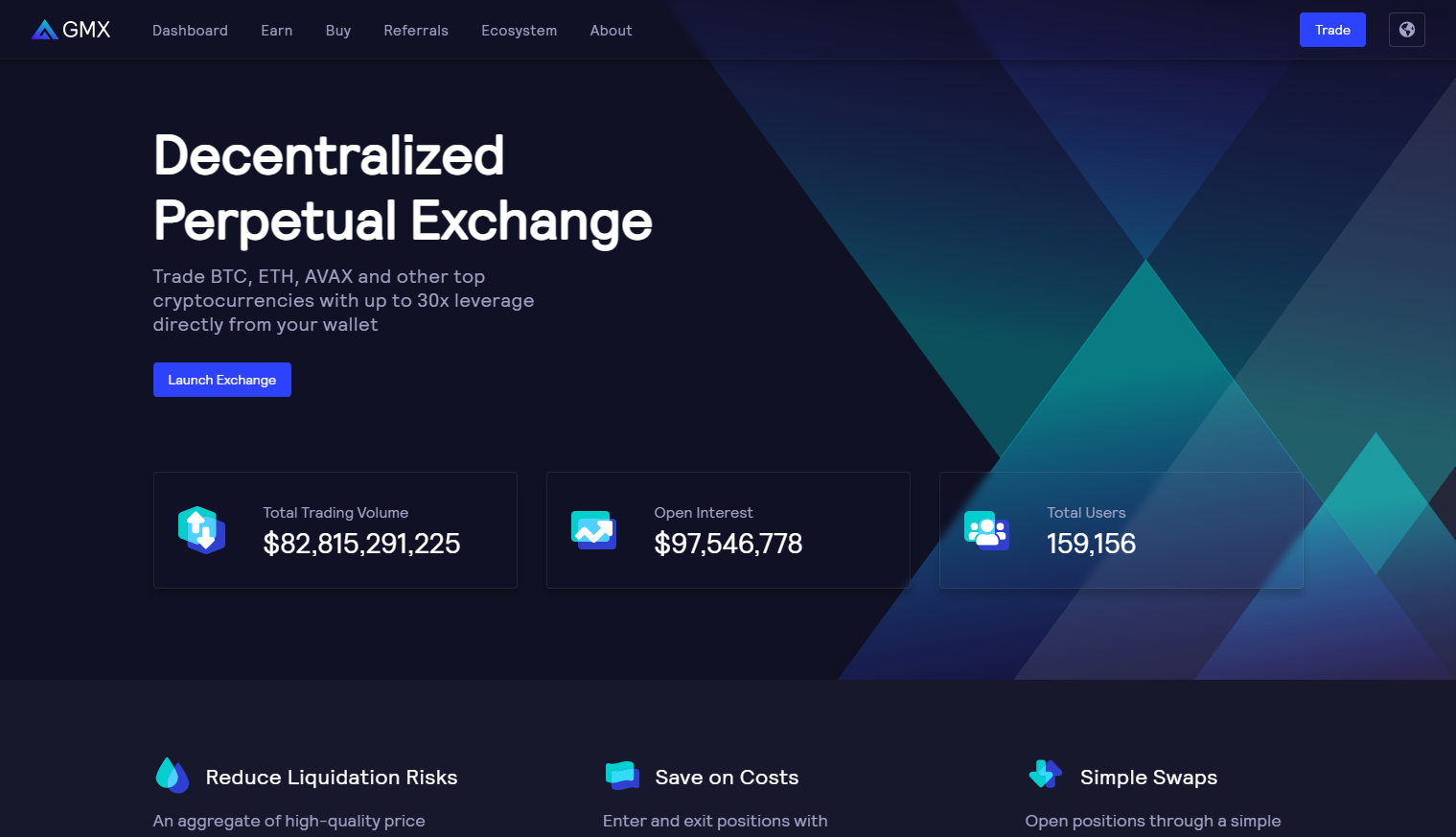 GMX does not use the Orderbook mechanism, but uses the POL (Protocol Own Liquidity) mechanism. Combined with Chainlink Oracles and aggregated from major exchanges by time-average price mechanism. So GMX has the advantage of no price fluctuations and no Funding fees.
However, users are still affected by slippage and daily maintenance fees.
How to open a trading position on GMX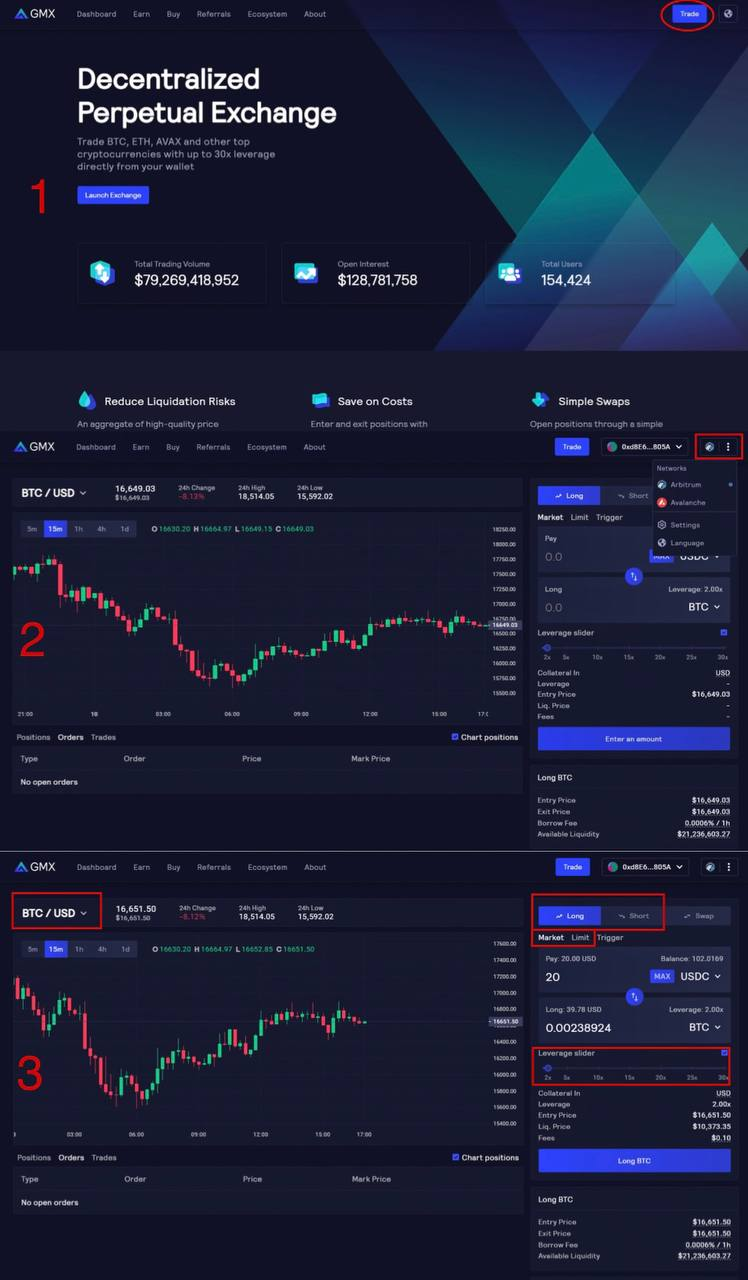 Step 1: Go to: GMX.io and click "Trade" to open the derivatives trading interface
Step 2: Connect your wallet using Arbitrum or Avalanche's network (It is recommended to use Arbitrum network for a chance to receive airdrop from Arbitrum).
Step 3: Select a trading pair.
Currently GMX is supporting ETH/USD and BTC/USD pairs on both Arbitrum and Avalanche networks. Separate support for 2 trading pairs LINK/USD, UNI/USD on the Arbitrum network and 2 trading pairs AVAX/USD, WBTC/USD on the Avalanche network.
Step 4: Fill in and select trading metrics including: Position Type (Market/Limit), Long/Short, Position Volume and Leverage.
Step 5: Confirm the transaction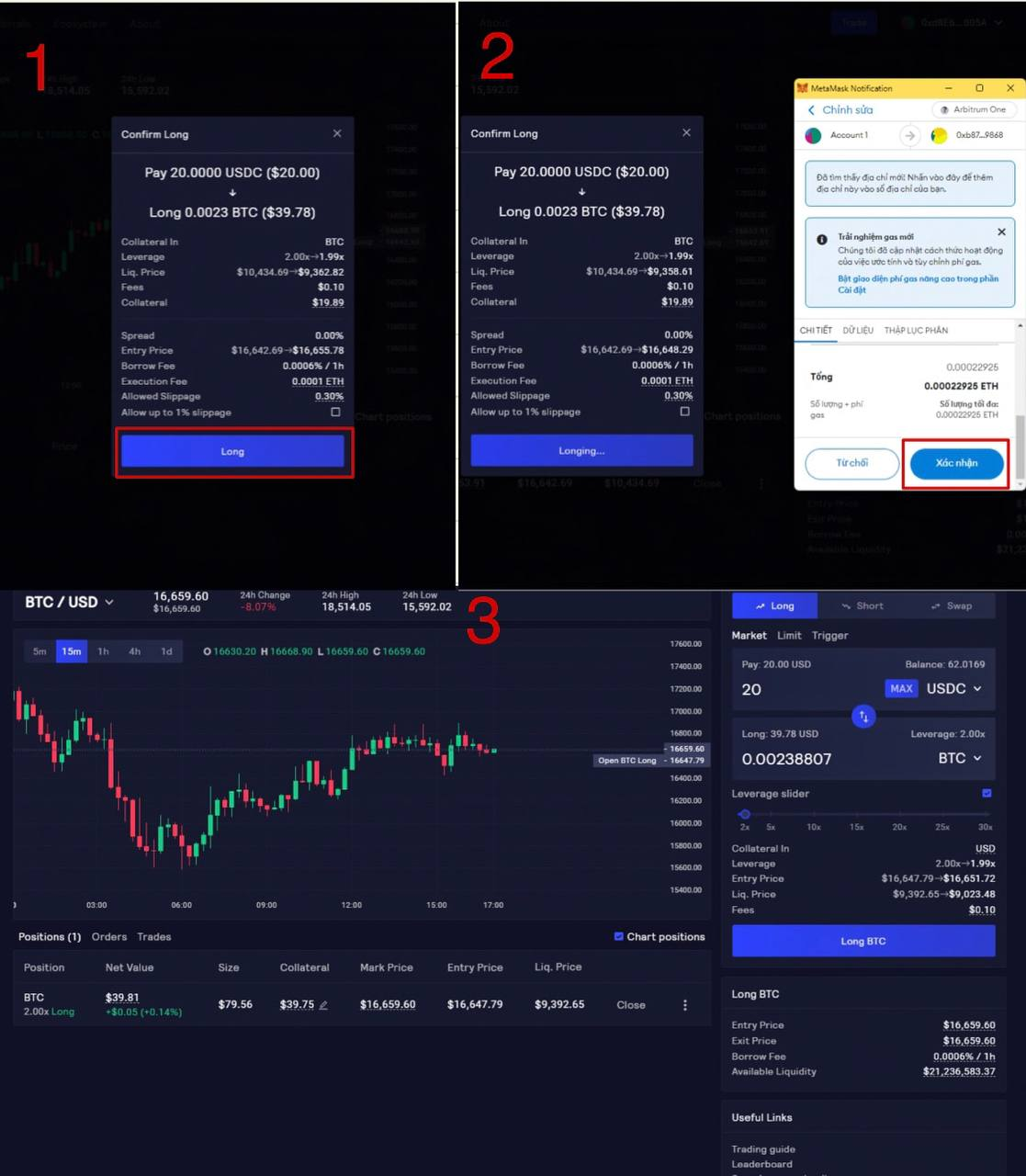 How to set take profit and stop loss for trading position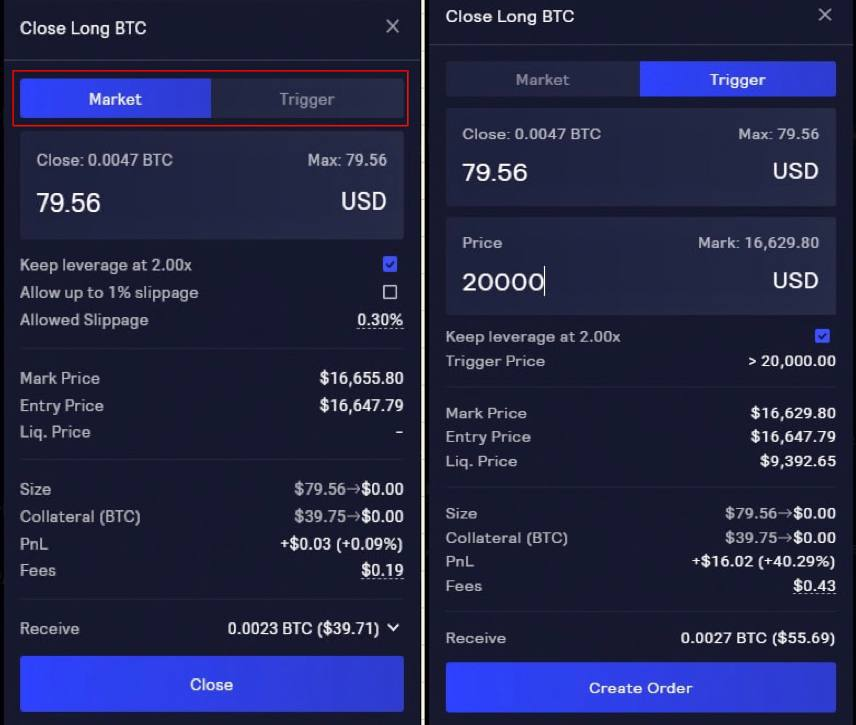 Step 1: Select the "Close" button in the open position.
Step 2: Select "Trigger" to open a take profit or stop loss order.
Step 3: Select the position volume you want to open and the take profit/stop loss price point, then confirm the order opening.
How to Stake $GMX and to get rewarded from platform fees and project tokens
Step 1: First you go to Earn – Stake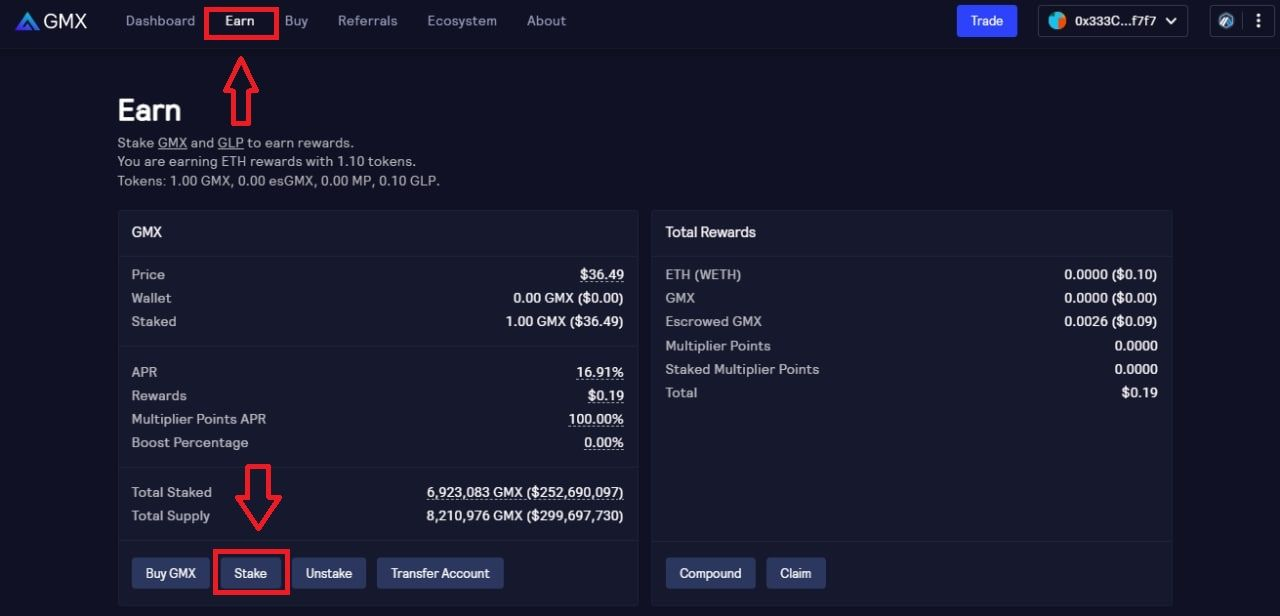 Then the screen will display asking for the amount of $GMX you want to take away Stake
Step 2: Enter the number of tokens and confirm the transaction
Step 3: Check and harvest rewards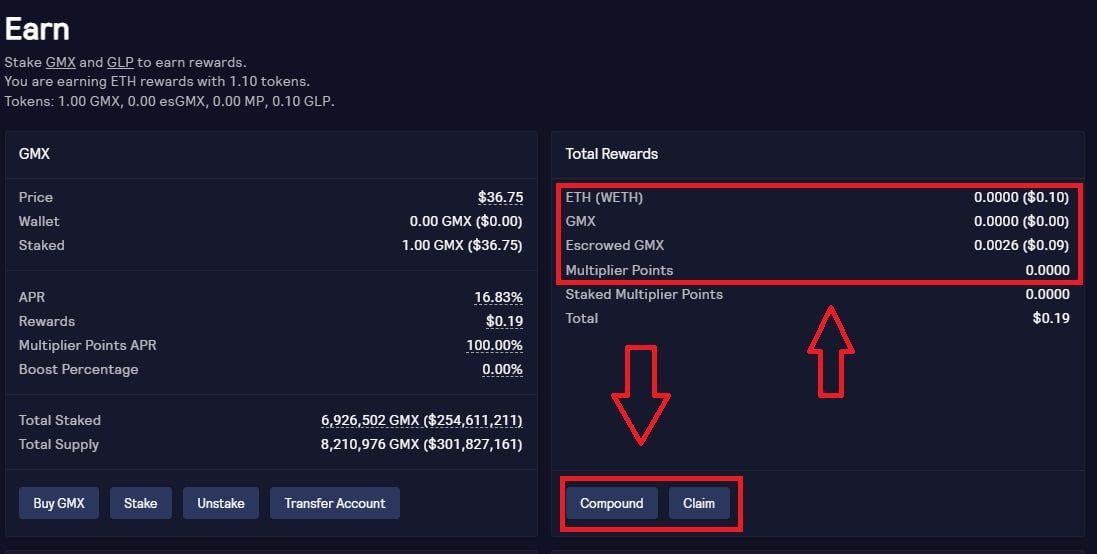 After taking away your Stake reward will be displayed in a separate pane. You can accumulate rewards or harvest and take away Vesting
If you want to accumulate platform rewards that will automatically bring $esGMX, Multiplier Points continue Stake and convert $WETH to $ETH to your wallet.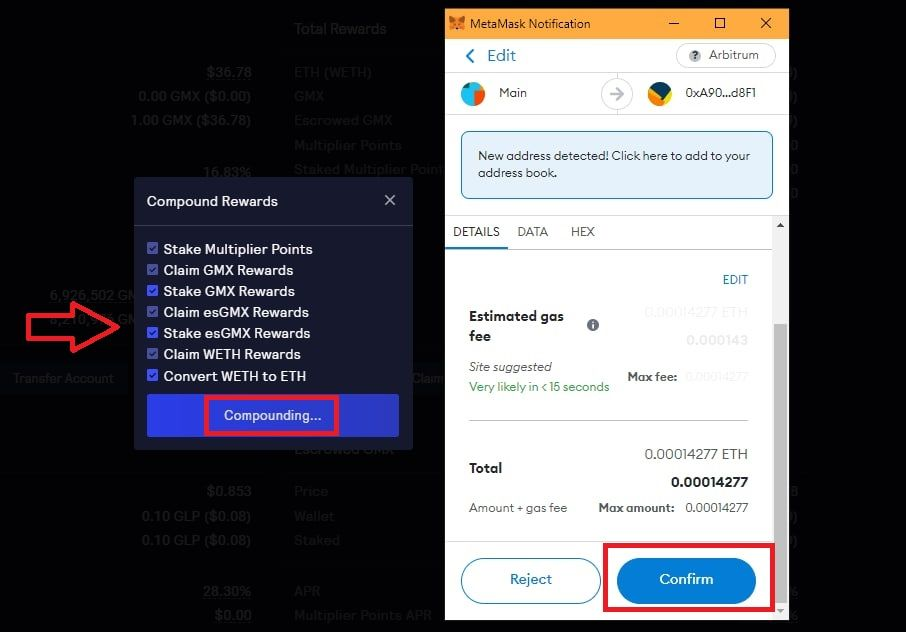 Conclusion
Above is a guide to leverage trading operations on GMX and Stake tokens to receive revenue share from the platform. However, at market times like these, leveraged trading would be extremely risky. Users need to consider carefully and manage capital properly to avoid unnecessary losses.