GMX emerged from rumors about "Real Yield" from the end of July and became hotter than ever when it was constantly mentioned by celebrities recently. So will this decentralized derivatives platform deploy any new updates in the near future?
Join Holdstation and The Data Nerd to find out through the article below.
Overview
The mechanism that attracts users of GMX is the sharing of large transaction fees from the platform itself. According to the data collected on the amount of transaction fees on the platforms, GMX has always been in the Top 5 with an average of about $300k in fees per day last week.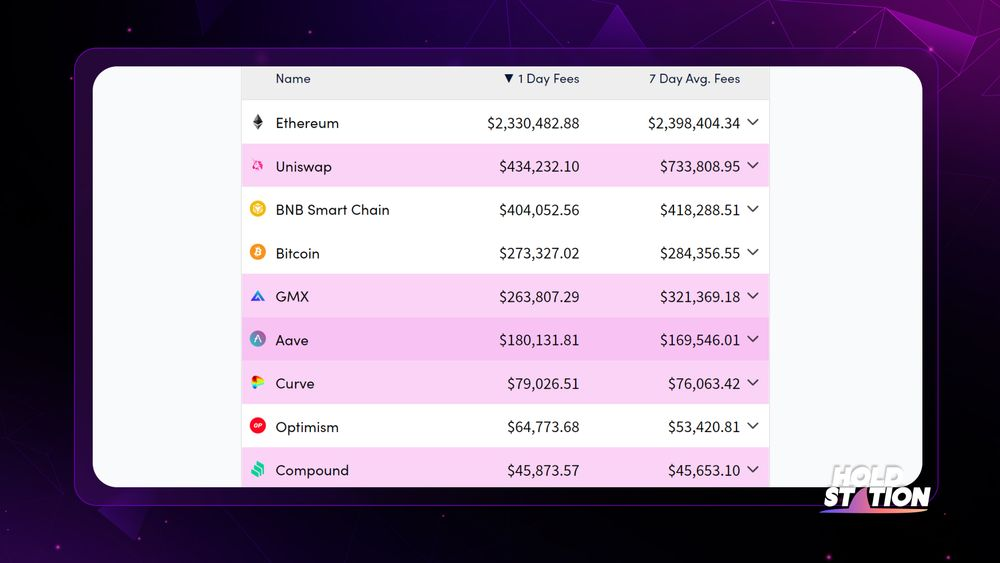 Regarding the total amount of locks on the Arbitrum ecosystem, GMX had a slight decrease from more than 40% of TVL market share to 38.54%. However, the demand for GMX's $GLP - Index Liquidity Token is increasing gradually through GLP Wars among platforms that use $GLP to model Yield Strategies such as Delta Neutral, Gamma Neutral or even using algorithms Blockchain algorithm to "wrap" $GLP to increase features such as mortgage to borrow, create leverage for Farming,…
GLP Wars includes projects:
Delta Neutral Strategies: Umami Finance, Rage Trade, Neutra Finance
Pseudo Delta Neutral Strategies: GMD Protocol
Gamma Neutral: JonesDAO
Yield Aggregator: PlutusDAO, Mugen Finance, Kostren Finance
Lending: Abracadabra Money, LodeStar Finance, Vendor Finance, Vesta Finance
New Partners
In order to develop the ecosystem even more, GMX continuously announces new platform partners with various segments.
Camelot Dex

This is Native Dex with top TVL on Arbitrum, with this partnership both parties have created deeper liquidity and higher rewards for liquidity providers.
STFX
STFX is a SocialFi Trading platform, where users can follow the Leaderboard of profitable Traders from which they can choose and copy reasonable investment strategies.
Dsquared Finance
This is a project to build MetaFi on Avalanche and Arbitrum. Currently, Dsquared has announced a partnership with GMX and Dopex to bring Gamified experiences to investors.
Redacted Cartel
This is the most desirable cooperation of retail investors. To get a higher amount of $ETH rewards, investors are required to Stake for a long time to receive Multipliers Points (MP) to increase APR. But if all investors deposit $GMX into Redacted Cartel's "Pirex Vault" then MP will increase rapidly leading to more rewards.
4X Protocol

This is an important update that gets a lot of attention from the community. With this synthetic asset mechanism will change the way of use instead of being able to use any asset supported by $GLP to create a position
Create an ETH/USD position with a Long Position collateralized with $ETH, Short Position collateralized with stablecoins or Liquidity Index Token
Create BTC/USD positions with Long Position collateralized with $WBTC, Short Position collateralized with stablecoins or Liquidity Index Token
New features added
Liquidity Deposit/Withdraw
Add Limit Orders, Stop Loss, Take Profit
Funding Fee
PvP AMM – Order Book helps to pair traders instead of using each liquidity coming from GLP
Synthetic Assets

With a synthetic assets model, the platform can create more trading pairs into areas such as Forex, Stocks, and commodities instead of just encapsulating in crypto assets like today.
According to data from Forex.com, the daily trading volume of this market alone has reached $6.6 trillion, an extremely large number.
If combined with the decentralization of crypto, this potential array will have additional advantages such as:
High anonymity, no KYC required
Manage your own assets
Trading 24/7 is different from the traditional market that only trades within the specified time frame
Transactions are transparent - all recorded on the Blockchain system
On-chain Update
According to data compiled by The Data Nerd, GMX is currently the token that is being sold the most on the DEX in the past week, but the number is not too large (about $380K).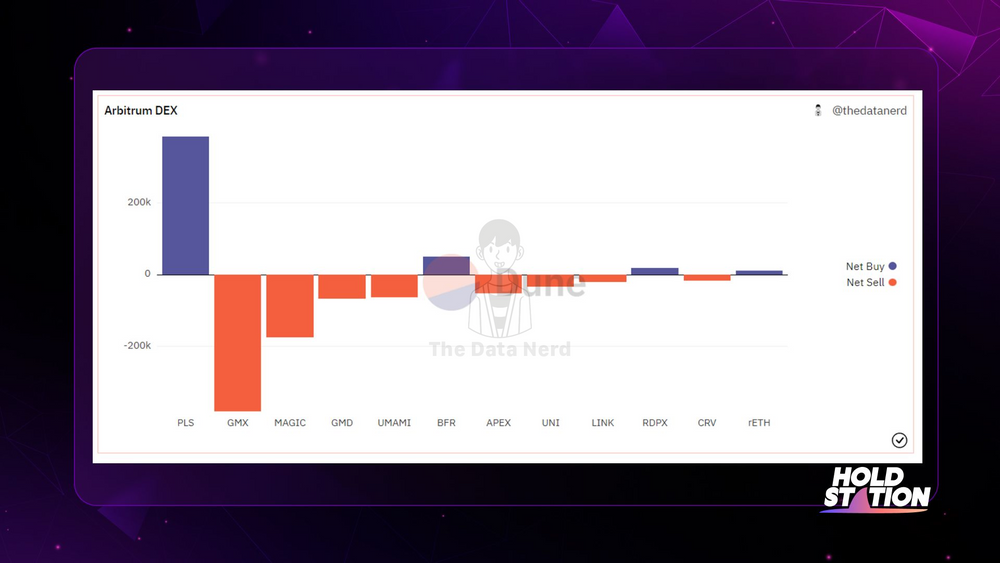 In contrast, the amount of GMX staked has steadily increased over time, having now reached 6.7M ($300M) from 5.2M last July.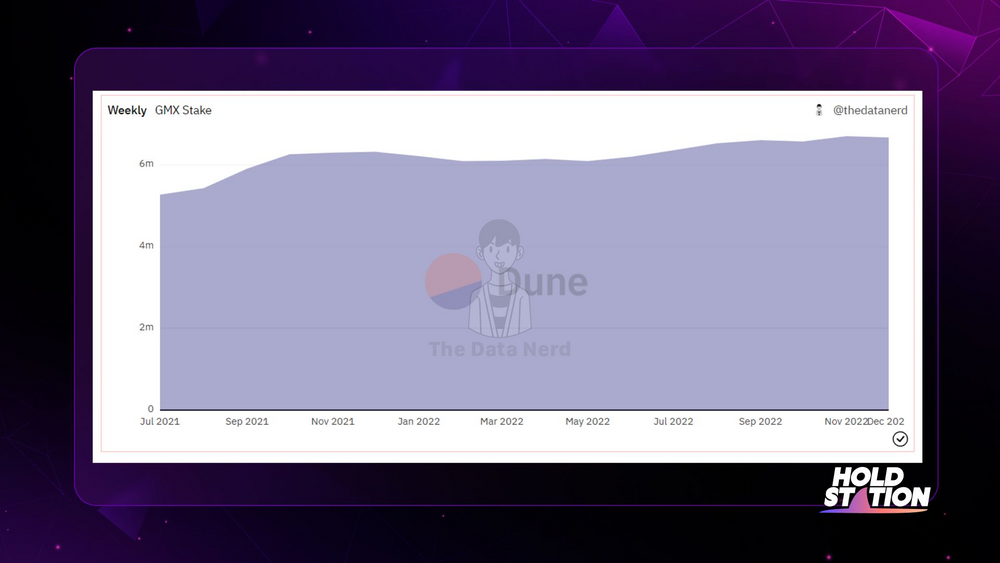 A few notable stakers include Sigil Fund, Arthur Hayes (Bitmex exchange founder) … as well as some other Smart Money. Especially Arthur Hayes in many of his posts as well as on Twitter is very commendable about the project and as you can see the number of stakes is also very large (200K GMX or $9M).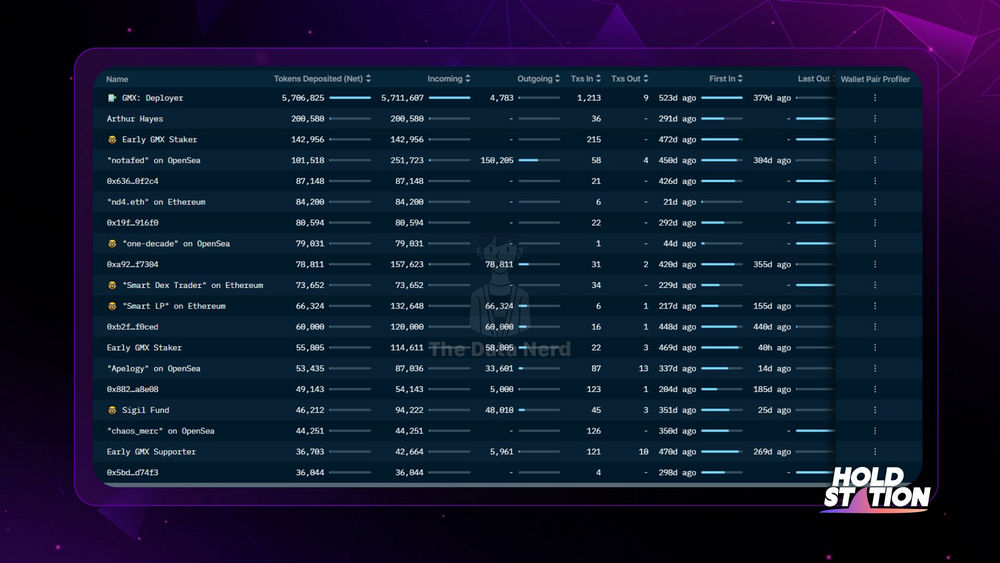 Regarding the data on the exchange, GMX focuses mainly on the GMX exchange, while Binance, Bybit and other CEX exchanges have a negligible amount. The good news is that in the past week, about 3K has been withdrawn from Binance and 6.5K added to the liquidity on Uniswap.
For example, Nerd discovered that wallet 0x1f33 was continuously withdrawing from Binance and providing liquidity. As of 11/22, this wallet bought 71K GMX ($3.2M)
Wallet: 0x1f3372af3835cf448e77bba8532dd01b202085c3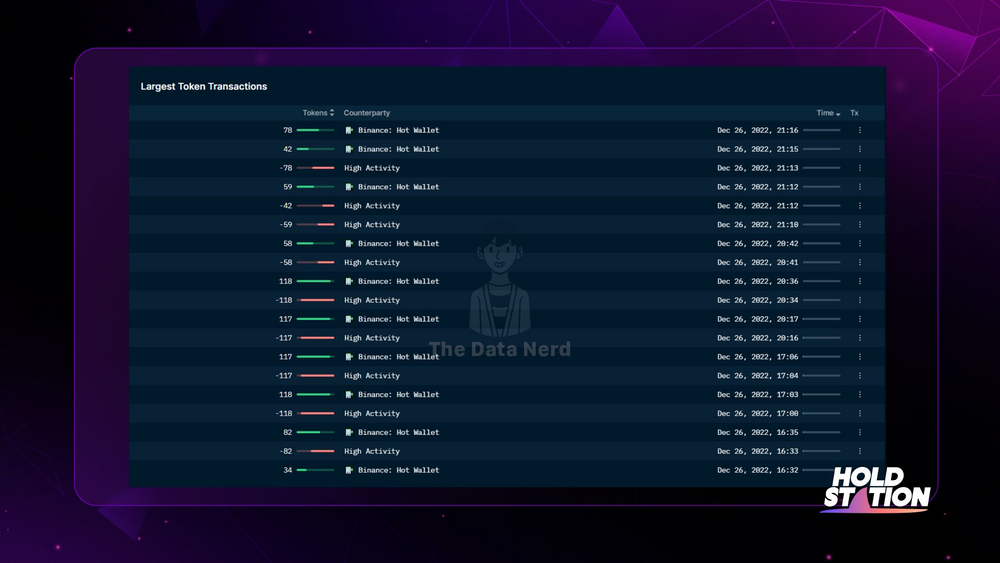 Besides, The Data Nerd discovered some Smart Money wallets showing signs of buying back GMX
The first is wallet 0x475a… of LedgerPrime fund, after 3 months of holding GMX, this wallet took all profits on 11/10 (Probably 10% profit on $700K investment). However, on November 30, this wallet used both the original and the profit of the previous trade to buy back GMX at a higher price. (Currently this wallet is in the top 10 holders of GMX)
Wallet: 0x475a64058bcba94e5cfa7b76dbc49eaadf73d0f0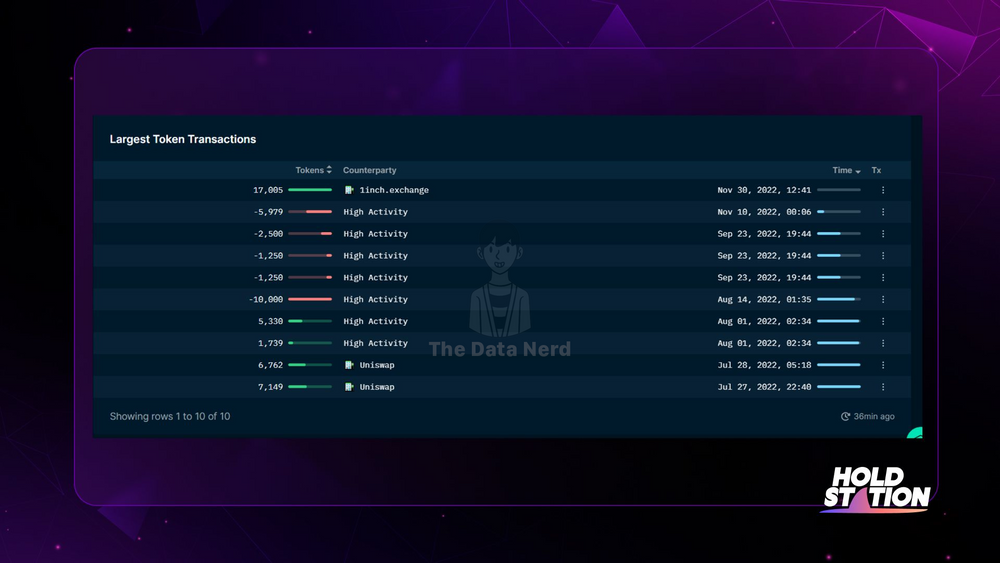 Recently, on December 20, another large fund, Arca, also bought lightly 5K GMX ($220K) on the 1inch floor. In the photo below, the fund is transferred to the High Activity wallet to add liquidity to Uniswap, not a profit-taking move.
Wallet: 0xa66f8db3b8f1e4c79e52ac89fec052811f4dbd19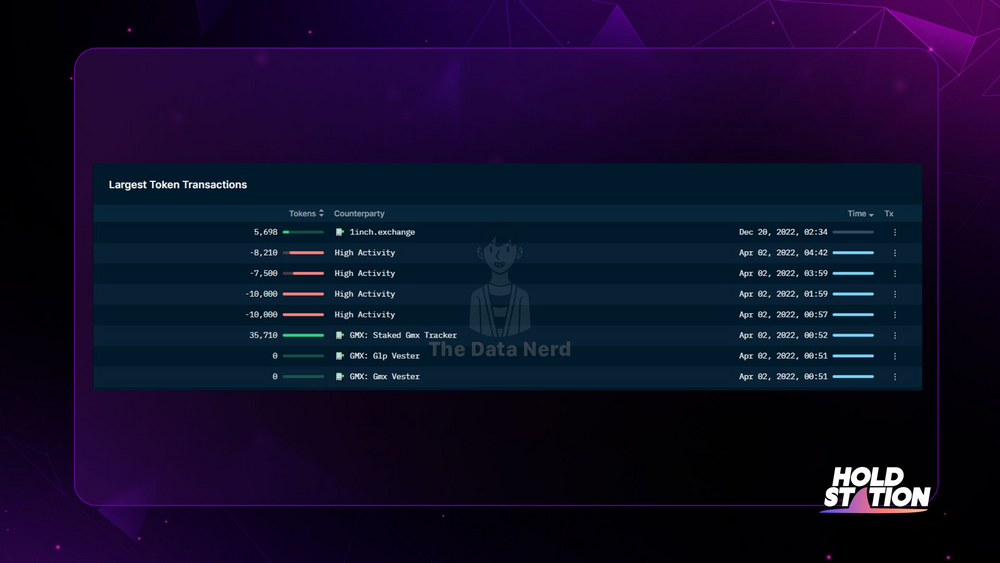 Summary

So summarizing the first upcoming events that will increase the demand for the GMX token, in addition the 4X Protocol update also contributes to creating more users who want to trade Forex or commodities. The PvP AMM model will also contribute to better liquidity, making funds easier to trade.
Besides, Onchain moves also represent consolidating actions from investment funds and users. However, investors should not buy much at this time because the market has not clearly confirmed the next trend
Hope the information that Holdstation and The Data Nerd collect brings useful values ​​to readers.
---
Holdstation Wallet - Your Gate to Web3 💜🦈
Make DeFi as easy as CeFi!
Disclaimer:
The information, statements and conjecture contained in this article, including opinions expressed, are based on information sources that Holdstation believes those are reliable. The opinions expressed in this article are personal opinions expressed after careful consideration and based on the best information we have at the writing's time. This article is not and should not be explained as an offer or solicitation to buy/sell any tokens/NFTs.
Holdstation is not responsible for any direct or indirect losses arising from the use of this article content.