At 6 a.m. on November 5, Ethereum co-founder Vitalik Buterin updated the Ethereum roadmap in the form of a chart on his personal Twitter with many significant changes coming from the world's 2nd largest cryptocurrency. After sharing, Vitalik's tweet attracted considerable attention from the community, with more than 15k likes and nearly 4k retweets.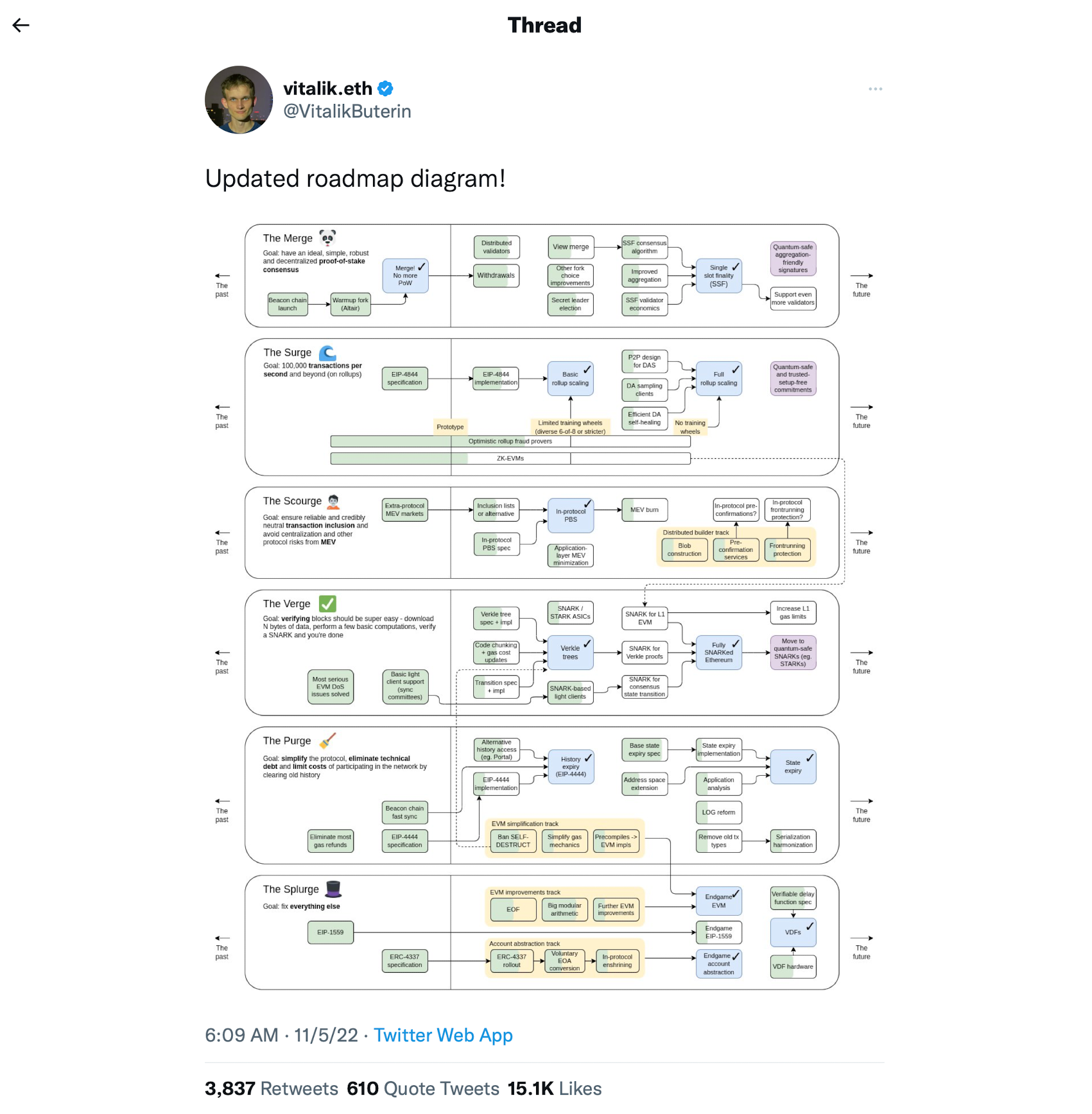 The Roadmap of Ethereum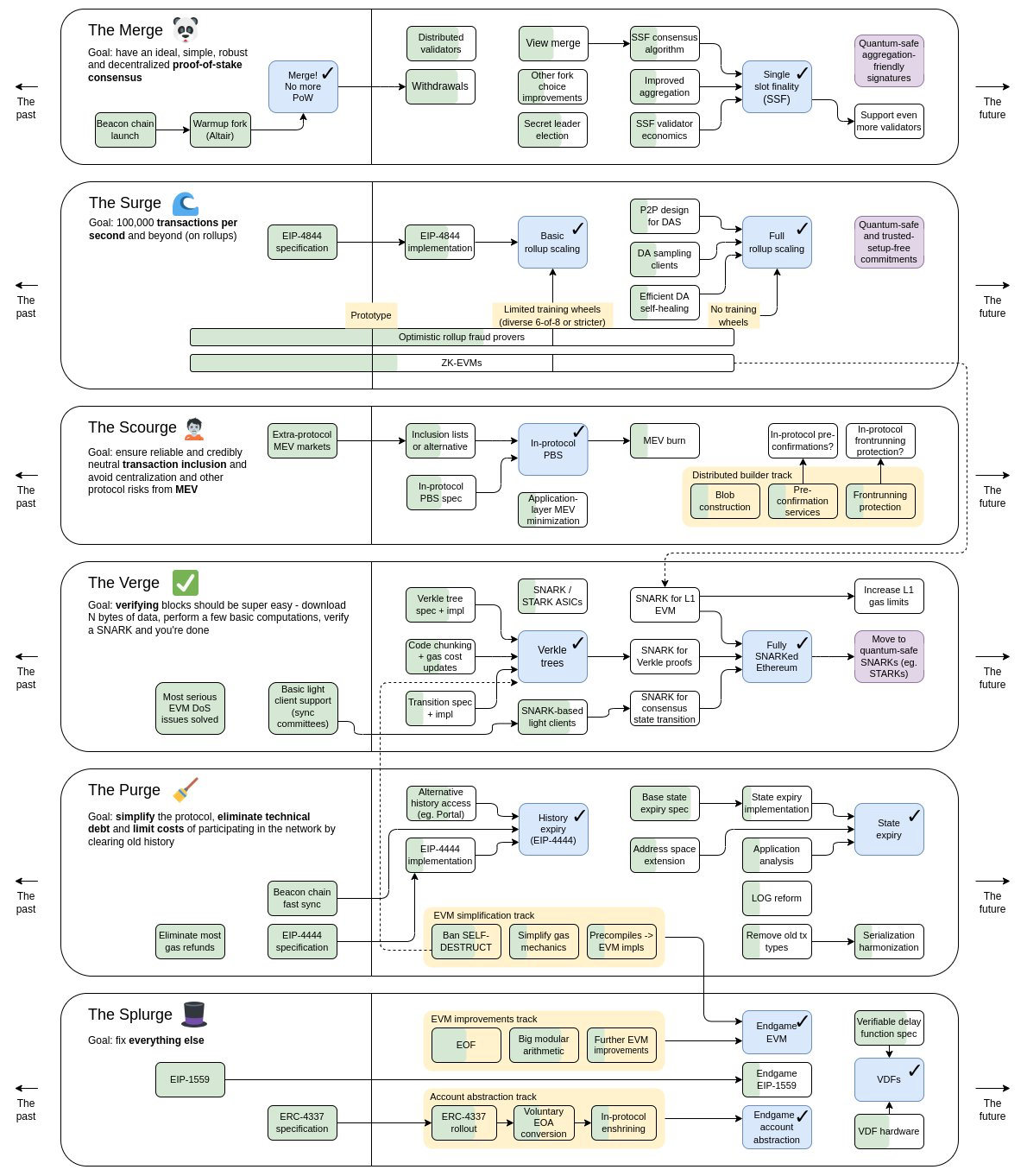 Currently, Ethereum has completed The Merge phase, and Ethereum is moving from proof-of-work (PoW) to proof-of-stake (PoS).
The next phase Ethereum aims for is The Surge, with a goal of 100,000 transactions per second (TPS) and more thanks to EIP-4844.
In particular, Ethereum's roadmap adds a phase called The Scourge, which focuses on ensuring authenticity, including fair, neutral transactions. In addition, this phase addresses the centralization and censorship risks that occurred after The Merge and Ethereum moved to PoS.
The next stage is The Verge, with a "Verkle tree" to store large amounts of data with smaller nodes. The critical part of this stage is that verifying blocks is effortless thanks to "fully SNARKed."
Vitalik Buterin: "The Verge ✅ is not just about "verkle trees", it's about verification"
The next stage is The Purge, which aims to simplify the protocol, eliminate the "clumsy" techniques and reduce the cost of joining the network.
The final phase and the most critical milestone for Ethereum is The Splurge, with the "simple" goal of fixing everything necessary from the previous stages. The most remarkable part of this last stage is the "Endgame" protocol with "Endgame EVM" and "Endgame Account Abstraction," which will bring much convenience to users along with the affirmation of the role of quantum-proofs for "Endgame" protocols.
Ethereum
At the time of writing, Ethereum trades at around $1640 with a trading volume of $37 billion and is second on the crypto charts with nearly $198 billion in market cap. After the release of nonfarm payrolls and the US unemployment rate on November 4, Ethereum's price reacted positively by increasing about 8% from $1555 to peak at $1680 in just 2 hours.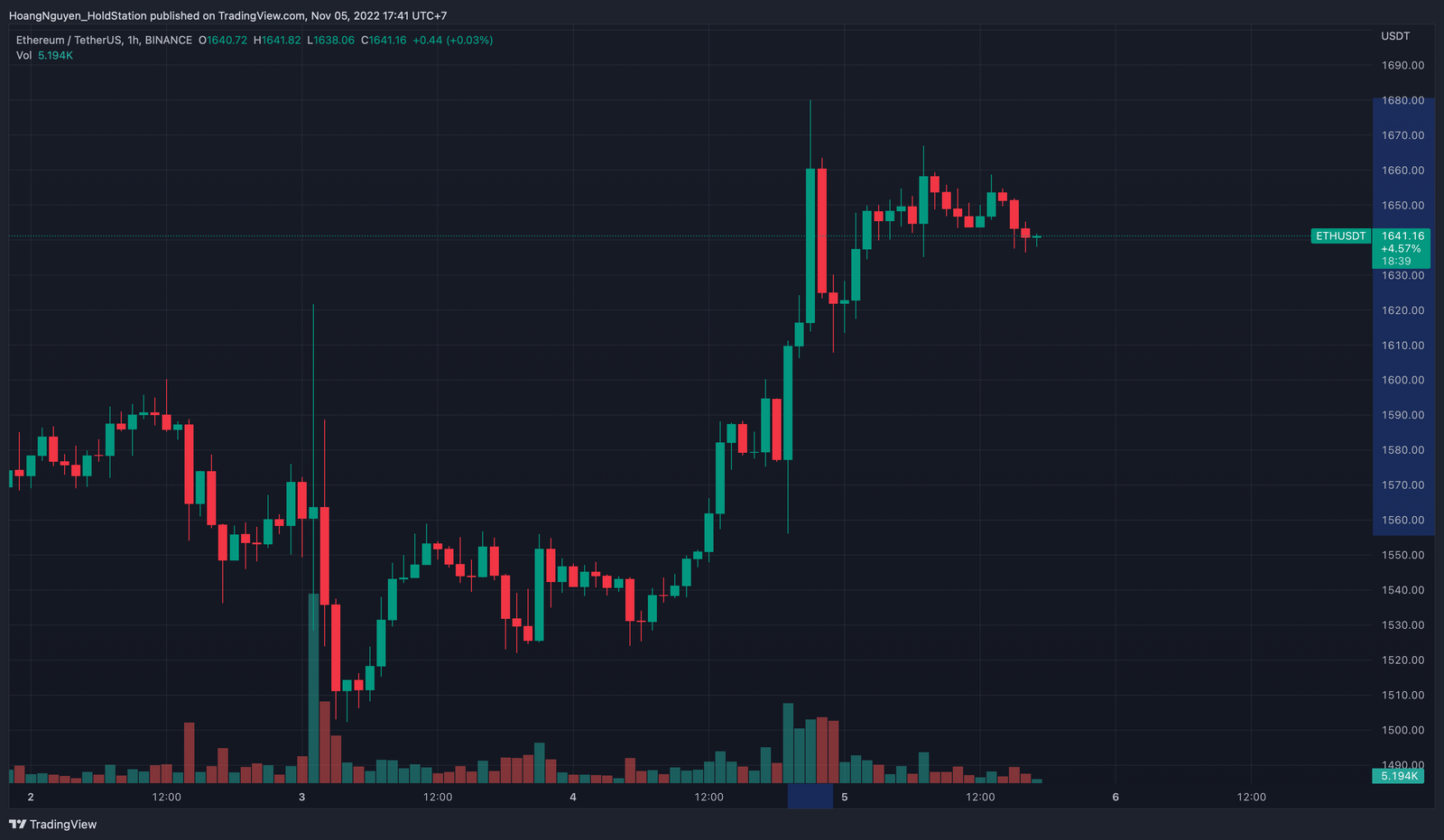 Summary
Ethereum is one of the leading coins in the market after Bitcoin, so Ethereum's "transition" phases will be crucial for the rest of the market. Therefore, the community should pay attention and update the essential milestones of this hundreds of billions of dollars ecosystem to determine the next trend as well as make reasonable investment decisions.
Disclaimer:
The information, statements and conjecture contained in this article, including opinions expressed, are based on information sources that Holdstation believes those are reliable. The opinions expressed in this article are personal opinions expressed after careful consideration and based on the best information we have at the writing's time. This article is not and should not be explained as an offer or solicitation to buy/sell any tokens/NFTs.
Holdstation is not responsible for any direct or indirect losses arising from the use of this article content.
Source: Vitalik Buterin, Forbes and TradingView