In the previous article, HoldStation introduced investors to DOPEX - The First Options Exchange on DeFi. Recently, FTX and Binance both simultaneously list $GMX tokens, a move that shows the interest of the big players when the Arbitrum Season is approaching.
So is there any opportunity to invest in $DPX at the moment?
SWOT Analysis
Strength
The first options trading product on Arbitrum. Has the potential to become the market leader in options trading platform given the limited competition of its peers.
Building a humorous community around the fun culture of Diamond pepe - NFT developed from the project. Besides in Discord, there are also different roles depending on the market that Traders can "Cry Together" or "Cope Together"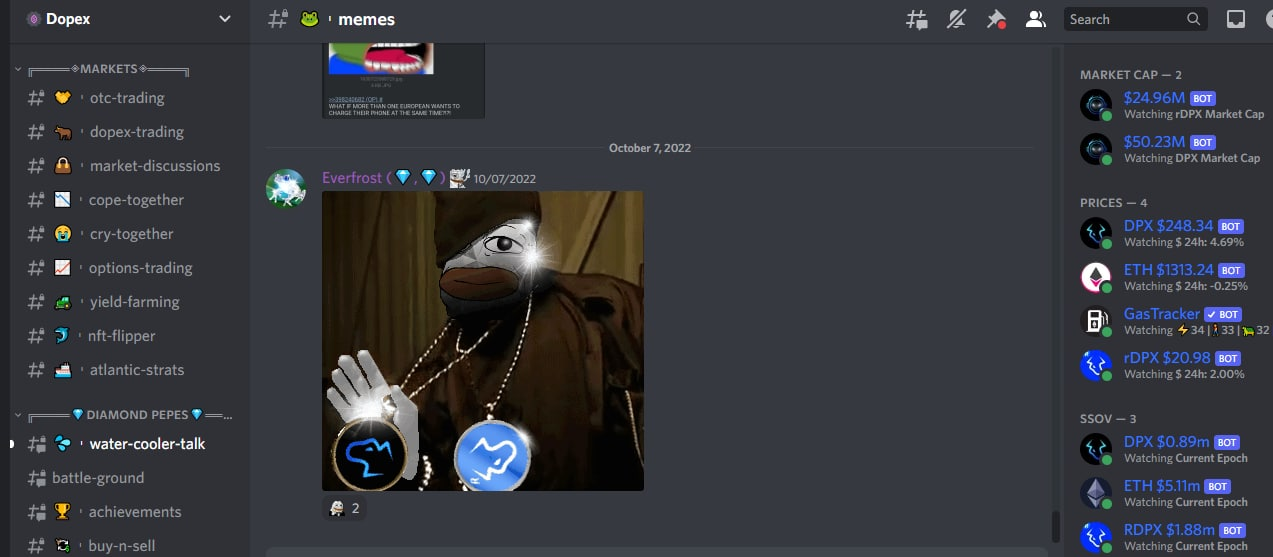 In Bear Market the team is still continuously building and upgrading project products. The most recent is an upgrade to the user interface in the Vault section and integration with GMX in the Atlantic Insured Community.
The Tokenomic mechanism revolves around $DPX and $rDPX with:
$DPX is the governance token used in the DAO (veDPX). Holders $DPX receive revenue from the platform, liquidity pairing to receive rewards from Yield Farming.
$rDPX is a token as an insurance for the user to be minted when the user experiences a loss. $rDPX contributed to reduce the selling pressure of Losers to $DPX. In addition, the platform also creates opportunities for users with $rDPX to receive rewards from the liquidity provider.
The amount of $DPX in circulation is about 202,300 $DPX accounting for 40.46% of the total supply. So $DPX has a market cap of around 50M$
Currently about 32% of $DPX is locked into the $veDPX Pool with an average lock time of 3.12 years.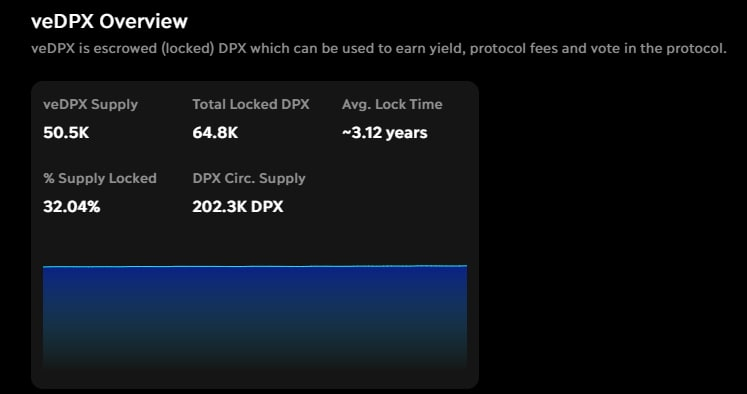 Besides, in liquidity optimization platforms like PlutusDAO, JonesDAO and Vesta Fiannce there is also a large amount of $DPX locked.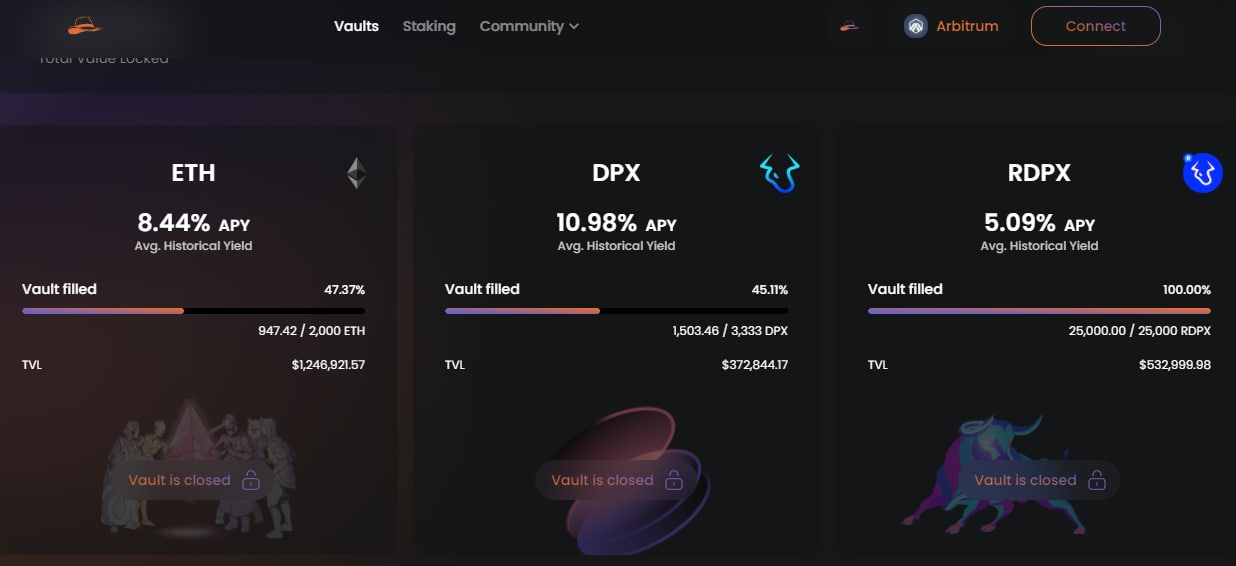 According to Tokenomic's allocation, the most interesting thing is the amount of tokens held by the Team 12%, Early Investors 11% and Token Sale 15%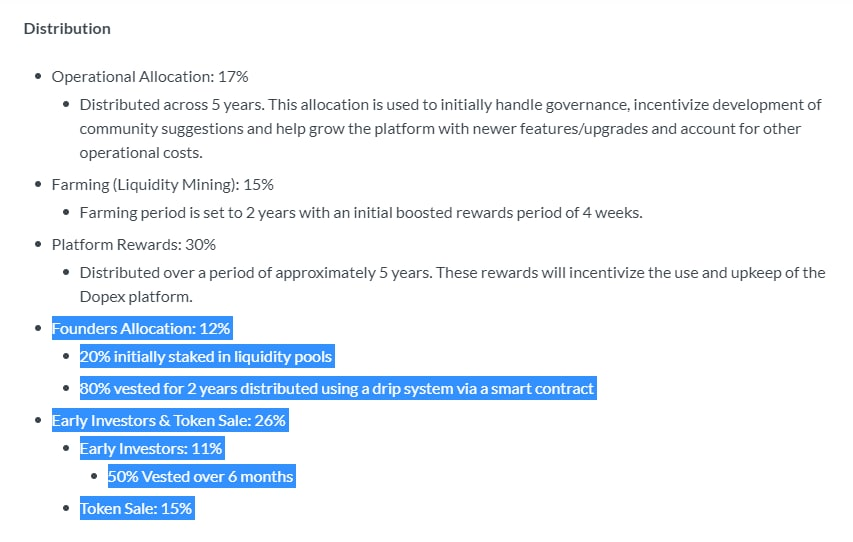 The amount of tokens held by the team is paid 20% TGE and Staked in the Liquidity Pool, 80% The remaining  is paid "drip contract" over 2 years. According to calculations, the total amount of Team tokens after receiving the full amount is 60,000 $DPX. In which, 12,000 $DPX is being Stake and on average, 2000 $DPX will be distributed every month.
Early Investors for 11% ($55,000 DPX): Unlock 50% of TGE and Vested 6 months later.
Token Sale for 15% (75,000 $DPX): Unlock 100% of TGE.
$DPX was launched at the end of October 2021 this means that the Early Investor and Token Sale have been paid off, only about 40% (24,000 $DPX) of Team tokens have not been paid off.
The opening price of $DPX on launch day (October 29, 2021) is $1,734, and the value at the time of writing (October 11, 2022) is $230. According to the above information, the price of $DPX has been divided about 7.5 times. The main reason may come from the selling pressure of Early Investor and Token Sale along with the number of investors who have FOMO before.

Weaknesses
Options trading market is limited in terms of users and popularity.
Team Anonymous, along with not being too prominent on social networking platforms Team members include: TzTok-Chad, Dark King, 0xNini, Ieyasu, arcwardeth, Casio, Markhor, David Iach, C.F, Psytama, Mario Digital. In addition, you can follow the shitposts at Dopex Intern.
Besides the anonymous team, the project's investors are not too prominent.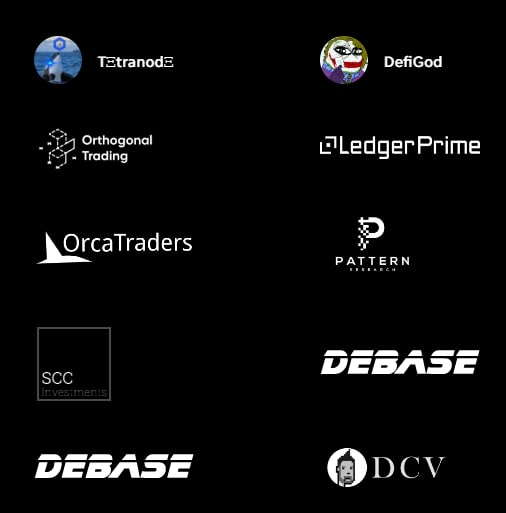 Opportunity
Arbitrum will have a Hackathon taking place on October 15-16, promising to create a big push for the ecosystem and especially invested projects.
Dopex is a platform built on Arbitrum, with low cost and fast transaction speed, very suitable for users to use derivative transactions. And it will not be too difficult to understand when users flock to this largest Layer 2 ecosystem in the future.
There is also the potential for a Dopex version of Curve Wars on Arbitrum:
There are currently 2 liquidity optimization projects for Dopex, PlutusDAO and JonesDAO with veToken products such as $plsDPX and $jDPX
This leads to these 2 "big boys" (and other "big boys" in the future) actively collecting from outside and users to participate in DAOs to take advantage of their projects in voting.
There are nearly 94,000 $DPX (46.38%) circulating in the market locked into the platforms JonesDAO, PlutusDAO, Vesta Finance.
Threats
Options trading is quite complicated for newbies, so access to users will not be as convenient as derivatives like Margin Trade and Perpertual Trade.
Currently, the UX/UI of the project is still quite rudimentary, so it is expected that the next upgrade must be successful so that the project can easily attract potential users in this segment.
Unlike stable Ponzi like GMX, $veDPX rewards are not locked which means $DPX has an inflation rate of 21.9% a year.
Onchain Analysis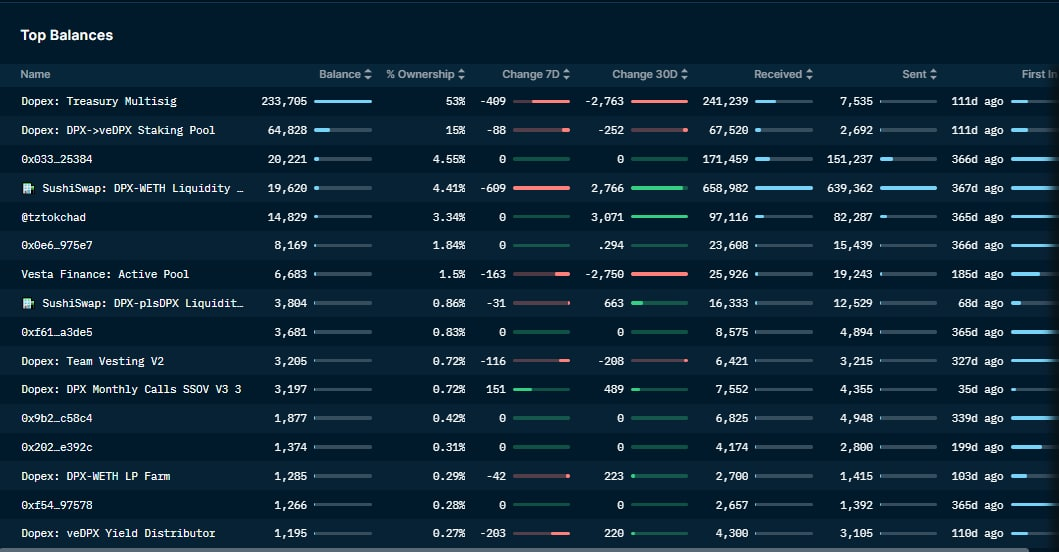 A large amount of $DPX has been withdrawn from the pools recently, possibly due to the bad market movement, so investors tend to lock down asset protection.
The team seems to have just received a token round from Team Vesting wallet and Dev wallet @tztokchad just received 3071 $DPX (both Vesting and Withdraw from JonesDAO??) in the last 30 days.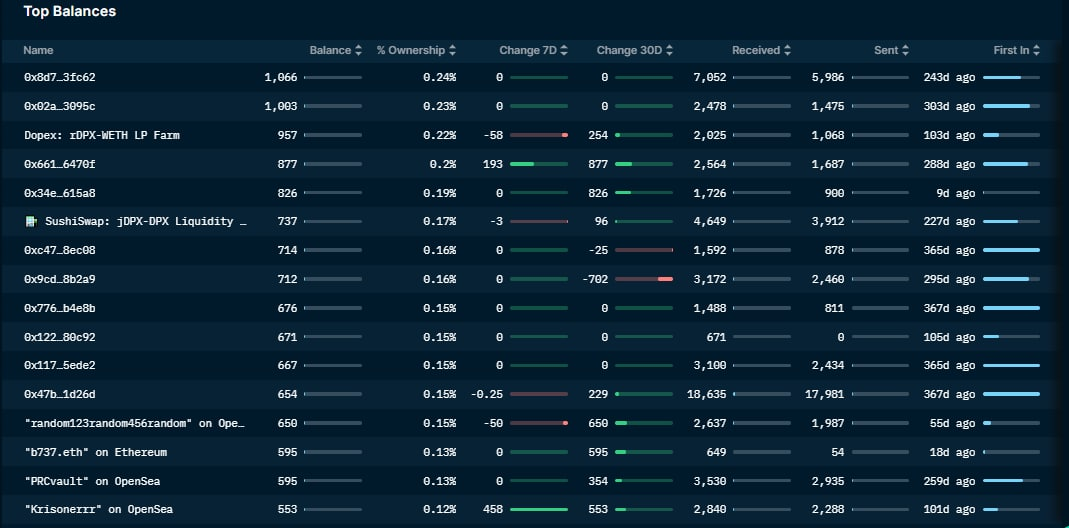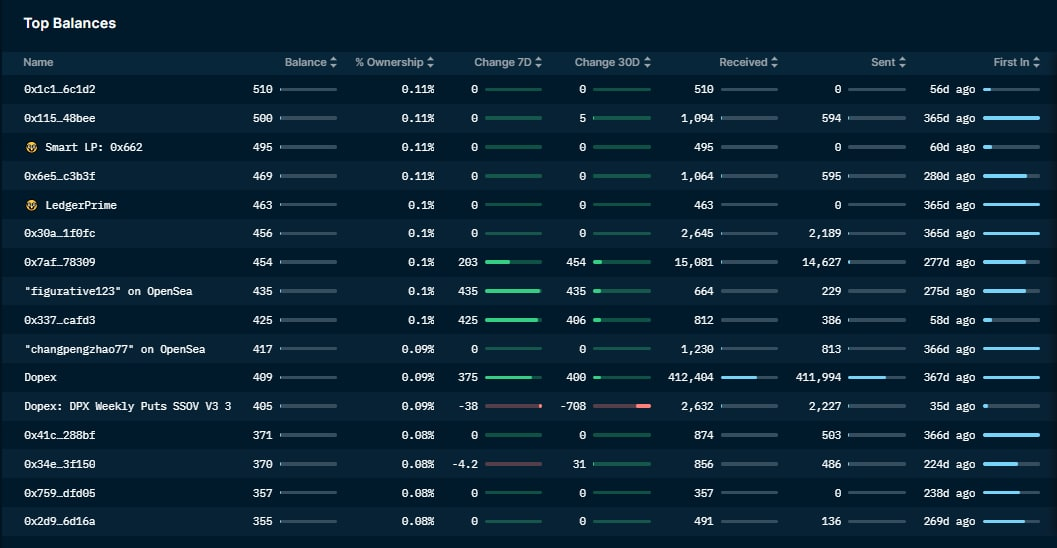 Besides the wallets with high %Ownership, there are also small new wallets with $DPX holdings that have almost the same Balance. Through testing, these wallets all have in common that they only hold $DPX, others hold more $GMX, $rDPX, $WETH and other Stablecoins. Maybe these are different users, but it is impossible to ignore the case of "big hands" splitting the wallet to hold.
Summary
Dopex is a project investors should pay attention to when the Arbitrum Season is approaching. However, the market at this time still needs to be careful, investors can allocate their capital and buy it gradually and then bring it through PlutusDAO or JonesDAO Staking to optimize profits.