$APE is a token on the Ethereum network developed by Yuga Labs, used to airdrop for holders of NFTs in the collection such as BAYC, MAYC, BAKC,... Besides, $APE is also used to participate. DAO and is the currency in Yuga Labs' upcoming Metaverse Game – Otherdeed for Otherside. The market capitalization of $APE is currently over $1.7 billion and has grown by almost 30% in the past few days alone. So what is the cause?
Staking Event
Much of it comes from buying pressure for Apecoin's upcoming $APE Staking Event powered by Horizen Labs.
According to the previously published content of AIP-21 this event will have 4 Staking Pools:
Pool 1: exclusively for $APE
Pool 2: NFT BAYC $APE (1 NFT 10,094 $APE)
Pool 3: NFT MAYC $APE (1 NFT 2,042 $APE)
Pool 4: NFT BAKC $APE (1 NFT 856 $APE)
These Pools will reward Stakers 100M (10% of total supply) $APE in the first year with
$APE Pool: 30%
BAYC Pool: 47.105%
MAYC Pool: 19.06%
BAKC Pool: 3.835%
According to @ponzidope on Dune.com, APY levels for Pools in the first quarter from the time the Staking Event is deployed will be:
$APE Pool : 37.2%
BAYC Pool: 323.7%
MAYC Pool: 482.7%
BAKC Pool: 425.9%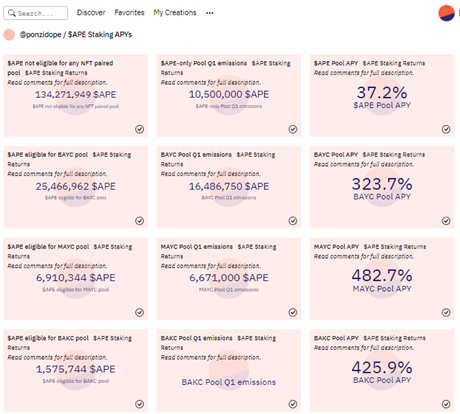 If each owner of NFTs BAYC, MAYC, BAKC wants enough $APE for each Staking Pool, it will There is a buying force near 150M $APE but the shortfall in $APE of NFT holders is still quite large with about 75M $APE for BAYC Holders and more than 32.7M $APE for MAYC Holders.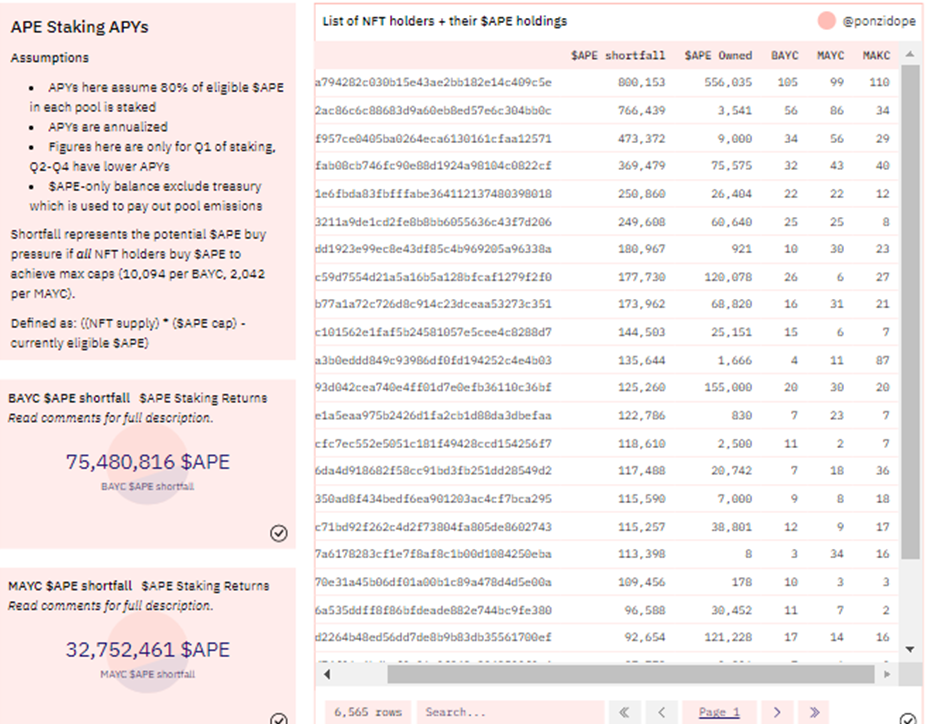 It is likely that $APE will continue to grow in the next period as NFT holders continue to collect $APE and when the Staking Pool event takes place there will be a amount of $APE "disappearing" from the total supply. circulate. In particular, in the fourth quarter of this year, there will be "Big News" for the Otherdeed for Otherside community.
Note
If APY is higher, there is a high probability that NFT Holders will tend to buy more $APE to be eligible to participate in Staking Pool, creating passive income for the amount of assets they own (both NFT and $APE).
If these Holders buy enough $APE for the amount of NFT being held, it will likely create a buying force of nearly 110M $APE equivalent to 550M USD at current value of about 5$/Apecoin.
$APE was launched on March 17, 2022 and soon there will be 25,000,000 $APE unlocked for Contributors falling between September 17-18. This seems to lead to the psychology of waiting for a price correction for NFT Holders who want to buy.

Staking rewards are all taken from the "Treasury" (175M $APE) and distributed over 3 years with 100M $APE inflated to the total circulating supply in the first year, and 75M $APE for the following 2 years. It's basically a Ponzi scheme that adds value to the current $APE and Yuga Labs NFT collections. But inflation will start to increase sharply about 6 months later (Q1 of 2023) when the deadline to unlock for VCs and developers begins.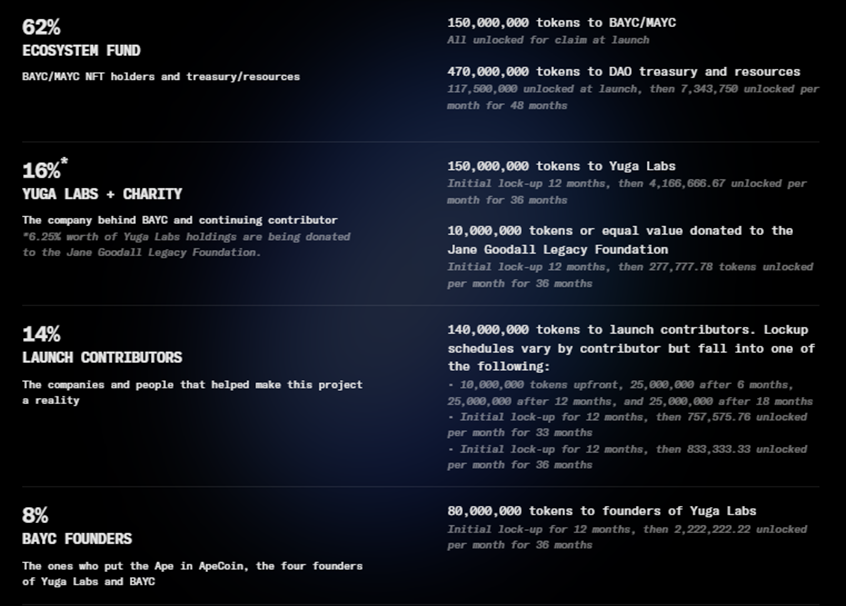 Summary
The above is some information about upcoming events of Apecoin, investors can refer to, consider risks and come up with their own strategies. The data in this article is taken from Horizen Labs, API-21 and @Ponzidope, only estimates and not completely accurate.