Delphi Digital recently announced the selection of Cosmos as an ecosystem to build and develop. Let's learn about Dlephi Digital with Holdstation and this choice.
Delphi Digital Overview
Delphi digital is a leading research organization for users. Focus on projects and digital assets.
Delphi Labs is part of the Delphi Protocol, with a development team of about 50 people working towards building the first Web3 sites.
Platform Requirements
Web3: Many Web3 protocols and products are confidential with limitations when choosing a platform for development. Delphi Labs provides the best and most relevant research for users.
Defi: Delphi Labs aims for a vibrant and liquid ecosystem.
Fast transaction speed for better trading experience.
Synchronization, cross-chain interaction Lower cost.
Customization ability, good development technique.
Optimum performance/scalability.
Orientation
Explanation: Delphi believes that as Defi becomes resilient, blockchains will become more fragmented and dApps increasingly choose to implement specialized application chains. However, Delphi believes that each chain cannot create its own Defi ecosystem because of constraints and liquidity.
Direction: Delphi aims to find potential ecosystems for each Defi dApps. The dApps will be deployed on multiple chains but connected by leveraging a orchestration layer to be able to communicate and connect with each other, allocating liquidity.
Choosing an Ecosystem
Ecosystem Comparisons
Potential ecosystems offered by Delphi Labs for comparison are Ethereum, Cosmos, Avalanche, Solana, Near, Polkadot, Celestia. Here is a summary of some of Delphi's observations about ecosystems: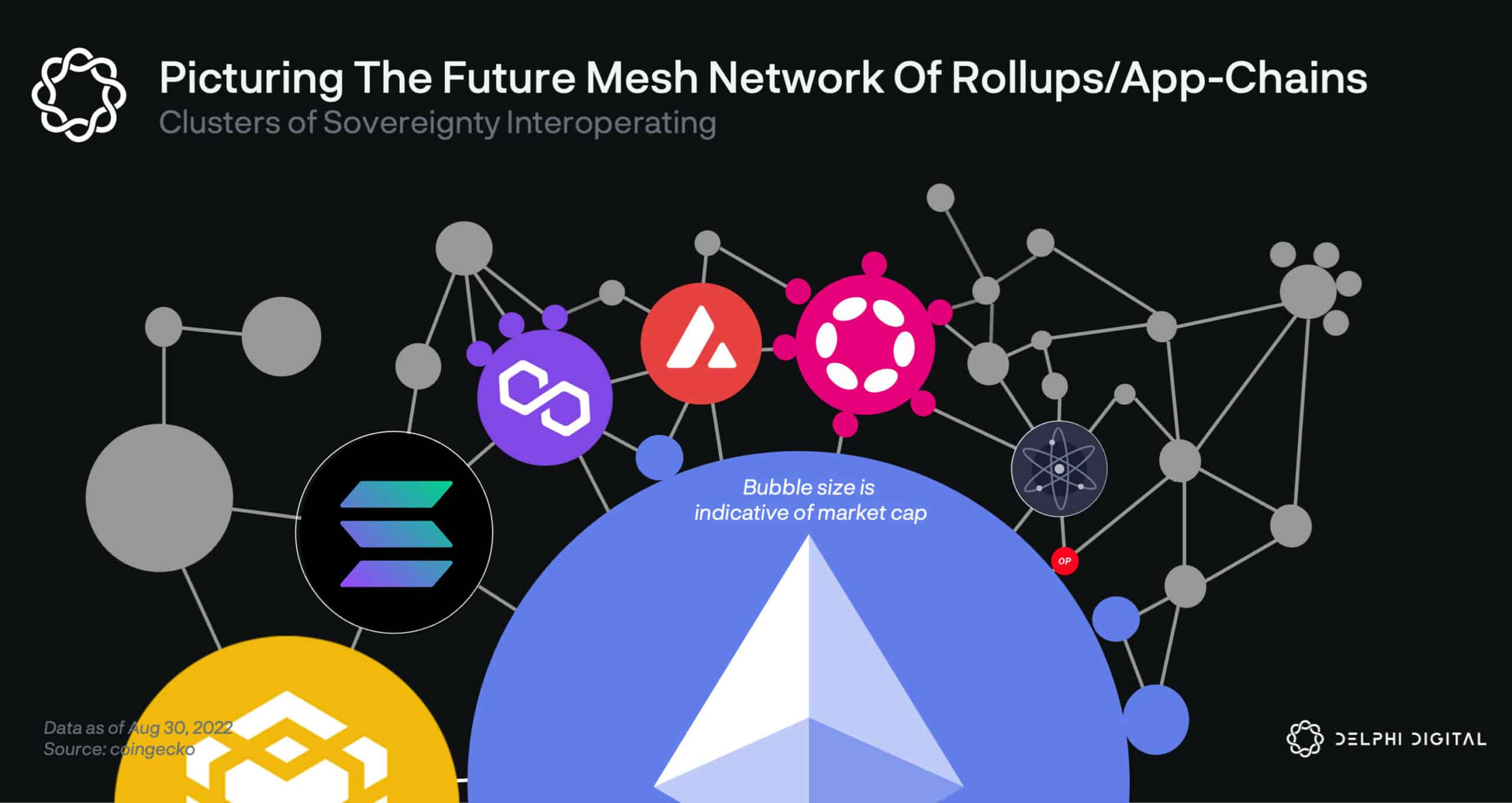 Ethereum:
The ecosystem with the largest amount of dApps, the most development and the highest liquidity.
Delphi appreciates EVM and Ethereum's decentralization, but has the biggest limitations of speed and cost, and poor connectivity.
Celestia:
Celestia has technology that looks to the future but not what Delphi is about.
Polkadot:
Polkadot's mission scores highly in terms of decentralization, having a large, diverse and strong developer and technology community.
Solana:
Sol attracts projects and TVL up to $1.5 billion.
Attractive cost and speed.
The biggest challenge is the network being halted. The ecosystem is not enough for Delphi.
Polygon:
Polygon is fast with an average block time of only about 2 seconds, which is enough for Delphi to build a good Defi test.
The current reliability assumptions of the bridge and the current PoS chain are the main factors in deciding against Polygon.
Near:
Dynamic sharding architecture. Highly competitive scalability with 1.3 seconds block time.
The community is not really as developed and networked as other communities.
Avax:
Novel consensus mechanism. There are no measures on MEV and accountability yet.
Cosmos - Final option
Cosmos SDK is a set of customizable modules that work together as a template for creating new blockchains. Polkadot might work similarly, but Delphi thinks it's harder to work with than the Cosmos SDK. IBC (Inter-Blockchain Communication) provides many functions.
Cosmos has good engineering but the ecosystem is small with TVL under $1 billion.
However, the liquidity in the ecosystem is growing now, so the commitment to build in Cosmos is a bet on future growth.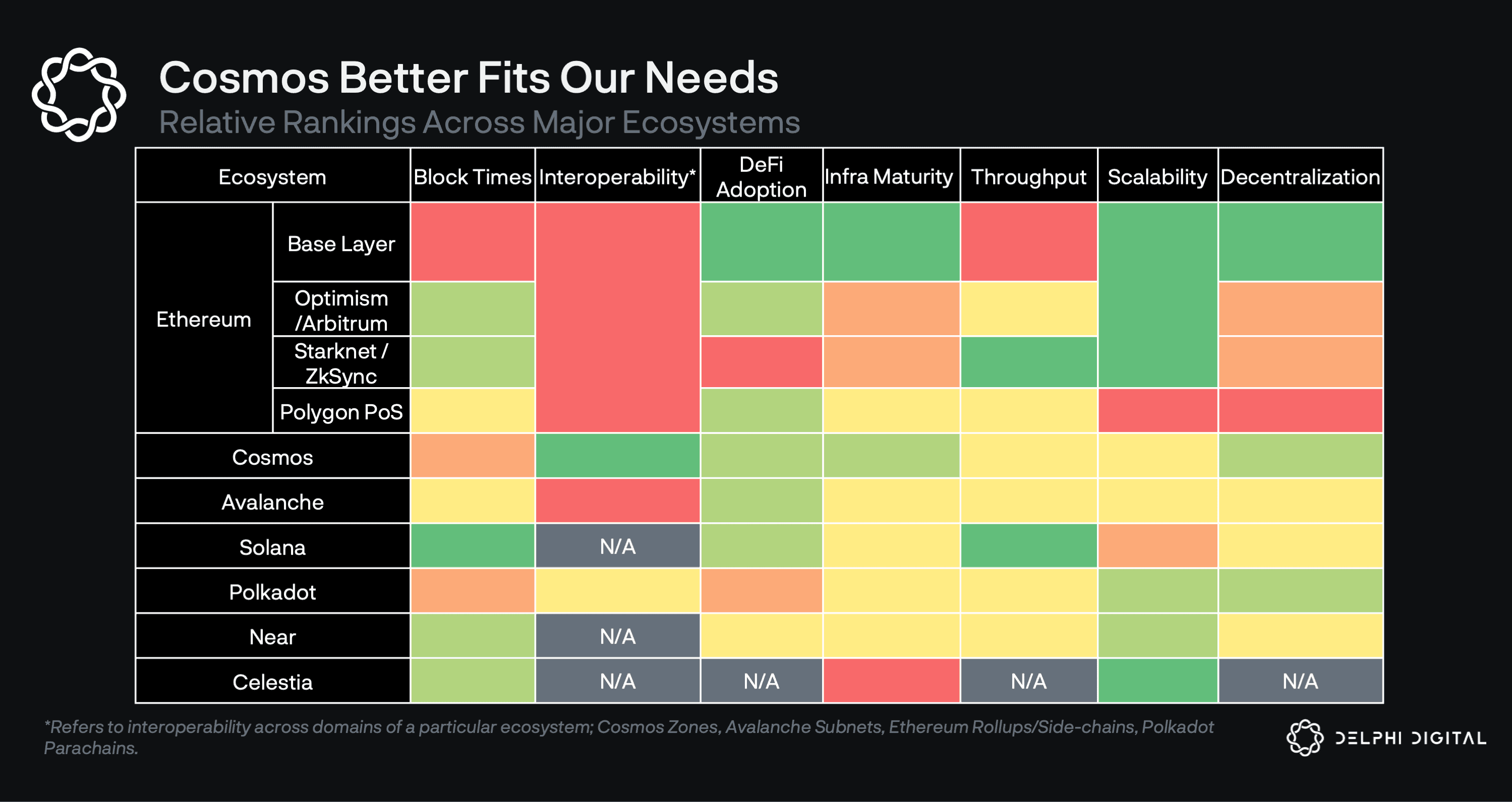 Cosmos' modularity is an advantage, with independent teams able to self-improve to reach consensus.
The number of validators on Cosmos is lower than on Sol and Ethereum, but Delphi believes this is not a big deal.
Instead Delphi considers the Nakamoto Coefficient (minimum number of entities in a subsystem) High degree of decentralization of core developme.
Conclusion:
Delphi Labs has many choices but after reviewing Delphi decided to choose Cosmos ecosystem for development. Cosmos is the best ecosystem of choice when it comes to benefiting from the large amount of dApps and the best use of cross-chains. But it is undeniable that Cosmos's expansion and development is fast, many platforms affect it. Most recently, Lido FInance chose Cosmos to expand.
Because of the above ideas, Delphi decided to choose Cosmos as an ecosystem for development in the near future, but there are still many concerns about the application chain or unreliable bridges.
It can be said that this choice of Delphi is a calculated and careful choice but still has a little sentiment based on belief in the future development of Cosmos.