The CEO of Binance, the largest cryptocurrency exchange in the market, CZ announced that he will not implement a 1.2% burning tax for off-chain trading (Spot, Margin) for Terra Classic (LUNC) and USTC during an AMA last Friday (September 23).
Previously, Binance only applied this plan to LUNC withdrawal and deposits from wallet addresses to Binance wallet and vice versa. However, the exchange will not support burning tax for Spot trading, Margin, as well as Binance, Earns services. According to the Binance CEO, collecting 1.2% burning tax for off-chain trading (buying and selling LUNC) will affect trading activities on the exchange.
"I think the blockchain should implement the burnt first, but this comment was a bit open to interpretation, and many people thought this meant that if it happens on-chain, Binance will implement all LUNC burning off-chain too. This is a wrong interpretation. I didn't make any promises."
He believes the 1.2% tax burn will make use cases on the blockchain meaningless since people will stop trading if more transaction fees are charged. However, before the wave of dissatisfaction from the Terra Classic community, he proposed an option as follows:
Binance implements an opt-in button, for people to opt-in to pay a 1.2% tax for their LUNC trading. When the opt-in accounts reach a holding of 25% of the total LUNC held on Binance, it starts to charge 1.2% tax for all opt-in traders when they trade LUNC.
When the opt-in traders reach 50% of the total LUNC trading volume on Binance, it will roll out the 1.2% trading tax for all LUNC trading.
If the threshold for Step 2 cannot be reached within a month of the completion of Step 1, or falls back below the threshold in the future, Binance will remove the opt-in feature.
Evaluation of this plan
At first glance, it seems that CZ is very good at letting the Binance users decide instead of just based on the Terra Classic community's desire to reduce the supply. However, if analyzed, things do not seem so simple and this is probably just a marketing trick as well as a wise strategy of this CEO to attract cash flow. The success rate of this plan, in my opinion, is quite low for the following reasons:
Firstly, for condition 1, the sharks - who hold a lot of LUNC - will not be interested in this extra fee because 1.2% of the total amount of their trading volume is also significant and LUNC is still worthless so they are mainly interested in profit rather than community.
Second, assuming that the 1st condition is passed, the 2nd condition is to reach 50% of the total trading volume within 1 month. Currently, the 24-hour LUNC trading volume on Binance is more than $60 million, double the number 2 exchange - Gate.io. So the probability of satisfying this condition is not high.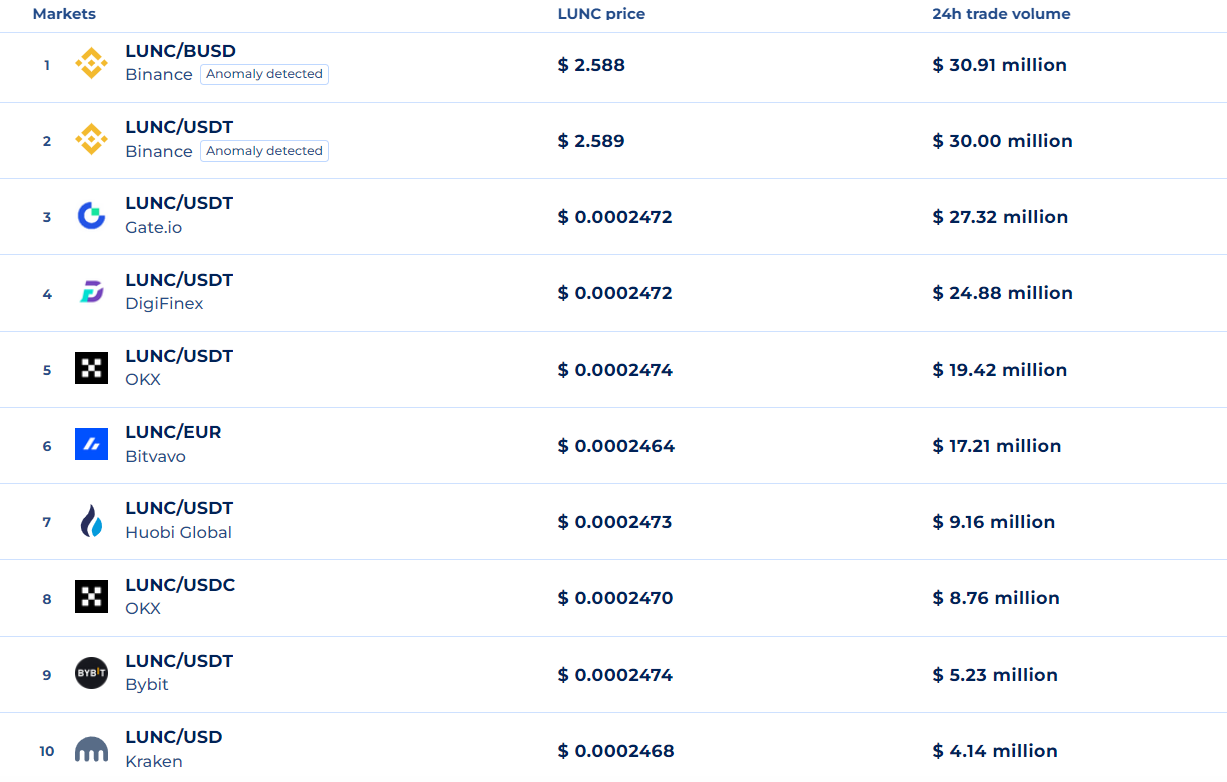 The main beneficiary in this deal will be Binance since the exchange's transaction fees will increase if the Terra Classic community comes together to call for trading to approve this plan.
Summary
After the LUNA/UST crash, LUNC (Terra Classic) created no real value and looked more like a memecoin and game for sharks to implement a "pump, dump" strategy. Taking advantage of the large LUNC community to benefit from the above plan confirms CZ's talent. Binance holds about 35% of the LUNC supply, so after this news, the price of LUNC fell 20% in just 1 hour and is currently trading around $0.000246.