Cronos, the first Ethereum virtual machine-compatible blockchain in the Cosmos ecosystem, has just announced its new roadmap, updating its top innovation priorities for the coming months. Let's find out with Holdstation what good and potential the new roadmap of Crosnos has!
Cronos Ecosystem promotes crypto adoption
Cronos team recorded impressive numbers including: more than 900,000 users, more than 300 dapps in its ecosystem in the first phase. However, it does not stop there, Cronos has just updated its latest roadmap with bigger and more specific goals.
Right now, the Cronos team is seeing an average of 480,000 transactions per day and total TVL at $4.8 billion.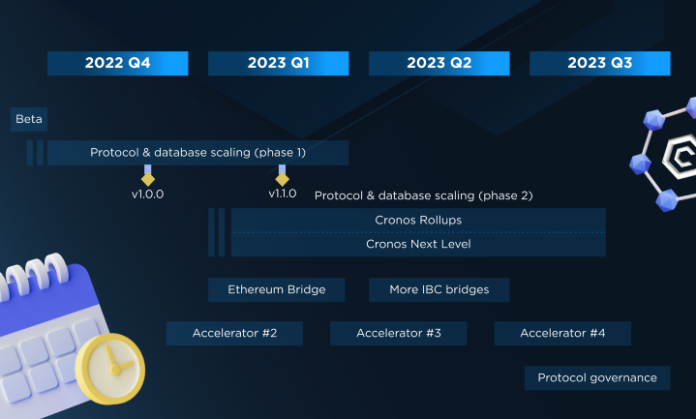 Despite the gloom of the crypto market, Cronos managed to climb to the top of the top 10 blockchains and at the time of writing, the market capitalization of this ecosystem has reached $1 billion. To prepare for the next cycle of the cryptocurrency market in particular as well as the world financial market in general. Cronos outlined his two new ambitions:
1. Reach billions of web3 users with extensible technologies, combined with collaboration with various platforms such as Crypto.com
2.Build an ecosystem including Defi, NFT, Web3 Game developed strongly with high applicability and focus mainly on users.
Cronos focuses on interoperability and collaboration
In the Cronos update, the platform's priority remains on providing access to the leading gaming, Defi, NFT apps. As a result, the Cronos team announced they will leverage their partnerships with other chains to facilitate greater interoperability and collaboration.
The first phase of Cronos' Roadmap, titled "Protocol and database scailing", will focus on and optimize the chain's performance. According to the development team, Cronos' next major upgrade (v1.0.0) is currently in beta and will be rolled out to the mainnet in Q4.
Since the announcement of the Beta, Cronos has recorded a significant improvement in scalability, However, the network upgrade will focus on increasing the scalability of existing Cronos technology.
The development team also identified the top priorities:
Minimize node startup time
Optimize storage capacity
Expand the block area
Cronos' focus on development tools
According to Roadmap, the second phase of the protocol and database will focus on the experience for millions of users on Web3. This is expected to provide support for better network quality in the next phase of the market recovery.
And according to Cronos development team, future technology must promote open source projects, have EVM compatibility, provide high quality and secure transaction pipeline. To achieve the goal, Cronos offers 2 solutions:
Cronos Rollup: The scaling solution will be rolled out by Cronos to the entire community.
Cronos Next Level: A new project that researches and develops solutions for high throughput without compromising dApps composability.
Cronos has made it possible to transfer assets between Crosnos and most chains smoothly. As part of its roadmap, Cronos intends to implement more technologies to enhance engagement and provide a better user experience.
Ex: Cronos Gravity Bridge, will serve users as a bridge (cross chain) between Ethereum and Cronos. Testnet has been deployed since June 28 and is expected to launch in the near future.
Applications on Cronos have seen great growth in 2022. Therefore, the 2023 roadmap will focus on developing the ecosystem, infrastructure and development tools. In late 2022 to 2023, Cronos will focus on improving the look and feel of dApps for users.
In addition, Cronos Labs still aims to develop existing projects and attract more users to new projects including:
Hackathons
Cronos Accelerator
Cronos Ecosystem Grants program
Over the course of 2022, the Cronos Labs team has made significant progress adding dApps developer tools such as increasing the number of wallet integrations or releasing the development framework for dapps. Based on the roadmap, Cronos will target more developer tools to attract and expand the Cronos ecosystem.
Ultimately, Cronos chain will move closer to on-chain decentralization in the coming months. Special focus on network optimization. In addition, Cronos will pay attention to transaction fees to attract and encourage user activities.