At SmartCon 2022, Chainlink - the Oracle system that provides secure access to real-life data for Web3 applications - revealed that the most anticipated staking reward scheme in recent times will be implemented in December 2022, accompanied by two programs designed to increase the economic stability of this service.

SCALE and BUILD
SCALE - reduces costs for on-chain data usage and reporting by accelerating development and splitting fees for large numbers of participants. Projects will provide a portion of the revenue in the form of their tokens in exchange for premium Chainlink services such as faster data update frequencies that enhance smart contract applications and reduce latency in processing.
BUILD - an economic model for projects in the early stages of development, allowing them to access services and support from Chainlink and Chainlink will receive back the native tokens of those platforms.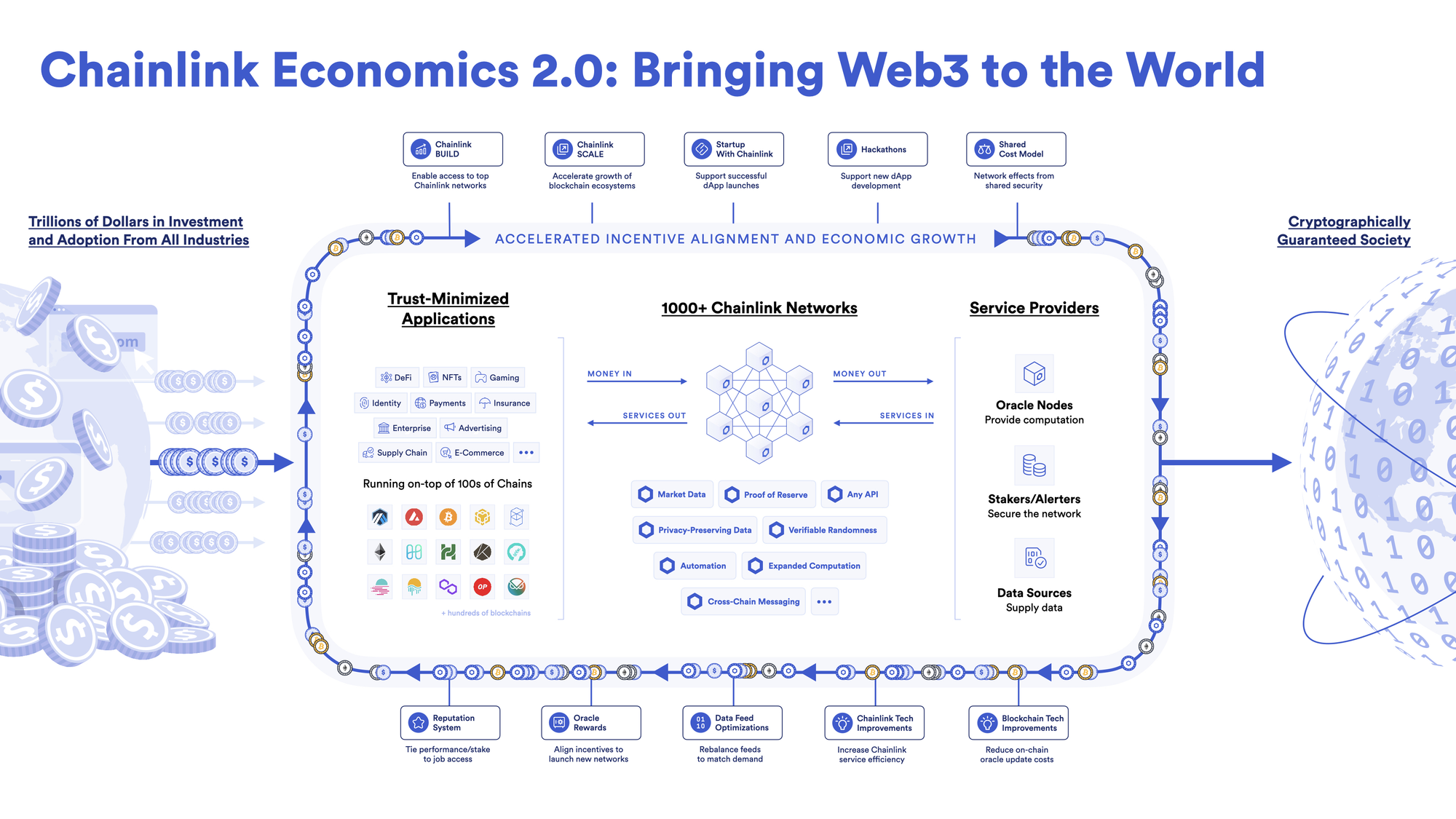 ⇒ More simply, Chainlink builds a model that uses public block space, meaning that instead of the same data as USDT price but each unit has to pay its own fee for each request, now this data will regroup and deliver once to multiple units - split cost. This will help Chainlink have a more competitive element than other protocols in the same array, but at the same time, it will be necessary to increase the user file to ensure that revenue does not decline. In addition, Chainlink holding the project's token will create a long-term commitment between the parties ⇒ Create a loyal customer file.
SmartCon 2022 is Chainlink's first IRL (In Real Life) conference with the participation of many famous names in the cryptocurrency market such as FTX CEO Sam Bankman-Fried, former CEO of Google and currently an advisor to Chainlink Eric Schmidt, Arianna Huffington,...Here, Chainlink co-founder Sergey Nazarov announced that Avalanche, Metis, Moonbeam and Moonriver will be the first 4 projects to participate in the SCALE program and Truflation, Space & Time, and Bitscrunch register for the BUILD program.
Chainlink staking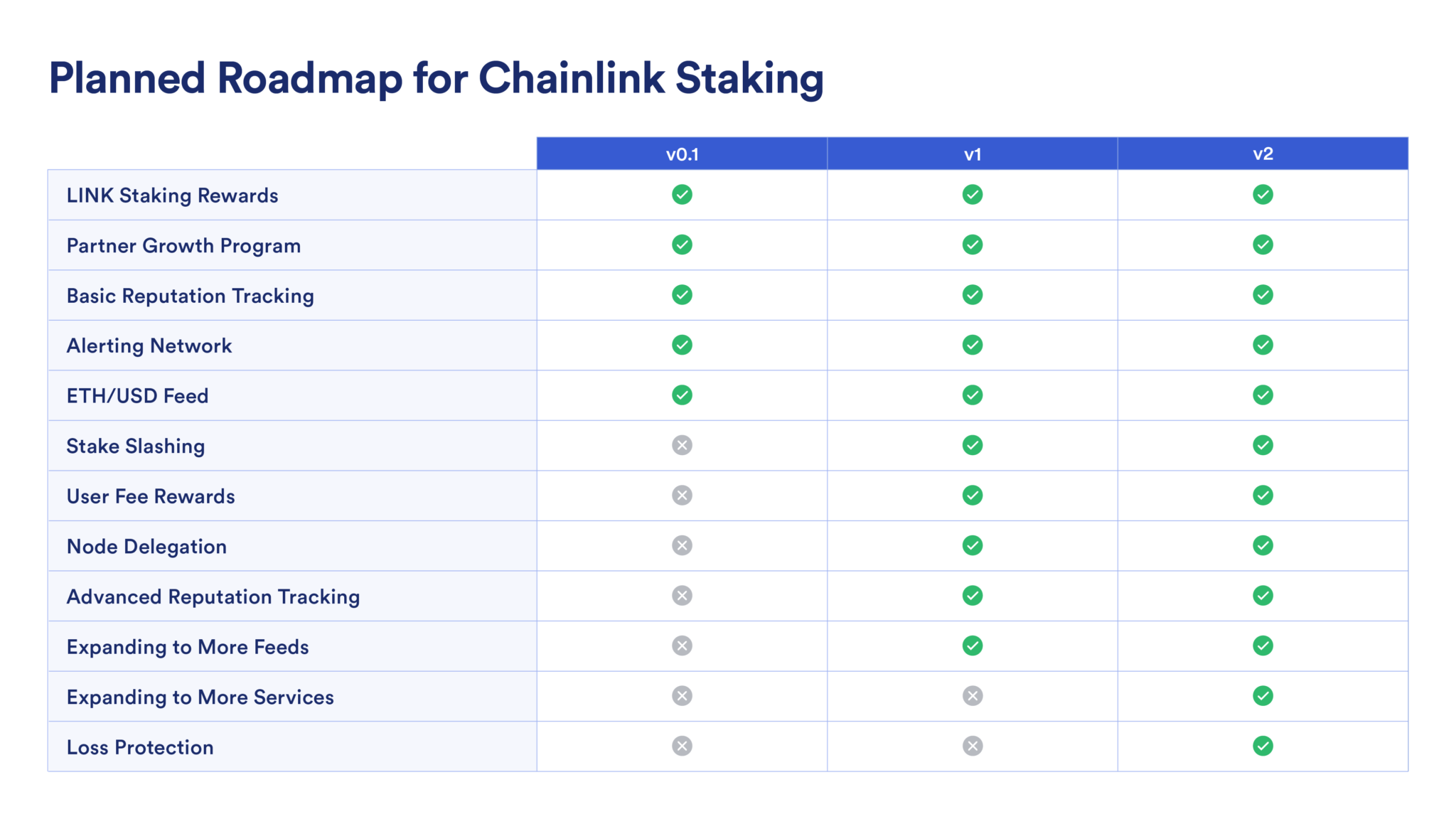 The staking plan will be conducted in phases. As revealed from Nazarov, there will be an opportunity for Early Adopters and some others to join the staking pool early. The app will be released on October 3rd to rank eligible attendees according to a variety of evaluation criteria such as the number of LINKs owned or commitment to the community. The pool initially holds 25 million LINK tokens and aims to expand to 75 million, depending on demand. Some key points in the staking roadmap are as follows:
Create opportunities for the community to participate in staking or authorize the validator node they trust ⇒ increase decentralization.
Mechanism of reward and punishment for information accuracy ⇒ ensures credibility.
Rewards are partially deducted from real revenue ⇒ limit inflation of $LINK tokens.
For the past four years, Chainlink has played a central role in the evolving world of Defi with services ranging from price data, weather information, and random number generation to GameFi applications, dNFT (dynamic NFT),...and soon will be secure cross-chain communication between blockchains, allowing traders to borrow, lend, and trade crypto assets without the need for third-party intermediaries - the goal to a decentralized data service platform.
Read more: Future of Chainlink With CCIP And Staking Mechanism
Summary
So with the new staking mechanism as well as the two newly announced programs, the value of $LINK will be accumulated and at the same time promote the development of the Chainlink ecosystem. However, in the short term, the FOMO rally of more than 15% in the last 7 days according to this conference news seems to be over in most cases. However, in the long term, it will take time for web3 to become widely available, and then Chainlink's application - web3.0 infrastructure - will grow and bring $LINK value.