Binance - the largest exchange in the crypto market by trading volume - officially announced the offering of decentralized web3 Oracle on October 26. Binance Oracle acts as a bridge between real-world data and smart contracts deployed on the blockchain, starting with the BNB Chain ecosystem.
More than 1,400 apps launched on BNB Chain will benefit with an immediate "early bird" program kicking off the first 10 projects that integrate Binance Oracle, including a number of quality platforms on the BNB Chain like Venus - a lending project with over $770 million TVL, Ankr - a staking protocol ($101 million TVL), and Alpaca Finance - a farming platform ($510 million TVL). Built by the talented team of Binance, this could become a major competitor in the oracle service of Chainlink (LINK) - which is currently one of the leading organizations in the field.
Oracle is a third-party service that provides an external data source to the blockchain. This information is extremely necessary because the blockchain, although it is an immutable data store, cannot independently verify the authenticity of the entered data. Therefore, Oracles are used to ensure that the metrics and information the DeFi applications exploiting are accurate. This data can provide market price information such as dollar rates or weather information, etc. Oracles can also operate bidirectionally allowing data to be sent to the outside world.
Commenting on the importance of the Oracle network, BNB Chain Investment Director - Gwendolyn Regina - shared:
"The new internet is in the process of evolving into well connected smart contracts. Using oracles to dramatically increase the smart contract's knowledge of what's going on outside of the blockchain, allowing it to respond to external events with specified actions will be crucial. Binance Oracle will emerge as a significant contributor to Web3 by offering a stable, reliable, and efficient Oracle network with comprehensive accuracy and accessibility features."
How does Binance Oracle work?
Binance Oracle ensures high reliability by retrieving price data from various centralized exchanges (CEX) and aggregating it with an intelligent algorithm. For individual data sources, the network leverages the Threshold Signature Scheme (TSS) - a distributed mechanism that eliminates any point of failure.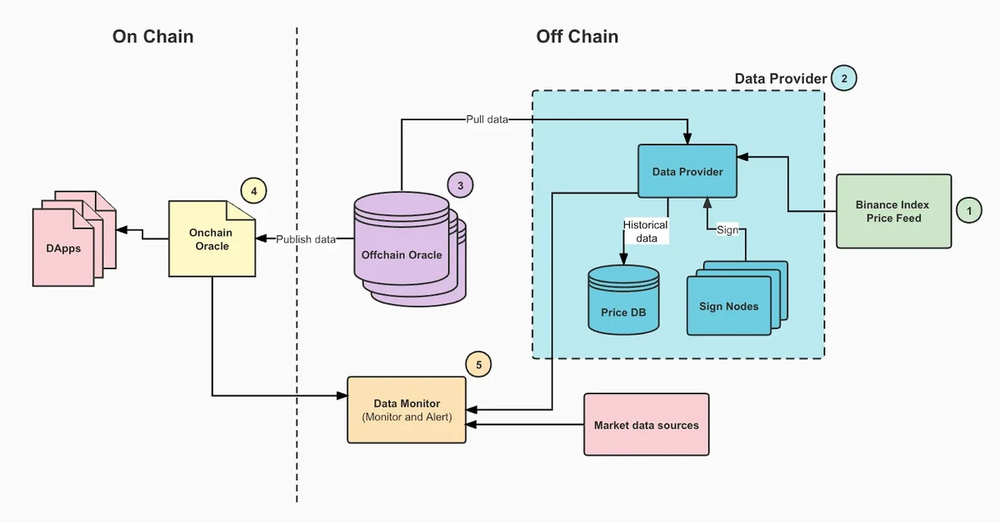 In addition, the Binance public key verifies the authenticity of the data multiple times to prevent falsification. If successful, Binance Oracle will directly compete with institutions like Chainlink.
How important is Oracle?
Oracle is considered one of the key factors determining the sustainable development and mass adoption of blockchain technology in general and crypto investment in particular. By collecting real-life data, web3 platforms diversify services and can take immediate action if unexpected fluctuations occur. From there, protect the safety and optimize profits for investors.
An unreliable oracle will be a great danger to the project as well as to investors if it is manipulated and taken advantage of in hacks. Recently, the exploitation of $100 million from Mango Markets - Defi trading platform on Solana ecosystem also stemmed from Oracle's mistake. The attacker borrowed $100 million after pushing the price of the MNGO token and misleading the system into believing that the character was holding more collateral than it actually was. According to FTX CEO Sam Bankman-Fried, although Oracle correctly updated the "current price" of the MNGO token, in this case, it should be the "fair price".
Elsewhere, someone who exploited a vulnerability in the Curve Finance price created a $220,000 flash loan attack on the QuickSwap decentralized exchange (DEX). Polygon DEX closed its lending protocol following the event.
Summary
As such, Binance shows ambition and seriousness in investments for web3 as well as building a unique ecosystem full of critical infrastructure for web3, from a separate blockchain, promoting stablecoins BUSD to Oracle - this can be like Apple Inc in traditional finance. Competitions between platforms will take place, but from a user perspective, diversification will lead to an increasingly improved and safer service.
Disclaimer:
The information, statements and conjecture contained in this article, including opinions expressed, are based on information sources that Holdstation believes those are reliable. The opinions expressed in this article are personal opinions expressed after careful consideration and based on the best information we have at the writing's time. This article is not and should not be explained as an offer or solicitation to buy/sell any tokens/NFTs.
Holdstation is not responsible for any direct or indirect damages arising from the use of this article content.