Aptos is a bright Layer 1 emerging in recent times, with strong growth potential even though it has not yet launched on the mainnet, but has also attracted a lot of attention in the crypto world. Therefore, let's cunfgHoldstatin explore some potential Defi projects in the Aptos ecosystem.
Hippo Labs - Liquidity aggregation mechanism on Aptos

What is Hippo Labs?
Hippo Labs is an outstanding Defi with a liquidity pooling mechanism on Aptos.
Highlights:
Liquidity Aggregation: Hippo aggregates the liquidity of many DEXs on the Aptos ecosystem, making it possible for users to trade at the best rates.
Technology development capabilities: Hippo uses SDK tools and programming languages ​​to streamline development and deployment on Aptos. Increase efficiency 10 times.
Integrate large amount of dApps and still increasing number of dApps integrated with Hippo.
Product:
Hippo Labs has launched a devnet on Chrome extension for users.
Users can try Testnet on this only by connecting Wallet (Martian, Petra, Pontem, Spika).
Great integration capabilities:
Defi: Hippo Labs is a major partner of Econia (infrastructure development protocol, developed on top of Aptos) and in partnership with Pontem Network, this partnership enables Hippo to enable users to route multi-step transactions through these 2 DEXs.
Stablecoins: Hippo endeavors to support the expansion of stablecoin liquidity of ArgoUSD and Thalalabs.
Liquid Staking: Allows users to stake Aptos Tokens without locking the assets.
Wallet: Hippo integrates many wallets on the Aptos ecosystem and will expand more in the future.
Infrastructure: Hippo collaborates with many parties to develop targeted infrastructure to give users the best experience such as: LayerZero Labs, Swim Protocol and Switchboardxyz.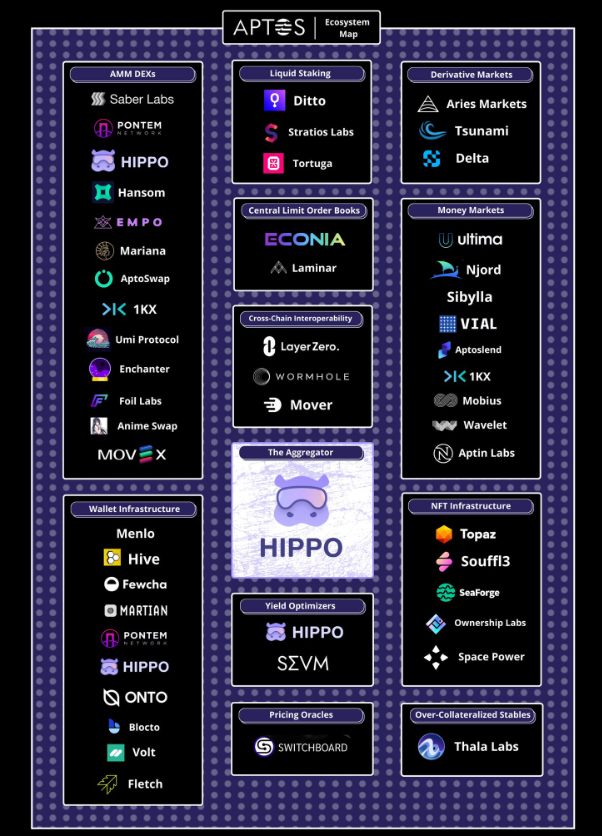 Potential assessment
Hippo Labs is a bright Defi project in the Aptos ecosystem, with a convenient aggregate liquidity mechanism for users. Besides, the ability to develop utilities on Hippo and integrate with many other projects in the ecosystem of Aptos brings great development potential in the future for users.
Omni BTC - The First Decentralized Finance Platform on Sui & Aptos.

What is Omni BTC?
Omni BTC is a decentralized finance platform for Web3.
OmniBTC believes that Bitcoin can do more than store value, so OmniBTC develops a space that makes BTC more applicable.
What makes OmniBTC special
Focus on Bitcoin and aim to make $BTC more functional than just an asset store coin.
Integrate many borrowing utilities, cross-chain right on one platform without much manipulation.
Good liquidity and less slippage for users Lightning Network is a new solution that makes OmniBridge completely decentralized.
BTC holders can completely trust the delivery of BTC to the Lightning Network which can then be used for any Defi or GameFi product.
Main mechanisms
OmniSwap:
Base on Layer0, users can swap any token between any chain easily. By unifying liquidity on each chain, OmniBTC allows users to simply swap and enjoy the best liquidity and lowest slippage.
OmniBridge:
Users lock BTC into Lightning Network contracts, receive the same $XBT asset as staking ETH on Lido and give back stETH.
OmniLending:
Allows users to borrow/send assets on chain X and withdraw/return assets on chain Y without a bridge. (Example: deposit $ETH on Ethereum and borrow $USDC on Aptos, but return USDC on SUI and can withdraw ETH on Polygon.) Simply put, you are free to borrow on any chain.
Potential assessment
OmniBTC is appreciated with utilities like Lending, Swap, Cross-chain for $BTC and directs users to leverage $BTC to do more than just store assets.
Besides, the Twitter community is growing rapidly to 23.3 thousand people. The individual who writes the OmniBTC highly appreciates the future success and community recognition when the features and utilities are good and user-oriented, besides the increase in the value of BTC will also help OmniBTC developing more.
Aries - Decentralized asset trading platform

What is Aries Market?
Aries Market is a decentralized margin trading platform on Aptos.
Highlights of Aries Market
A decentralized margin trading platform that combines many convenient borrowing-borrowing facilities for users without much manipulation.
What problem does Aries Market solve?
Aried Market realizes that the decentralized financial market lacks projects and dApps that have all the utilities that users need. Understandably, on L1s, users want to use borrowing or trading utilities, derivatives and if so, often centralized exchanges like Binance, FTX. Therefore, Aries aims to create a product with full utilities but on the same product for users.
Main mechanisms
Moneymaker: Users deposit assets for profit or mortgage and borrow money for other uses.
Trade: "Spot margin" trading is similar to spot trading but allows users to use borrowed assets.

Swap: Funds deposited into Aries can also be used to trade on various AMM markets.
Account management: Aries allows all escrow accounts to be unified on the same dApps. Besides, there are features such as: Sub-account, Token interest notice, Quick loan.
Security and stability:
The development team considers security and stability to be the most important factors. The core features (Move, ABI, programming language, etc.) inside Aries are built by a world-class team that limits the possibility of being hacked.
Potential assessment
With the integration of many features on the same platform, Aries Market aims at a more convenient user experience. With fast borrowing and margin trading features, it will attract a large number of users, especially those who like to long short in the future.
Aries Market will need some time to prove and users accept because a large number of users are still trading on margin on centralized platforms like Binance, FTX, etc.
Conclusion
Besides the above Defi projects, Aptos has many other potential projects, each of which brings benefits to different users. The above Defi projects still have a lot of potential for development in the future when Aptos is a growing ecosystem and great development opportunities when it comes to mainnet.