Providing personal information in Web2 to use services, in general, is leaving many security risks for users. Therefore, Zero-Knowledge technology was born as a solution to solve this inherent problem being pursued by big companies, such as ZkSync. Another layer1 that is also in the process of developing and applying this technology, Aleo, has raised $228 million. Let's learn about Aleo with Holdstation through this article!
Overview
What is Aleo?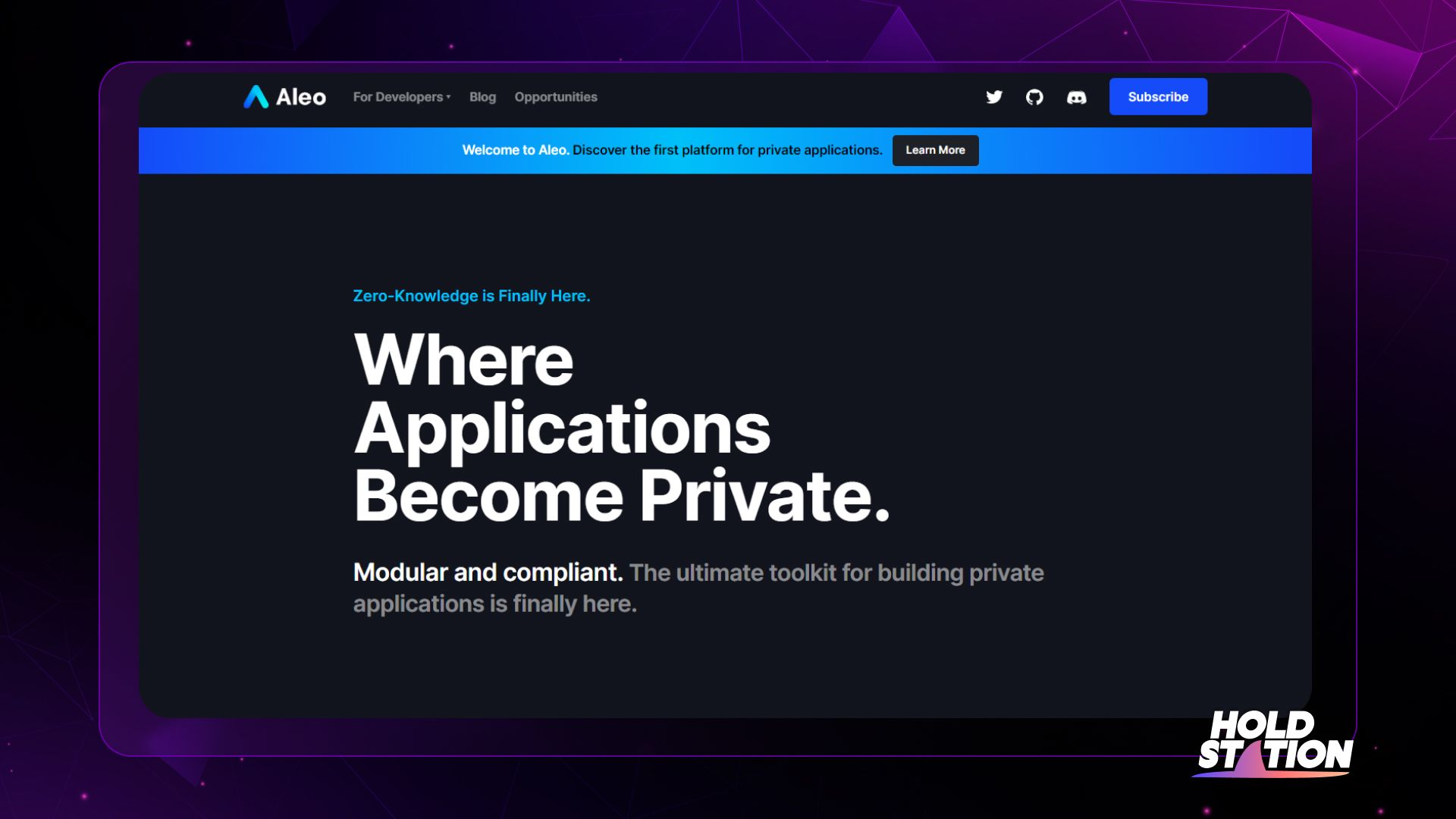 Aleo is a layer 1 blockchain that provides the infrastructure for web 3 related Dapps developers to build on, with zero-knowledge-proof technology. Supporting users to experience web3 applications without worrying about personal data being exposed or stolen, problems related to transaction speed are also handled at the same time.
With the "private-by-default" target. Users will be able to experience web services where the right to share information or personal data is given to them. Users are not obliged to provide any information to 3rd parties on Aleo.
Tokenomic
Token Name: Aleo Token.
Ticker: ALEO.
Blockchain: Aleo.
Token Standard: ERC20.
Allocation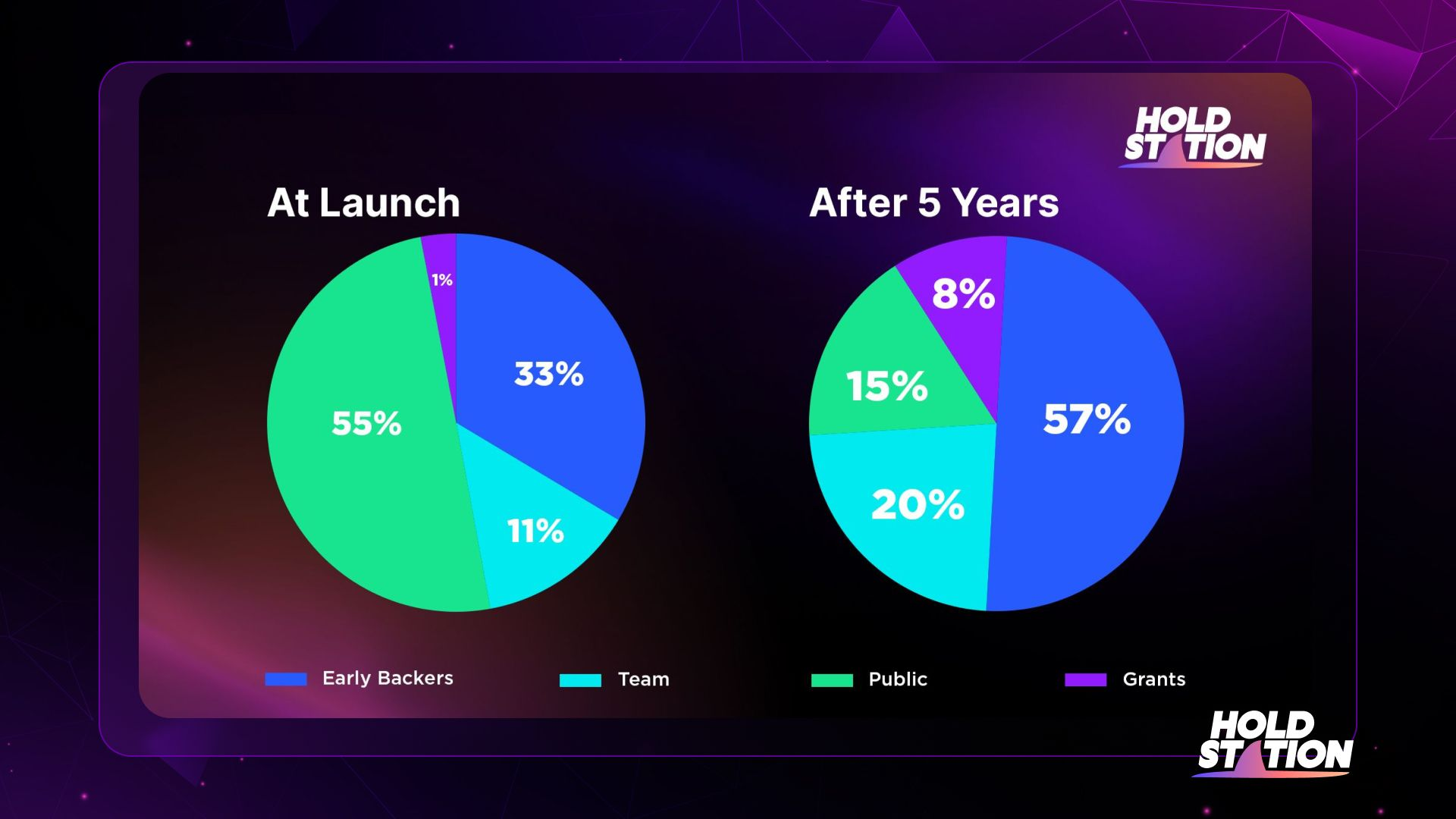 Team
Aleo was officially founded in 2019 by Howard Wu, Michael Beller, Collin Chin, and Raymond Chu.
Howard Wu: He used to work at Google and then worked as a Blockchain consultant at Berkeley from 2016 to the present.
Michael Beller: He used to work at a venture fund from 2014 to 2019.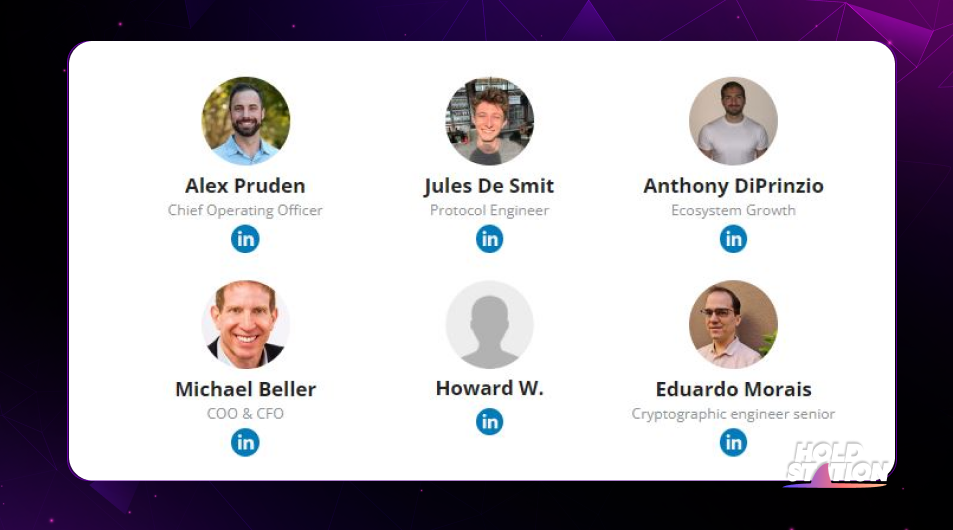 Backer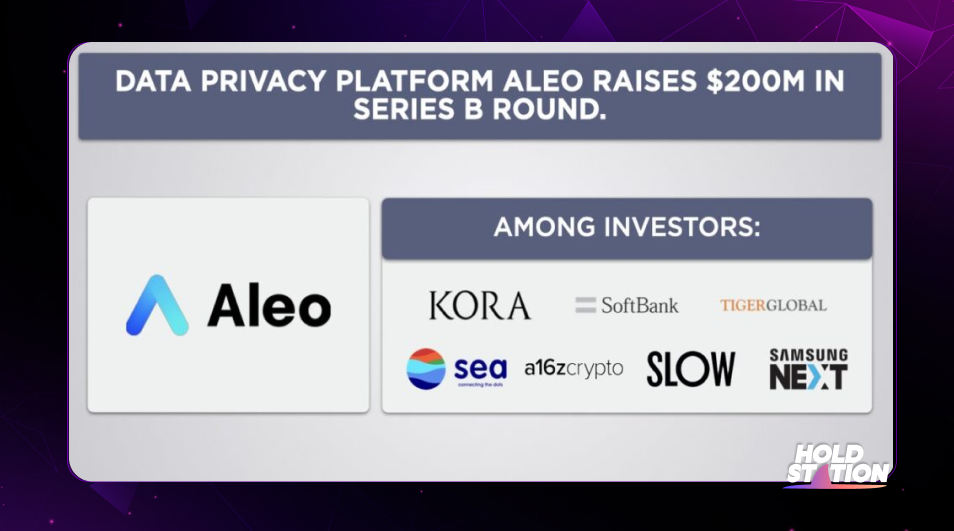 Highlights of Aleo raised nearly 230 million dollars Aleo has raised a total of $ 228 million through 2 funding rounds of $ 28 million and $ 200 million respectively with the participation of big names such as A16z, Polychain Capital, Coinbase Venture, SoftBank Vision Fund 2,... Also currently valued at $1.45 billion In addition, at present, according to the announcement from the project, more than 200 projects are participating in building Aleo's ecosystem.
Mining mechanism similar to $BTC
Instead of following the Proof of Stake mechanism of layers1 that received a lot of attention earlier like Aptos. Aleo opted for the Proof-of-Succinct Work mechanism, a mechanism similar to the old BTC or ETH PoW, but this process also provides additional validation of transactions in blocks. With this mechanism, Aleo can attract a large number of miners from $ETH to move, when Ethereum has officially switched to Proof-of-Stake mechanism after The Merge.
Currently, the project has recorded more than 22,000 miners involved in mining $ALEO.
Own and friendly programming language
Aleo uses his own programming language named Leo. This is a programming language inspired by Ethereum's Solidity language, Leo has a lot in common with Javascript and Typescript, developers fluent in these languages ​​will have easy access to Leo. The Aleo team also released Aleo Package Manager (PM) or Aleo Studio (interactive development environment for creating zero-knowledge applications in Leo) to make it easier for project developers to build dapps on Aleo.
Fees on the Aleo network are also precalculable, users will know how many Aleo points (Aleo credits) are needed to run a regular dapp. Unlike Ethereum, Aleo does not use the concept of gas.
Zero-knowledge technology
With the application of Zk technology, Aleo helps project developers reduce user traffic control costs, which will also transfer all user access data and passwords. from storage to devices used to access it, reducing the legal liability that web services face today. zk technology helps users who participate in the web service experience to have the right to manage their personal data. They can use services while in incognito mode normally.
Social networking community attracts a large number of users
Aleo's Twitter and Discord have reached 73.4k and 54k followers respectively after 1 year of construction even though there is no official mainnet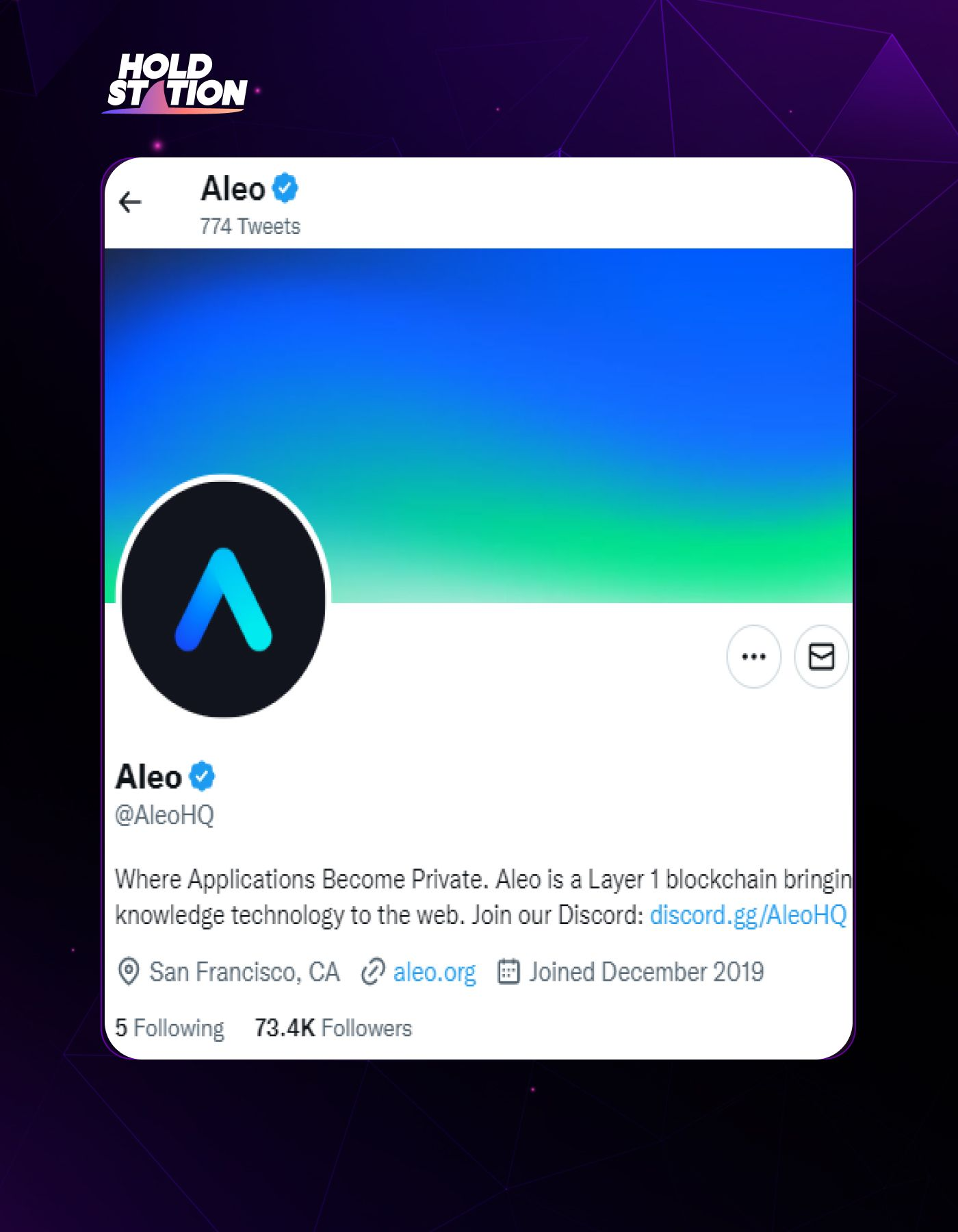 The Limits of Aleo
Uneven token distribution
At the time of launch, the total token allocation for backer and team was up to 77%. After 5 years, this number is still up to 44% which is a very large number. This split can directly affect users' trust in the project as well as the future price of the token.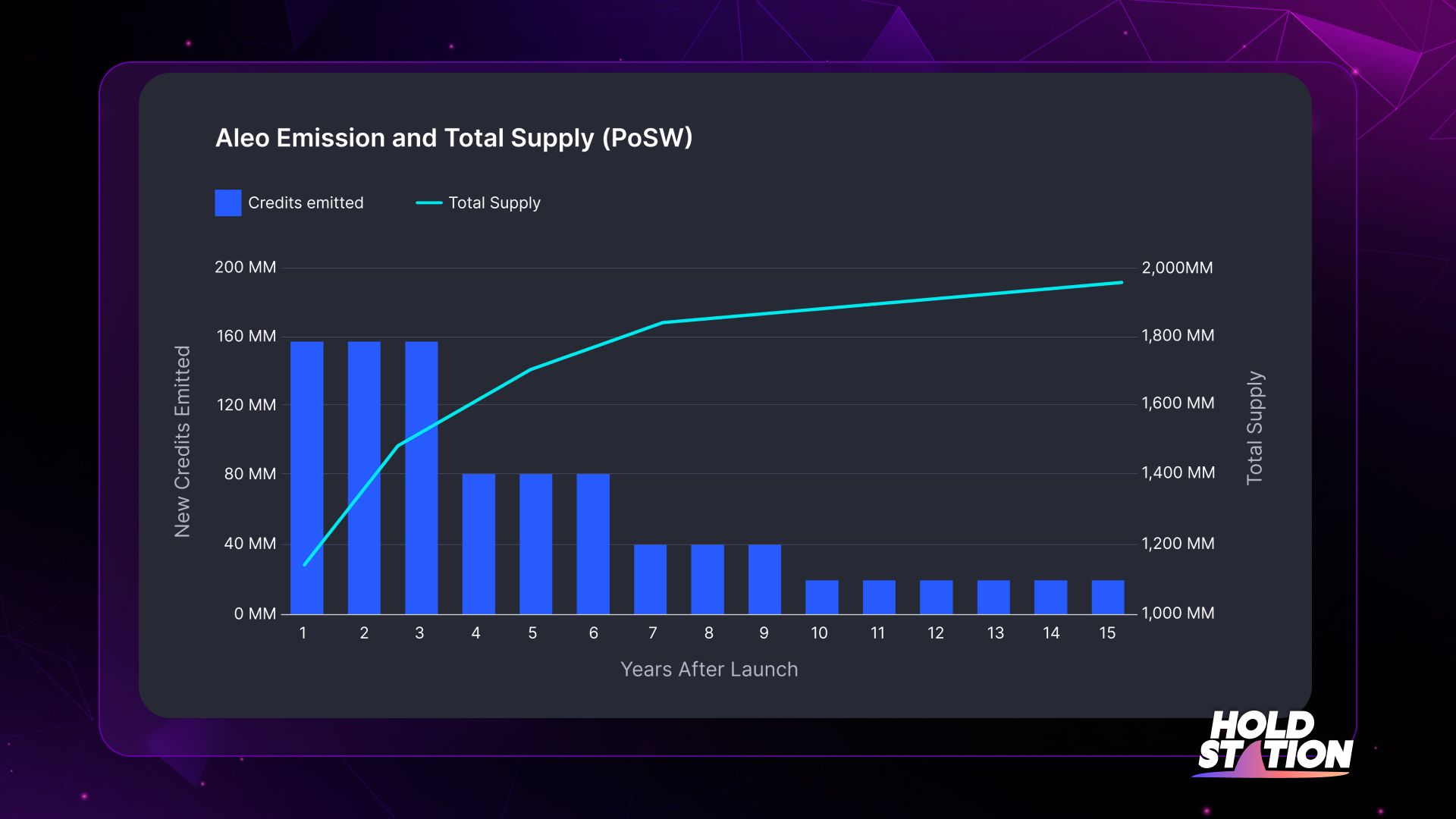 At the beginning, in order to attract users to quickly join the Aleo network, a lot of money was pumped into the market and caused inflation risks as shown by the inflation curve in the image above.
Risk of transaction speed and security in mining mechanism (PoSW)
With the use of a mining mechanism to pump tokens into the circulation supply similar to the old BTC, the transaction speed and security of the network will depend entirely on the miners. If the case of miners encountering errors such as power failure, hardware failure or human-related risk factors (miners) arise, it will directly affect the transaction speed (an inherent problem in the mining industry). BTC network) and the security of the network.
How to earn ALEO Token (Testnet)
Join running node Currently the Aleo token has not been released to the mainnet and is only at the testnet stage. However, investors can participate in running a node to experience the testnet along with a high chance of receiving Airdrop from the project.
To run node for Aleo, users will need to use an engine with the following minimum configuration:
CPU: 16 cores
Ram: 16GB
Storage: 128GB
Network: 10 Mbps
To start running Aleo Node, users download the software to run the node here and follow the instructions or Tweet below to start running.
Receive Airdrop from Aleo Node
Aleo has announced that there will be incentives and rewards for validators participating in running nodes. According to Aleo's announcement, the Token is paid to the node runner when the token goes out to the mainnet at the conversion rate of 5:1 (For example, when the testnet mines 1000 tokens, when the mainnet comes out, it will get 200 tokens). Therefore, this will be a great opportunity for ETH miners to switch to ALEO mining, both able to mine ALEO tokens and have the ability to receive potential Airdrops. Not only professional miners, but retail investors who have a computer system capable of processing can also participate in running nodes as retail customers.
However, the possibility of loss from Aleo's excavator construction or rental costs is still there. Especially in the downtrend market, the price of the token will have strong fluctuations.
Conclusion
With the application of new Zk technology and invested a large amount of money with a huge backer. Aleo deserves to be one of the projects that investors and users put on the watch list for 2023.
---
Holdstation Wallet - Your Gate to Web3 💜🦈
Make DeFi as easy as CeFi!
Disclaimer:
The information, statements and conjecture contained in this article, including opinions expressed, are based on information sources that Holdstation believes those are reliable. The opinions expressed in this article are personal opinions expressed after careful consideration and based on the best information we have at the writing's time. This article is not and should not be explained as an offer or solicitation to buy/sell any tokens/NFTs.
Holdstation is not responsible for any direct or indirect losses arising from the use of this article content.