Degods, Solana's #1 NFT community aimed at the world's most significant NFT projects, has announced its new project royalties on its Twitter account.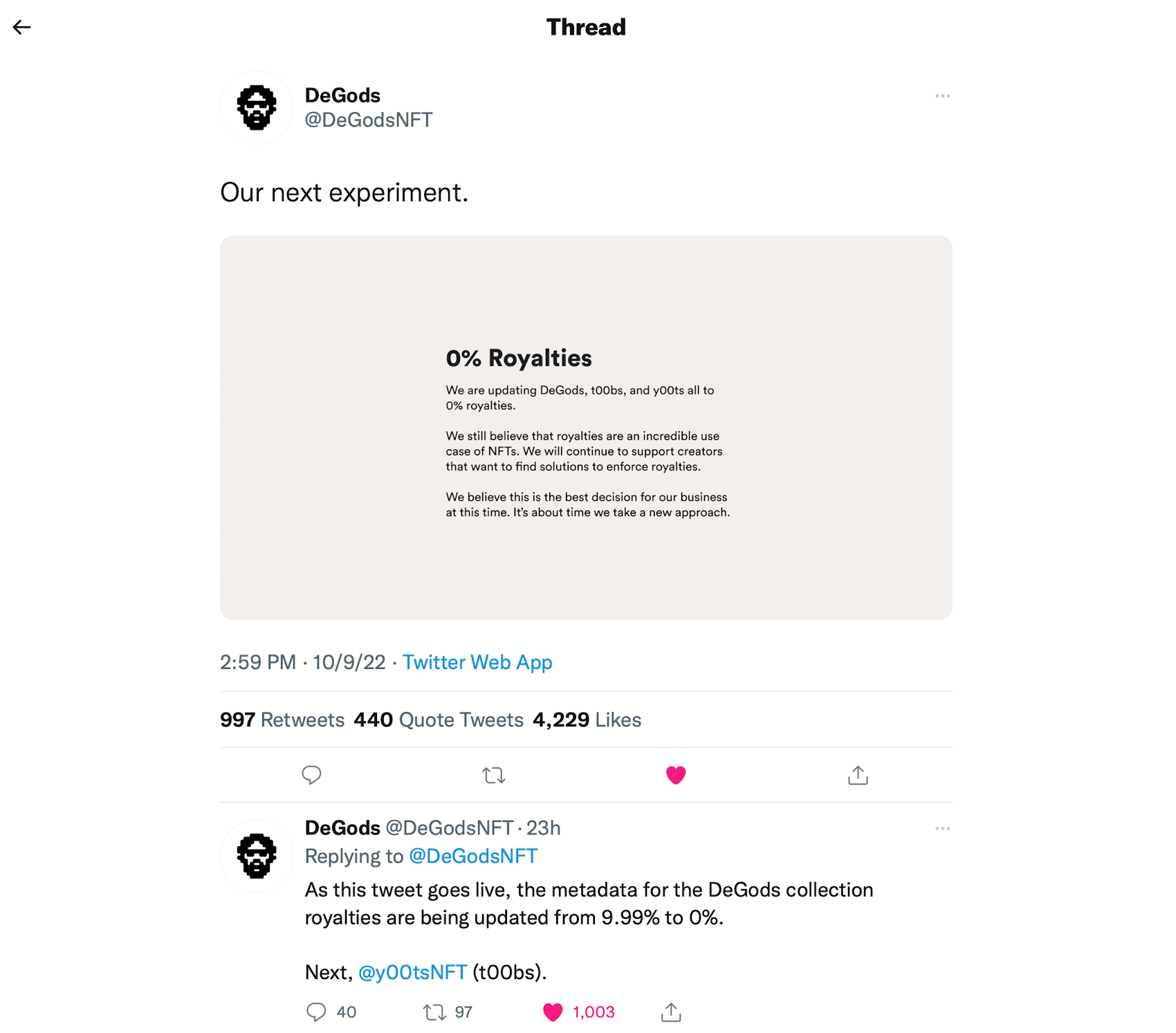 Royalty Fee
Degods has revised the metadata of its collection royalties fee from 9.99% to 0% at the time of writing. y00tsNFT comes next in the new upgrade procedure (t00bs). That is a collection of 15.000 NFTs that give locations for users to create PFPs, each with its layer of information.
NFT royalties determine the market values of NFT collections. That payment is permanent and is executed automatically via smart contracts with a proportion of 5-10%.
NFT DeGods Collection
The DeGods collection, led by Frank, has integrated numerous innovative methods and has a vibrant community. It enacted the PHBT tax, which penalized consumers for selling their NFTs too soon and listing them at prices lower than the floor price on secondary marketplaces; this tax was eventually repealed. Parts of this collection have been burned; there was also a DeadGods collection and the $DUST token. DeGods continues implementing various ways to create value for investors and remains a crucial player in the Solana NFT industry.
According to Magic Eden statistics, the floor price of the DeGods collection at the time of writing is around 324 SOL, which is more than $10,500, with a total volume of 1,300,000 SOL and an average sale of 339 SOL in 24 hours.

The Future of NFT on Solana
When discussing the future of NFTs, the two blockchains under consideration are Ethereum and Solana. Ethereum has a first-mover advantage and holds the most sought-after NFT collections. Nonetheless, Solana is expanding the NFT sector and, with cheaper gas rates, sees more contact and involvement than the Ethereum network. Given that most NFT deals are valued at less than $200, Solana's grassroots approach may outperform Ethereum in some areas.
Solana NFT is barely behind Ethereum in terms of sales, according to CryptoSlam. Solana NFT sales have increased by more than 350% in the previous 24 hours, while Ethereum sales have increased by just 64%.

Summary
NFT on Solana promises to threaten the #1 position of Ethereum, which has long been dominated by unique collections of NFTs and cheap gas fees for users. Besides, the NFT market may soon return to its heyday like last year when the uptrend season is coming.
Read more about royalties fees here
Source: DeGods, MagicEden, and CryptoSlam